May 14
Tracking to-dos or tasks has been a problem for me for some time. My struggle with it has been well documented so I won't get into a long explanation here. TLDR: I keep switching task tracking tools because they all seem to have major drawbacks.
Several weeks ago I accidentally came across an app that I had downloaded at some point in the past, but that I couldn't ever remember using. That app is Todoist.
Todoist is, quite simply, a to-do list app. At it's most basic, it allows you to put tasks on a list, and check them off when they're done. If your needs are simple your usage of the tool can be that simple. The biggest benefit I've found with todoist isn't that it has a number of additional features that can help you track and manage your tasks so that you can get more done. The features are handy to be sure. The biggest seller for me is that those features stay out of my way unless I actually want to use them.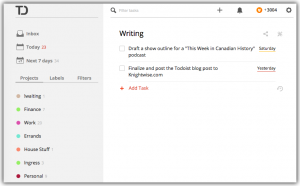 Some of the most obvious out-of-the-box features are things like Projects and Due Dates. By associating with a project you can group tasks together either for a specific focus or a GTD-like review session. By adding Due Dates to tasks they will show up in some of the views that exist in the app like Today and Next 7 Days. These views provide an excellent burn-down list for getting through your day.
The app will also allow you create sub-tasks. This can be done either by selecting a "Parent" task when editing a to-do item, or just by dragging things around on the task list. Tasks slide around seamlessly. Sub-tasks provide a nice visual way to break down complex work items into simpler constituent parts.
Todoist will also let you filter tasks. The filters will allow you to show you just a specific subset of tasks. The one I find the most useful is one of the built-in filters "No Due Date" for finding things which I either haven't decided when they need to be done, or have forgotten to tag with a deadline.
The last of the basic features I want to touch on is something found throughout the app. It's use of natural language for things like due dates and filters is fantastic. If something is due today, set the due date to "today" and it will figure it out. "Tomorrow", "next thursday" and "four days from now" will all get you the correct due date for your tasks. If you want to see things for which you missed the date, simply type in "overdue" as the search or filter query.
While not a feature specifically, there is also some gamification at work in Todoist. The app will award you "karma" points (unless you opt out) for both using the system and getting your tasks completed on time. It sounds dumb… but to some degree, for me at least, I think it does provide a bit of an incentive for me to keep sticking to the system.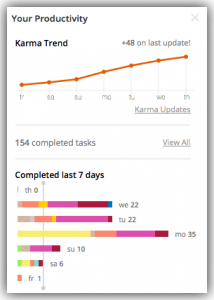 Todoist also has a premium version which adds a ton of features, most of which I'd never use, but there are a few key ones. The first is being able to add notes or attachments to tasks. This is great for tracking the status of a long-running task or something with a few intermediate actions (which maybe should be their own tasks, but I digress…) The other key feature is task backups. The app will backup your task list and maintain an archive so that you can restore from a recent backup. The cost of the premium service is $33 USD / year. I'll be renewing my premium subscription next month. A handy comparison sheet is available on the website to show the differences between the free and paid tiers.
The last thing I wanted to touch on is platform availability. Todoist is available pretty much everywhere. Android, iOS, phones and tablets are all covered. Mac and Windows clients are also available. There are also a number of browser extensions. The basic web-based UI is fantastic. This is truly a cross-platform juggernaut.
Links:
Keith Murray is a software architect and developer can be found on twitter as kdmurray. He also blogs about technology and science at kdmurray.net.
Related Posts
May 12
We continue our Cross platform productivity week posts this week and focus on that one little application we use the most on our computers these days … The browser. (or the World of Warcraft Executable, depending on your taste). Chrome is a little bit of a cross platform blessing since it not only straddles most of the Operating systems we talk about, it also has access to a wide range of extensions. We listed a couple that help you to be more productive.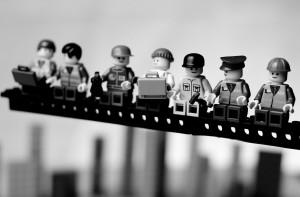 Writebox for Chrome.
When I write blogposts I hate to be distracted. No matter how advanced my laptop is, or how multitask-friendly my operating system tries to be … when it comes down to doing some writing I want something plain and simple. Writebox is just that : A text editor in a window that gives you text on a plain background. You can tune the colors to your liking (amber letters on a black background for me) and start typing. Writebox syncs with Dropbox and your Google drive so you can 'pick up' where you left on on another computer or on another OS altogether.
Dictate with Dictation.io
All the cool bosses of the 70's had secretaries. These girls would sit behind giant typewriters while their bosses dictated all kinds of important letters to their management (or mistresses) So why don't WE do that ? Forget the typewriter and the mistress part, how about you start talking to your computer right now. Dictation.io is a great website/extention that lets you dictate whatever you want to write and spits it out in plain text. Copy – Paste – Done. No matter what OS you are on.. as long as you are running chrome. https://dictation.io/
Mindmup
Whenever I need to prepare a podcast or do a presentation I use a mindmap to organize my thoughts. Some people type stuff out, but I have found out that my brain just doesn't work that way. After a little looking around for a great (free) chrome friendly Mindmap tool, I stumbled across Mindmup. It lets you create as many mindmaps as you like and store them on your Google Drive or in Dropbox. Unlike Mindmeister we mentioned a while ago, Mindmup does not have a restriction on the number of mindmaps you can create using the free service.
File system for chrome os.
This is actually a collection of several applications/extensions for those of you using a Chromebook. With this extension you can connect your Chrome file structure with either Dropbox, Onedrive or a webdav service; tying the different locations where you store your data together. Gone are the days of having to upload files and open websites/services to get to your teletubby wallpaper collection.. Enjoy !
Links.
Related Posts
May 11
When you are a cross platform slider, hopping from operating system to operating system, you know that life is HARD sometimes.
One of those hard things in a sliders life is finding a good app to build slideshows and presentations that works on EVERY OS. I used to swear by using keynote for this. Its probably one of the simplest and most elegant way to put together a slideshow and become the "dealer of death-by-powerpoint". You can just see your audience die from the sheer boredom of your presentation, but they die with a smile on their face. Hey, those 200 slides about the annual hamsterwheel stockprices were boring as hell, but boy were they pretty !. The downside is that Keynote is only available for Steve-jobs-loving Apple jokeys and that doesn't help you when you just have your Linux laptop with you.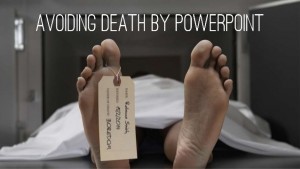 "Release Openoffice" I can here you scream. Yeah. It is pretty much a cross platform alternative for Keynote and it will let you work on presentations using your Mac, your Linux machine AND your Windows box. The downside is that IT (being Openoffice) looks like it was built in the 80's and your presentations are about as sexy as an open box of Twinkies in the poring rain. And whenever you want to go grab your tablet or a smartphone … Openoffice just doesn't help you there.
What remains is Google Slides and Powerpoint online. If you have a browser and an internet connection you get get all of your slide-slicing stuff done from no matter where you are. But the default templates in Powerpoint online are a bit stale and the ones in Google Slides feel like they are from the late 70's ! The more platforms you can use .. the more boring your slides become .. or not ?
So enter 2 good alternatives to make those "online" slidedecks a little bit more interesting are Slides Carnival (For Google Slides)  and some of the free templates on Office online t Both are a great resource to help you make those "standard" presentations a "little" special. So there 🙂 Cross platform presentation making doesn't have to be so boring after all 🙂
Links :
Related Posts
Jan 29
This week we look for ways to make technology work for you instead of the other way around. No really ! Have you noticed how you are constantly interrupted by notifications from your smartphone ? How you spend hours on Social media without doing anything productive ? How adds and Tv sometimes make you feel agitated ? We go on a quest for some practical tips to cyber-zen your lifestyle. So lets tame your content stream and your devices so they will work for you .. instead of the other way around.
Shownotes.
Introduction
Getting rid of cable tv
Taming my devices
The power of "Ding"
The "Ding" hierarchy
The results
Signoff.
Related Posts
---
Dec 23
Last weekend I bought a Chromebook. A somewhat controversial device that sits between a laptop and a thin client. A laptop that hardly cost me 249 euro's and is basically an network card with a screen. A device that is almost useless without an internet connection. And I challenged myself : Could I survive on the Chromebook alone… for a week ? Here is my Day to day rapport.
The second day : Out to the races.
Monday morning marked the end of the honeymoon weekend with my Chromebook. Sitting at home on the couch, playing around and getting to know the machine… it was fun ! But now its time for the serious work. Since I was going to survive on the Chromebook alone for a week, this meant that the Chromebook was going to be a major part of my workflow. Aside from being a cross-platform internet blogger-podcaster-superstar I'm also a freelance IT Consultant. So taking along the Chromebook meant that it was going to have to earn its keep.
That and we had several things on the To-Do list that needed to be done : A blogpost for Knightwise.com, Checking emails, Updating some online job-profile sites, a conference call and a visit to a client. Just some of the things we needed to do.
Writing the Blogpost.
The days of Dreamweaver are far behind me. Both blogs I write for are WordPress blogs so I didn't think the Chromebook was going to give me any trouble connecting to the web interfaces. Before I just "surfed over" I did check out a couple of Chrome Apps/Extentions in the store that were WordPress related but .. to no avail. Most of the apps/extentions (very confusing) were mostly just shortcuts to the WordPress backend page. No offline love there. No matter, I never write my blogposts in WordPress directly anyway. "Writebox for chrome" is a great app that lets you punch out simple text files in a clutter free environment. Available offline I lets me write up a Blogpost that gets synced over to my Google Drive. You can play with the colors (I went for green letters on a black background) and felt like Doogie Houser writing his dairy. To add some comfort I propped up the Chromebook on a notebook riser and plugged in my external Logitech keyboard. Thing works like a charm. Write blogpost, copy over to wordpress, publish. Ding ! Chromebook wins.
Before I left for my client I needed to take a long a couple of multimedia files to show them. How was I going to connect to my NAS ? One of the great things about owning a Synology Nas is that it comes with a pretty powerful web interface. This allowed me to select and download the files I wanted to the Chromebooks (tiny) harddrive. Chromebook Wins.
Arriving at the client I was unsure that I could connect to their wireless guest network which gave me some trouble the last time when hooking up my Macbook Pro. The Chromebook connected ok and it was great to have this simple 'instant on' experience while waiting for the meeting to start. Just like whipping out your phone and checking Facebook, you whip out your Chromebook, open it up and start surfing. No boot times .. no restore. However : During the meeting I suddenly noticed that I had forgotten ONE FILE at home on my server. How was I going to get to it ? VPN ? The Chromebook DOES have the option to use VPN but not all protocols are supported. Luckily I was able to pull a copy off the file from Dropbox and all was good. The HDMI connector on the back allowed me to connect to the big TV in the meeting room and the "Subtitle Videoplayer app" was up for the job. The sound was a little tiny .. but my client was impressed with the tricks my little 249 euro machine could do.
When I got back home it was time do do some more work. One of the tasks that needed to be done was to print out our Christmas cards. Printing with the Chromebook is pretty easy for me since I have our home printer setup as a network connected "Cloud printer' allowing me to print documents from any Chrome browser.
Printing 2 copies of our Christmas card on ONE page proved to be beyond what Google Print (and the Chromebook) can do. Its a functionality that is not supported : Fail for the Chromebook. I had to do this from my Mac.
The rest of the day went off without a hitch.
Doing Emails, Visiting websites, downloading and forwarding attachments and even hosting a Google Hangout was easy. I was getting impressed by the little machine AND the fact that most of my workflows don't need some expensive device to get stuff done. At 9Pm (!) the little machine beeped to remind me that its battery was running low. I had been working away on it all day long .. and still it had some juice to spare.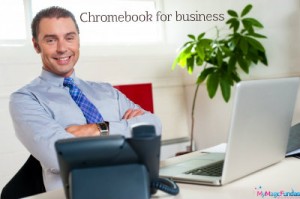 So can you take your Chromebook to work  ? 
The question if the Chromebook is right for you (and suitable for work) is not a matter of what the Chromebook can or can not do. Its a matter of how your workflows are organised. If you can get stuff done in a browser .. there is hardly anything the Chromebook cant pull off (its just a browser in a box) The device is nice, cheap and simple and buying a Chromebook is easy. But tweaking your workflows to be device independent is what makes you a Cross Platform Jedi Master.
Related Posts