Mar 11
You've got seven vices and seven virtues, you also have seven dwarfs and seven riders of the apocalypse. You also have a movie called "Seven" where they cut off Gwyneth Paltrow's head and ship it via Fedex, but that is beside the point. What is important to remember that there are also seven siblings in Samsungs Galaxy family. We got our greedy hands on one of the few models in circulation and decided to tell you all about it.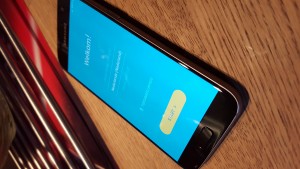 Look and feel
The S7 is a lot like Iron Man. Where the 1950's versions of Iron Man looked bulky and edgy, the modern implementation of Iron Man is slick and smooth. Same goes for the S7. Although its the same size as its predecessor the S6, the rounded edges of the S7 make it feel just a little better to hold on to. The raised mounting of the rear camera in the S6 is gone which turns the back of the phone into a solid, unbroken slate of black. Close your eyes and roll the phone around in your hands and it will be hard for you to distinguish it from its greatest competitor, the iPhone 6.
Some things are just same-same
Aside from the size, the screen specs have not changed either compared to the S6, but with a beautiful Amoled screen with such a high resolution, why would it? The screen is packed so tight you cant distinguish the individual pixels and the colors are vibrant. Thanks to the Amoled technology black is black and you can even read the screen in bright sunlight.
Same but no same
Samsung has upped the specs on the cpu and the onboard ram (we won't bore you with the technical details, suffice to say the phone is fast and snappy). The biggest change however is the fact that the micro SD card slot has returned. You can once again slide your little Micro SD card into your S7 to upgrade the storage capacity. Although slightly slower to respond opposed to the onboard storage, the micro SD card gives you the chance to store music, movies and more without worrying that you will 'fill up your phone'. Because Samsung did not implement one of the latest Android features into its OS, it  not possible to install apps on the micro sd card.
We are talking about the first submarine equipped with a simcard.
Just drop it in the toilet
Every week we hold a silent vigil for those moments where a loud splashing sound emerges from toilets all over the world. No, we aren't referring to the proliferation of successful bowel movements, instead we point towards all those incidents where phones end up in the toilet. That one place where modern day technology touches that one earthly element that signals doom for many: Water.
The S7 is waterproof. When we say waterproof we aren't talking about a couple of drops of water. We are talking about the first submarine equipped with a simcard. The S7 can stand over 20 minutes of underwatertime, more then enough for those slow to react to fish their baby out of the john when they accidentally dropped it in. We tried it (not the toilet test, just plain water) and it works indeed. The phone knows when it has been submerged and refuses to charge via the USB port until all components have dried up. Pretty impressive.
VR
The S7 is also compatible with Samsungs gear VR, its Occulus-powered virtual reality headset. Slide the phone in and sito presto you are emerged in a VR world where you can play games, watch Netflix or literally walk around in a 360 degree movie. That is until your phone gets too hot or your battery dies out. (See our review of the Gear Vr for more info on this.)
Conclusion
We give the S7 an 8/10 because its a decent phone. It's not cheap but you do get a lot of bang for your buck. The VR technology that Samsung loves to pimp is interesting but still in its infant phase.
Links: Want to know more ? We found this excellent (Dutch) video review of the S7
Related Posts
Jan 08
With the advent of the Occulus rift, a set of "virtual reality goggles" within the consumer price range, the breakthrough of Virtual Reality was imminent. Or so we thought. Turns out that VR, to many is nothing more then a gimmic and that scenes from "The lawnmower man" are far from part of our daily lives. The glasses where too expensive, the content available to niche.
The former part of that statement started to change when things like Google Cardboard came out. Basically a cardboard version of a futuristic 'viewmaster' with your smartphone as the screen. At an extremely low price people could dip their toes into VR-Space for the first time.
Since then some time has passed and recently Samsung has released their second iteration of "their" version of Google Cardboard : The Gear Vr. Using your high end Samsung Smartphone as a screen you pop this futuristic piece of plastic on your head and off you go.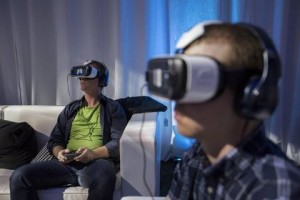 So how does it work ?
Once 'emerged' into Virtual-Space the Occulus app store automatically kicks in allowing you to choose a variety of activities. By 'browsing' through the VR app store you can install apps, games and demo video's (some are free, some are not) and give them a try. Navigation is done by moving your head around, selecting and scrolling can be done using a touchpad on the side of the glasses.
So what's it like ?
Although this truly an 'early adopters toy', it is quite surprising how immersive your experience is. The default "room" you are in to select your app and activity is a giant hall in which you can look and move around. Pop in some headphones and you get the distinct feeling that you are really 'there'. The old saying 'What they eyes see and the ears hear, the mind believes' is pretty accurate.
Although this truly an 'early adopters toy', it is quite surprising how immersive your experience is.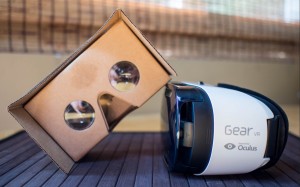 Any Content ?
There is some content out there like games (You can fight off the zombie apocalypse, even with an added wireless controller should you want to) You can visit the cirque de soleil (and be ON stage instead of in the crowd) or even try out your public speaking skills in a sort of 'presentation simulator'.
A little bit of minority report.
Samsung also provides you with a "browser" that allows you to surf the internet. You can "search" using Google voice commands and browse around different pages. It becomes really cool when you can set different tabs side by side in a giant video wall. We enjoyed watching a Youtube movie this way, while having the IMDB page of the movie open on a second 'screen'.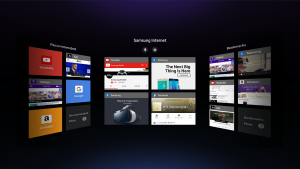 Everything is big !
It is hard to explain what it actually "feels" like using the glasses. First of all : Everything is big ! Since you have no sense of scale every screen looks like its about 4 meters wide and 2 meters tall. "Monitors ? Where we are going we don't NEED any monitors." Doc McFly would cry. A perfect example is the Netflix application that lets you sit on a virtual couch in a virtual cabin watching a giant virtual srceen. We actually managed to sit through en entire movie in this application and be surprisingly entertained.
"Monitors ? Where we are going we don't NEED any monitors."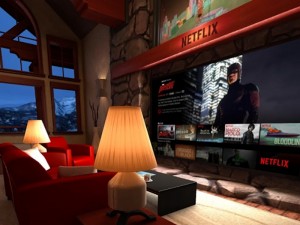 So are we there yet ?
Probably not, this is still early-on technology and the fact whether this is a gadget or a tool can be best evaluated by asking the question : Would you actually use this. The answer is : For browsing and games I would use it occasionally. But I DO see me using this on a plane to watch Netflix (and chill). T
The technology is very immersive and that is also a little bit of the downside. Using this in public makes you look like a total zombie since you are completely spaced out. You don't hear OR see ANYTHING of your surroundings. Its the antisocial teen with headphones on during a family diner, multiplied by a factor of 10. You are in VR space or in real space .. but you can never peek 'over' your screen.
At a 100 euro's it is surely worth a try to play around with Virtual Reality technology AND get away from your messy room OR noisy kids. The gear VR is only compatible with selected Samsung phones and only works with content from the Occulus app BUT there is quite a bit to try out.
Related Posts
Jan 31
One of the things I fondly remember from my childhood are those cool sci-fi shows where the characters got to communicate with each other via their wristband-communicators. Whether it was David Hassellhoff calling his talking car in Knightrider or the crew of the Liberator communicating with their ship in Blakes 7 .. I thought it was the most awesome thing ! How cool would it be if you could make a call .. with your watch ?
Slide into 'Second Gear'
A couple of weeks ago I got that chance. Samsung sent us a copy of their new "Gear S" smartwatch. Having owned it successor, the "Gear 1" I was familiar with Samsung's approach to smartwatch technology. The "Gear 1" was pretty cool to use for notifications or even updating your calendar by using your voice .. but the "Gear S" had one more trick up its sleeve. It didn't require to be paired with a phone at all. This was a stand-alone-all-on-its-own-wrist phone. Of course we had to try it out.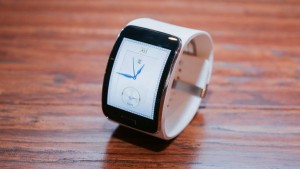 "A prop from Minority report."
Compared to the 'First gear' , the 'Second Gear' in Samsungs smartwatch race (#pun intented) looks like it is a prop from 'Minority Report'.  The watch/phone  has  very futuristic design with a curved 2 inch Amoled display in a white plastic casing. The wrist strap IS adjustable for the more delicate wrists, but the general curvature of the actual smartwatch is of course static.  The Gear S comes with all the bells and whistles a regular smartwatch has (Bluetooth, Onboard camera, speaker, microphone) but adds a heartrate monitor, a barometer (yes !) a UV-light sensor (ok ?) and a compass to the mix. But in order to stand on its own (without a phone) it also comes with Wifi and 3G. The dual core 1 ghz processor,4 gigs of internal storage and 512 megs of ram make this Samsungs first actual "phone" running the Tizen operating system.
"Please use a companion device to install this stand alone device"
First impressions. We were quite impressed taking the Gear S out of the box. The bright white model we got immediately transfixed the female population of the Knightwise.com headquarters but it was the screen that both sexes agreed on as being the real eye-catcher. So it was time to boot up this 'stand alone' smartwatch and after 5 seconds we bumped into one major disappointment. "Please connect to Gear manager to setup" was the first thing we read on this future proof wristwatch. In order to setup a device that touts you can use as a 'phone' without needing a phone .. you need to connect it to .. a phone (a SAMSUNG phone). So for those of you that don't HAVE a smartphone or don't have a SAMSUNG smartphone , setting up the Gear S is not possible. MAJOR disappointment ! We managed to get trough this initial hurdle but it was not the last time the Gear S screamed for a brand-like companion. To install additional apps we also needed the Gear manager. Bummer 🙁
Aside from this initial discrepancy (A stand alone device needing a phone to become fully operational), working with the Gear S was quite pleasant. The display is pretty, the interface does not lag (perhaps its because its running Tizen and not Touchwizz) and reading your notifications is way cooler on the Gear S then on the other Gear smartwatches due to the higher  screen resolution. But lets be honest : A 2 inch screen is not something you use to surf the web or type out long emails (although with the Gear S you could theoretically do just that) Samsung's voice recognition software is there to help you out with that but it comes up a little short compared to the Google voice recognition service. Still it was able to assist us in 'making the call'.
"Hello ?  Mom ?"
Calling our mom from our smartwatch was not as futuristic as we thought it would be. Aside from the stares we got from people around us (I was doing this in a coffee shop where the average age is 98) you don't have a very 'discrete' phone-call (The other party is on speakerphone). So when mom asked me 'Why I don't visit her more often" I got a lot of judgmental stares from the grannies around me . I wished I could have summoned my talking car … but we aren't quite there yet.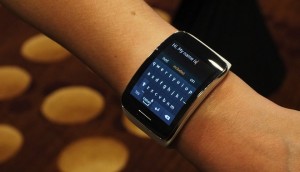 Conclusion : The Gear S is a great first failed attempt at a stand-alone smartwatch. First of all : The stand alone part : If you need another Samsung device to setup your stand-alone Samsung watch somebody didn't think things through. Second : Although bright, crisp and lag-less : The screen is just too small to type up emails and surf the web. If voice-control fails you (for example you want to send a text message in Dutch) and you have to use the keyboard .. your GRANNY will get out more words per minute on her Nokia 3310.  And finally: WE aren't quite ready yet. Lets face it, we only just got used to not staring at people who call handsfree while walking down the street. (They sometimes hold their phones in front of them, just to show people they aren't nuts) This makes calling people from your wristwatch just a little weird (if you are not David Hasselhoff), at least for now.
However : When you are looking for a top of the line smartwatch to accompany your Samsung smartPHONE , don't go for the Gear 2, the Gear fit or the Gear Neo : Go for this one. Paired with an actual phone it will make a great 'companion' device with a decent screen, a fast processor and awesome looks. At 399 euro's it IS a bit hefty in price but if this kind of swag is your thing : Go for it.
Links : The Samsung Gear S.
Related Posts
Jan 06
When a Noob (or a "norm") walks up to you and asks you what Samsung phone to buy, you have a problem. A problem not in the sense that you do not have the technical expertise to advise person X on his next digital purchase (You obviously have those skills since you are reading this blog) but you need an extra university degree to try to remember the hurdle of mobile devices Samsung has produced over the last two years. Sure its pretty easy to distinguish the "primary product lines" : The phablet like "Note" devices with their big screens and high specs are obviously something for the distinct power users. The "S" phones form the 'upper class' of the more 'standard phone models' … but when you try to look farther into the product spectrum it is absolute chaos. The Ace, the Young, the Neo, the Alpha, the Avant, the Core, the Star …  You will have an easier time trying to remember Elisabeth Taylors Ex-Husbands in anti-alphabetical order .. then making sense of Samsung's mobile product line.  So lets help you out by giving you a simple list on what Samsung  phone to suggest to what type of user in 2015
The Samsung "Note"
Consisting of the Note 4 and the Note 4 Edge these are the high end phablet phones with high specs when it comes to both screen resolution (5.6 inches) and processor power.
For Who.
For the serious geek who lives on his/her phone and doesn't mind the size of in in their pocket and who don't mind spending a couple of extra bucks and who think of their "phone" more like a digital tricorder then a standard "communicator".
The Samsung "S" line.
Consisting of the Galaxy S5 a fairly "normal" sized phone with a high res 5.1 inch screen and a good camera.
For Who : 
Your average user who wants to spend some cash on his/her 'phone' and expects a good screen and a point-and-shoot camera replacement. Those who want to hang with the Apple 5s Cool kids but want and Android : Its for them.
The Samsung A line.
Think "Galaxy S5" for "Norms".  New in the product line, the A-line devices (at last) sport unibody metal casings (Giving them an even more premium feel then the plastic-backed Galaxy S-line). The tradeoff is a non replaceable battery and slightly lower specs when it comes to camera and screen resolution but the end result is more then enough for a good price-quality device . Models : The A6 (5.5 inch display) the  A5 (5 inch display) and the A3 (4 inch display).
For who :
As you know we love devices that have a good "value for money" and with these phones you get a well built device with more then average specs for a good price. Good for the entry level Android user who isn't a smartphone hipster but still wants a decent device.
The J line. 
Available in the second quarter of 2015 these are the low end phones in the line. The lines consist of the Samsung J1 . A low end smartphone for a low price with a low resolution screen (480×800) and a basic processor and camera spec.
For who : 
At a cheap price this is a phone for people with moderate or low expectations of a smartphone. If playing bejewelled and snapping a picture of their dog is the pinnacle of smartphone technology , this is the phone to choose.
Conclusion.
Samsung is starting to mature in the mobile market by establishing a clear product line AND easing up on the (over)zealous use of their TouchWiz interface that has been irritating their high end customers for quite some time.  The unibody designs of the A-line phones look better then the cases on the current Galaxy S lines (which is a little awkward) but we think this is only a matter of time.
Related Posts
Jan 05
When Samsung asked us to review their line of "level" headphones we were a little skeptical. Headphones are back ! They are the high tech fashion statement – sound producing ear warmer of many hipster these days. It was only yesterday we relied exclusively on discrete form fitting ear-buds for our audio entertainment. Today it are the big over-sized headphones whose primary function seems to be to match our outfits/social-subculture and prominently display their brand logo's on the side of our heads. The trouble here is that with all the attention going to the "looks" of your headphones, few (despite their exuberant prices) actually produce good audio. After traumatic experiences with a pair of Dr Dre headphones (They produce so much base they make a Vivaldi concert sound like Tomorrowland) we were skeptical for Samsungs products .. so we tried them on.
The Samsung "level on" headphones.
The Samsung "level on" headphones are 'on' your ears. A hard plastic bridge with foldable legs make the headset feel very sturdy and decent. The leather padding both on the earmuffs and underneath the "bridge" has a soft, high quality feel to it. The phones have a 3.5mm mini-jack connector for your cable so you can interchange the cables should they break (a problem with many headphones) or should they not match the color of your underwear (it happens !)
The Level on's are slightly heavier then your regular run of the mill headphones, but the overall distribution of the weight when you have them on makes them feel very very comfortable. The leather on the earmuffs is very soft and there is hardly any noticeable pressure on your ears when wearing the set. A great bonus is that it warms up immediately to the body temperature of your ears making the entire headset a natural extension of your body.
Enough about the ergonomics : How do they SOUND ? Well , they sound amazing ! The audio is warm, crisp and "correct" . No over-boosting of non existing low range audio. Just a clear , well represented audio spectrum being pumped into your ears. We loved them (even after wearing them for 3 hours straight we found no signs of 'headphone fatigue" or worse "sweaty ears".
Looks ? They are white ! Just like with Dr Dre's people will see you wearing them from 2 blocks away. Deal with it. (But they are also available in black … so deal with that too !)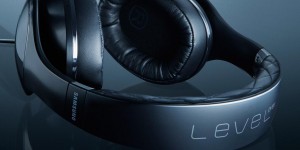 The "level over" headphones.
The level OVER headphones go OVER your ears. The leather padding on the larger 'cups" surrounds your ear and presses against your head , completely surrounding your ears and 'isolating' you from the rest of the world. Part of this is due to the excellent padding , the other part is because the level 'overs' are active noise cancelling headphones. They pick up noise from around you and send "anti noise" through the speakers so you can't hear the noise. This means you will have to charge the headphones from time to time. Added functionality is the fact that you can use them as stand alone Bluetooth speakers so you don't need a wire. But as a little bit of an audiophile we could not bring ourselves to use this functionality. The audio we wanted to test had to be as clear as possible so we went via the "analog wire".
Using the "level overs" is like stepping onto the surface of the moon .. and then hitting play. The sound is warm, its everywhere, its crystal clear and there is no residual noise from around you. Samsung charges top dollar for these things but they are probably worth their price. Short of using duct tape this is the best way to drown out the noise of nagging kids and enjoying your favorite tunes. For the hefty price you might also be able to book a weekend cottage in the woods .. but when you get back from that you still don't have any decent headphones.
Conclusion.
Audio isn't Samsung's core business and these baby's are no Sennheisers … but we are very happy that the Chinese company DID focus their attention on the quality comfort and AUDIO part of these headphones. This is not fancy overpriced bling .. the Level line does what it is required to do : Produce a very good headphone experience.
Prices :
Samsung Level on : 165 USD (amazon)
Samsung Level over : 310 USD (amazon)
Samsung Level headphones (Site)
Related Posts