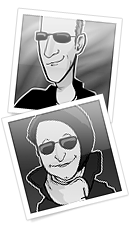 Use the form on this page to send us general feedback and share links, thoughts, comments or just to say hi … We love hearing from you!
Social media
Knightwise.com loves social media … Actually we are hooked on it. First things first! Hook up with us on Facebook. Chat? Yep, got you covered at knightwise.com/irc.
Help us out with a iTunes review
It would we really awesome if you could give us a review in iTunes. Knightwise.com is totally free (really!) to enjoy at your convenience … You can pay with a (good) review!