May 20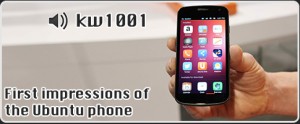 We kick off season 10 of the Knightwise.com podcast with a hands on review of the BQ Ubuntu Phone. We review the hardware, talk about the fledgling OS and see how the phone holds up in "daily use". Splice in some cool tunes selected by Daniel Mesner and you have yourself the first episode of the Knightwise.com podcast, season 10.
Links
Music
KW1001 First impressions of the Ubuntu Phone
Related Posts
---
Jan 31
One of the things I fondly remember from my childhood are those cool sci-fi shows where the characters got to communicate with each other via their wristband-communicators. Whether it was David Hassellhoff calling his talking car in Knightrider or the crew of the Liberator communicating with their ship in Blakes 7 .. I thought it was the most awesome thing ! How cool would it be if you could make a call .. with your watch ?
Slide into 'Second Gear'
A couple of weeks ago I got that chance. Samsung sent us a copy of their new "Gear S" smartwatch. Having owned it successor, the "Gear 1" I was familiar with Samsung's approach to smartwatch technology. The "Gear 1" was pretty cool to use for notifications or even updating your calendar by using your voice .. but the "Gear S" had one more trick up its sleeve. It didn't require to be paired with a phone at all. This was a stand-alone-all-on-its-own-wrist phone. Of course we had to try it out.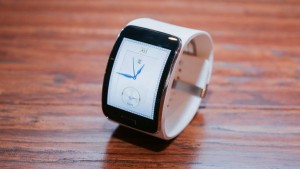 "A prop from Minority report."
Compared to the 'First gear' , the 'Second Gear' in Samsungs smartwatch race (#pun intented) looks like it is a prop from 'Minority Report'.  The watch/phone  has  very futuristic design with a curved 2 inch Amoled display in a white plastic casing. The wrist strap IS adjustable for the more delicate wrists, but the general curvature of the actual smartwatch is of course static.  The Gear S comes with all the bells and whistles a regular smartwatch has (Bluetooth, Onboard camera, speaker, microphone) but adds a heartrate monitor, a barometer (yes !) a UV-light sensor (ok ?) and a compass to the mix. But in order to stand on its own (without a phone) it also comes with Wifi and 3G. The dual core 1 ghz processor,4 gigs of internal storage and 512 megs of ram make this Samsungs first actual "phone" running the Tizen operating system.
"Please use a companion device to install this stand alone device"
First impressions. We were quite impressed taking the Gear S out of the box. The bright white model we got immediately transfixed the female population of the Knightwise.com headquarters but it was the screen that both sexes agreed on as being the real eye-catcher. So it was time to boot up this 'stand alone' smartwatch and after 5 seconds we bumped into one major disappointment. "Please connect to Gear manager to setup" was the first thing we read on this future proof wristwatch. In order to setup a device that touts you can use as a 'phone' without needing a phone .. you need to connect it to .. a phone (a SAMSUNG phone). So for those of you that don't HAVE a smartphone or don't have a SAMSUNG smartphone , setting up the Gear S is not possible. MAJOR disappointment ! We managed to get trough this initial hurdle but it was not the last time the Gear S screamed for a brand-like companion. To install additional apps we also needed the Gear manager. Bummer 🙁
Aside from this initial discrepancy (A stand alone device needing a phone to become fully operational), working with the Gear S was quite pleasant. The display is pretty, the interface does not lag (perhaps its because its running Tizen and not Touchwizz) and reading your notifications is way cooler on the Gear S then on the other Gear smartwatches due to the higher  screen resolution. But lets be honest : A 2 inch screen is not something you use to surf the web or type out long emails (although with the Gear S you could theoretically do just that) Samsung's voice recognition software is there to help you out with that but it comes up a little short compared to the Google voice recognition service. Still it was able to assist us in 'making the call'.
"Hello ?  Mom ?"
Calling our mom from our smartwatch was not as futuristic as we thought it would be. Aside from the stares we got from people around us (I was doing this in a coffee shop where the average age is 98) you don't have a very 'discrete' phone-call (The other party is on speakerphone). So when mom asked me 'Why I don't visit her more often" I got a lot of judgmental stares from the grannies around me . I wished I could have summoned my talking car … but we aren't quite there yet.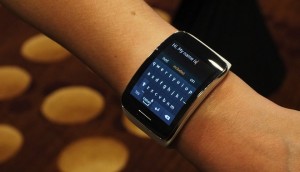 Conclusion : The Gear S is a great first failed attempt at a stand-alone smartwatch. First of all : The stand alone part : If you need another Samsung device to setup your stand-alone Samsung watch somebody didn't think things through. Second : Although bright, crisp and lag-less : The screen is just too small to type up emails and surf the web. If voice-control fails you (for example you want to send a text message in Dutch) and you have to use the keyboard .. your GRANNY will get out more words per minute on her Nokia 3310.  And finally: WE aren't quite ready yet. Lets face it, we only just got used to not staring at people who call handsfree while walking down the street. (They sometimes hold their phones in front of them, just to show people they aren't nuts) This makes calling people from your wristwatch just a little weird (if you are not David Hasselhoff), at least for now.
However : When you are looking for a top of the line smartwatch to accompany your Samsung smartPHONE , don't go for the Gear 2, the Gear fit or the Gear Neo : Go for this one. Paired with an actual phone it will make a great 'companion' device with a decent screen, a fast processor and awesome looks. At 399 euro's it IS a bit hefty in price but if this kind of swag is your thing : Go for it.
Links : The Samsung Gear S.
Related Posts
Nov 28
"Whow .. Thats a big phone !" "There is no way you can make phone calls with that !" "How do you fit that in your pocket". If I got a penny for every time I have heard that remark in the past, it would have been enough to buy me my next phablet and still have spare change for parking. Yes … my name is Knightwise and I'm a Phablet Fan.  Discontent with small screens and cramped mobile interfaces I switched to the "larger kind" of smartphone a couple of years ago with the Galaxy Note 2… and afterwards the Note 3. The thing is I don't see my "Phablet" as my phone. I see it as my personal communicator, that also allows me to do voice calls. It is the one single digital device I probably spend  most of my time on during the day.. So when Huawei asked me to review their "Ascend mate 7" (what's in a name) it was not going to be easily impressed.
The thing is : Phablets are rapidly becoming the "high end" niche market of the smartphone industry. Where the 'average Joe' pays about 300 dollar for the "average Joe" smartphone with "Average Joe" specs .. the phablet market is usually reserved for the geek with higher system requirements (and a larger amount of cash to spend on his mobile device). Result ? Phones like the Galaxy note 4, the new Nexus 6 and the iPhone 6 plus  boast high resolutions , big screens, good specs and … high prices.  So what is there do to when you want a ping-pong table sized  smartphone, but you are on a midget-phone budget ?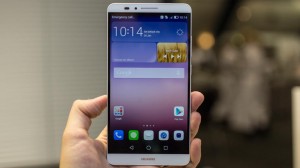 Enter the Huawei Ascent Mate 7 : A bigger phone for a smaller budget. With its 6 inch Hd Display (1920*1080) it has a smaller resolution that the Note 4 Samsung Phablet Flagship (or Aircraft carrier) and its Quad Core Cortex A15 1.8 ghz processor with 3Gb or ram are also not as heavy as the competition … but neither is its price. For 300 euro's LESS then the 749 price point of the Note 4 .. you get a LOT of phone for what you pay for.
For one : Huawei's spin on KitKat is a LOT cleaner then Samsung's over cluttered 'Touchwiz' interface. Not having to lift an extra layer of graphic bloatware, makes the ascend preform remarkably well , despite its lighter processor. The phone is quite responsive when pinching swiping and zooming but lags a little bit when opening large apps like Linkedin. Huawei's version of Android takes some getting used to (there is no app drawer) but comes with some nice little tweaks and handy features like Fingerprint unlocking and "Single handed operation". Samsung might have these features too, but in touchwizz they are buried beneath a thick layer of clutter.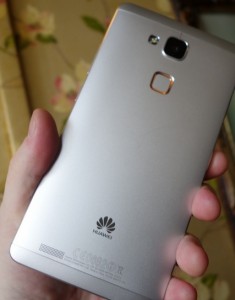 What we really liked about the Mate 7 was its fingerprint sensor. Located on the BACK of the phone, its in a very natural position for when you want to use it to unlock the phone. As you hold the phone in your hand your index finger is automatically placed on the sensor and the phone unlocks. Additionally the sensor can be used to trigger the camera. The fact that its not a button but a touch sensitive surface makes that you don't "nudge" the phone (and blur your pictures) as you are taking a snapshot. We liked this feature .. a lot !  Speaking of the camera , the 13 megapixel front facing camera is quite good (but is a little lacking in low light conditions).
The screen on the Mate 7 is not the brightest of the bunch. Its colors are bright and vivid but do not match the "over saturated blown up colors" of the competitors amoled screens. Personally I like this because the latter do make a picture from a funeral look like a page from a holiday catalog. The (replaceable) battery life is good, we managed to get about 1.5 days out of the battery with fairly heavy use which pleasantly surprised us.  The overall signal reception on the phone is good (Wifi and 4G) although it did drop a call on us twice as we got into the car.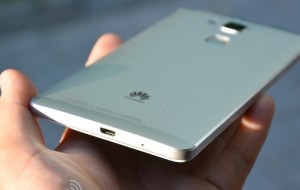 The look and feel of the Mate is good. Its a full metal jacket (We don't know which metal, but it sure ain't plastic) and the phone is well balanced. The bezel on the side of the screen is almost non existent giving the phone a premium look and feel.
So is it worth it ?  Yes ! If you want a maxi-sized phone with more then average specs on a medium sized budget, the Huawei Ascend Mate 7 is surely something you should take a serious look at. The only competitor we see on the horizon is the immensely popular (but also immensely scarce) Oneplus One. With the price of the Nexus 6 going into the same premium price range as Samsungs Galaxy Notes and the iPhone Six , the Huawei ascend mate 7 will get the geek-on-a-budget (or the geek who shops sensibly) a great bang for their buck.
Related Posts
Nov 04
Mindfulness , Meditation, tranquility . These are all things we should consider , which are important, which have one thing in common : Most of us have absolutely no idea how to do any of them. Whenever some free floating new age person dressed in an outfit that looks like a  a Jedi knight in a wedding gown tells me to 'put down my phone and meditate' , I can only respond with a blank stare and the suggestion I might look up how to meditate on the internet. This is not an approved method of getting these floaty people to agree with you.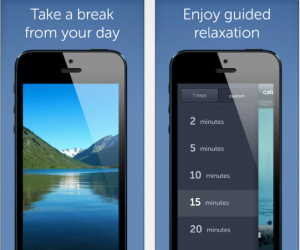 So enter CALM : A free floating fairy that lives in your phone and tells you how to be mindful and meditate. In seven steps a soothing voice explains you how to meditate by minding your posture, mindset, your body , your breath and your patience. You can also choose from several guided meditations ranging from 2 tot 30 minutes or just get a selection of white noises to "freestyle your medi-cycle"
Calm is free and available for Android and IOS.
Related Posts
Oct 31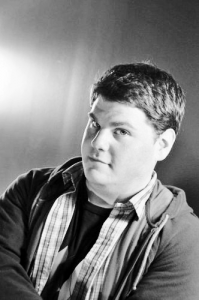 What's In My Bag? By Cody Cooper
I've always been a person to carry bag full of goodies. Looking back on my days as a boy scout isn't a positive nostalgic experience for me as I was always the little fat kid that didn't belong. The outcast among the athletes, put there by my parents in hopes that I would become more social and find new interests, which just didn't happen.
BUT, the motto from that organization always stuck with me:
"Always prepared"
When I think of childhood heroes I, of course, have two people that come to mind: MacGyver and Pee-Wee Herman.
MacGuyver because, well, MacGyver, and Pee-Wee Herman because of his bike from Pee-Wee's Big Adventure. If only MacGyver owned that bike! What he could have accomplished? I guess we will never know. Needless to say I was always drawn to creative problem solving and utility items. They seemed to go hand in hand.
The earliest time in my life I remember carrying a bag with a lot of stuff in it was in junior high. I came from a working class family and when it came to treats I was never given big candy bars or cans of soda, I had to settle for the bulk candy section at the grocery store. My mother would buy a couple pounds of this candy and keep it at the house, but one day I remember taking one with me to school, about half a pound of wrapped peppermint candy.
My fellow students would see me unwrapping the candy around school, popping one in my mouth and the look on my face as it slowly melted away over several minutes. I then starting making friends as I would comply with requests for a piece here and there. Then one day I had someone offer me one dollar for ten pieces and a little sound went off in my head:
"Cha-ching!"
After the success of this little enterprise I of course had to expand my catalog of products to include bubble gum, chocolates, pixie sticks, hot cinnamons, root beer barrels and the like. I was even taking special orders for other items such as beef jerky, Corn Nuts (Ranch and BBQ only), Funyuns, Doritos, etc.
After a while I actually needed to buy a bigger bag to accommodate the merchandise and my school books, so going to the store to buy a new bag to suit my day to day needs was always fun.
Which brings my to my first item on this list of things that I are in my bag: the bag itself.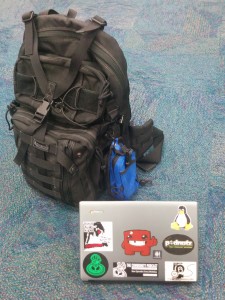 Maxpedition Kodiak Gearslinger
Maxpedition is a great company that makes bags for all sorts of outdoor, EDC and military needs. Out of all the backpacks that I have owned in my day (quite a few) this is my favorite and the first that made me feel content in my choice knowing that I will stick with this thing until it dies, and if and when it does I will stick with the brand.
Check YouTube for all the neat hacks that other people have done with this pack.
NOTE – This is a slingpack, which I traditionally don't like, but it has a "support strap" that comes from the back and under your ribs that attaches to the main strap which adds a lot of stability to the pack rather than flopping around as you move. Also, you have two different options (regular or S-Type) which will accommodate either left or right-handed people.
DEVICES
Acer Chromebook C710
This little guy has been through a lot during our time together. Several Linux installs (every which way I could get it on there, I did it), many late nights being adorned with stickers and she even survived a viscous attack from a then 11 month old (my son tore off the bottom panel which is now held on by tape). Always faithful, always fast.
LG Google Nexus 5 32gb (Black)
I love me some Nexus devices. Once you buy one off contract and don't EVER have to wait for your manufacturer or carrier to approve Android updates, you simply will never go back.
Trust me.
Asus Google Nexus 7 (2012)
Great little tablet. I play the majority of my Android games on this device and she has served me well. I also consume many videos and ebooks with the help of this little gem.
HTC One M7
But Cody, you already have a phone on this list! And a tablet! AND A CHROMEBOOK! Why the hell do you have carry a second phone?
For a pretty neat purpose, but you will have to follow me on social media (Cody Cooper on Google+ or @codycooper on Twitter) to find out the specifics). Who knows, I might even share the details in a future blog for knightwise.com.
Patriot 32gb Supersonic Rage Series USB 3.0 Flash Drive x 3
One loaded with Kali Linux, one loaded with Ubuntu 14.04 and one loaded with media. I hate USB drives with caps (I always lose them) so this retractable model was very appealing. The fact that they are blazing fast helps.
Phone/Tablet Accessories
Meenova Dash Micro for Android
We've heard it all before:
Billy
"I can't buy this phone! It only has 32gb of internal storage! Which will be about 27 or less when I boot it for the first time after taking into account the OS and bloatware from my carrier that I can't remove! THERE'S GOT TO BE A BETTER WAY!"
Smartphone Salesperson
"Who needs more than 32gb of data anyway? I only use, like, 4gb"
Billy
"Get away from me. Right. Now."
Cody Cooper
"Well Billy, there is a better way! And what if I told you that there was a tiny device that would act as as a microSD card reader and that its compatible with most modern devices?"
Billy
"That sounds great, but seriously man, where did you come from?"
Cody Cooper
"Don't worry about that Billy, just follow the link above to rememdy your mobile storage needs."
Smartphone Salesperson
"So what is it going to take for you guys to switch your service to our company?"
Cody Cooper
"Unlimited Data or cash, lots of cash."
END SCENE
MicroSD Card Holder from Sdcardholder.com
For storing all those SD/microSD/SIM cards on the go in a nice, safe and compact manner.
SanDisk 64GB Ultra Class 10 Micro SDXC x 2
Because I don't have a give you a reason! Speed! Storage!
Samsung Galaxy Bluetooh Wireless Keyboard
I acquired this from a friend who didn't like the fact that it came free with his awful tablet. His loss, my gain.
NOTE – get rechargeable batteries for this.
Cable Matters MHL 2.0 to HDMI Adapter
+
Cable Matters Smlimport/MyDP to HDMI Adapter
+
HDMI Cables x 2
For the above adapters
+
Second Screen
For those times when you want to take over a large display and use your phone on a bigger screen. The hardware and software to do so. I carry both MHL and Slimport adapters so I can also show my friends with compatible phones how easy it is. It helps you make with the awesome. Who needs to carry a Chromecast when I just jack right into the display directly!
BONUS – works great with projectors!
Anker 2nd Gen Astro 3 12000maH Portable Battery
This is a great portable charger that has PowerIQ technology, which is fancy talk for "it charges things as fast as they need to be, but no faster and no slower. With three USB ports, I have made many friends with this little device.
New Trent iCarrier 12000maH Portable Batter
Now Cody, don't you already have a portable battery on this list?
Yes, I do.
BUT, you have never have enough juice.
NEVER.
(Truth be told I lost this one for a time then bought the Anker above as a replacement, and wouldn't you know it, I found it the day the replacement arrived? Don't tell my wife!)
Anker 40W 5-Port Desktop USB Charger
We've all been there, several items to charge but only one free port in the wall socket! Don't fret, you can charge five devices at the same time with this sucker. Also has PowerIQ technology.
Media
DVD-R x 8 (Ubuntu 14.04 x 4, Blank x4)
I carry these on me to help friends with their machines and I usually leave the disc with them along with a list of instructions for Live CD operation.
The blanks? Because you never know.
Tools
Gerber Shard Keychain Tool
I have this on a keyring and attached to the little coiled cord in one section of my pack. Part crowbar, part screwdriver, part bottle opener and then some, this tool packs in the usefulness into a small form factor.
Stanley Screwdriver Pen Tool
Four screwdrivers inside a pen? Yes please! Two phillips and two flathead screwdrivers in each "bit" makes this a handy little gadget.
Consumables
Contigo Stainless Steel Water Bottle
Because hydration is important… assuming I ONLY have water in there. You'll never know… trust me.
Beef Jerky
Because delicious and because good source of mobile protein/sodium to prevent me from eating chips. I hate chips, but sometimes I crave salt. WIN!
Ibuprofen Liqui-Gels (200mg)
For life's little headaches.
NOTE – Must be liqui-gels. Not tablets, not caplets… LIQUI-GELS!
Entertainment
Sennheiser PMX 6XX Adidas Sports In-Ear Neckband Headphones
For listening to music/podcasts when other people are around.
Beats Pill Portable Speaker (3.5mm cable included)
For listening to music/podcasts when other people aren't around.
MISC
Uni-Ball Jetstream Retractable Ball Point Pen (Bold)
The only pens I will ever use. Think your pen is nice? Well isn't that cute?
5×8 Legal Pad x 2 + Mini Clipboard
For mind-dumping. I have always taken better notes on paper and this type of notepad with the perforated pages has always suited my writing style. I'm lost without these.
Assorted Zip Ties x MANY
I am the zip tie king. There will be no askew cables near any of my machines. I have found all sorts of cool uses for these over the years and I have become quite the zip tie snob.
Startech Self-Adhesive Cable Tie Mounts
To assist with the implementation of the above item.
Small Wire Cutters
Ditto
6ft Ethernet Cable x 3
Because reasons.
Gorilla Tape
When duct tape won't cut it. AND, it secures the bottom panel of an aging Chromebook VERY well ;-).
Now some of you are probably wondering, "does he really carry all this stuff with him every day?"
The answer, is yes. For some, it's overkill, for others it's not nearly enough, but for me each of these items I have decided to put into this bag to fill a need that I once had. To prevent that moment of, "I sure do wish I had ______ right now" from happening again. Every mistake is a learning opportunity if you look at it just the right way. Carry with you what will suit your NEEDS, not your wants, and you will do fine.
And, most importantly, if you take the time to arrange such a collection of items into a bad, whatever you do, don't leave it at home and then subsequently get stuck in a snow storm in your work town left with nothing but the technology of your family. What does that look like? Search my name on knightwise.com for a previous blog of mine.
Don't forget the popcorn and tissues, it's entertaining and sad.
Cody Cooper is a podcaster with the Podnutz network, co-hosting Linux for the Rest of Us with Stephen McLaughlin, the DoortoDoorGeek. Cody is a husband and father of two who enjoys all things tech. You can contact Cody at cody@podunutz.com or follow him on social media (Cody Cooper on Google+ or @codycooper on Twitter). Please drop him a line, he really does like talking to new people despite what you've heard.
Related Posts