Jul 28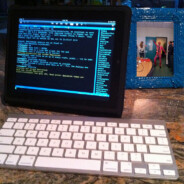 There are those times in life when you want to do things because you can… and sometimes you can leverage that in getting done all that you need to do.
Links
Code Snippets
Download your 'watch later' playlist

youtube-dl -u <yourGmailAddress> -p <yourPassword> -f mp4 --playlist-start 1 https://www.youtube.com/playlist?list=WL

Download 'audio only'

youtube-dl -u <yourGmailAddress> -p <yourPassword> -f m4a --playlist-start 1 https://www.youtube.com/playlist?list=<your playlist id>
Credits
Episode produced by Keith Murray
Image courtesy of Blakespot on Flickr
KW1301 - Getting iOS and Linux to Play Nicely Together [ 45:48 ]
Related Posts
---
Dec 08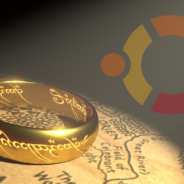 Sometimes the way to achieve "less" is to make more use of the things you already have. If the thing you already have is a fairly powerful old laptop, what you may find is that it makes the perfect home server. This week Knightwise tells us all about the laptop with the new lease on life.
Credits
Episode produced by Keith Murray
Home screen picture courtesy of PixaBay
KW1202 - One Linux to Rule Them All [ 24:24 ]
Related Posts
---
Jan 04
Some gadgets are just hard to throw out. Perhaps you keep hanging on to them because you have this plan of "using them someday" for "some project". Perhaps you keep hanging on to them because of nostalgia. Whatever reason you might choose, those geeky gadgets that keep occupying that box in your office aren't getting any younger. Why not put them to good use ?
Lets take 2 items in MY junk-box as an example. An aging Asus EEE 701 Netbook PC that I have been hanging onto because of sentimental reasons. (I smuggled it in from the US way before these babies were available in Belgium) Its keyboard is broken and its low specs when it comes to storage, memory and cpu power aren't helping it in finding something useful to do these days. The second item is my first 1tb external hard drive. I haven't thrown this one out because its on my 'for-some-project-some-day' list. Its been on the list for 2 years now … So lets smash them together and turn them into a Remote backup solution using open source software and Bittorrent technology.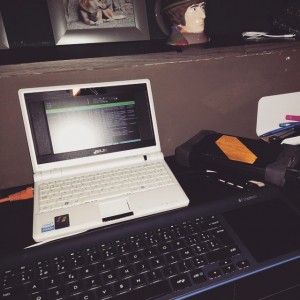 Step 1 : Turn the EEEpc into a headless server.
I downloaded the Image for Ubuntu's 'minimal installer' off the net and have had it kicking around on an old USB stick for a while now. Because of its small footprint its ideal to do 'light' installations of Ubuntu because you can choose which components you want to install. I chose the 'minimal Ubuntu server' and the SSH server component. When the installation was complete I rebooted the laptop and hooked up the external USB drive (that I had formatted in one big FAT32 partition)
Step 2 : Install Webmin and mount the drive.
Because I was going to use my external hard drive to store my remote backups on (the EEEpc doesn't have enough storage) I needed to be sure it was always mounted correctly if my little laptop should have to reboot. So instead of messing around with stuff like FStab config files I installed Webmin. (a Web-based interface to your Linux server). Using the 'Disk and network file system' menu I mounted the external drive into a folder called 'backup drive' that I had created in my home directory. This way I was sure that the external drive was always mounted correctly in the same folder.
Links : Howto install Webmin.
Step 3 : Install Bittorrent Sync.
Next up I installed a copy of Bittorrent Sync both on my local server and on the old eeePc. Following THIS tutorial lets you install Bittorrent Sync and configure the Web interface to be accessible from all over your network. (So make sure you choose a very secure administrator password). When installing Bittorrent sync this way, you are also sure the service always starts up when your computer reboots.
Links : Howto install Bittorrent sync. 
After the installation was complete I surfed to the Bittorrent web interface of my home server (source system) in one tab, and to that of my EEEpc (remote destination system) on another one.
Step 4 : Share a folder on your Source system.
Now it was pretty smooth sailing. On the Bittorrent web interface of my SOURCE machine I made a bittorrent share of each folder I wanted to backup remotely. I right clicked "properties" once the folder was created and copied the 'READ ONLY' secret.
Step 5 : Enter the key for the shared folder on your remote destination system.
Next up I went to the tab of my 'remote destination system' and entered the READ ONLY key. I selected a folder on my external drive where the files needed to be synced towards. (in my /home/backupdrive/ directory)
Step 6 : Do the initial copy
After repeating the process above for all the folders I wanted to 'sync remotely' I just had to wait for the initial copy to complete. After that it was time to pickup the EEEpc and the External drive and bring them to their new (remote) home. I hooked the EEEpc up to the network, started up the machine and … that was that … headless remote backup solution done.
Epilogue.
Because Bittorrent sync doesn't care about open ports or anything I didn't have to mess with the router on the remote end of my backup solution. There were no ports to forward and even a static IP was not required for the remote machine. Just connect it , fire it up and .. boom. Using the 'read only' secret is an insurance that changes to my files are only synced one way : From the source to the remote system (and never the other way around).
You can expand this setup (and increase the security at the remote end) by syncing over encrypted ZIP files. That way people can't access the data should your system be compromised.
In the end its a great simple way to use an old system (you can even use an old laptop with a broken screen for this) and give it a new lease on life. The setup is simple, the interfaces are web based and the whole setup is perfect for a remote backup destination at your parents or in laws.
So secure your data and put those old clunkers back in action !
Related Posts
Apr 03
Dropbox changed its terms of service so they can give you data to the Feds if they just ask for it, Ubuntu shuts down the online fileservice "Ubuntu One" : Who can you  trust these days ? The great thing with cloud solutions is that they are on a server far far away, most of them are free and you never have to maintain them. The downside is that they are on a server far far away, they are free and you cannot maintain them. We give up a certain level of control for the convenience of the cloud. It would be of course far nicer if you had a service that offered you all the luxury of the products mentioned above .. but gave you full control, absolute privacy and a completely controlled solution. (and free ! It has to be free).

Do not fear : Owncloud is here.
Owncloud is a self hosted cloud solution that gives you the luxury of the cloud in the privacy of your own home (or on your own hosted environment). Its a cross platform webservice that gives you the ability to store files in the "cloud" and access them from anywhere, Sync those files with your desktop (like Dropbox) You can share your files with friends and access them using mobile clients on Android and IOS devices or a simple browser window.
Don't trust the cloud with your Calendar and contacts ? Owncloud takes care of that too. Manage your contacts and calendars straight from Owncloud or sync them up with your mobile devices using open standards like .vcard and caldav. 
Tired of the tracks on Groovebox or spotify ? Would you like to stream your music (and movies) from your own hard drive at home ? Owncloud even has an answer for that. The built in media player lets you access your library from anywhere as long as you sport at least a browser (AND some underwear .. Owncloud is classy like that).
Want to tie all of your different cloud services together ? Owncloud supports connecting external storage to the service (like network and usb drives) but can also connect to Dropbox and Google Docs, offering ALL those files up in one simple interface.
So what does it take ? 
Installing Owncloud is pretty simple. All you need is a linux server and you can choose to install Owncloud either from the repositories (if you are using Ubuntu or Debian) or you can go and download version 6 straight from their website. 
Owncloud is based on a web based server so you can access everything from port 80 and add some security by choosing to go for https to do your authentication (highly recommended).  You can run it on your server at home OR on a webspace you rented somewhere (or if you are really lucking on your own hosted server in some datacenter). You don't need a lot of power, but Owncloud does need some ram and some cpu power if it is going to manage and index thousands of files for you.
So how do I do it.
Find out more.
In all , Owncloud is a very powerful solution when it comes to hosting stuff yourself. It has come a long way since version 6 and I have been a big fan of the convenience, the cross platform compatible-ness (is that a word ?) and the sheer power of integrating multiple storage locations (usb drives, network drives, cloud storage) to ONE single web interface. Try it .. you'll be on cloud 9.
Related Posts
Apr 02
*By guestblogger Todd Oldhoff *
As someone who teaches about using OS X Server I get a lot of questions from home users about why they would even need a server in the first place. Most people perceive that servers are for big business operations. They are huge machines that sit in a dedicated room and are monitored by IT professionals who make sure everything is running smoothly and fix things when they break down. The whole process seems overwhelming and most feel they lack the expertise and spare room to even consider running a server. So why would a home user need to run it in the first place?
I want to start by saying this is a great question to ask and one that we should ask not only as it relates to servers but all of the software we use. If you don't have a real need for an application you should just avoid it as it will only clutter up your hard drive and cost you money to purchase. Also, if at the end of this post you still don't see the need for running a server than don't do it. This article is designed to help you see what a server could do for you so you can truly determine whether the features fit any of your needs. So let's get started with why you might want to run a server by looking at the hardware requirements.
One of the myths most people have about servers is they are huge machines that need dedicated rooms to run. The beauty of our current place in history is that servers can be run on very small hardware that won't take up more than the size of a shoe box on your shelf depending on your needs. You can run OS X Server on a Mac Mini and have plenty of power for your home environment. In fact I would recommend using a Mini for home use because of the power benefits and it's small size. I would however recommend getting at least 8GB of RAM and, if you can swing it, 16GB. With that you should be in great shape to run OS X Server. But server can also run on any Mac you have in the house so don't feel like you have to purchase a new Mac to run server (unless of course your Mac is too old to run Mavericks). As long as you plan on leaving your server on and not move it around, you could even use a laptop.
Now that we have the hardware issue out of the way, let's look at some of the benefits of running a server in a home environment. Each of these things should give you a good idea if Server is for you: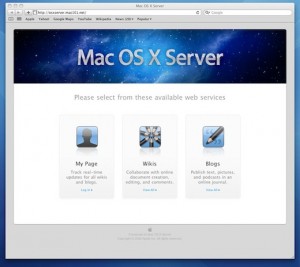 Wireless Time Machine Back Ups
If you don't happen to have a Time Capsule or would rather have your storage space outside your router, you are out of luck when it comes to wireless Time Machine backups. Yes you could do some things to try to get it to work with an Airport Extreme Base Station with an attached drive but things could get corrupted and its not supported by Apple. With OS X Server you can designate any drive connected to your Mac Server to serve as a back up disk for Time Machine and the best part is that it is supported by Apple.
 Your Own VPN Service
With most of us spending a lot of time on unsecured public networks, fear of data being stolen over the air is a real concern. VPN creates an encrypted connection to the internet and protects what is sent and received over the air. OS X Server has a built in VPN service that you can use on all of your devices to make your remote web access secure.
Network Accounts
With most of us having multiple computers at home with multiple users wanting to access their stuff on those computers having the ability for any user to log into any computer on your network to access their files and desktop is a much needed service. With OS X Server you can create your own network accounts and host your user's home folders on the server so they can access their own desktop and files on any Mac in the house. This really saves arguments over who gets what computer in the house. If you have kids you know what I mean!
 File Server
One of the first things most people think about when it comes to a server is gaining access to files when they are away from their main Mac and outside their network. With a server, you can designate any folders or drives as accessible outside your network and set who can access what files and folders.
 Manage Multiple Devices
Most homes have become mini corporate environments with multiple Macs and iOS devices. Managing all of those devices can be tedious and difficult to set up and maintain. With OS X Server you can manage all of your Macs and iOS Devices from a simple web interface and push changes over the air to your devices as groups or individual device profiles making managing devices a lot easier.
 Personal iCloud Service
For some people the idea of having all of their personal information online in the cloud somewhere makes them uneasy. What happens if a security breach happens with the service you are using? Instead of having those things on a hosted service, they may want to manage their own calendar, contact, iMessage and Mail Server. For those with kids this is a great way to help them get their feet wet in some of these services while you control what they can can't see or do. Built into OS X Server are services to that allow you to manage these things and then sync your settings to all of your Apple devices.
 Personal Web Server
Built into OS X Server is a web server complete with a built in Wiki website that you can customize. You can also host your own websites with OS X Server though there are some challenges for home users depending on your ISP service and how they feel about home users hosting websites. But even with that limitation you could host an in-house only website that your family uses on your home network only to share things. Another great way to get the kids used to using a website and publishing to it in a safe environment.
 As you can see there are a lot of different uses for OS X Server for home users. If you saw anything in there that you could take advantage of, then OS X Server is for you. You don't have to use every service to run server but can pick and choose what works best for you. For those of you that like step by step instructions on how to set all of this up, I have a Youtube Channel where I do just that. You can check out more information on my website or on my Youtube Channel. If you choose to get started and get stuck along the way feel free to send me an email or leave a comment.
 About Todd.
Todd Olthoff is a Mac enthusiast who loves to pass on what he has learned to others. He regularly produces screencast tutorials on his website and on his Youtube Channel. He is also a regular contributing screencaster for ScreenCastsOnline and for MacStadium a Mac colocation company.
 Links.
Related Posts