Mar 05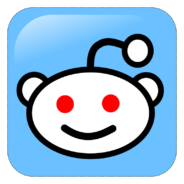 On the Internet, we all have our "time sinks"; those big bad dark rabbit holes that suck up our attention for hours on end while real life (and productivity) passes us by.
For some of you that might be Facebook, Google+, Pinterest or even Wikipedia (in which case, bravo!). For me my time sink is Reddit. Yes that strange forum-place that has a "sub" for just about anything and is packed with comments, snarky remarks and all out flame wars. In short: the best and the worst the Internet has to offer.
I have personally selected a set of sub-reddits that interest me, from /r/chernobyl to /r/homeservers and from the intriguing /r/documentaries to the embarrassing /r/tifu. Reddit continues to be a source of entertainment and information for me that can keep me away from the mediocre rivers of sludge that we call Facebook or the "mainstream" media.
I interact with Reddit on a variety of platforms and locations. In short: If it has an Internet connection, I want to be able to check Reddit on it. I seldom stoop so low as to access Reddit via a regular browser (only if I have to) and prefer to use the following clients instead.
iOS: The 'Official' Reddit client
On my iPhone (and iPad) I have tried out several apps that let me have digital intercourse with the little alien guy (The Reddit icon) but I have settled on the standard Reddit client. Its not as highly configurable al some of the alternatives but its simplicity has its advantages when you are on the road. Commenting, browsing and searching through subreddits is easy and the apps is pretty fast. 4/5 stars!
Reddit for iOS (App Store)
Windows: Redditting
There are not a lot of cool apps in the Windows store, but Redditing is surely one of them. This great Windows clients lets you browse Reddit easily both on a "standard" desktop interface or on your Surface pro 4 using your stubby cheeto-covered fingers. I love using Redditting to browse through the wallpaper section of Reddit (/r/wallpapers or /r/starshipporn) and downloading all the cool wallpapers using the cool "download" button.
Redditting for Windows (Microsoft Store)
Linux: Rtv
On Linux (On my Raspberry Pi that is) the command line is your friend and RTV is probably one of the coolest and nerdiest applications out there. RTV gives you a nice color coded CLI interface to browse your favorite subs, do posts and make comments. Clicking a link opens a command line browser which makes /r/wallpapers a Sub that is a little … empty.
Rtv for Linux (Github)
MacOS: Reditr
Finally when I cuddle up behind my massive 15″ Macbook Pro I use Reditr to browse through Reddit. When it comes to look and feel its a lot like Redditting, minus the touch-friendly design. The great thing with Reditr is that it is fast and simple to work with, giving you a learning curve that a brain dead hamster could master in under 30 seconds.
RedditR (Mac App Store)
Android: Reddit is Fun
Reddit is Fun 'makes' reddit fun on Android tablets and smartphones. A true and capable competitor to the "official" Reddit app with the standard abilities to post, comment and up-vote but which also sports an easy to learn interface that lets you discover NEW reddit subs just by punching in the right search term. Now you can say you stumbled across your favorit /r/bronies completely BY ACCIDENT.
Reddit is Fun (Google Play Store)
Reddit is great and has a lot to offer. Thanks to these cool clients I'm able to get the most out of my time spent on the site. Up-votes, down-votes, comments, replies, fresh posts. I start them on one device and pick up where I left off on another… "Slider Style!"
Related Posts
Oct 30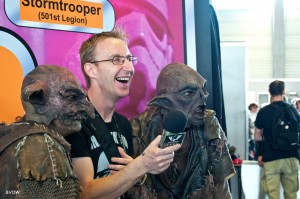 With all these amazing guest bloggers showing us what gear they use and what is "in their geekbags" I feel a little intimidated showing you what I drag around. My "Bag" is my daily companion for the days I work onsite as an IT consultant. It is focused on portability AND the ability to facilitate my creative and commercial activities while i'm out the door.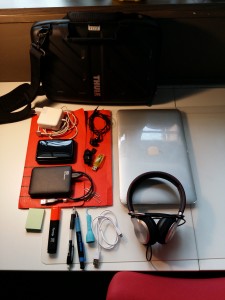 The Bag : I have a thing for bags. I don't have just one :  I have several. As my wife jokes from time to time "I'm like a woman" when it comes to computer bags. Perhaps she is right .. The thing is : I don't believe in "one bag" for every occasion. Depending on where you are going, what you need to take with you and what kind of venture you are attending … a different bag  (or even a different setup of selected gear) might be required.
So in this case i'm showing you my "Day to day – on the road" bag (and its contents). The bag I carry around is a Thule Gauntlet 13. It was orignally designed for a 13 inch Macbook pro, but as I talked about it in the INITIAL REVIEW I did for Knightwise.com, it is a bit of a "Too tight fit" for the 13 inch Macbook but perfect for the setup I use it for. The bag is more of a 'hard-case" then a messenger bag. This makes it compact AND keeps you from "over stuffing" your bag with things you don't need. Like an old 'attache' case, it offers sturdy protection but also allows just  a finite amount of stuff you can cram in it. This is both a positive and a negative thing. The bag is stylish (important) rugged (it protects my gear) organised (it has pockets and compartments) and waterproof (I tested that by aiming a garden hose toward it.) You can go for a detailed review HERE .
The laptop : I have a 15 inch Macbook Pro I use for just about everything. But I also held on to my 11 inch Macbook air that I got last year. Partly for sentimental reasons (its just a great device) but also for practical reasons : I would be terrified taking my 15 inch Macbook Pro on the road with me every day. Its too valuable for me  (and also a little bit too bulky). The Macbook Air  is also my 'experimental machine' to run Linux distro's and stuff. It is encased in a clear plastic hardcase I bought on Ebay (i'm also a little bit of a case-afficionado) and on its 128Gig ssd drive I've dual booted Osx Mavericks and Elementary OS Linux.
Headphones : My wife bought me a pair of Philips Headphones (I don't know the type, threw away the box) that sit snugly ON my ears (not one of those sets that goes AROUND your ears). I like them because they are still quite discrete and stylish to use on the road, yet offer good sound quality. I also carry around a pair of apple in-ear earbuds. (not in the picture). These are great for recording audio, listening to podcasts while walking outside .. and they are just plain indestructible. (I have had my pair since Christmas 2012 and they have been through the washing machine 5 times now…) What IS in the picture is a pair of el-cheapo Samsung earbuds I keep in my bag as a spare. Yeah .. triple redundant headphone/earbud setup.. i'm a geek.
Cables : Very few. A charger for the Macbook Air and a micro usb cable to charge my phone, the blue thing is one of those adapters that lets you transfer files from a usb stick TO your phone. I have no idea why I keep carrying it around since its a little redundant .. but I haven't taken it out yet.
"Writing utensils"  : Pens : As few as possible. A highlighter, a black and a blue pen (a blue STAR WARS pen !) and a couple of small post it notes I use religiously to keep tabs on whatever paperwork i'm dragging around.  I also carry around a manila folder (the red one) for every slip of paper I need to handle. It keeps the paperwork free from creases and prevents me from losing any document/piece of important paperwork that is smaller in size then a sheet of wallpaper. I don't carry around a notebook or one of those snobby Moleskin books. I don't believe in paper.
Harddrive : A one terabyte Western Digital Hard drive (usb powered) for those situations where I need to carry stuff around that does not fit on the drive of my laptop. It is pre-packed with some movies, some music and some tv shows to  watch, should I get stuck on an airport or a train station. I NEVER plug this drive into a foreign computer and have thought about encrypting it too.
Usb sticks : 2 Usb sticks , one 8 gigabyte 'Darth Vader' one that sports a Live usb version of TAILS (the super secure privacy oriented linux distro that Snowden used) whenever I need to work on a computer that is "not trusted". There are also some portable apps on there when I'm working on a foreign Windows machine. The other 16 gigabyte stick is just there to "sneakernet" data across.
Box of business cards : Running your own company means carrying around business cards. My super geeky wife found out that these little plastic "wallets" are perfect for doing just that.
Not in the picture.
My phone  :  I use a Samsung Galaxy Note 3 on a daily basis, combined with a 1st generation Galaxy Gear smartwatch. The Note3 takes care of many of my entertainment and communication needs. The Note3 is also the main "connectivity device" when I'm unable to smooch off some free wifi.
Related Posts
Jun 25
We return to the podcasting routine with a show that is packed with Gadgets and clever life hacks. Its time to turn our geek bag upside down and tell you not only what is inside of it, but also HOW we use it. Tune in and learn the secret of how to become the optimal, creative, productive and entertained digital packrat without shlepping around a portable datacenter on your bag. Hone your vulcan hearing as we tell you "Whats in my Bag" (and how do we use it).
Shownotes.
Intro
My routine
Whats in my bag
Less is more.
BONUS : The behind the scene "hangout" of this shows recording.
kw805 Whats in my bag [ 15:51 ]
Related Posts
---
Apr 02
*By guestblogger Todd Oldhoff *
As someone who teaches about using OS X Server I get a lot of questions from home users about why they would even need a server in the first place. Most people perceive that servers are for big business operations. They are huge machines that sit in a dedicated room and are monitored by IT professionals who make sure everything is running smoothly and fix things when they break down. The whole process seems overwhelming and most feel they lack the expertise and spare room to even consider running a server. So why would a home user need to run it in the first place?
I want to start by saying this is a great question to ask and one that we should ask not only as it relates to servers but all of the software we use. If you don't have a real need for an application you should just avoid it as it will only clutter up your hard drive and cost you money to purchase. Also, if at the end of this post you still don't see the need for running a server than don't do it. This article is designed to help you see what a server could do for you so you can truly determine whether the features fit any of your needs. So let's get started with why you might want to run a server by looking at the hardware requirements.
One of the myths most people have about servers is they are huge machines that need dedicated rooms to run. The beauty of our current place in history is that servers can be run on very small hardware that won't take up more than the size of a shoe box on your shelf depending on your needs. You can run OS X Server on a Mac Mini and have plenty of power for your home environment. In fact I would recommend using a Mini for home use because of the power benefits and it's small size. I would however recommend getting at least 8GB of RAM and, if you can swing it, 16GB. With that you should be in great shape to run OS X Server. But server can also run on any Mac you have in the house so don't feel like you have to purchase a new Mac to run server (unless of course your Mac is too old to run Mavericks). As long as you plan on leaving your server on and not move it around, you could even use a laptop.
Now that we have the hardware issue out of the way, let's look at some of the benefits of running a server in a home environment. Each of these things should give you a good idea if Server is for you: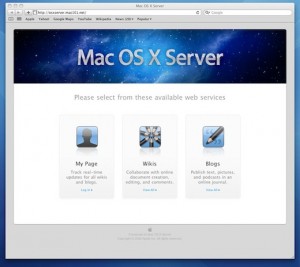 Wireless Time Machine Back Ups
If you don't happen to have a Time Capsule or would rather have your storage space outside your router, you are out of luck when it comes to wireless Time Machine backups. Yes you could do some things to try to get it to work with an Airport Extreme Base Station with an attached drive but things could get corrupted and its not supported by Apple. With OS X Server you can designate any drive connected to your Mac Server to serve as a back up disk for Time Machine and the best part is that it is supported by Apple.
 Your Own VPN Service
With most of us spending a lot of time on unsecured public networks, fear of data being stolen over the air is a real concern. VPN creates an encrypted connection to the internet and protects what is sent and received over the air. OS X Server has a built in VPN service that you can use on all of your devices to make your remote web access secure.
Network Accounts
With most of us having multiple computers at home with multiple users wanting to access their stuff on those computers having the ability for any user to log into any computer on your network to access their files and desktop is a much needed service. With OS X Server you can create your own network accounts and host your user's home folders on the server so they can access their own desktop and files on any Mac in the house. This really saves arguments over who gets what computer in the house. If you have kids you know what I mean!
 File Server
One of the first things most people think about when it comes to a server is gaining access to files when they are away from their main Mac and outside their network. With a server, you can designate any folders or drives as accessible outside your network and set who can access what files and folders.
 Manage Multiple Devices
Most homes have become mini corporate environments with multiple Macs and iOS devices. Managing all of those devices can be tedious and difficult to set up and maintain. With OS X Server you can manage all of your Macs and iOS Devices from a simple web interface and push changes over the air to your devices as groups or individual device profiles making managing devices a lot easier.
 Personal iCloud Service
For some people the idea of having all of their personal information online in the cloud somewhere makes them uneasy. What happens if a security breach happens with the service you are using? Instead of having those things on a hosted service, they may want to manage their own calendar, contact, iMessage and Mail Server. For those with kids this is a great way to help them get their feet wet in some of these services while you control what they can can't see or do. Built into OS X Server are services to that allow you to manage these things and then sync your settings to all of your Apple devices.
 Personal Web Server
Built into OS X Server is a web server complete with a built in Wiki website that you can customize. You can also host your own websites with OS X Server though there are some challenges for home users depending on your ISP service and how they feel about home users hosting websites. But even with that limitation you could host an in-house only website that your family uses on your home network only to share things. Another great way to get the kids used to using a website and publishing to it in a safe environment.
 As you can see there are a lot of different uses for OS X Server for home users. If you saw anything in there that you could take advantage of, then OS X Server is for you. You don't have to use every service to run server but can pick and choose what works best for you. For those of you that like step by step instructions on how to set all of this up, I have a Youtube Channel where I do just that. You can check out more information on my website or on my Youtube Channel. If you choose to get started and get stuck along the way feel free to send me an email or leave a comment.
 About Todd.
Todd Olthoff is a Mac enthusiast who loves to pass on what he has learned to others. He regularly produces screencast tutorials on his website and on his Youtube Channel. He is also a regular contributing screencaster for ScreenCastsOnline and for MacStadium a Mac colocation company.
 Links.
Related Posts
Feb 18
Iphoto is a great application. It organises your pictures, lets you tag people, add geotags and use tons of effects and sliders to make you aunt Joe look like the witch from the Wizard of Ozz. iPhoto is also good at something else : keeping your photos … in iPhoto. All cool and dandy until you want to access them from a machine .. that isn't a Mac. iPhoto (just like iTunes) are proprietary applications that lock in your data into their database/filestructure. That's cool if it helps them do their thing .. but what if you want more "freedom ?"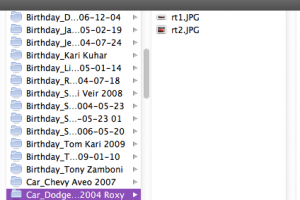 So lets spring your data.
But where are you going to put them ?  That's a good question. My philosophy here is that your data should be freely accessible by multiple operating systems, from multiple locations and multiple applications. This makes the obvious solution an organised file structure using files and folders on a network share. 
What do you have to loose ? 
You can loose some of that 'extra data' some applications add to files. iPhoto writes metadata like face recognition data and other tags in a different location (so not INSIDE the picture information) So you might end up loosing some of that data. It might be a price that is too high to pay to set your data free.
What do I use to export ?
 The name of the application we suggest (for OSX of course) is not very original : "iPhoto export all events" does what it says it does. It takes your iPhoto library and exports the pictures in a folder structure based on your different events. There are 2 versions of the application (one where the folder structure is based on the names of your events the other one where it adds the event date in front of the folder name )  Its an older app, its free .. but it works.
So now what ?
Your pictures are free ! Yeey ! Time to go looking for a photo management application that does NOT try to slobber up all your files in one giant database. We will probably get into a cross-platform friendly list in a later post so in the meantime … stay sharp ! 
Links : iPhoto Export all Events. 
Related Posts