Dec 24
So its day Three of the "Chromebook only" week. A week in which I promised myself ONLY to use my brand new Acer C730 to get things done. In a previous article we've talked about the first impressions of the device and what it feels like to take your Chromebook to work. That's all nice but … what about downtime ? Can the Chromebook entertain us ? We'll find out.
Before I start I want to make a confession : I'm a cable cutter ! Yes, we have ditched 'traditional tv' in favor of streaming content from the internet and from our personal library of backed up Dvd's to our television. So demands for 'conventional television' aren't very high in our households. However : With the holiday season coming up there is the need to catch the Doctor Who Christmass special on BBC2 … But I live in Belgium .. So what to do ?
Enter the HOLA extension. A little app that lives in your browser and allows you to "tunnel" through local proxies in the US, the UK and other countries to be able to watch 'their' content. 'Hola' works great for watching content like Bbc or watching the Extended Netflix catalog in the US. The Chromebook keeps you entertained for hours.
As for music : Plenty of services out their that want to stream their soundwaves your way. Some extensions even let you upload your music to your google Drive and stream it from there. If you don't feel like doing that , how about Spotify, Stitcher, Grooveshark and plenty of other services ? The audio quality on the C730 is pretty good although it IS lacking a little bit in the lower part of the sound spectrum. No doctor Dre .. but no tinny radio either.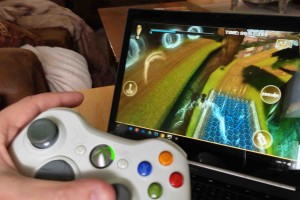 As for games : They are (of course) web based. Some of the apps in the Chrome webstore are nothing more then glorified links to websites where you can play said games. But thanx to Java, Ajax, Ruby and other forms of webmaster-black magic you can play a decent game inside a browser these days. If you don't mind the occasional apps for adult-daipers in the upper right corner .. you can find online (clones) of Command and Conquer .. or really go for it and dive into some classic arcade games that are a dime a dozen out there. And lets not forget the Internet archive with their Internet Arcade ! Play a ton of classics .. in your browser .. on your Chromebook.
Conclusion :
If the internet is a geeks daycare center where he can spend hours while his/her parental units go off to do other things in the real worls … the Chromebook is your hot babysitter ! It will keep you linked up to the world wild web (that ain't no typo) and if you know where to look you can spend hours playing games, watching movies and listening to music WITHOUT spending a dime OR breaking the law. As long as you keep the Chromebook connected .. it will keep you entertained
Links.
Related Posts
Jul 04
We go deeply technical today and discover the wonders of Virtual machines. What are they and why do we compare them to holographic characters in Star Trek ? We talk about the secret sauce to build a 'Datacenter in a Box' for your home. Instead of owning rows of old clunkers to test, or half a server rack to meet your needs, we take a tour of Virtualbox and how you can use it to shove an entire datacenter… under your desk.
You can also watch the Live recording of this show on Youtube.
Shownotes.
– Virtual machines .. What are they.
– How can you use them to work for you.
– Working out your strategy.
– What I use ?
– Virtualbox.
– Virtualbox extention pack .
– Vboxmanage commands.
kw806 : Datacenter in a box. [ 24:05 ]
Related Posts
---
Mar 18
This week in "Server week" we are going to set up a variety of servers that allow you to do a variety of things. One of the most basic and versatile server you can set up must be the SSH Server. Long time fans probably know that the SSH server is the base ingredient for a lot of fun stuff you can do. For example.
Transfer files over the internet.
Work with command line applications from a remote computer.
Tunnel your browser traffic through your own server to stop nosy network admins.
Connect to your home network with a VPN connection.
These are just a couple of things you can do, but before you can do that, you will need the basic ingredient : Let's set up an SSH Server.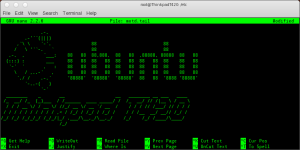 Required ingredients.
Debian based Linux distribution : ( you can do it with a redhat based one too, but we use a debian based one for the tutorial)
Static ip for your Linux distribution.
Connection to the internet.
If you don't have a static IP : A dynamic DNS service like opendns or Dyndns.
An open port on your router forwarded to your linux machine.
Let's get cooking.
Open up a terminal on your linux machine and type : sudo apt-get install openssh-server
After the server is installed, connect to it from a remote machine using a terminal application like Putty (for Windows) Secure Shell (for the Chromebooks) or from the terminal on other Mac and Linux machines.
Connect to your Linux server with the command : ssh yourusername@theipofyourserver
And starting out that is ALL you need to do. If you want to do this from the internet you need to forward the correct port (The standard port is Port 22) from your router to your linux machine so you can make it accessible from the internet.
Lets make it pretty.
Lets make it secure.
SSH servers run standard on port 22, so a lot of scriptkiddies will go around the internet and "knock" on your port 22 to see if there is a server there. We are going to "obscure" the location of your SSH server a little by changing the default portnumber (Remember you also need to adjust this on your server) Follow THIS tutorial to get you started.
Next time you connect remember to connect with ssh -p portnumberyouchose yourusername@theipofyourserver
If you want to get rid of entering your password when you connect you can log in using secure SSH keys. Its a little bit on the advanced geeky side but it DOES keep your machine extremely secure : Only a machine with a unique digital fingerprint can connect using this method : Here is a good tutorial.
Lets start using it.
The SSH server offers you a variety of functionalities we talked about in previous blogposts. We will line up the best uses for SSH here.
These are just a couple of examples of what you can do over this very powerful little SSH connection. Remember always to use strong passwords and keep your server up to date.  Have fun ! 
Related Posts
Jan 05
Knowing "how busy" your network card is on your Linux system can be very handy in a variety of occasions. You might want to see whats holding up traffic if you use your Linux box as a router, You might want to check how fast that download is going on your torrent machine, you might want to see the top speed you can get out of your workstation. In any case : Getting a quick and comprehensible readout of how many bits you are spewing is not always easy, especially if you are connecting via the command line.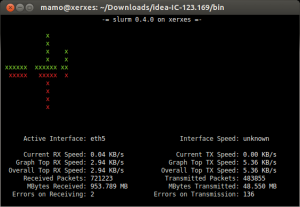 Enter "Slurm" an app that does one thing and does it well. It gives you a graphical overview on how fast your system is up – and downloading data. This information is specified into your 'real time data usage', your average data usage, your amount of data received and transmitted. It also comes with a cool graph that, on a glance, gives you an idea on how busy your pipe is. 
Slurm is easy to use ( and does not have a ton of command line switches) an can be run on different network cards at the same time. This is very handy if you ever want to see how fast your home-built router is blasting bits on both interfaces.  Slurm is available by installing it from the command line on any ubuntu/debian based system via  sudo apt-get install slurm . You can use Slurm by hitting slurm -i eth0  (eth0 or 1 being the name of the network card you want to monitor.)
Related Posts
Nov 20
I very frequently leave the house without having enough music in my pocket. As an avid podcast consumer who loves to listen to a broad range of podcasts about an even broader range of topics, tunes are quite rare on whatever mobile device i'm packing. But thanks to the wonders of streaming, a nice set of notes is never far away. This week listener Sharky suggested a very very geeky way to do just that. With streaming services like Pandora and Spotify abundant on the desktop of the average mouse jockey, its time to "set yourself apart" from the crowds. The ultimate way to do this is to use cmd.fm. Its a streaming music interface combined with something that resembles a chat room .. in a command line interface. All you need is a computer (duh) a browser and a sound card and you are good to go. In a command line interface you can choose from a variety of genres and listen to whatever tickles your fancy (from Punk Rock to Choir music). If you sign up for an account you can leave comments and "chat" with the other users while listening to the streams. Play, Pause, Genres, … All the commands are entered via the keyboard; We love the service because it has a high sound and content quality, because there are no (or almost no) adds and because its the geekiest way to stream music ever. 
Related Posts