May 12
We continue our Cross platform productivity week posts this week and focus on that one little application we use the most on our computers these days … The browser. (or the World of Warcraft Executable, depending on your taste). Chrome is a little bit of a cross platform blessing since it not only straddles most of the Operating systems we talk about, it also has access to a wide range of extensions. We listed a couple that help you to be more productive.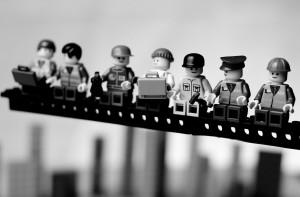 Writebox for Chrome.
When I write blogposts I hate to be distracted. No matter how advanced my laptop is, or how multitask-friendly my operating system tries to be … when it comes down to doing some writing I want something plain and simple. Writebox is just that : A text editor in a window that gives you text on a plain background. You can tune the colors to your liking (amber letters on a black background for me) and start typing. Writebox syncs with Dropbox and your Google drive so you can 'pick up' where you left on on another computer or on another OS altogether.
Dictate with Dictation.io
All the cool bosses of the 70's had secretaries. These girls would sit behind giant typewriters while their bosses dictated all kinds of important letters to their management (or mistresses) So why don't WE do that ? Forget the typewriter and the mistress part, how about you start talking to your computer right now. Dictation.io is a great website/extention that lets you dictate whatever you want to write and spits it out in plain text. Copy – Paste – Done. No matter what OS you are on.. as long as you are running chrome. https://dictation.io/
Mindmup
Whenever I need to prepare a podcast or do a presentation I use a mindmap to organize my thoughts. Some people type stuff out, but I have found out that my brain just doesn't work that way. After a little looking around for a great (free) chrome friendly Mindmap tool, I stumbled across Mindmup. It lets you create as many mindmaps as you like and store them on your Google Drive or in Dropbox. Unlike Mindmeister we mentioned a while ago, Mindmup does not have a restriction on the number of mindmaps you can create using the free service.
File system for chrome os.
This is actually a collection of several applications/extensions for those of you using a Chromebook. With this extension you can connect your Chrome file structure with either Dropbox, Onedrive or a webdav service; tying the different locations where you store your data together. Gone are the days of having to upload files and open websites/services to get to your teletubby wallpaper collection.. Enjoy !
Links.
Related Posts
Feb 06
"I run operating system X, I prefer distribution Y, I like desktop interface Y better" I've heard the discussions over and over again. Sometimes people stick to their guns and defend their choice, other times people hop around from OS to OS or from Linux distro to Linux distro just because they want thingie X that isn't available in Distro Y.
The question is : Why do we still need to choose ? If we can train our digital workflows to be operating system independent, why can"t we take it one step further and instead of 'choosing' our operating system .. why not design it ourselves ?
The question came up when I got back from a visit to Fossdem this week (Belgians largest open source conference with attendees and speakers from all over the world). Seeing all these pretty Linux distributions and the powerful stuff you can do with them made me all eager to take the plunge once again and go "Full Linux" for a while. I slide from OS to OS (My main workhorse is a Mac, my traveling companion is a Chromebook that has Ubuntu on the side, my desktop runs Linux Mint and I have a Surface Pro running Windows 10). Lately I have been having hours of fun playing around with the Chromebook. Its simple operating system charms me into using it quite often. Its clutter free, not a lot of distractions and I like its simple elegance. However it is limited. Some things just don't work on Chrome, but luckily for the Chromebook I can just 'sidestep' into the Ubuntu version I've installed via Crouton.
Hopping from OS to OS at the press of a button is a joy, however, since Ubuntu uses the same Root kernel Chrome OS does .. Some features are missing. (No iPTables means no way to use Sshuttle, my favorite vpn client) The other downsides from working on the Chromebook are its limited storage (16 gigs divided between Ubuntu and Chrome OS) and the low quality screen. I love working with the little machine when i'm on the road .. but it has its limits.
Meanwhile my super powerful Macbook Pro sits by the wayside, waiting patiently until I have a new task for it to do. (I do most of my audio and video production on my Mac and it IS the main machine for my business so tinkering with it is just not done). A bit of a shame really.
Side by side.
As I was once again working on both machines side-by-side this week, I wistfully thought : How cool would it be to have the power and screen size of the mac, the simplicity of the Chrome OS and the power of Linux rolled into one machine while still having the option to "slide" back and forth between the operating systems at a whim…
Sure, I could dual boot my Macbook pro with some flavor of Linux but that would violate one of my basic principles : My Mac is my work machine, my livelihood .. so excessive tinkering that might harm the OS or the data on the machine is NOT done. Furthermore, since the latest upgrade to OSX Yosemite, dual booting has become a lot more complicated. So the alternative was easy : Using a virtual machine. With plenty of Ram and an SSD drive I would have not trouble throwing some Gig's and a few cores at my Linux distro of choice and run one on top of the other.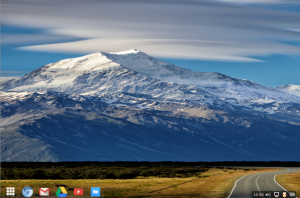 So what to choose ? Choosing your distro is always hard. And in my case I wanted something very specific. I wanted the distro to have a light graphical user interface (I don't like clutter + I wanted it to be sharp and snappy so I didn't get the feeling I was running a VM. On the other side I also wanted it to look like Chrome OS. So what to choose ?
Chromixium : A great distro that I found out there that does just that is Chromixium. Basically its a re-build of Chrome OS but using the open source version of the Chrome browser : Chromium. The Chrome-OS look and feel is done by heavily modifying an E17 interface and adding a plank dock. The operating system is light, elegant and well done. The great thing is : Where Chrome OS Stops, Chromixium go on. Instead of running on a shared Linux Kernel (like the Ubuntu installs in Chrome OS via Crouton) Chromixium is pure Ubuntu under the hood. That means : A terminal and access to the software center. Install whatever you please !
Looks like Chrome, Feels like Linux, Runs on a Mac.
So after I installed my favorite Linux applications (both Command line versions and actual apps) I have "morphed" my Chromixium into something that looks like Chrome OS but has the full power (and applications) of Ubuntu available at my fingertips. So now to get it to play nice with my Mac. In order for the Chromixium VM to be able to use the full resolution of my Retina display I made sure to assign it at least 32 meg of video memory in the Virtualbox control panel. I also assigned 2 cores and 4 gigs of ram. Next up it was time to install the Virtualbox Add ons into the guest operating system (Chromixium) to let it use the full resolution.
Retina Schmetina
The actual resolution of a 15 inc Retina Macbook Pro is 2650 by 1600 and I was puzzled why, no matter how I tried, I could not get my Chromixium VM up to that exact resolution when I put it in full screen mode. Turns out that this is actually impossible. The retina resolution is no longer tied to the actual resolution of your display. So you can "scale" the actual resolution of your desktop to 'appear' a certain resolution that is actually being 'mapped' on the actual resolution of your display. To make a long story short : I went into my Macs system preferences and set the host resolution of my system to a setting that "looked" like 1920 by 1200 and when I set my VM to fullscreen I saw that THAT was the actual 'physical' resolution the VM recognized.
So in the end I'm running an OS that is a mutated version of Chrome OS and that I have pimped out with a lot of "standard" Ubuntu applications ON TOP of my Yosemite install on my Macbook pro. It gives me the best of both worlds. The look and feel of Chrome OS , the power of the cloud (Both Chrome and Chromium can sync with my Google account and all settings, plugins and extensions are carried over between my Chromixium os, my Mac and my Chromebook) To power it all I have my Retina-display I7 Macbook pro and due to the fact this is a VM , I can easily make snapshots I can roll back to should something go wrong. I've already cloned the Virtual machine to my home server so I can access it remotely (via RDP) should I need to.
Tie in a couple of SSH connections and applications running on some of my other (remote) virtual machines and pretty soon I am having a hard time keeping track of what OS I'm actually using. And that is the whole point. The operating system needs to become abstract. A software layer that provides a you with the means to get things done. It is not there to be adored, it is not there to be fought over, its not there to make you choose.. its there to help you get stuff done .. regardless of what OS you choose…
Links : Chromixium
Related Posts
Jan 01
We deep dive into the world of Chromebooks and find an answer to the question : Can you survive on a Chromebook. We walk you through the possibilities and limitations of the Chromebook. We enlighten you  on how to use it for work, connect back to your home network and how to use your Chromebook to entertain you. If thats not enough we go beyond the design specifications and sideload Linux on your Chromebook turning into a low budget sliders dream machine. All of that and more .. in Kw905 : Life on a Chromebook. Catch the live recording of this podcast in the Youtube video below and see if you can catch Sulu the dog as our Podcast assistant.
Shownotes.
The Acer C730
First impressions
Hardware – Software
Taking the Chromebook to work (Article)
Using the Chromebook to entertain you (Article)
Connecting back to your home network via a Socks5 proxy over SSH (Article)
Dual Booting your Chromebook with Linux (Distroshare.com)
Sideloading your Chromebook with Crouton (Youtube instruction video)
Epilogue
kw905 : Life on a Chromebook.
Related Posts
---
Dec 21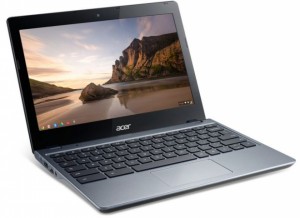 Sometimes i'm an early adopter. So much so that if we ever had any kids I would probably be trying to teach our unborn child all the names of the Star Trek DS9 characters before it was born. Sometimes I just can't wait for things to just 'get there'. However, when it comes to Chromebooks i'm late to the party. While others raved about how they could 'do everything in a browser' I was not impressed with this locked-in substitute for a terminal client. But… yesterday I budged and forked over some cash for an Acer C730 Chromebook (Also known as the Chromebook 11) and am preparing to set out on a quest to answer the ultimate question : Is a Chromebook enough ?
So join me in my quest as I discover the Pro's and the cons of a 249 Euro device that has sold his soul to the Googleplex and try to "Cross-platform-slide" the Chromebook.
Knightwise, Meet the Acer C730.
The Acer C730 is Acers 3rd iteration of their popular Chromebook line. As the successor to the immensely popular C720 model (Loved by many because of its ability to dual boot into Ubuntu) it is a low budget – low powered "Terminal to the cloud". At 249 euro's you what you pay for. A plastic 11 inch Laptop (I got the girly "White" edition by accident).
The C730 has an Intel Celeron CPU, (specifically a dual-core Haswell 2957U) and comes with 4 gigs of Ram. The on board SSD gives you 16 gigs of storage and the AC Wifi should be able to get you the speediest of wifi connections. The 11 inch screen comes with a standard resolution of 1378×768. As for auxiliaries the Chromebook comes with a webcam, 2 USB connections (1x 2.0 , 1x 3.0), an SD card slot a full HDMI port and an audio jack.
First impressions.
Unboxing the C730 reminded me a little bit of unboxing my first Asus EEEPC back in the days. For some strange reason you are extremely excited about buying a 249 euro Laptop .. so when you unbox it .. you get a 249 euro experience. The box is bland (brown), there is no Styrofoam (eco frienly) and the laptop is packaged in one of those little veils to keep it scratch proof.
The Chromebook itself is pretty sturdy. Not too light to feel flimsy, not to heavy to feel like 'a real laptop'. which is a good thing. The plastic unibody design feels .. plasticy. You have keep reminding yourself : This is not your average laptop. Its basically a mainboard, a network card and a battery having a threesome inside a plastic shell. And that is all you need.
Well, you need to interface with the device of course and for that you need a keyboard and a screen. I feared for a flimsy crappy keyboard to ruin things for me but was pleasantly surprised with a fairly decent Chiclet-keyboard with enough space between the keys for fast typing. The screen is a little more 'sobering'. We didn't expect Acer to bring us a Retina Amoled display but the viewing angles on the screen do remind us of a laptop from the 80's. As long as you sit right in front of the (fairly bright) screen its fine. But don't expect to have a pleasant experience from any other angle. The colors on the display are a little washed out and the contrast is lacking .. But we aren't going to edit the next Victoria's secret calendar on this thing anyway.
What we do love is the battery ! It just keeps on going. Even if we don't make it to the promised 8 hours of operational use .. we still have a very light cheap laptop that you can chuck in your bag without having to worry that you forgot the charger.
The OS.
Chrome OS is exactly what it should be. A very thin layer of functionality that glue your browser (and your apps) to the hardware. There are not a lot of options, there is limited storage, you can't tweak the crap out of it … and as Grumpy cat would say : GOOD ! It helps us realize that this is a web-terminal with a keyboard and a mouse.
Conclusion.
The Acer C730 is a great gateway into the Chrome and Chromebook experience. You get what you pay for … and then some. What I love about it is the great battery life, the decent keyboard and the fact that the combination of 'light and cheap' make it a great device to chuck in your bag and carry it around anywhere.
I have a 15 inch Macbook pro that is my main production machine. But every time I need to take it on the road i'm afraid it might get stolen. With the Acer I don't have that concern.
In the next couple of days I'll be writing up some more posts on how the Chromebook works for me in my Cross platform Lifestyle .. Stay tuned.
Links.
Related Posts
Oct 22
Wikipedia is a relentless source of information knowledge and .. entertainment. The only downside is that its a Wiki. And Wiki's are ugly. Their designs are based towards the sharing and editing of content. The result in an aesthetic sense is that a Wiki looks about as attractive to read through as a 2003 article posted on a corporate Sharepoint.  So, "Yo dog, I heard you like Wiki's .. So i Pimped a Wiki .. in your Wiki"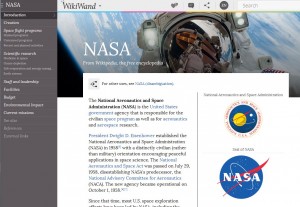 Wikiwand throws a "layer" over the Wikipedia site that makes it easy to browse and agreeable to look at in ways good old Jimmy Wales could never have imagined. Its easier to browse through, soothing on the eyes when it comes to reading long blurbs of text and .. IT HAS BIG BANNER PICTURES !  What are you waiting for ? Go forth, install Wikiwand and look up the number of queen Victoria's toenail clippings preserved for prosperity NOW .. With Wikiwand.
Link: Wikiwand. (Chrome)
Related Posts