Jan 08
With the advent of the Occulus rift, a set of "virtual reality goggles" within the consumer price range, the breakthrough of Virtual Reality was imminent. Or so we thought. Turns out that VR, to many is nothing more then a gimmic and that scenes from "The lawnmower man" are far from part of our daily lives. The glasses where too expensive, the content available to niche.
The former part of that statement started to change when things like Google Cardboard came out. Basically a cardboard version of a futuristic 'viewmaster' with your smartphone as the screen. At an extremely low price people could dip their toes into VR-Space for the first time.
Since then some time has passed and recently Samsung has released their second iteration of "their" version of Google Cardboard : The Gear Vr. Using your high end Samsung Smartphone as a screen you pop this futuristic piece of plastic on your head and off you go.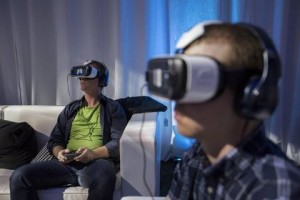 So how does it work ?
Once 'emerged' into Virtual-Space the Occulus app store automatically kicks in allowing you to choose a variety of activities. By 'browsing' through the VR app store you can install apps, games and demo video's (some are free, some are not) and give them a try. Navigation is done by moving your head around, selecting and scrolling can be done using a touchpad on the side of the glasses.
So what's it like ?
Although this truly an 'early adopters toy', it is quite surprising how immersive your experience is. The default "room" you are in to select your app and activity is a giant hall in which you can look and move around. Pop in some headphones and you get the distinct feeling that you are really 'there'. The old saying 'What they eyes see and the ears hear, the mind believes' is pretty accurate.
Although this truly an 'early adopters toy', it is quite surprising how immersive your experience is.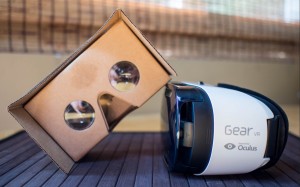 Any Content ?
There is some content out there like games (You can fight off the zombie apocalypse, even with an added wireless controller should you want to) You can visit the cirque de soleil (and be ON stage instead of in the crowd) or even try out your public speaking skills in a sort of 'presentation simulator'.
A little bit of minority report.
Samsung also provides you with a "browser" that allows you to surf the internet. You can "search" using Google voice commands and browse around different pages. It becomes really cool when you can set different tabs side by side in a giant video wall. We enjoyed watching a Youtube movie this way, while having the IMDB page of the movie open on a second 'screen'.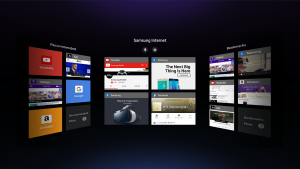 Everything is big !
It is hard to explain what it actually "feels" like using the glasses. First of all : Everything is big ! Since you have no sense of scale every screen looks like its about 4 meters wide and 2 meters tall. "Monitors ? Where we are going we don't NEED any monitors." Doc McFly would cry. A perfect example is the Netflix application that lets you sit on a virtual couch in a virtual cabin watching a giant virtual srceen. We actually managed to sit through en entire movie in this application and be surprisingly entertained.
"Monitors ? Where we are going we don't NEED any monitors."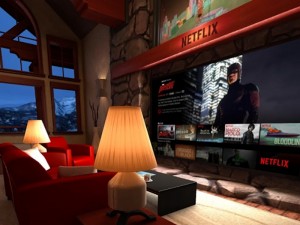 So are we there yet ?
Probably not, this is still early-on technology and the fact whether this is a gadget or a tool can be best evaluated by asking the question : Would you actually use this. The answer is : For browsing and games I would use it occasionally. But I DO see me using this on a plane to watch Netflix (and chill). T
The technology is very immersive and that is also a little bit of the downside. Using this in public makes you look like a total zombie since you are completely spaced out. You don't hear OR see ANYTHING of your surroundings. Its the antisocial teen with headphones on during a family diner, multiplied by a factor of 10. You are in VR space or in real space .. but you can never peek 'over' your screen.
At a 100 euro's it is surely worth a try to play around with Virtual Reality technology AND get away from your messy room OR noisy kids. The gear VR is only compatible with selected Samsung phones and only works with content from the Occulus app BUT there is quite a bit to try out.
Related Posts
May 11
When you are a cross platform slider, hopping from operating system to operating system, you know that life is HARD sometimes.
One of those hard things in a sliders life is finding a good app to build slideshows and presentations that works on EVERY OS. I used to swear by using keynote for this. Its probably one of the simplest and most elegant way to put together a slideshow and become the "dealer of death-by-powerpoint". You can just see your audience die from the sheer boredom of your presentation, but they die with a smile on their face. Hey, those 200 slides about the annual hamsterwheel stockprices were boring as hell, but boy were they pretty !. The downside is that Keynote is only available for Steve-jobs-loving Apple jokeys and that doesn't help you when you just have your Linux laptop with you.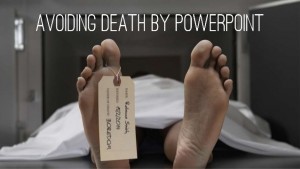 "Release Openoffice" I can here you scream. Yeah. It is pretty much a cross platform alternative for Keynote and it will let you work on presentations using your Mac, your Linux machine AND your Windows box. The downside is that IT (being Openoffice) looks like it was built in the 80's and your presentations are about as sexy as an open box of Twinkies in the poring rain. And whenever you want to go grab your tablet or a smartphone … Openoffice just doesn't help you there.
What remains is Google Slides and Powerpoint online. If you have a browser and an internet connection you get get all of your slide-slicing stuff done from no matter where you are. But the default templates in Powerpoint online are a bit stale and the ones in Google Slides feel like they are from the late 70's ! The more platforms you can use .. the more boring your slides become .. or not ?
So enter 2 good alternatives to make those "online" slidedecks a little bit more interesting are Slides Carnival (For Google Slides)  and some of the free templates on Office online t Both are a great resource to help you make those "standard" presentations a "little" special. So there 🙂 Cross platform presentation making doesn't have to be so boring after all 🙂
Links :
Related Posts
Feb 19
Is your mailbox overflowing ? Is your to-do list getting out of control ? Have you forgotten to pick up your significant other from the airport 3 times in a row ? Sounds to me you need a system to organise the myriad of things you have to do. Good thing there is KW908 : Getting things done the Cross platform way. We talk about the system I use to organise my tasks and my life .. the cross platform way.
Shownotes
Music provided by Daniel Mesner
kw908 : Getting Things Done, the cross platform way
Related Posts
---
Jan 01
We deep dive into the world of Chromebooks and find an answer to the question : Can you survive on a Chromebook. We walk you through the possibilities and limitations of the Chromebook. We enlighten you  on how to use it for work, connect back to your home network and how to use your Chromebook to entertain you. If thats not enough we go beyond the design specifications and sideload Linux on your Chromebook turning into a low budget sliders dream machine. All of that and more .. in Kw905 : Life on a Chromebook. Catch the live recording of this podcast in the Youtube video below and see if you can catch Sulu the dog as our Podcast assistant.
Shownotes.
The Acer C730
First impressions
Hardware – Software
Taking the Chromebook to work (Article)
Using the Chromebook to entertain you (Article)
Connecting back to your home network via a Socks5 proxy over SSH (Article)
Dual Booting your Chromebook with Linux (Distroshare.com)
Sideloading your Chromebook with Crouton (Youtube instruction video)
Epilogue
kw905 : Life on a Chromebook.
Related Posts
---
Nov 11
If there is one thing that I hate with a passion, then it is DRM or  Digital Rights Management. To explain it as simple as possible DRM is the technology used to screw over a paying customer. It is a form of copy protection that should prevent piracy of digital content but instead creates a paradoxical situation where it is more annoying for somebody who PAYED for said content vs anyone who chooses to pirate it.
When I forked over 15 of my well spent dollars in the Google Play store for an Ebook a couple of weeks ago, I was under the assumption that, since Google has no E-Readers of its own, I would be able to read said book on whatever Ebook reader I purchased. Lets be honest : I bought the book, Payed for it and I bought the e-reader. No biggie .. right ? Wrong ! Turns out that when trying to read the ePub file on my recently purchased Kobo Aura , the thing would not open. "DRM Protected" was the error I got.  Possible solutions were : Reading the book on my android tablet (in the Play Books app) or buying it all over again in a DIFFERENT online bookstore (with DIFFERENT drm). Not gonna happen Google, Not Gonna Happen.
Alternatively I could download a piece of Adobe software, hook up my Ebook reader, Authorize my ebook reader online, make an account with Adobe and "transplant" the book. Meanwhile the guy at the Pirate Bay who got a pirated copy of the book has been reading it for the last 4 hours and is way past the second chapter. Yet as a paying customer I have to jump through adobe hoops ? No .. no thank you.
Enter "All DRM Removal" : a great app for Windows or the Mac that lets you strip the DRM of your favorite ePub file using a simple drag-and-drop application. The first three books you "strip" are free, but then you have to pay for the app. I dropped my "Drm infested" ePub into the app and sito-presto : I got a new ePub file back.. Drm free ! After dragging it over to the ebook reader it worked like a charm.
I would not use All DRM Removal to completely strip the DRM of an ebook collection you don't own (thats piracy , remember ? ) but for the occasional book you buy in a DRM'd store .. This is the app to set them free. Happy ebook'in !
Link.
Related Posts