Dec 08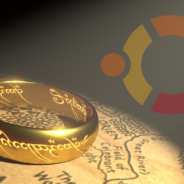 Sometimes the way to achieve "less" is to make more use of the things you already have. If the thing you already have is a fairly powerful old laptop, what you may find is that it makes the perfect home server. This week Knightwise tells us all about the laptop with the new lease on life.
Credits
Episode produced by Keith Murray
Home screen picture courtesy of PixaBay
KW1202 - One Linux to Rule Them All [ 24:24 ]
Related Posts
---
Nov 24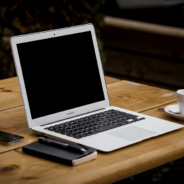 Less. It's often been said that less is more. For those of us who lean towards a more technology-inspired lifestyle it can often be challenging not to try out the next new thing. One more app, one more device, one more Linux distro. But maybe, just maybe, sometimes we're better off seeing what we can accomplish with what we have, and maybe churning out a bit more stuff with a bit less gear.
Credits
Episode produced by Keith Murray
Home screen picture courtesy of MaxPixel
Standard Podcast [ 29:47 ]
Related Posts
---
Nov 13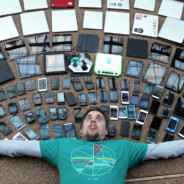 How About "Just" the iPad?
Whenever I have been pack my bag for my morning commute I get annoyed with the sheer redundancy of the stuff I take with me. Here I am packing not one, but three or four "computer capable" devices into a bag to haul off to some office somewhere.
Not only am I carrying around more devices then I could possibly operate at one time, the software on these devices is redundant as well. For some reason I cannot fathom I have 3 different versions of Microsoft Word on my person. One on my PC, One on my smartphone and one on my tablet. It is possible to dream up a situation in which I might be required to use said trifecta of Microsoft's favorite text-blender simultaneously… but that would involve an alien invasion and myself in the unlikely role of the geek that saves the world with a bulleted list.
Blame the Lizard Brain
So why do we (still) cling to this redundancy? The answer is simple: because it feels safe. After 7 years in the tablet era we still have not come to "trust" these devices in a way we trust our beloved PC's (which by now are seriously starting to mimmic our tablets in both appearance and behavior). God knows its not because the tablet apps are by some means sub-standard or don't offer what we need. The one major hurdle the tablet haters could never get over was the lack of an 'actual' filesystem on iOS or Android. Sandboxed applications drove them insane. Yet what do we see today? PC based operating systems are – out of sheer self-preservation – starting to move in a very similar direction. Windows 10 supports installation of unified apps from its app store (in essence a sandbox) and Linux is embracing a more contained approach to applications with their container-oriented Snap packages. With the average smartphone having enough RAM and CPU power to put a PC from 2013 to shame and even the most low-end tablet having a screen resolution that matches the TV in the living room, technical shortcomings are no excuse either. Then what is it that turns us into digital packrats?
The real answer is in the fact that we only think we are carrying around redundant devices because we make them redundant.
We install Word on our phone, our tablet and our laptop because we can. We try to read a spreadsheet on our phone because we can. We even try to edit family photos on a 7 inch laptop using nothing but our stubby fingers. All because we can. Certainly not because we have to.
Somehow with the overabundant availability of identical software on different devices we have started to think that we have to click on "install" everywhere. No wonder it feels redundant.
Specialization is the Key
If we truly where to look at the real strength of each device, we would figure out what do do where pretty quickly. Short messages and communication? Phone. Watching video's on the go or browsing through news articles while sitting on the train? Tablet. Full blown posture friendly photo editing? PC/Laptop.
You see? No more redundancy. Instead you have a sense that your devices are complementary, depending on the task you do and the situation you are in.
Don't do a 3000 piece jigsaw puzzle with chopsticks. Don't use a lawnmower to trim your nails. Stay away from the firehose when you want to water that delicate orchid in the living room. Each device has its use, its purpose and its strength (just like you btw). So remember that next time you feel tempted to install Powerpoint on your smartphone: (to quote commander Scott in Star Trek V) "Use the right tool for the right job!" So ask yourself: "is this really the right device for the job? And if it's not, do it somewhere else.
Related Posts
Mar 03
Call it geek envy, but sometimes you see somebody walking around with a piece of gear and you think by yourself : I want this too. No matter if you need it, or even have a use for it, you want it. Just because the other geek has it to. I regularly get a case of the "geek envies" when I see people use cool smartphones, fancy laptops or … Laptop bags. Yes: My name is Knightwise and i'm a laptop bag junkie.
My wife regularly makes fun of me when I am relentlessly drawn towards the 'bag' section of some store, looking for the 'ideal geek bag'. For some reason I've collected several messenger bags to lug around all my gear. Yet for some reason none of them is 'perfect' and I'm always on the look for that "ideal bag".
So as you might have noticed: Laptop-bag-geek-envy struck me this week after watching a couple of episodes of Mr Robot, where the hero walks around with one of these giant "Tactical backpacks" that hold his laptop. It triggered me into an hour long Amazon click-fest researching which backpack Eliot was using and what the pro's and cons were of using a setup like that. What it basically comes down to is that there is no 'perfect' laptopbag because every bag has its ups and downs
Plopping one of these babies down on a table might confuse people because the don't know if you are going to pull out an  iPad or a couple of fully automatic machine guns
Tough but Rough
Picking up on the 'Tactical Laptop bag' that our hero uses in "Mr Robot" you run into your first problem. These rugged military grade laptop bags are very cool to cary around and basically indestructible. They make you look like a special ops member on his day off. Plopping one of these babies down on a table might confuse people because the don't know if you are going to pull out an  iPad or a couple of fully automatic machine guns. As a result having a military grade laptop bag might not be the best choice if  you are in a corporate environment where a little elegance is required. So at come point you might need to choose between Rough & Tough or elegant and smart.
Roomie but bulky.
The other factor you might need to consider is the size of your laptop backpack. These things come in all shapes and sizes depending on what you want to tuck in there. Ranging from a size that can barely hold an adult tribble to a backpack that would allow you to cross the himalaya in a single go, there is a lot to choose from. Going for a backpack that is roomy might be  very convenient when you want to cram in your entire mobile office for the day: Laptop, Lunchbox, extra sweater, perhaps some  books, your tablet .. you name it. Some of these larger size backpacks eat it up like black holes eat stars .. the downside is that they also increase in mass. What you might end up with is a backpack that weighs  a ton and is very very hard on your back and  shoulders. The fact that you can keep cramming stuff in does not mean that its actually healthy to haul all of that around without the additional use of an antigrav unit or a pair or repulser lifts.
Slick but tight.
The one way to decrease the weight of your backpack is by going for something smaller. The less crap you can shove into your backpack, the better .. right ? Perhaps, but the downside here is that there is a 'bare minimum' of stuff you need to  carry with you. Having a small and slick backpack does increase the chance that your gear does not have enough protection because  there is hardly any room between the corner of your laptop and the edge of your backpack. One strategically placed 'bump' and you might end up with a cracked screen. The other thing that is also a risk here (or with any other backpack) is the fact that you cram in to much stuff and pressure is applied to the center of your laptop screen, making it bend as you walk around. Not something you want.
So I looked at all the pro and cons and went for something 'in the middle': Sufficiently geeky-and-tactical, not too big and not too small. I ended up going for the Thule Enroute 2 Blur. Like all products it is sufficiently rugged and durable to use on a daily bases. It has plenty of compartments to keep your stuff organised (I hate it when crap rattles around in my backpack) and going for the 'Blur' version meant it was roomy enough for my 15 inch laptop with some room to spare. The backpack has some nice adjustable straps that don't cut into your shoulders. When it comes to size it hits the sweet spot between where I still have enough room for my gear, but am unable to pack up everything AND the kitchen sink before I leave the house. At about 99 euro's online it was not  the cheapest backpack around, but it was the only one that ticked all the boxes I mentioned above. Geeky, Roomy, Safe and slick.  Its the perfect laptopbag .. until I go crave another one.
Links: Thule Enroute 2 Blur.
Related Posts
Jun 26
This week's show is an in-depth look at the Surface Pro 3 from Microsoft. We tackle the hardware, the software and the applications that make this device a contender for a daily driver. We also have another great track from Daniel Messer. Let's get into it!
Links
Music
Credits
KW1004 Microsoft Surface Pro 3
Related Posts
---