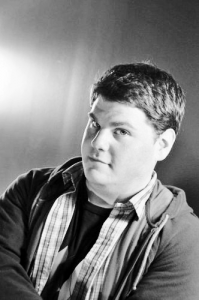 What's In My Bag? By Cody Cooper
I've always been a person to carry bag full of goodies. Looking back on my days as a boy scout isn't a positive nostalgic experience for me as I was always the little fat kid that didn't belong. The outcast among the athletes, put there by my parents in hopes that I would become more social and find new interests, which just didn't happen.
BUT, the motto from that organization always stuck with me:
"Always prepared"
When I think of childhood heroes I, of course, have two people that come to mind: MacGyver and Pee-Wee Herman.
MacGuyver because, well, MacGyver, and Pee-Wee Herman because of his bike from Pee-Wee's Big Adventure. If only MacGyver owned that bike! What he could have accomplished? I guess we will never know. Needless to say I was always drawn to creative problem solving and utility items. They seemed to go hand in hand.
The earliest time in my life I remember carrying a bag with a lot of stuff in it was in junior high. I came from a working class family and when it came to treats I was never given big candy bars or cans of soda, I had to settle for the bulk candy section at the grocery store. My mother would buy a couple pounds of this candy and keep it at the house, but one day I remember taking one with me to school, about half a pound of wrapped peppermint candy.
My fellow students would see me unwrapping the candy around school, popping one in my mouth and the look on my face as it slowly melted away over several minutes. I then starting making friends as I would comply with requests for a piece here and there. Then one day I had someone offer me one dollar for ten pieces and a little sound went off in my head:
"Cha-ching!"
After the success of this little enterprise I of course had to expand my catalog of products to include bubble gum, chocolates, pixie sticks, hot cinnamons, root beer barrels and the like. I was even taking special orders for other items such as beef jerky, Corn Nuts (Ranch and BBQ only), Funyuns, Doritos, etc.
After a while I actually needed to buy a bigger bag to accommodate the merchandise and my school books, so going to the store to buy a new bag to suit my day to day needs was always fun.
Which brings my to my first item on this list of things that I are in my bag: the bag itself.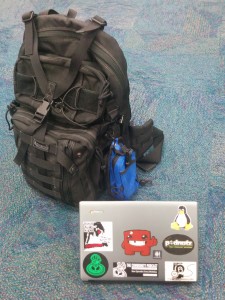 Maxpedition Kodiak Gearslinger
Maxpedition is a great company that makes bags for all sorts of outdoor, EDC and military needs. Out of all the backpacks that I have owned in my day (quite a few) this is my favorite and the first that made me feel content in my choice knowing that I will stick with this thing until it dies, and if and when it does I will stick with the brand.
Check YouTube for all the neat hacks that other people have done with this pack.
NOTE – This is a slingpack, which I traditionally don't like, but it has a "support strap" that comes from the back and under your ribs that attaches to the main strap which adds a lot of stability to the pack rather than flopping around as you move. Also, you have two different options (regular or S-Type) which will accommodate either left or right-handed people.
DEVICES
Acer Chromebook C710
This little guy has been through a lot during our time together. Several Linux installs (every which way I could get it on there, I did it), many late nights being adorned with stickers and she even survived a viscous attack from a then 11 month old (my son tore off the bottom panel which is now held on by tape). Always faithful, always fast.
LG Google Nexus 5 32gb (Black)
I love me some Nexus devices. Once you buy one off contract and don't EVER have to wait for your manufacturer or carrier to approve Android updates, you simply will never go back.
Trust me.
Asus Google Nexus 7 (2012)
Great little tablet. I play the majority of my Android games on this device and she has served me well. I also consume many videos and ebooks with the help of this little gem.
HTC One M7
But Cody, you already have a phone on this list! And a tablet! AND A CHROMEBOOK! Why the hell do you have carry a second phone?
For a pretty neat purpose, but you will have to follow me on social media (Cody Cooper on Google+ or @codycooper on Twitter) to find out the specifics). Who knows, I might even share the details in a future blog for knightwise.com.
Patriot 32gb Supersonic Rage Series USB 3.0 Flash Drive x 3
One loaded with Kali Linux, one loaded with Ubuntu 14.04 and one loaded with media. I hate USB drives with caps (I always lose them) so this retractable model was very appealing. The fact that they are blazing fast helps.
Phone/Tablet Accessories
Meenova Dash Micro for Android
We've heard it all before:
Billy
"I can't buy this phone! It only has 32gb of internal storage! Which will be about 27 or less when I boot it for the first time after taking into account the OS and bloatware from my carrier that I can't remove! THERE'S GOT TO BE A BETTER WAY!"
Smartphone Salesperson
"Who needs more than 32gb of data anyway? I only use, like, 4gb"
Billy
"Get away from me. Right. Now."
Cody Cooper
"Well Billy, there is a better way! And what if I told you that there was a tiny device that would act as as a microSD card reader and that its compatible with most modern devices?"
Billy
"That sounds great, but seriously man, where did you come from?"
Cody Cooper
"Don't worry about that Billy, just follow the link above to rememdy your mobile storage needs."
Smartphone Salesperson
"So what is it going to take for you guys to switch your service to our company?"
Cody Cooper
"Unlimited Data or cash, lots of cash."
END SCENE
MicroSD Card Holder from Sdcardholder.com
For storing all those SD/microSD/SIM cards on the go in a nice, safe and compact manner.
SanDisk 64GB Ultra Class 10 Micro SDXC x 2
Because I don't have a give you a reason! Speed! Storage!
Samsung Galaxy Bluetooh Wireless Keyboard
I acquired this from a friend who didn't like the fact that it came free with his awful tablet. His loss, my gain.
NOTE – get rechargeable batteries for this.
Cable Matters MHL 2.0 to HDMI Adapter
+
Cable Matters Smlimport/MyDP to HDMI Adapter
+
HDMI Cables x 2
For the above adapters
+
Second Screen
For those times when you want to take over a large display and use your phone on a bigger screen. The hardware and software to do so. I carry both MHL and Slimport adapters so I can also show my friends with compatible phones how easy it is. It helps you make with the awesome. Who needs to carry a Chromecast when I just jack right into the display directly!
BONUS – works great with projectors!
Anker 2nd Gen Astro 3 12000maH Portable Battery
This is a great portable charger that has PowerIQ technology, which is fancy talk for "it charges things as fast as they need to be, but no faster and no slower. With three USB ports, I have made many friends with this little device.
New Trent iCarrier 12000maH Portable Batter
Now Cody, don't you already have a portable battery on this list?
Yes, I do.
BUT, you have never have enough juice.
NEVER.
(Truth be told I lost this one for a time then bought the Anker above as a replacement, and wouldn't you know it, I found it the day the replacement arrived? Don't tell my wife!)
Anker 40W 5-Port Desktop USB Charger
We've all been there, several items to charge but only one free port in the wall socket! Don't fret, you can charge five devices at the same time with this sucker. Also has PowerIQ technology.
Media
DVD-R x 8 (Ubuntu 14.04 x 4, Blank x4)
I carry these on me to help friends with their machines and I usually leave the disc with them along with a list of instructions for Live CD operation.
The blanks? Because you never know.
Tools
Gerber Shard Keychain Tool
I have this on a keyring and attached to the little coiled cord in one section of my pack. Part crowbar, part screwdriver, part bottle opener and then some, this tool packs in the usefulness into a small form factor.
Stanley Screwdriver Pen Tool
Four screwdrivers inside a pen? Yes please! Two phillips and two flathead screwdrivers in each "bit" makes this a handy little gadget.
Consumables
Contigo Stainless Steel Water Bottle
Because hydration is important… assuming I ONLY have water in there. You'll never know… trust me.
Beef Jerky
Because delicious and because good source of mobile protein/sodium to prevent me from eating chips. I hate chips, but sometimes I crave salt. WIN!
Ibuprofen Liqui-Gels (200mg)
For life's little headaches.
NOTE – Must be liqui-gels. Not tablets, not caplets… LIQUI-GELS!
Entertainment
Sennheiser PMX 6XX Adidas Sports In-Ear Neckband Headphones
For listening to music/podcasts when other people are around.
Beats Pill Portable Speaker (3.5mm cable included)
For listening to music/podcasts when other people aren't around.
MISC
Uni-Ball Jetstream Retractable Ball Point Pen (Bold)
The only pens I will ever use. Think your pen is nice? Well isn't that cute?
5×8 Legal Pad x 2 + Mini Clipboard
For mind-dumping. I have always taken better notes on paper and this type of notepad with the perforated pages has always suited my writing style. I'm lost without these.
Assorted Zip Ties x MANY
I am the zip tie king. There will be no askew cables near any of my machines. I have found all sorts of cool uses for these over the years and I have become quite the zip tie snob.
Startech Self-Adhesive Cable Tie Mounts
To assist with the implementation of the above item.
Small Wire Cutters
Ditto
6ft Ethernet Cable x 3
Because reasons.
Gorilla Tape
When duct tape won't cut it. AND, it secures the bottom panel of an aging Chromebook VERY well ;-).
Now some of you are probably wondering, "does he really carry all this stuff with him every day?"
The answer, is yes. For some, it's overkill, for others it's not nearly enough, but for me each of these items I have decided to put into this bag to fill a need that I once had. To prevent that moment of, "I sure do wish I had ______ right now" from happening again. Every mistake is a learning opportunity if you look at it just the right way. Carry with you what will suit your NEEDS, not your wants, and you will do fine.
And, most importantly, if you take the time to arrange such a collection of items into a bad, whatever you do, don't leave it at home and then subsequently get stuck in a snow storm in your work town left with nothing but the technology of your family. What does that look like? Search my name on knightwise.com for a previous blog of mine.
Don't forget the popcorn and tissues, it's entertaining and sad.
Cody Cooper is a podcaster with the Podnutz network, co-hosting Linux for the Rest of Us with Stephen McLaughlin, the DoortoDoorGeek. Cody is a husband and father of two who enjoys all things tech. You can contact Cody at cody@podunutz.com or follow him on social media (Cody Cooper on Google+ or @codycooper on Twitter). Please drop him a line, he really does like talking to new people despite what you've heard.
Related Posts