Its here ! Its HERE !
I'm a calm person. Introvert, quiet, not easily impressed. Years on the edge of real and cyberspace have left me jaded and therefore not likely to be amazed or star-struck by new technology. As trends evolve and gizmos and gadgets whizz by I raise the preverbal eyebrow and sigh. BUT NOT TODAY !
Today i am jumping up and down with the release of the new Mac-book. Nono ! Not the i've-got-money-to-burn-so-what-the-hell macbook PRO ! (an overpriced over-pimped version of the powebook line) I'm talking about the next generation (long overdue) incarnation of the Ibook. I am NOT going to delve any judgement on the little machine until i actually have one in my hands ( and am surely not one of those who thinks that no matter WHAT Steve Jobs thought up , has to be fantastic ) BUT I am going to run over the specs of this baby before I slam my Visa card down and BUY one. `
The New Macbook
I admit, I have been waiting for this new laptop by Apple. When the Macbook pro line came out I knew I was in over my budget and that one of those shiny things where not likely to appear on my lap anytime soon. ( And i sure as hell was not going to be Steve's personal 2000 + euro personal beta tester.) So i waited and waited for what was going to come. Since I bought my first Ibook some year and a half ago I have been pleased with it beyond belief. I love the little bugger. The best 1200 euros ever spent on a laptop. And now its successor comes along. Lets all take a moment and drool together shall we ? Widescreen 13,3 inch screen with a resolution of 1280 x 800 pixels. 1,83-GHz Intel Core Duo 512 MB Ram (i'm personally opting for 1 gigabyte if money permits me to.) A 60-GB serial ATA hard drive on 5400 rpm (Bummer ,this should have been a 7200 rpm disk) A Combo drive (dvd-rom, cd-rw) Isight built into the display (owwwkey) Front row with apple remote.Now this looks pretty amazing for a laptop with a price-tag UNDER 1300 euros. you can also go for the 2 gigahertz version OR the BLACK 2 gigahertz version. The 2 gigahertz version is about 200 euros more expensive and to be quite honest , I don't think thats worth the money. The BLACK version is 200 euros extra (but you get a 80 gig hard drive). Now the first reaction Nyana gave to this was : "black ? What do you mean .. black ?" A Black Mac ? Well she was right. The black Ipod had made me frown , cause to be frank , the white Ibook I have is babe-magnet numero uno when you use it in a café. 'ooh look its white , its cute etc'. I'm not an Apple snob but .. black ? no thank you. But black or white at first sight this baby looks like a tough nut to crack for same priced competitors. From personal experience I can tell that laptops around the 1000 euro price-point by for example Acer or Siemens have much poorer quality of design layout compared to even my "old" kevlar-coated (yes-yes) Ibook. Its like comparing a throw away tin foil barbecue to a concrete super deluxe backyard super-stove.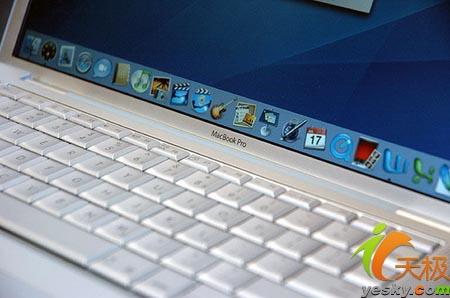 One thing to rule them all.
But time for the cherry on the pie when we look one step beyond the designed specs and see what loops we can let this baby jump through in the future. If we take BOOT-CAMP into account that lets us run Windows XP on this machine AND we look at the Linux versions that are compatible with the macintells we come to the next conclusion. This is the sole and single sub 1500 euro computer laptop that will run the three biggest operating systems on the planet.
Needless to say .. as soon as I get my hands on one.. An elaborate review will follow.
Related Posts