Mindfulness , Meditation, tranquility . These are all things we should consider , which are important, which have one thing in common : Most of us have absolutely no idea how to do any of them. Whenever some free floating new age person dressed in an outfit that looks like a  a Jedi knight in a wedding gown tells me to 'put down my phone and meditate' , I can only respond with a blank stare and the suggestion I might look up how to meditate on the internet. This is not an approved method of getting these floaty people to agree with you.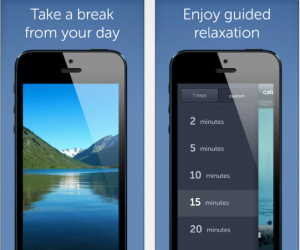 So enter CALM : A free floating fairy that lives in your phone and tells you how to be mindful and meditate. In seven steps a soothing voice explains you how to meditate by minding your posture, mindset, your body , your breath and your patience. You can also choose from several guided meditations ranging from 2 tot 30 minutes or just get a selection of white noises to "freestyle your medi-cycle"
Calm is free and available for Android and IOS.
Related Posts