When we got invited to Acer's "A touch more connected" press event yesterday we kind of knew what to expect. Basically it was going to be a re-hash of the line of products and services Acer had presented at IFA earlier this year. Like every year Acer spreads it's product line across the board. In a "Cross platform" approach they offer a variety of laptops, tablets and smartphones across the Windows and Android eco systems in a variety  quality for everybody's budget. From a 69 euro Android smartphone to a 1700 euro convertible laptop .. Acer has something for everybody. With the  addition of their Chromebook line , Acer now dips their toe in another pool with 11 and 13 inch Chromebooks ranging from 250 to 400 euro.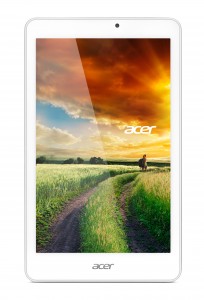 If their is one constant in the acer product line is that you get (a lot ) for what you pay for. Depending on what device you pick (in what pricerange) you get quite a bit of value for money (See their Jade smartphone series) but try not to compare a 200 euro Jade with a 900 euro Iphone. Again .. you get (a lot) for what you pay for.
That trend was broken yesterday as through some tear in the Acer Space time continuum we were presented with the iconia tab 8 W tablet. This 8 inch tablet doesn't look a lot different then the earlier iconia tablets Acer presented last year. These "Looks like an ipad Mini-Runs android-does not require you to sell your kid" tablets were interesting but not that impressive.   The iconia Tab 8 W  is light and  has a bright display (although it only has a 1280 by 800 resolution) that looks very nice thanks to Acers "zero Airgap" technology.  Its aluminum back makes it feel sturdy and with 32 gigabytes online storage it would make for a moderately interesting tablet in the lineup.  However, THIS is Acers first Windows tablet sporting a full version of Microsoft's "Windows 8.1 -with-Bing" operating system. This means it sports the much debated Metro interface with a "full version" of Windows 8.1.  at your fingertips. The device reminds us of a lighter, cleaned up and better looking version of the Dell Venue 8 Pro we talked about in the last podcast. But the iconia Tab 8 has a better screen, feels nicer to hold and has a MUCH more interesting price.
So lets play "the Price is Right" on this one. How much would an 370 gram, 8 inch Windows Tablet with 32 gigabytes of storage, and , a FULL version of Windows 8.1. -with-Bing and a YEAR access to Office 365 and Onedrive  ? … The actual price is the very reason for this article. It is the very reason that this device falls out of line with everything that is currently available on the market with specs/services like that. Its … 149 euro's.  !! For less then the price of a stupid B-Grade Yarvik Android Tablet (with Gingerbread) you get a full Windows device that lets you install 'regular' apps, pick apps Windows App store and use Office 365 for a whole year. Its rridiculous!
So what might this mean. This means that this physical device costs less then the cost of its Windows and Office 365 licence combined. It is a part of Microsoft strategy to fight of the rise of the Chromebook with the addition that THIS device lets you actually do things offline (or open up the command prompt 😉 ). The device is ONE TENTH the price of Microsofts Surface Pro 3 ! (ok , its a lot less powerful with only a Quad core Atom processor) but still.  This puts this tablet (and its Windows 8.1.  environment) in the hands of your kid to use for school/play/porn at a price point that is comparable to a pair of a Senseo Coffeemaker It is a disruptive price that might tear the Geek space time continuum a new one.
We haven't had a chance to do a deep-dive with this device. But you know we are a sucker for 'high value for money' devices and .. at 149 euro's we WILL be trying this baby out soon. It shows that the market is changing rapidly. From 900 euro high end smartphones to small 8 inch portable 'computers' at 145 euro .. this is going to be a VERY VERY interesting holiday season. By this time next year we predict everybody AND their dog will own some kind of computer. And at 149 euro's a pop .. they probably can. 🙂
Related Posts