The one thing more obscure than the Huawei brand name is probably the knowledge on how to pronounce it. From a western tongue twisting Hoo-Ya-Wey to a mandarin tinted 'Waah-Weej' it becomes clear that this Chinese technological behemoth still has some marketing to do in the western world. (If only to end the bickering on how to pronounce it). However : Huawei speaks not to us in fancy commercials on tv (or a pronunciation lesson on Youtube) Huawei speaks to us with their range of products. Where the company used to be but a shady side-brand that would manufacture for other brands and suppliers, they now step into the limelight and present themselves as one of the major runners up to give Apple, Sony, Nokia and Samsung something to worry about at night. Its not because Huawei is not on every billboard that they don't make decent products : The Huawei W1 we had in our hands is the puddings proof.
Specs.
The Ascend W1 is a "Windows Phone". A four inch IPS display with a resolution of 480 by 800 and a Qualcomm dual core snapdragon 1.2 gigahertz processor. It comes with 4 gigabyte of onboard storage, the ability to pimp said storage with an SD card and it has 512 megabytes of ram. It has a 5 megapixel front facing camera and a rear facing camera with VGA resolution. There is of course wifi, Bluetooth, 3g (no lte) and you can even call other people on the phone with it. To give you a frame of reference : we compare the device against Nokias Lumia 620 which is a little more "abundant" in these regions.
1. Look and feel. The W1 is a rectangular black slate, just like every phone on the market today. But with that being said, what you do notice right of the bat, is that its fairly thin, light but well balanced, and offers an 'edge' over the Nokia Lumia when it comes to screen protection. With that I mean that the screen has a little "border" around it that keeps it from scratching when you place the phone upside down. (Where the Nokia comes with the "glass on top" design). The back of the W1 is slightly rubberized giving an awkward but nice sensation of having something 'tough' in your hand while being elegant at the same time. The "thinner" body of the W1 feels nicer to hold that the slightly more bulky 620 with its sharper edges. Design-wise the W1 is not going be in the Louvre anytime soon, but both in your pocket and your hand it feels nice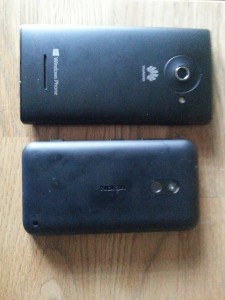 2. Speed.
We put both the Nokia 620 and the W1 side by side and launched the browser, the phone application, the store and played with the tiles. The 620 is slightly smoother when it comes to scrolling through your tiles, but on opening applications .. the W1 wins. In all honesty its a top-gear style photo finish to see the difference but applications do pop up a fraction of a second faster on the W1 then on its Scandinavian counterpart.
3. Screen.
Although the W1 comes with a nice 480 by 800 Ips display, the brightness and color resilience is not that awesome. With both devices on auto-brightness, the W1's colors were slightly duller then the Nokias. These are things you notice ( and perhaps only notice) during comparisons but they are there nonetheless. Screen brightness and color depth help you use your phone outdoor and read emails comfortably instead of peering at your smartphone like a pensioner.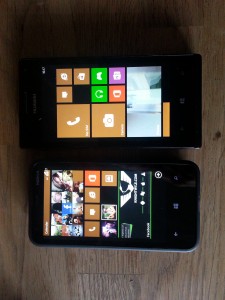 4.Camera.
Well, we will let the results speak for themselves here. The W1 takes some more time to focus and shoot, so snapping that picture of "The Flash" changing his underwear might be problematic.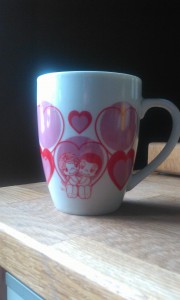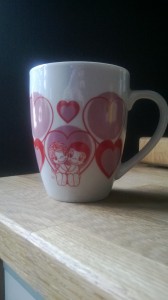 5.Battery
Because of the "longer" shape of the phone, Huawei managed to cram in a larger battery into the phone, resulting in a fairly good +1 day battery life.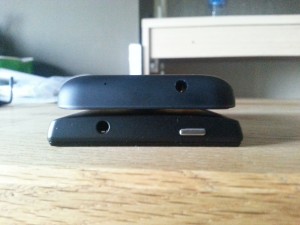 6.Apps
If there is such a thing as "Stock Windows Phone" .. The W1 has it. No extra "Nokia Apps" , no added " Samsung Store" Just plain Windows phone and the Windows phone store. This might be the one place where Huawei chooses a different strategy than its competitors, opting out of using "branded software" as a selling point. This is a tricky bargain as the Windows App ecosphere still needs to grow and gain maturity. But for those of you who know where to look for your apps, or can live without Nokia's City lens and Gps software (which is in all honesty, excellent) the W1 is the perfect platform to start.
7.Price
The Nokia Lumia 620 is sold at about 215 euro's in stores, where the W1 eats only 179 one-euro coins out of your account. When we look at what you get for this price : its not bad, not bad at all. As an "entry phone" for the Windows Phone market this is a surprisingly good "bang for your buck" phone. Ok, its no iPhone 5, its no Nokia 920 .. but in the end it comes down to what you need. If the form factor is OK for you and you prefer a practical little smartphone to an over-pimped sub-tablet .. The W1 is perfect for you.  The question that you want to ask yourself is : Do I want to spend the extra 35 euro's on a Nokia ? Is the fact that Nokia offers up some stock apps like navigation and the "city lens" worth that extra money ? Or am I a geek who knows the ways of the force and kind find my own apps in the store ?  
Conclusion.
We like the W1. Its a decent entry model phone with a fairly good screen, a fairly fast processor, a fairly good camera and a very good price. This phone is either for the geek on a budget who knows where to find the right apps, or for my mum in law, who just needs to do some basic stock functions like email, Facebook, texting and calling. The W1 is not a cheap disappointing up-sell tool: It holds its value in the market being Huawei's step up to bigger things .. both for the consumer as for the company.
Related Posts