Oct 31
The question is always, how much gear do we really need ? If I take a peek inside my geek back , i AM a little over packed. Macbook air, charger, mouse, external hard disk, iPod touch, ipad, cellphone and so on. Too much if you think of it. So I decided to scale down a little and see if I had some "alternatives' that I could think of to avoid having to lug half a data center on my back. If you put your mind to it, the IPAD is a very versatile device. ( Not only the Ipad of course, ANY tablet these days ) But as I mentioned in the beginning of the tablet revolution : Its a content consumption device. Or is it ? By now you can buy tons of cases that try to 'add' some extra functionality to your ipad. They come with built in keyboards and contraptions to angle your Ipad in a way that .. it looks like a laptop. But he Ipad is NOT a laptop, but you COULD use the occasional keyboard once in a while when you want to quickly enter text without using the onscreen keyboard. I've been round that bend and tried the ZAGGMATE, A keyboard-cover for the Ipad that keeps it snugly protected (believe me , I can vouch for that ) but also gives you an embedded keyboard. The downside about the ZAGGMATE is that its a ergonomic disaster. The sharp edges on the aluminum cover make your wrists look like you're a suicide hazard, the keys are so small that its unnatural to type, and since "the keyboard is the cover" you are not able to use your own favorite ipad housing (in my case my trusty Zoogue case) to protect your Ipad. So after I got my Ipad 2 , the Zaggmate got sold off and I started looking for something different.
.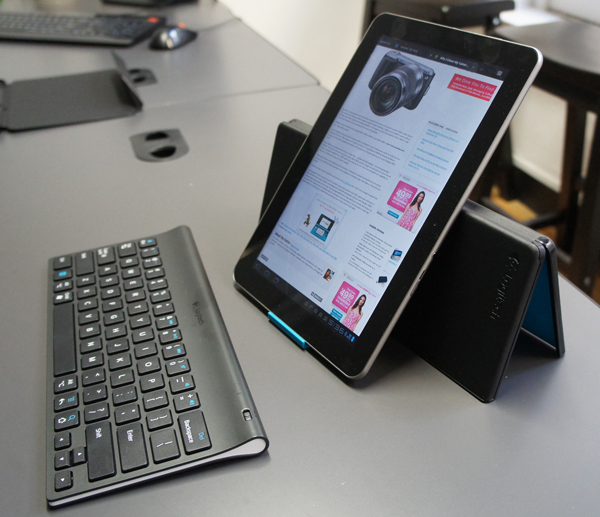 Enter the Logitech Bluetooth keyboard for Ipads. Not the most revolutionary device. A fairly standard Bluetooth keyboard about the size of a standard small apple keyboard. It comes with a little 'box' that doubles as an ipad stand (very convenient) and allows you to prop up your ipad in portrait or landscape mode. The killer feature is however a simple ON and OFF button. Why ? Because the apple bleutooth keyboard I have lying around at home is just fine to use, but it doesn't come with a power switch. So every time you bump a key, the keyboard wakes up, the keyboard wakes up the ipad and both get a serious case of battery deprivation syndrome leaving you without juice when you need it.
At the end of the day the combo is pretty sweet. Ommwriter on my Ipad as the texteditor of choice, the hotspot function on my Android phone as a wireless router, the logitech keyboard as an input device and the little box to prop it all up. A valid laptop replacement for the stuff I need to do AND a much more 'distraction free' setup then using a laptop. In the end I don't NEED that much on the road and the fact that the Ipad is NOT the distraction packed desktop interface I have on the laptop does make it more pleasant to write. With the Logitech keyboard I have an input device that " feels right" to type on. Sure its not the 'lightest' keyboard on the market, but it feels sturdy and turns my Ipad into a "working setup" when I need it.
At 59 euro's the Logitech keyboard is not the cheapest one on the market, but when i'm honest , i have NEVER EVER had to 'throw away' a Logitech keyboard (The oldest I have in service is almost 10 years old) Final thoughts ? A little big , A little heavy but perfect for the job at hand.
Related Posts
Oct 21
Hey Guyz and girls  : I'm sick. 🙁
One thing a podcaster needs … is his voice .. and today … I got up and mine was not really there.  I seem to have picked up a nice little cold and am sniffling and coughing all over the place. So a 4 hour marathon podcast is gonna sound more like a train wreck then what you are used to hear from me. So i'm skipping this months live episode of KWTV and will be rescheduling the show for the near future (Probably still this month). I'm really sorry if you dropped by for some KWTV goodness , but today the germs are against us. Hope you won't mind. I will be giving you a treat this weekend with an episode of KWTV about Linux mint. And we will be covering the F.A.C.T.S convention on sunday. Once again : A million pardons.
KWTV LIVESHOW FOR OCTOBER : CANCELED :(.
Ps : Somebody come sing me "Soft Kitty Warm Kitty"
Related Posts
Oct 19
Every two weeks I am a Co-Host on the Aussie Geek Podcast together with Dave Gray and KD Murray. If you want to check out this weeks recording just hit play.
Shownotes
Welcome once again to another fun filled episode where Knightwise is getting far too much coffee and porn and Keith is sleep deprived and yet good to have around!In this episode we pay AGP respects to Steve Jobs but that means that we did not actually talk about the man so much as what he left behind and how that has impacted our lives.We also have some of the usual stuff and the return for a limited time of the blooper reel!
Download Episode
Listen.
Related Posts
---
Oct 09
In the life of a cross platform slider, there is one major downside : We have a choice. A choice to pick up any computer in the house and do 'our thing' on a variety of operating systems. If I glance over our "laptop drawer" that houses a variety of mobile computers for various uses, I can pick and choose from a range of different laptops running a range of different operating systems. OSX, Stock Ubuntu, Linux Mint, Joly Os … Its like a little kernel parade. Sometimes this makes me feel like a woman. Not knowing what shoes to pick and pondering what pair goes well with what purse. Its kind of the same thing. My Laptops, ranging from an 7-inch EEEpc to a massive 15.4 inch Macbook Pro each sport specific characteristics for specific tasks. In true "slider-topia" I SHOULD be able to pick up any laptop for ANY specific purpuse, not wondering about the software or operating installed. In true Kilroy 2.0 fashion I should be "free" of constrictions like OS, Software or even hardware to preform my task ? No ? Well, almost. In my weekly routine of producing and uploading a podcast to the cloud I do intend to "bump in" to some proprietary programs. Some are by choice of preference. I like using Garageband over anything else I have lying around to produce and punch out the podcast. Prefer Imovie to ANYTHING Linux or Windows has to offer when it comes to Screencast production .. but for other applications, that "choice" is based on "needing to" rather then "wanting to". Take the very simple program "podcastmaker". This brilliant little app lets me edit my rss feed. Add shows, description, album art, link to the file and HOP the RSS feed is updated on my server. A timesaving little piece of candy i've been using for years. But there is one flaw. Its OSX only and i'm unable to "copy" its settings and preferences to my dropbox folder to make it 'machine independent'. So everytime I need to use it , i NEED to use THAT specific os and THAT specific machine. And as a true slider, I can't stand that !
So what is the solution ? How do we free ourselves from these phisical "tie ins" to OS, App and Machine ? How can we make sure our "cross platform sliding lifestyle" is not affected by the need to use a specific machine ? The answer is simple : Virtualisation. Many times before I have "virtualised" certain machines to set them free from phisical ties. Helping friends move from Windows to Apple products was a breeze thanx to the fact that I could 'virtualise' that old legacy clunker witht that old accounting program and grant it eternal life in a Virtual Machine on their mac.
But in this case, the answer is not that obvious … or is it ? Virtualising Windows and Linux distributions is a breeze and you can run them on any os (even on a Mac) Virtualbox gives us an easy and cheap way to do just that. But in this case I would have to "virtualise" an OSX environment and THAT is something the late Steve was not very fond of. One of my cross-platform strategies is to virtualise instances of Windows and Linux and run them on our central server in the house. With the great little app called "teamviewer" i'm able to acces them from any device (using the teamviewer client) on ANY OS and from ANY location. Muscle and CPU power is provided by our I5 server and its a sliders dream. But virtualising OSX is a bit more complicated.
First of all OSX is designed to run on Apple hardware only. Thus "popping it into a PC" and booting is not realy an option, or is it ? Google the world "Hackintosh" and you will be thrown into a new universe of handy "hackers" who are able to run OSX on their (non mac) machines. But running OSX on the "bare metal" of your system is not an easy task. Some of those hackers have managed to pump out "preconfigured recompilations" of OSX that you can just "slide" into your PC and hope for the best. But with the wonders of Virtual Machines we don"t even need to worry about drivers, hardware and the like.
So I gave the pre-installed "IATKOS" distribution a try. A repackaged version of LION that should run on many PC's (and surely in a VM) Now, before you proceed, let me warn you : Iatkos is illegal in 2 ways : 1 it is in violation of Apple's EULA that states you can only run OSX on a MAC. 2 : It comes PRELOADED with a version of OSX Lion. For me : I've bought and installed Lion on three machines in the house and still have an 'option' to install it on a fourth. So I don't feel like i'm violating copyright here. But this manual is not about ethics or legalities : You do what you see fit but we don't encourage or condown these kind of actions.
Half an hour (and some googling and tinkering later) the 'Finder' on my Mac reported a new OSX machine on my network that phisically did not exist. Configuring the new 'virtual mac' for screen sharing, Itunes sharing and more brought the whole thing to life even more. The addition of teamviewer to the VM made it accesable from anywhere and pretty soon I had installed that pesky 'local loving' application podcastmaker. Now my workflow is a lot easier. I can now edit the RSS feed from any machine and even from any location using my "central mac" that doesn't exist.
What could be next ? Well , with IOS5 coming out we will be able to 'sync' our Ipads over the air with Itunes. So wouldn't it be great to have that very Itunes directory running inside that VM ? Using remote desktop I could configure which tracks I wanted to sync and Hoopla .. here we go. No more need to fire up a specific mac to do it. Just access the always running OSX Vm on my always-on server.
I'm not going to hold your hands on this one if you want to wander down the pirate road but if I say you google "iatkos" and use "virtualbox" you will be able to put two and two together and virtualise your very own OSX in no time.
Related Posts
Oct 09
In this weeks extra long podcast we bring you the excerpts from Septembers KWTV Live episode. Three interesting guests talk in depth about 3 interesting topics that is sure to interest anyone who runs ANY operating system. Larry Bushey from the Going Linux podcast talks about what is wrong with Linux, Bart Busschots  comes to talk to us about OSX Lion and the future of the Apple operating system and Keith Murray brings us his views on the newest Windows 8 Developer preview. We ask skeptical questions and ponder on the future of the computer os in light of the Tablet revolution. All of that and more on this weeks Knightcast.
Shownotes.
Listen.
Related Posts
---