Jan 31
I'm not a gamer. There, I said it. Contrary to the beliefs of many that geeks tend to spend hours and hours online playing all kinds of cool games .. I form the exception to that very rule. Whenever you watch episodes of the Big Bang Theory or some other big media production that tries to depict "What a geek is" to the average digital mouth breather, it always encompasses images of Computers, Terminal windows and hours of Console gaming. I am horribly bad at the latter.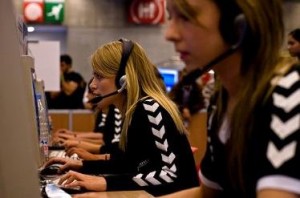 I am just not a "Console" Gamer. My gaming career (can you call it that ?) did start on "Console Gaming". That is, if you can call the Atari 2600, its 8bit graphics and its indestructible controllers a "console". Compared to todays Xbox 360 consoles that try to do everything but wash your dishes, the Atari was horribly yet brilliantly simple. Plop in casette, play game. We never had to worry about remembering our "live-id", logging in, an internet connection, checking if our TV screen was DRM compatible for HDMI output and so forth. The only thing you DID have to remember was to finish up in time for your dad to watch the news. (Because you played this baby on the family tv, remember ?) The controller was horribly simple : A stick to move, buttons to fire/jump… that was it. If I ever thought this console would have prepared me for gaming in the 21st century .. I was dead wrong. I never stood a chance.
So after spending my digital adolescence on PC gaming using the powers of a noisy Cherry keyboard and a Logitech mouse, I stopped gaming for a couple of years. Getting a Mac meant that I had lots of new things to keep me occupied like producing music, video's and podcasts. There weren't a lot of games on the Mac in the beginning, and I never realy cared about that. But as for filling as it was to create a podcast, there was still this nagging sense of urgency that somewhere, somehow, I felt the need to let off some steam by blowing up a random zombie with a big gun.
So instead of installing games on my computer (I despised the hassle) , I decided to "just get a console" for my gaming needs. I was going to get BACK into GAMING.
I tried valiantly to throw myself back into the land of the modern gamer and got me an Xbox 360. The cultural shock could not have been any harsher then when I dipped my very first toes into a level of Halo. But before we get into the horrible embarrassing story of me being fragged by a six year old, lets back up to my initial encounter with the Xbox. When I got the unit out of its box and hooked it up to our TV, I somehow KNEW it was going to be a little more complex then my Atari 2600. It needed an internet connection : I expected that. It needed to run its updates : I expected that too (It IS a Microsoft product) It required me to set up an account : Ok, lets do that. But when I started asking me questions like : What kind of hair do you want to choose for my Avatar and "would you like to buy more accessories online" I was starting to feel a little out of my depth. Was this the state of gaming today ? No " slide in the cartridge, flip switch, kill space invaders " but a tedious process of digital bureaucracy and pointless avatar-pimping ? Come on !
I waded through the process, only to be appalled by the fact that I needed to pay EXTRA to play my game online. A game that I had already purchased. Baffled by the paywall between me and what seems to be a very "basic" need to 'play with others', I chose to go for "single player mode" first.
Halo. I had seen kids play this and was amazed at how good the game looked, how versatile it was, how detailed and entertaining it looked.. This was going to be fun right ? Wrong ! It turned out that the modern day gaming industry had slid yet another insolvable Rubics cube between me and my game : The controller. Forget the simplicity of the Classic Atari controller. This thing had more buttons then I had fingers. It had knobs, dials, buttons, switches whose purpose was completely lost on me. What WAS this ?
Add a giant Tv, a high speed game with tons of bad guys, sounds, flashing lights and a 300 button controller … and I was lost. I spent most of my time in Halo as organic paste on the wall before I switched to call of duty. Here, I was even worse. In the heat of the fight I forgot what button was up or down (or fire) and ended up giving the bad guy my rations. (He did not appreciate the gesture). I thought a racing game would be better but ended up plowing fields with my very expensive Ferrari in Need for Speed. I just wasn't any good at it.
The controller and all its buttons had me baffled. The fast pace and high details of the game overloading my sensory pallet. My lethal gaming skills were reduced to a puddle of goo in the land of modern console gaming : I sucked at it.. Big time.
So after spraining a muscle while playing 'The Michael Jackson experience' ( I thought the Kinect controller would be 'a big help' in all this) I decided to sell my Xbox. Its now on the Belgian version of Craigslist. Not because its not awesome (because it is) not because its too hard (its not) but because the generational gap between me and the modern day console gamers is too big for me to breach.
I'm a classic gamer. Meet me in the online world of Counter Strike, of Quake 3, of Wolfenstein or some other first person shooter .. and I am lethal. Armed with a clunky keyboard and a sensitive mouse, I will seek you out and I will be the soul progenitor of your continues respawns. I'm not old .. I'm just Retro.
Related Posts
Jan 30
Today we focus on one of the more addictive cross plaform games : Minecraft. Telling us all about minecraft is guestblogger Matt ( better known as Turtles) We will stand back and let him do the explaining.
My first minecraft experience was amazing and I remember the day well. I was looking around for a new  game to play on the xbox 360 something creative, what I found was much more. Minecraft was at the time  on sale which was a bonus, however minecraft is a game I would pay full retail for and in Australia  that is close to $100. Its now 2 years into playing minecraft and the feeling has not changed. I still  enjoy being dropped into my own world where I can mine and craft to my hearts content.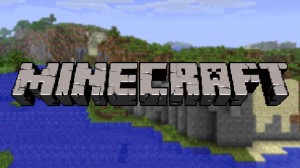 Minecraft is a game where you start with just your character, the world loads around you in chunks of  grass and trees. After a few seconds you realise just how expansive the world you just seeded has become. In creative mode you can fly into the air to see your world, or you could simply explore for yourself. On these adventures you might come across some animals which provide to you raw meats anditems which you will need to keep yourself save and well fed. I would suggest to start building a house first as when night falls you will be in for a big surprise. Night time is when the monsters of minecraft come out to play.
I started off playing creative mode minecraft this is where you have access to every block and item that is currently in the version you are playing. With all these blocks available to you, you can craft anything and the only limit is your creative self. The first thing I did in minecraft was to build a house and a bed so I was nice and safe from those pesky little monsters. Little did I know in 
creative mode there are no monster mobs spawning at night and therefore is a nice mode if you just want to create a massive tower; a nice house or even create your own mini games. 
When you get used to minecraft on creative mode and looking for a tougher challenge the next step is  Survival mode, with 4 levels of difficulty which are peaceful no spawing monsters up to difficult. Unlike creative mode here is were the real game gets you hooked. You will start with no tools, blocks or information, you are however given a map which is empty. From this point on the game will only progress with the work you perform within the world. Sit back and wait for dark and monsters will keep attacking you. Get in early and start building your house and a bed and in no time you will be safe from the onslaught you will see when the sun sets.
Singleplayer minecraft is a lot of fun as you can move along the timeline of your world as quickly or as slowly as you see fit. You are mining and crafting items for yourself which can take up precious time you need to collect other valuable resources if only someone could help you. Well in Multiplayer  the entire experience changes, not because you have a friend to mine resources you also have an enemy waiting to attack you. Be careful if you find gold or diamond your friend might want those for  themselves. With a few swings of a stone sword your hard work might just become someone's ill gotten gain.   
There are so many features in the game that just need to be experienced by the player, with the game still in development there really is a lot more content that can be added. With the over world (main seeded world) which contains villages, dungeons and very different biomes (Rain forest, Forest, Desert, Sea, Caves, Solid Ground, Mushroom) all these biomes have different creatures and blocks you would need to mine in order to build your wildest creations. The current version 1.7.2 has most of the features above along with many types of animals, all of which are interact able and can be used for food, security(Wolves), or just to admire.
So to sum up Minecraft the game is endless fun for all ages I spent roughly 2 hours a day playing Minecraft with my niece over christmas. I must say it was one of the highlights of my holidays. Fishing a close second.. I want to finish off with my top 5 favorite things to do in minecraft.
1. Wolf Pack: Using bones collected from skeletons to be-friend a pack of wolves, then running around and attacking other animals to watch the wolves attack. Same with monsters spawned.
2. Pet spawning: this is where you get two animals of the same kind and you fence them. Then you make them enter love mode. After a few seconds a smaller younger version of these animals appears.
3. Creepers: While these are monsters the creepers will just pop up on you, you will here a hissing noise followed by a big explosion. Normal reactions are "Oh Crap!", "ARRGGHHH!" , and "NOOOOOO"
4. Traps: Setting up pressure pads connected to TNT, which can be used to destroy someones creation or simple to have fun with dispensers.
5. Mini Games: I have seen many YouTube videos with free maps you can play that have multiple mini games, designed to use normal minecraft items to advance through levels.
About Matt : (A.K.A Turtlez) Age: 26

I have been a gamer for quite a few years now close to 14. I enjoy playing both online and offline games with friends. I have been mainly a PC and Xbox gamer with a tendency to play mostly First Person Shooter games, however I have branched out recently to third person hack and slash games. I also have been enjoying 2K's NBA2k range of Basketball games, as well as Formula 1 games. Growing up in my household my father enjoyed working with computers and IT equipment which meant I spent loads of time doing the same as a kid. I now have an IT Based job in Australia working with an IBM Mainframe as a performance tester. I still to this day enjoy getting a gaming session in on a weekend or even after dinner when the time suits me. I first cut my gaming teeth on the good old Counter Strike 1.6 and Team Fortress 2 (A.K.A Team Fortress Classic). I then moved onto the newer versions of these games years later and expanded to Battlefield 2. Now I have a list as long as a stack of cases with all the games I currently play. The major of my time is spent playing the following: Battlefield 4, Team Fortress 2 (Source Edition), or Counter Strike Source , NBA 2k13 or 2k14 Formula 1 2013 (Usually driving in full GP length races with my cousin online) GTA IV, Forza, Ryse when I feel the need for change. Matts online coordinates : Xbox Live: TurtlezPantz – Steam:  zyther (Screen Name Turtlez!) – Raptr: TM_Turtlez
About Minecraft.
Minecraft is a cross platform game. (to play it you just need Java on your machine) You can DOWNLOAD IT HERE.
There are also many completely FREE and open source alternatives to the "original" minecraft that might be more suitable for your system (or your budget) : choose from one of the many other alternatives out there in THIS list. 
Related Posts
Jan 29
Loooos Looos Loooooossss !!!! We used to shout it across the office at lunch break. Our boss didn't even notice anymore and our cleaning lady tended to leave the building whenever we were playing. I am of course referring to the endless lunch breaks at my old job, spent playing "Castle Wolfenstein" in multiplayer mode. Forming small teams of German or Allied soldiers and trying to invade bunkers, steal documents or liberate prisoners. I LOVED Castle Wolfenstein, both in its Single player mode (Fighting Nazi's and Zombies) or in online multiplayer mode. Ok : Nazi's and Zombies does make it sound like Wolfenstein was a mix between "The Walking Dead" and "Allo Allo"… but it is nothing like that.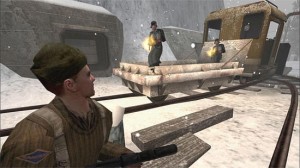 In multiplayer game mode every teammember in our office-battalion had a specific function. Engineer, Medic, Soldier … and "That guy with the bazooka". That guy would be me. From a tactical viewpoint you used the bazooka to gain entrance to a bunker. Once inside you would dispose of the Bazooka and respawn as a medic or a soldier .. Not me : I used the Bazooka everywhere. I was lethal in close quarters, both for my enemies, my teammates and my own health. This strategy turned me into a "loose canon" on the battlefield, terrifying both my teammates and my enemies equally. I built up quite a reputation that way 🙂 Good times , Good times indeed.
Now YOU can have a crack at Zombies, Nazi"s and Allied forces. Fire away on your Mac, your Linux machine or your Windows desktop. Download Castle Wolfenstein Enemy Territory here … LOOSSS LOOSSS LOSSSS !!!!
Related Posts
Jan 28
If I say the word "Rocketjump" and you have no idea what it is  ? … Then you seriously need to read the next post. In day two of our cross-platform gaming week we point you toward the reincarnation of one of the best first person shooters ever created. We are talking about Quake 3. A fantastic, high speed, fast moving, addictive, life-eating, relationship-destroying, girlfriend-infuriating game that kept us ALL up till dawn back in the year 2000. Quake is one of those "shoot anyone that moves" games that had a massive online following. No matter what part of the world you were at, there was always a server where you could log into and fire frag and respawn to your hearts desire.
I remember fondly how I would "get rid of my girlfriend" by taking her home at ten .. coming back to my apartment and start playing Quake 3 till 4am while eating Nacho's and drinking coke.  Quake is fun, addictive and has eaten a big part of my life I can never get back.  And i had such a good time… I don't even care 🙂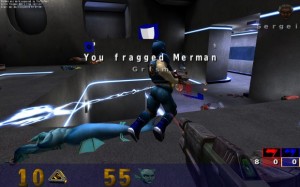 Now you (and your cross platform buddies) can have a go with "Open Arena" a free, open-source and cross platform friendly port of the old Quake game. It might not be as fancy as your newest Xbox one game, but EVERY first person shooter is in some way or form a descendant ( I feel the urge to say "Derivative") of the original Quake 3.
Feed your dog for the next three weeks and kiss your job goodbye. Download and play Open Arena .. for free HERE.
Related Posts
Jan 27
I am old. It is a shocking statement, but there are some facts that back up that statement. For one : I am absolutely terrible with console games. My fingers turn to putty whenever I need to press the right combination of buttons on my controller. I either turn 'Need for Speed' into a farming simulator (trying to plow a field with my 500 million dollar Bentley) or turn 'Call of Duty' into a charity game by giving my enemies my rations in the heat of battle. ( Army food is a lethal weapon .. right ? ).
But with age comes a certain kind of grace : the ability to completely own & pown when you can get your hands on a keyboard and a mouse. From a very  young age I was trained by master-gamers in the secrets of Doom, Quake and Counter Strike. The latter proved to be something I was very good at. I was a lethal opponent in stealth and my sniper rifle killed more men then I fired bullets. Yes .. I was a camper .. but a damn good one. Mock me and you will look over your shoulder for the rest of your life. I was 'death invisible'.
Since stealth and secrecy so becomes me, I found 'THE DARK MOD" a great game to play. Based on the Doom engine, the goal of the game is to sneak around, kill your enemies and try not to make a sound. Hiding the body prevents tripping off the alarms, Lurking in the shadows means opponents can't see you … Using knives instead of guns helps you go unnoticed. I love it.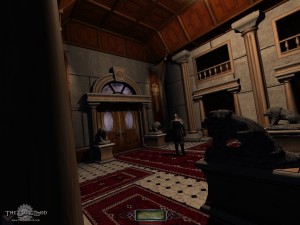 The Dark Mod is gloomy, has atmosphere and is pretty addictive to play. The great part is that this game is available on both Windows, Mac and Linux and it is for free. 
Get your copy of "The Dark Mod" here.
Related Posts