I am old. It is a shocking statement, but there are some facts that back up that statement. For one : I am absolutely terrible with console games. My fingers turn to putty whenever I need to press the right combination of buttons on my controller. I either turn 'Need for Speed' into a farming simulator (trying to plow a field with my 500 million dollar Bentley) or turn 'Call of Duty' into a charity game by giving my enemies my rations in the heat of battle. ( Army food is a lethal weapon .. right ? ).
But with age comes a certain kind of grace : the ability to completely own & pown when you can get your hands on a keyboard and a mouse. From a very  young age I was trained by master-gamers in the secrets of Doom, Quake and Counter Strike. The latter proved to be something I was very good at. I was a lethal opponent in stealth and my sniper rifle killed more men then I fired bullets. Yes .. I was a camper .. but a damn good one. Mock me and you will look over your shoulder for the rest of your life. I was 'death invisible'.
Since stealth and secrecy so becomes me, I found 'THE DARK MOD" a great game to play. Based on the Doom engine, the goal of the game is to sneak around, kill your enemies and try not to make a sound. Hiding the body prevents tripping off the alarms, Lurking in the shadows means opponents can't see you … Using knives instead of guns helps you go unnoticed. I love it.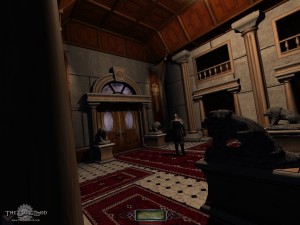 The Dark Mod is gloomy, has atmosphere and is pretty addictive to play. The great part is that this game is available on both Windows, Mac and Linux and it is for free. 
Get your copy of "The Dark Mod" here.
Related Posts