Apr 29
Lets not mince words. Ubuntu 10.04 is here so ..
Related Posts
Apr 29
Last weekend I featured as a Co-Host on the Aussie Geek Podcast  episode 33. 
Check out the shownoted or download the episode straight from the Aussie Geek Podcast Website. Another Great episode with my awesome Co-Hosts Dave, Keith, & Cait..
You can look up the shownotes HERE.
Related Posts
Apr 29
Modern times bring modern ideas. Modern ideas and concepts require you to "rethink" some things and re-evaluate your experiences with the world. It is a simple fact that change.. is the only constant. Although you can mostly find me on the Vanguard of that very change, I still am surprised by how these new ideas and concepts, change the way we look at things. To explain what i'm talking about, let me take you back roughly 12 years when on of the major major activities in my free time, was being a DJ. Together with a couple of good friends we had our own little company. Hauling lights and speakers from event to event and playing music all night long, before packing up and heading to the next venue.
Its very hard to describe what it is like to be in front of a crowd, playing music. For those who think its a "one way street" where you do your thing and the crowd dances.. you have obviously never performed. Playing a DJ set in front of a crowd is, (when its done right) a delicate symbiosis between the performer and the crowd. Where, as a DJ, you need to sense the mood of the crowd in front of you, feel where the want to go next, how far you can push them, how high you can take them. One of the most important things is the vibe you receive from the crowd.  If you "listen" right , you know, you 'feel' what the next track is going to be that sends them over the edge. If you "steer" your set right, you can take a dull room full of people on a magical musical experience where you tap into their enthusiasm .. and where they feed yours. It might sound strange, but that is the way it is. DJ's (or any performer) who think that THEY are the star and that the crowd just has to listen .. are wrong. You are a servant .. a facilitator of this delicate symbiosis between crowd and DJ .. and if you do it  just right ? Its the most fun you can have with your clothes on 🙂
After about 8 years of touring and playing gigs it was time to call it quits. As satisfying an experience as it may be, there comes a time when you have to lay down your headphones. We had heard from fellow colleagues how hard it was to "quit" and walk away from the stage. Because it is a great buzz. But the time had come to let go and we ended our little DJ company at the peak of its career. As we sold of the equipment, mixer boards, lights, truck etc .. I vowed that I would never again take to the stage.  After DYSC (Dynamic Sound Control was the name of our company) I would never touch another fader again, for I would be tempted to take to the stage again.. For it would feed the hunger for more too much.
Thus, years passed and time went on. The DJ scene changed dramatically with the advent of new technology. Making the scene accessible for more people thanks to cheap PC-based technology that could turn anyone with a laptop and a little DJ-console into the next DJ Ti
Related Posts
Apr 28
Only 24 years ago, the world barely avoided one of the biggest nuclear disasters at the Nuclear Reactor plant of Chernobyl. To get some more insight in the matter. How did the accident happen ? What series of events led to this calamity ? And how did the people in charge deal with it in the aftermath ? In a completely twitter-ised, web 2.0 hyper – communicative world, the immense cover-up that was deployed by the Russian Government at the time , might seem completely impossible. For that fact alone I invite you to watch this 6-part Youtube series of the BBC Documentary " Chernobyl : Surviving disaster " In 60 minutes they take you through the Chernobyl disaster and show you what came afterward. An intriguing story about misplaced secrecy, Blindness to the truth, human agony and .. in the face of danger .. Bravery.. Bravery in the face of certain death, with no chance to defeat it .. Enjoy but beware there is some shocking footage in this documentary.
Related Posts
Apr 28
I don't often do quick "Download this and you'll be happy" articles a lot. However today is an exception. A co-worker pointed me to the DVD-VIDEOSOFT suite for the PC. This fantastic piece of freeware is to media-loving geeks, what a Swiss army knife is to Mcgyver. Just a little excerpt of the 23 (!) different applications that are bundled in this golden nugget.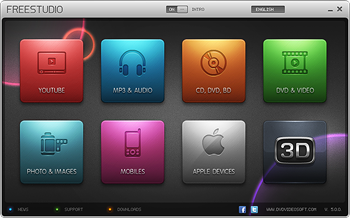 I've personally used it many times to download Youtube video's or convert them to audiobooks and footage I can listen to. Its too bad this little gem is only available on Linux, for I should be willing to send a small puppy into orbit should it also be available on the mac. But until then … Download and enjoy.
Related Posts