Aug 25
Books : Some like the smell of paper, the sounds of gentle footfalls in the hushed silence of libraries, some like flipping though pages and the rustling sound of paper turning in  the night … I'm not one of those persons. To be honest : I've been reading digital books since the beginning of this century.  From devices as primitive as the Palm to my much beloved Sony PRS-505 I am proud to say that I only read about 2 paper books in the last 12 years. My latest device of choice on which I have devoured many a book was my iPad mini. ( I had 'loaned' my Sony eBook reader to my 86 year old gran .. and she'll never ever give it back).  But where the iPad mini shines in the dark (its active screen is great for reading in the bedroom) it gleams in sunlight (its reflective glass is terrible for outside reading).  So with my holiday coming up and plenty of reading to do .. I thought I would try out something new.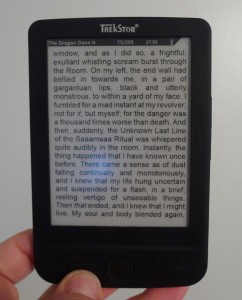 It was in fact Niejana who pointed out the Trekstor Pyrus Mini on our last visit to our favourite geek-friendly store in Aachen. Three  things immediately made me fall in love with the device : The size (It reminds me of my trusty Palm devices) The color and texture (It has this rubbery enclosure thats a dark blue) and its price : 49 euro's !  I mean : What could go wrong for 49 euro's ?  
The Pyrus has a 4.3 inch 800 by 600 Pixel E-Ink display. It has 2 gigabytes of onboard storage that you can extend by shoving in a micro SD card. There is no Wifi, Bluetooth or 3G connection. Just some buttons to navigate pages and adjust things like character size and the language of the interface.   In the end this device is horribly horribly simple .. and that is just brilliant !  The Micro Usb connector is used for charging and adding titles to the onboard memory and since the screen is pretty small .. the battery time will last you quite a while. It can read all popular formats (it does have a hard time with large PDF's) but can not read .mobi (Epub is fine though).
But aside from the price, the one thing I love  more about this gadget is that its so small, thin and light that you can just slide it into your coat pocket and whip it out anywhere without having to bother with lids and casings and having enough room on the bus to read your book. At the size of a smartphone it might appear to small to read on, but the variable character sizing does make up for that. The screen has a very good contrast ratio and not a micron of 'glare'.  
Sure its not as robust as some of the ebook readers out there, sure it does not have all of the functionality of a Kindle or a Fire .. But for 49 euro's this is the "paperback novel cousin" to the "hardcover collection" ebook reader that you can find on the market today I'm NOT afraid to use it, loose it, break it or get mugged for it. It just lets me read my favourite collection of Justin Bierbers Fanfic .. anywhere.
Related Posts
Aug 07
We walk the hackers walk this week and show you how to accumulate your own database of Wireless access points in your area using nothing more but your smartphone. And if that is not enough we take it a step further and teach you how to find an open wifi hotspot anywhere on the planet. Listener Thor swings by and tells you to connect to the Knightwise.com Mumble server using your Android device.
Shownotes.
kw609 : The wonders of wardriving with Wigle.
Related Posts
---
Aug 05
The one thing more obscure than the Huawei brand name is probably the knowledge on how to pronounce it. From a western tongue twisting Hoo-Ya-Wey to a mandarin tinted 'Waah-Weej' it becomes clear that this Chinese technological behemoth still has some marketing to do in the western world. (If only to end the bickering on how to pronounce it). However : Huawei speaks not to us in fancy commercials on tv (or a pronunciation lesson on Youtube) Huawei speaks to us with their range of products. Where the company used to be but a shady side-brand that would manufacture for other brands and suppliers, they now step into the limelight and present themselves as one of the major runners up to give Apple, Sony, Nokia and Samsung something to worry about at night. Its not because Huawei is not on every billboard that they don't make decent products : The Huawei W1 we had in our hands is the puddings proof.
Specs.
The Ascend W1 is a "Windows Phone". A four inch IPS display with a resolution of 480 by 800 and a Qualcomm dual core snapdragon 1.2 gigahertz processor. It comes with 4 gigabyte of onboard storage, the ability to pimp said storage with an SD card and it has 512 megabytes of ram. It has a 5 megapixel front facing camera and a rear facing camera with VGA resolution. There is of course wifi, Bluetooth, 3g (no lte) and you can even call other people on the phone with it. To give you a frame of reference : we compare the device against Nokias Lumia 620 which is a little more "abundant" in these regions.
1. Look and feel. The W1 is a rectangular black slate, just like every phone on the market today. But with that being said, what you do notice right of the bat, is that its fairly thin, light but well balanced, and offers an 'edge' over the Nokia Lumia when it comes to screen protection. With that I mean that the screen has a little "border" around it that keeps it from scratching when you place the phone upside down. (Where the Nokia comes with the "glass on top" design). The back of the W1 is slightly rubberized giving an awkward but nice sensation of having something 'tough' in your hand while being elegant at the same time. The "thinner" body of the W1 feels nicer to hold that the slightly more bulky 620 with its sharper edges. Design-wise the W1 is not going be in the Louvre anytime soon, but both in your pocket and your hand it feels nice
2. Speed.
We put both the Nokia 620 and the W1 side by side and launched the browser, the phone application, the store and played with the tiles. The 620 is slightly smoother when it comes to scrolling through your tiles, but on opening applications .. the W1 wins. In all honesty its a top-gear style photo finish to see the difference but applications do pop up a fraction of a second faster on the W1 then on its Scandinavian counterpart.
3. Screen.
Although the W1 comes with a nice 480 by 800 Ips display, the brightness and color resilience is not that awesome. With both devices on auto-brightness, the W1's colors were slightly duller then the Nokias. These are things you notice ( and perhaps only notice) during comparisons but they are there nonetheless. Screen brightness and color depth help you use your phone outdoor and read emails comfortably instead of peering at your smartphone like a pensioner.
4.Camera.
Well, we will let the results speak for themselves here. The W1 takes some more time to focus and shoot, so snapping that picture of "The Flash" changing his underwear might be problematic.
5.Battery
Because of the "longer" shape of the phone, Huawei managed to cram in a larger battery into the phone, resulting in a fairly good +1 day battery life.
6.Apps
If there is such a thing as "Stock Windows Phone" .. The W1 has it. No extra "Nokia Apps" , no added " Samsung Store" Just plain Windows phone and the Windows phone store. This might be the one place where Huawei chooses a different strategy than its competitors, opting out of using "branded software" as a selling point. This is a tricky bargain as the Windows App ecosphere still needs to grow and gain maturity. But for those of you who know where to look for your apps, or can live without Nokia's City lens and Gps software (which is in all honesty, excellent) the W1 is the perfect platform to start.
7.Price
The Nokia Lumia 620 is sold at about 215 euro's in stores, where the W1 eats only 179 one-euro coins out of your account. When we look at what you get for this price : its not bad, not bad at all. As an "entry phone" for the Windows Phone market this is a surprisingly good "bang for your buck" phone. Ok, its no iPhone 5, its no Nokia 920 .. but in the end it comes down to what you need. If the form factor is OK for you and you prefer a practical little smartphone to an over-pimped sub-tablet .. The W1 is perfect for you.  The question that you want to ask yourself is : Do I want to spend the extra 35 euro's on a Nokia ? Is the fact that Nokia offers up some stock apps like navigation and the "city lens" worth that extra money ? Or am I a geek who knows the ways of the force and kind find my own apps in the store ?  
Conclusion.
We like the W1. Its a decent entry model phone with a fairly good screen, a fairly fast processor, a fairly good camera and a very good price. This phone is either for the geek on a budget who knows where to find the right apps, or for my mum in law, who just needs to do some basic stock functions like email, Facebook, texting and calling. The W1 is not a cheap disappointing up-sell tool: It holds its value in the market being Huawei's step up to bigger things .. both for the consumer as for the company.
Related Posts
Aug 02
Guest Blogger: Keith Murray
Earlier this year I switched my web hosting from my long-time account at DreamHost to a fancy new VPS at Linode. I really did enjoy my time with DreamHost, but what I wanted out of my hosting provider had changed somewhat. I was looking for full control of a machine in the cloud. Although DreamHost does offer a VPS option, the pricing options just didn't compare with what Linode was offering.
I also took the opportunity to move my domain registrations over to Hover, but more on that another time.
With my Linode account managing the DNS for my domains I was able to point a a single subdomain back at the IP of my home network, effectively giving me a nice publicly accessible domain from within my network. This worked well until my ISP changed the IP address I had. Admittedly this doesn't happen often, but it always seems to occur when I actually need to make use of this remote connection, and with no knowledge of my new public DHCP address it's pretty useless.
Enter DDNS.
With some modifications to a script I found on GitHub I was able to quckly set up job to check my public IP address and update the DNS records at Linode using the Linode API. I hacked apart the original script and put together my own DDNS update script, suitable for automating.
By scheduling the script to run using a simple crontab entry I can rest assured that every night, while I'm asleep, my server will be connecting to Linode to point the way home.
---
Keith Murray is a software architect and developer who blogs about technology and science at kdmurray.net. He can also be found on twitter as kdmurray.
Related Posts