Jul 31
Little bit of an update today about the Irobot Apad we talked about in previous episodes. The 'review' article I wrote is now featured in the latest edition of the "full Circle Magazine". A free Electronic Ezine about Ubuntu. If you haven't had a chance to read through a copy of this excellent magazine, be sure to head over to www.fullcirclemagazine.org and pick up the latest edition. The magazine features easy howto's and informative articles about Ubuntu Linux (and some other derivatives). So make sure you check it out.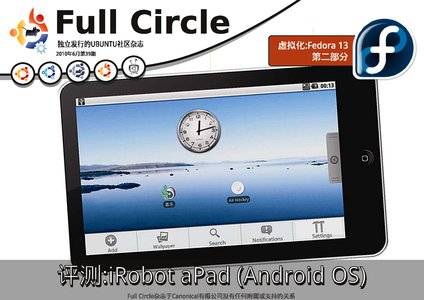 On another note I've found a great little screencast on Youtube called "ItouchIreview". I got in 'touch' with this guy completely by accident when I sold the Irobot Apad on a Belgian bargain site. This is a 15 year old brilliant kid with his OWN video podcast ! His video quality is fantastic, production quality is great, and his English is awesome ! I also suggest you check out his channel on youtube.
Related Posts
Jul 29
One of the few moments I require Windows in my (personal) life, is ironically, when I need to support OTHER windows users. I
Related Posts
Jul 28
Are you a fan of the Nosillacast Podcast ? The technology podcast with an EVER so slight Macintosh bias, hosted by the fantastic Allison Sheridan  and her husband Steve ? Want to meet , greet and shake hands with them ? Or perhaps you want to get your chance to even meet US in real life ? 🙂 Well , here is your chance. In the final stage of their "European Tour" the crew behind the Nosillacast Podcast is dropping by Belgium for a few days. Together with Knightwise.com we've setup NOSILLACON III, A informal get-together between the Knightwise.com and Nosillacast listeners who might want to meet the faces behind the voices. On August 31st we'll be in the Central Trainstation in Antwerp starting from 1700 hours. The Starbucks is going to be the place to get together. So , if you want to come ? Let us know by signing up for the event on Facebook via THIS link.
If you haven't heard of the Nosillacast podcast : Head on over to All and her gang.
Related Posts
Jul 28
Since we had so much fun last time, and I have miraculously acquired 3 free hours in my weekend from underneath some fold in the space time continuum, its time to do another LIVE Knightcast. As opposed to last time, this one is going to be planned and scheduled so all of you have a chance to come on down and join the fun.  You can see the show being recorded LIVE and interact not only with the other guests in our chatroom, but also with ME ! Shoot in your questions via Skype (or if you are too shy) use the chat room to fire away.
Event :
Knightcast Episode 41 : Live recording.
Place :
Date :
Time :
Schedule :
8 am to 9 am : Music Matinee ( Dj Set and Party in the Chatroom)
9 am to 11 am : Live Recording of Knightcast 41 : "The Kiosk" Building your personal information console.
Listener Q & A
Are you coming ?
Pimp this article on Twitter
Join the event on our Facebook page.
Related Posts
Jul 23
For show 40 we take a break from the high-tech content we've focused on the last few episodes and take a little "interlude". In light of tradition this is going to be another soundseeing tour where I take you along on my bike. We drive through the region where I live and listen to the birds chime as I tell you what i'm looking at. This time its your IMAGINATION that is going to work for you as you can close your eyes , lean back and hear me tell stories about NO-tech cycling adventures and some impressions of the beautiful Belgian countryside.
Shownotes.
Intro
A different show today.
The abandoned schoolhouse. (Google Maps)
Music : Mutiny on the Bounty, Vangelis (Youtube)
A little dirt road.
Packing up Hay, Inferno in the City.
Summer 17 by Ed Frank. 1990 (Wikipedia)
The first travels to France.
Music : Kyrie, Mister Mister (Youtube)
The trip to Basel, Cycling in the Rain.
Music : The Waterboys : Whole of the moon (Youtube)
Travels in Ireland. (Pictures)
Signoff
Music : Forever young, Alphaville (Youtube)
Sponsored by ZOOGUE Ipad Cases. www.zoogue.com
Related Posts
---