Mar 19
I'm not a big self help guy, but a little bit of lifehacking never hurt anyone. In this fast pacing world of technology it is sometimes not a bad idea to sit back and chill out just for a while. But that is easier said then done. You always have some distraction waiting for your attention, there is always that one website that you still have to check.  So how about some 'help' in calming down ? 
'Calm' for IOS helps you do just that. The app gives you the choice between the length of the relaxation session you want to have, and gradually builds that time up, the more times you use it. This helps you to go from a 2 minute meditation session way up to even a 20 minute chill session.  It comes with soothing sounds (a brook, a rainshower) and a silky feminine voice that tells you to KEEP CALM NOW !!!  Forget the "Keep Calm and … " posters .. just "Keep Calm with Calm". The application is free in the IOS Store but also has a 'slider friendly' counterpart on their website calm.com that you can access from any browser.
Calm.com is available in the iTunes store or from their website at calm.com
Related Posts
Mar 18
I live in a part of Europe that is called the "Euregion" because I live at about 2 hours drive from three different countries. I go east for 20 minutes I end up in Holland. When I put the pedal to the metal for another 30 minutes I"m in Germany. When I go south for about 90 minutes .. I end up on Luxembourg  Its cool ! The downside is that when I go "beyond Belgian Borders" I run into very very expensive roaming charges for my data connection. So when trying to use my Android or Ios smartphone for my GPS navigation. Sure : I can use Google Maps in Belgium .. But if I would do so abroad , I would be better off buying a house wherever I get lost instead of finding my way back home on Google Maps.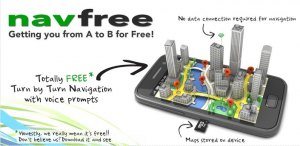 Navfree GPS is available for IOS and Android and gives you the ability to download the maps of the Benelux area, but also Spain, the US and many other countries. Its free because it uses the open source alternative to the Google Maps called "OpenMaps". Download the app of the country you need and watch as your wife/girlfriend/husband and your smartphone go head to head whether its left our right. (Because you also get Voice Navigation .. for FREE !)
Its open source, its free, its a GPS and it does not use an expensive data connection. If it was wrapped in Bacon I would probably eat it.
Related Posts
Mar 17
A couple of months ago I was interviewed by Peter Nikolaides, former host of the Fresh Ubuntu podcast and Tetris World Champion in the last Burundian Para-Lympics (Google told me so). The interview was part of a series that Peter started on podcasters (and other internet superstars) and what they actually did for a living. As a rule of thumb I don't blog about work, so the names of companies and involved parties have been changed to protect the innocent ( Honey ! Where's mah Sooopah Suit  ? ) But the interview might give you some insights on how and where you can find the knowledge and experience to turn your hobby into your day job.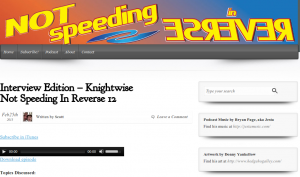 Download  episode 12 of "Not speeding in reverse" with yours truly.
Related Posts
Mar 16
We have told you plenty of times about the cool things you can do from the Linux command line. From building your own backup script to using an encrypted SSH tunnel at work to chat to your buddies on IRC on your remote EEE-pc that you glued to the underside of your kitchen tablet at home : There is nothing the command line cannot do. As a slider its always important to have that command line with you, where ever you are. So instead of lugging around a Usb thumbdrive with Putty on it, or fighting the terminal app in OSX .. Why not put it in your browser ?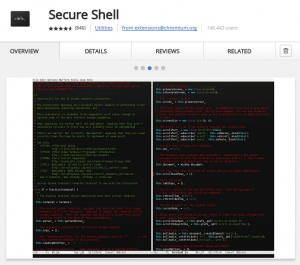 "Secure Shell" is a great chrome extension that does just that. An SSH Client in your browser enabling you to connect to any machine running an SSH server (Your Mac or your Linux machine at home) Its super light, fast and  moderately functional (it doesn't come with ALL the bells and whistles, but hey). The cool thing is, because Chrome syncs your settings and extensions on any machine, you have that shell with you anywhere. So I've locked the tab with the Secure Shell extension on my browser bar and have the same command line interface on any system I use, should I need to connect to a remote system. Its free and slider friendly. Just the way we like it.
Related Posts
Mar 16
The great thing about the combination of eBooks and Podcasting is the fact that we as a podcast listening community are exposed to talented writers who would otherwise go unnoticed by classic, money grabbing publishing agents. Through the art of "storytelling" great writers like Scott Sigler and JC Hutchins have gathered traction and readers before a single page was ever printed with their great works like 7th Son and Earthcore.
The trinity of great indie writers who have followed this path has been completed with the addition of author Jake Bible and his Dead Mech trilogy. Initially published as an audio podcast series, Dead mech deals with a post apocalyptic world populated by brave solders in walking super tanks called "Mechs", hords of undead zombies and religious zealots in fast moving ground vehicles. Dead Mech was a blast to listen to, Jakes ability to paint a world that can only be described as a mix between the reboot of Battlestar Galactica, Waking Dead and Mad Max , puts you right into the action. With the completion of the Dead Mech novel, Jake has brought us 2 more books in the series : The "Aphex" trilogy tells you the rise and fall of a highly technological world into post nuclear (and eugenic) apocalypse and how humankind tries to stay alive. Jakes writing is invigorating, graphic, and touches the "no holds barred" style of writing this kind of story requires.   Let us unleash upon you one of our very own zombies who we have genetically engineered to read the final book in the series. (I am still soaked with blood and soot from reading the first two) : Zombie Lord Drachenblut.
Metal and Ash is the sequel to Dead Mech and The Americans. How is it that Metal and Ash is a sequel to 2 books at one time? Very simple Dead Mech and The Americans were not sequels but as the author Jake Bible says they were sidequels. Both of these stories happened simultaneously in the timeline of the Apex Trilogy.
In this final installment of the Apex Trilogy The Americans and their isolated kin of the wasteland come face to face. This is not a time for happy family reunion 400 years overdue. The American forces of Europe having nearly been wiped out of existence are being chased across the Pacific ocean pursued by the power hungry forces of The Three in hopes of rendezvousing with their compatriots of The Wasteland. As the battle for the fate of The Americans, the Mech Pilots, and the entire wasteland, comes to its final hours twists lay at every turn. New alliances are forged, old family ties are renewed, and questions are answered but more are left unanswered as the body count grows. People we have become attached to are detached from their limbs and used as snacks for the living dead or causalities of the game of power put into motion by the forces of The Three.  
Metal and Ash is a blood fueled and flesh feed conclusion to the Apex Trilogy but it is far from the end of what we will see of The Wasteland and its inhabitants or the world that has been revealed to the Mech pilots. This book grabs you by the entrails and drags you through this post apocalyptic landscape of tech and the living dead.  
Copies signed in blood from The Americans, Dead Mech and Metal and Ash are available for purchase here.
For the illiterate ones among you : You might be interested in the audiobook version of Dead Mech. After listening to it you might feel inclined to learn how to read , just to finish the two other books in the Aphex trilogy. The great thing about these books is that you do not need to fear the zombies : The obviously are craving human brains .. and that makes you perfectly safe.
Related Posts