I live in a part of Europe that is called the "Euregion" because I live at about 2 hours drive from three different countries. I go east for 20 minutes I end up in Holland. When I put the pedal to the metal for another 30 minutes I"m in Germany. When I go south for about 90 minutes .. I end up on Luxembourg  Its cool ! The downside is that when I go "beyond Belgian Borders" I run into very very expensive roaming charges for my data connection. So when trying to use my Android or Ios smartphone for my GPS navigation. Sure : I can use Google Maps in Belgium .. But if I would do so abroad , I would be better off buying a house wherever I get lost instead of finding my way back home on Google Maps.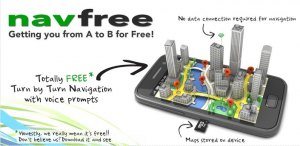 Navfree GPS is available for IOS and Android and gives you the ability to download the maps of the Benelux area, but also Spain, the US and many other countries. Its free because it uses the open source alternative to the Google Maps called "OpenMaps". Download the app of the country you need and watch as your wife/girlfriend/husband and your smartphone go head to head whether its left our right. (Because you also get Voice Navigation .. for FREE !)
Its open source, its free, its a GPS and it does not use an expensive data connection. If it was wrapped in Bacon I would probably eat it.
Related Posts