Aug 16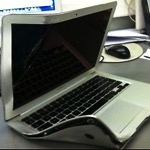 About two weeks ago I started to notice the issue that the keys on my Macbook Pro (2017 model with the butterfly keys) started to become "slightly unresponsive" (See the article "Death of the butterflies"). After dragging the Mac back to the store and explaining the issue to the tech it apparently got fixed. I'm very happy to report my Macbook is still under warranty, otherwise this little escapade might have cost met over 300 euro's.
Where on a "normal" machine they just swap out a keyboard (I remember doing this almost blindfolded when working on IBM Thinkpads back in the day) the replacement of the Apple keyboard is close to brain surgery. Along with a new set of keys, I also got a new battery and a new lower half of my body. Basically I got my screen, my logic board and my harddrive back. The rest is new.
After spending more then 10 days constantly on my Dell Xps13, I have to admit that oging "back" to my Mac is something of a mixed blessing. Sure, here is my allround powermachine that does just about anything, from video editing to presentations, from running work-citrix to giving me the Unix command line. But the keyboard? I think the chance of the butterfly keys and me ever going into a long lasting loving relationship are slim. They keys might be slim, cool, thin, made out of fairy farts, but aside from lacking basic symbols ( Backslash, Pipe key, Tilde Key) the lack of travel does not feel right.
Having had "clogged butterflies" where my keytravel was messed up due to microscopuc elements of dust, I will never quite "trust" this keyboard again. Whatever happens I will always have this nagging feeling that somehow it just doesn't "feel" right. "Was that tap OK ?" "Did that character get registered ?" "Oh ow, is it clogging up again ? " I don't know, maybe I'm focused too much on it or maybe there is something fundamentally wrong with Apple's approach to the design. It's a little bit of a moot point since i'm stuck with this machine for a while anyways.
That being said, I enjoyed having my XPS13 as a daily driver (YES, Running Windows !) The machine is light, fast, has mat screen and I still love it like the day I got it. It will always be a hard choice packing up in the morning and choosing "What laptop am I going to take with me". I think that's the curse of being a cross platform slider.
Related Posts
Aug 11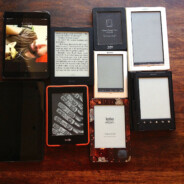 A little more than a decade after Amazon introduced the Kindle and turned the eReader market on its head, Knightwise reminisces about some of the earlier reading experiences and provides recommendations for a bunch of great reads.
Devices
Books
Links
Credits
Episode produced by Keith Murray
Image courtesy of Constance Wiebrands on Flickr
KW1302 - A Look at Knightwise's Kindle [ 41:32 ]
Related Posts
---
Aug 03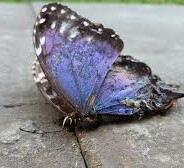 Tap.. tap .. taptaptap.. Grunt, blowing sound, tap tap TAP.. yeah, it sounds like somebody is frustrated behind their keyboard write ? Some Shmo pounding out an angry flame mail to a bunch of co-workers with half the org-chart splattered across to to and bcc field. But .. thats not the case. It"s just me trying to write up a little blogpost on a computer that suffers from dying butterflies.
Downside ? It makes EVERYTHING you type sound like an angry hate-mail to POTUS, even if you are doing a love letter.
'Chokin the butterfies'
The butterflies I refer to are the keys on my keyboard. In Apple's grand opus of "Thinking Different", somebody in the giant glass donut thought it would be a good idea to radically change the way they keyboard worked on their new Macbook Pro's. So they decided the butterfly key would be a great idea. Superslim keys that have virtually no "keytravel" (How 'deep' your key goes when you tap it) and that make the keyboard look like a giant touchpad. Upside ?: Cool and pretty thin (allowing them to thin-down the laptop a few millimeters). Downside ? It makes EVERYTHING you type sound like an angry hate-mail to POTUS, even if you are doing a love letter.
DD I press 'i' ?
But the biggest downside is that these keys are NOT dirt resistant. Tiny mote of sand or dust gets underneath your key ? Boom. no more room for travel. If you are lucky the keystrike is still recorded and you get your character on the screen, but it "feels" like you just didn't strike that key. And that totally throws you out of the zone. If it is worse , the just doesn't work at all and you end up POUNDING the letter out of the laptop by jamming your finger on it with too much force required.
'Cupertino is gonna fix it'
Its a known issue with Apple and they promised to fix it in the NEXT generation. But for the current owners ? Well, there is a replacement program. Only you need to bring us your Macbook Pro so we can fix it. Well, Fix it is a big word, they are going to replace my keyboard (AND my Touch bar AND my battery, because the glued it all together) with similar hardware. So the chance that THOSE butterflies are going to "clog up" is still very real.
Well, the only thing I can do is wait for my Mac to be back. In the meantime I've 'Fallen back' to my Dell XPS 13 laptop (Running Windows 10 Pro) and that is NOT a bad place to be. The machine is slim, light and fast and the keys are .. well, better. Rattling out blogposts like this kinda feels like being a coder pounding out the next killer app. No dead butterflies here 🙂 Keep you posted.
Related Posts