Mar 11
You've got seven vices and seven virtues, you also have seven dwarfs and seven riders of the apocalypse. You also have a movie called "Seven" where they cut off Gwyneth Paltrow's head and ship it via Fedex, but that is beside the point. What is important to remember that there are also seven siblings in Samsungs Galaxy family. We got our greedy hands on one of the few models in circulation and decided to tell you all about it.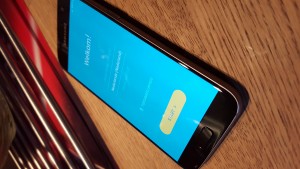 Look and feel
The S7 is a lot like Iron Man. Where the 1950's versions of Iron Man looked bulky and edgy, the modern implementation of Iron Man is slick and smooth. Same goes for the S7. Although its the same size as its predecessor the S6, the rounded edges of the S7 make it feel just a little better to hold on to. The raised mounting of the rear camera in the S6 is gone which turns the back of the phone into a solid, unbroken slate of black. Close your eyes and roll the phone around in your hands and it will be hard for you to distinguish it from its greatest competitor, the iPhone 6.
Some things are just same-same
Aside from the size, the screen specs have not changed either compared to the S6, but with a beautiful Amoled screen with such a high resolution, why would it? The screen is packed so tight you cant distinguish the individual pixels and the colors are vibrant. Thanks to the Amoled technology black is black and you can even read the screen in bright sunlight.
Same but no same
Samsung has upped the specs on the cpu and the onboard ram (we won't bore you with the technical details, suffice to say the phone is fast and snappy). The biggest change however is the fact that the micro SD card slot has returned. You can once again slide your little Micro SD card into your S7 to upgrade the storage capacity. Although slightly slower to respond opposed to the onboard storage, the micro SD card gives you the chance to store music, movies and more without worrying that you will 'fill up your phone'. Because Samsung did not implement one of the latest Android features into its OS, it  not possible to install apps on the micro sd card.
We are talking about the first submarine equipped with a simcard.
Just drop it in the toilet
Every week we hold a silent vigil for those moments where a loud splashing sound emerges from toilets all over the world. No, we aren't referring to the proliferation of successful bowel movements, instead we point towards all those incidents where phones end up in the toilet. That one place where modern day technology touches that one earthly element that signals doom for many: Water.
The S7 is waterproof. When we say waterproof we aren't talking about a couple of drops of water. We are talking about the first submarine equipped with a simcard. The S7 can stand over 20 minutes of underwatertime, more then enough for those slow to react to fish their baby out of the john when they accidentally dropped it in. We tried it (not the toilet test, just plain water) and it works indeed. The phone knows when it has been submerged and refuses to charge via the USB port until all components have dried up. Pretty impressive.
VR
The S7 is also compatible with Samsungs gear VR, its Occulus-powered virtual reality headset. Slide the phone in and sito presto you are emerged in a VR world where you can play games, watch Netflix or literally walk around in a 360 degree movie. That is until your phone gets too hot or your battery dies out. (See our review of the Gear Vr for more info on this.)
Conclusion
We give the S7 an 8/10 because its a decent phone. It's not cheap but you do get a lot of bang for your buck. The VR technology that Samsung loves to pimp is interesting but still in its infant phase.
Links: Want to know more ? We found this excellent (Dutch) video review of the S7
Related Posts
Mar 05
We're Back!
After a long winter's nap the Knightwise.com podcast is back for another season of cross-platform goodness. Season 11 kicks off this week with Knightwise doing something he hasn't done in a few years. Come along for the ride as our intrepid host talks about managing work, life and your multiple selves in the digital age.
Links
Music
Credits
Standard Podcast [ 1:03:05 ]
Related Posts
---
Mar 03
Call it geek envy, but sometimes you see somebody walking around with a piece of gear and you think by yourself : I want this too. No matter if you need it, or even have a use for it, you want it. Just because the other geek has it to. I regularly get a case of the "geek envies" when I see people use cool smartphones, fancy laptops or … Laptop bags. Yes: My name is Knightwise and i'm a laptop bag junkie.
My wife regularly makes fun of me when I am relentlessly drawn towards the 'bag' section of some store, looking for the 'ideal geek bag'. For some reason I've collected several messenger bags to lug around all my gear. Yet for some reason none of them is 'perfect' and I'm always on the look for that "ideal bag".
So as you might have noticed: Laptop-bag-geek-envy struck me this week after watching a couple of episodes of Mr Robot, where the hero walks around with one of these giant "Tactical backpacks" that hold his laptop. It triggered me into an hour long Amazon click-fest researching which backpack Eliot was using and what the pro's and cons were of using a setup like that. What it basically comes down to is that there is no 'perfect' laptopbag because every bag has its ups and downs
Plopping one of these babies down on a table might confuse people because the don't know if you are going to pull out an  iPad or a couple of fully automatic machine guns
Tough but Rough
Picking up on the 'Tactical Laptop bag' that our hero uses in "Mr Robot" you run into your first problem. These rugged military grade laptop bags are very cool to cary around and basically indestructible. They make you look like a special ops member on his day off. Plopping one of these babies down on a table might confuse people because the don't know if you are going to pull out an  iPad or a couple of fully automatic machine guns. As a result having a military grade laptop bag might not be the best choice if  you are in a corporate environment where a little elegance is required. So at come point you might need to choose between Rough & Tough or elegant and smart.
Roomie but bulky.
The other factor you might need to consider is the size of your laptop backpack. These things come in all shapes and sizes depending on what you want to tuck in there. Ranging from a size that can barely hold an adult tribble to a backpack that would allow you to cross the himalaya in a single go, there is a lot to choose from. Going for a backpack that is roomy might be  very convenient when you want to cram in your entire mobile office for the day: Laptop, Lunchbox, extra sweater, perhaps some  books, your tablet .. you name it. Some of these larger size backpacks eat it up like black holes eat stars .. the downside is that they also increase in mass. What you might end up with is a backpack that weighs  a ton and is very very hard on your back and  shoulders. The fact that you can keep cramming stuff in does not mean that its actually healthy to haul all of that around without the additional use of an antigrav unit or a pair or repulser lifts.
Slick but tight.
The one way to decrease the weight of your backpack is by going for something smaller. The less crap you can shove into your backpack, the better .. right ? Perhaps, but the downside here is that there is a 'bare minimum' of stuff you need to  carry with you. Having a small and slick backpack does increase the chance that your gear does not have enough protection because  there is hardly any room between the corner of your laptop and the edge of your backpack. One strategically placed 'bump' and you might end up with a cracked screen. The other thing that is also a risk here (or with any other backpack) is the fact that you cram in to much stuff and pressure is applied to the center of your laptop screen, making it bend as you walk around. Not something you want.
So I looked at all the pro and cons and went for something 'in the middle': Sufficiently geeky-and-tactical, not too big and not too small. I ended up going for the Thule Enroute 2 Blur. Like all products it is sufficiently rugged and durable to use on a daily bases. It has plenty of compartments to keep your stuff organised (I hate it when crap rattles around in my backpack) and going for the 'Blur' version meant it was roomy enough for my 15 inch laptop with some room to spare. The backpack has some nice adjustable straps that don't cut into your shoulders. When it comes to size it hits the sweet spot between where I still have enough room for my gear, but am unable to pack up everything AND the kitchen sink before I leave the house. At about 99 euro's online it was not  the cheapest backpack around, but it was the only one that ticked all the boxes I mentioned above. Geeky, Roomy, Safe and slick.  Its the perfect laptopbag .. until I go crave another one.
Links: Thule Enroute 2 Blur.
Related Posts