Dec 28
This week i'm testing out my new Acer A730 to see just what it can do and how far we can take it. One of the frustrations I bumped in earlier this week was that there were limited options when it came to "Phoning home". Setting up encrypted tunnels to your home network over the internet using VPN or Proxy connections is something we should consider when using public Wifi hotspots.
With the Chromebook relying completely on some wifi connection on a (perhaps foreign) network I was disappointed to find that the only protocols that were supported were L2TP and OpenVpn. Not a bad set to choose from but not something that I had setup on my home network.
Previously I used an SSH server and the SSHuttle app to tunnel my internet, dns and even network traffic over a Socks5 proxy to my home network. I wondered if this would be possible with the Chromebook. Turns out it is ! Let's start cooking.
To get this little piece of magic working you need 3 things. A : One SSH server (A linux machine) on your home network that has at least one port open to the internet. B : The Secure Shell app from the Chrome store. C : The Switchy-Sharp extension.
Setting it up is quite easy. Lets say we opened up port 8800 of our SSH server to the internet. Setup Secure Shell to connect to the your home SSH server with the additional option to create a port forwarding tunnel on lets say port 8800 with the option -D 8800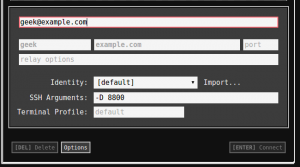 Next we setup Switchy Sharp as to use the SSH connection (and port 8800) as a socks 5 proxy.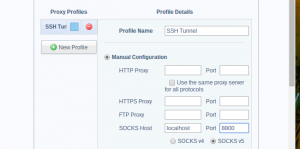 All you need to do next is Connect to your home SSH server and use the Switchy Sharp extention in your browser to use the connection. The Chromebook will tunnel all http and https requests AND the DNS queries through the tunnel. That way 95% of your Chromebooks traffic (we aren"t a 100 percent sure about what protocols any other apps you have might use) are piped through a secure tunnel. You don't only get to connect to your home network (to open up any web-interface to any device or server you have) but also you get to do it all 'in private'
Links.
Related Posts
Dec 24
So its day Three of the "Chromebook only" week. A week in which I promised myself ONLY to use my brand new Acer C730 to get things done. In a previous article we've talked about the first impressions of the device and what it feels like to take your Chromebook to work. That's all nice but … what about downtime ? Can the Chromebook entertain us ? We'll find out.
Before I start I want to make a confession : I'm a cable cutter ! Yes, we have ditched 'traditional tv' in favor of streaming content from the internet and from our personal library of backed up Dvd's to our television. So demands for 'conventional television' aren't very high in our households. However : With the holiday season coming up there is the need to catch the Doctor Who Christmass special on BBC2 … But I live in Belgium .. So what to do ?
Enter the HOLA extension. A little app that lives in your browser and allows you to "tunnel" through local proxies in the US, the UK and other countries to be able to watch 'their' content. 'Hola' works great for watching content like Bbc or watching the Extended Netflix catalog in the US. The Chromebook keeps you entertained for hours.
As for music : Plenty of services out their that want to stream their soundwaves your way. Some extensions even let you upload your music to your google Drive and stream it from there. If you don't feel like doing that , how about Spotify, Stitcher, Grooveshark and plenty of other services ? The audio quality on the C730 is pretty good although it IS lacking a little bit in the lower part of the sound spectrum. No doctor Dre .. but no tinny radio either.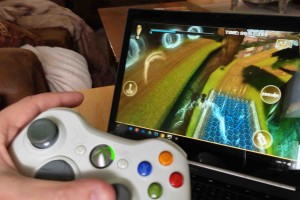 As for games : They are (of course) web based. Some of the apps in the Chrome webstore are nothing more then glorified links to websites where you can play said games. But thanx to Java, Ajax, Ruby and other forms of webmaster-black magic you can play a decent game inside a browser these days. If you don't mind the occasional apps for adult-daipers in the upper right corner .. you can find online (clones) of Command and Conquer .. or really go for it and dive into some classic arcade games that are a dime a dozen out there. And lets not forget the Internet archive with their Internet Arcade ! Play a ton of classics .. in your browser .. on your Chromebook.
Conclusion :
If the internet is a geeks daycare center where he can spend hours while his/her parental units go off to do other things in the real worls … the Chromebook is your hot babysitter ! It will keep you linked up to the world wild web (that ain't no typo) and if you know where to look you can spend hours playing games, watching movies and listening to music WITHOUT spending a dime OR breaking the law. As long as you keep the Chromebook connected .. it will keep you entertained
Links.
Related Posts
Dec 23
Last weekend I bought a Chromebook. A somewhat controversial device that sits between a laptop and a thin client. A laptop that hardly cost me 249 euro's and is basically an network card with a screen. A device that is almost useless without an internet connection. And I challenged myself : Could I survive on the Chromebook alone… for a week ? Here is my Day to day rapport.
The second day : Out to the races.
Monday morning marked the end of the honeymoon weekend with my Chromebook. Sitting at home on the couch, playing around and getting to know the machine… it was fun ! But now its time for the serious work. Since I was going to survive on the Chromebook alone for a week, this meant that the Chromebook was going to be a major part of my workflow. Aside from being a cross-platform internet blogger-podcaster-superstar I'm also a freelance IT Consultant. So taking along the Chromebook meant that it was going to have to earn its keep.
That and we had several things on the To-Do list that needed to be done : A blogpost for Knightwise.com, Checking emails, Updating some online job-profile sites, a conference call and a visit to a client. Just some of the things we needed to do.
Writing the Blogpost.
The days of Dreamweaver are far behind me. Both blogs I write for are WordPress blogs so I didn't think the Chromebook was going to give me any trouble connecting to the web interfaces. Before I just "surfed over" I did check out a couple of Chrome Apps/Extentions in the store that were WordPress related but .. to no avail. Most of the apps/extentions (very confusing) were mostly just shortcuts to the WordPress backend page. No offline love there. No matter, I never write my blogposts in WordPress directly anyway. "Writebox for chrome" is a great app that lets you punch out simple text files in a clutter free environment. Available offline I lets me write up a Blogpost that gets synced over to my Google Drive. You can play with the colors (I went for green letters on a black background) and felt like Doogie Houser writing his dairy. To add some comfort I propped up the Chromebook on a notebook riser and plugged in my external Logitech keyboard. Thing works like a charm. Write blogpost, copy over to wordpress, publish. Ding ! Chromebook wins.
Before I left for my client I needed to take a long a couple of multimedia files to show them. How was I going to connect to my NAS ? One of the great things about owning a Synology Nas is that it comes with a pretty powerful web interface. This allowed me to select and download the files I wanted to the Chromebooks (tiny) harddrive. Chromebook Wins.
Arriving at the client I was unsure that I could connect to their wireless guest network which gave me some trouble the last time when hooking up my Macbook Pro. The Chromebook connected ok and it was great to have this simple 'instant on' experience while waiting for the meeting to start. Just like whipping out your phone and checking Facebook, you whip out your Chromebook, open it up and start surfing. No boot times .. no restore. However : During the meeting I suddenly noticed that I had forgotten ONE FILE at home on my server. How was I going to get to it ? VPN ? The Chromebook DOES have the option to use VPN but not all protocols are supported. Luckily I was able to pull a copy off the file from Dropbox and all was good. The HDMI connector on the back allowed me to connect to the big TV in the meeting room and the "Subtitle Videoplayer app" was up for the job. The sound was a little tiny .. but my client was impressed with the tricks my little 249 euro machine could do.
When I got back home it was time do do some more work. One of the tasks that needed to be done was to print out our Christmas cards. Printing with the Chromebook is pretty easy for me since I have our home printer setup as a network connected "Cloud printer' allowing me to print documents from any Chrome browser.
Printing 2 copies of our Christmas card on ONE page proved to be beyond what Google Print (and the Chromebook) can do. Its a functionality that is not supported : Fail for the Chromebook. I had to do this from my Mac.
The rest of the day went off without a hitch.
Doing Emails, Visiting websites, downloading and forwarding attachments and even hosting a Google Hangout was easy. I was getting impressed by the little machine AND the fact that most of my workflows don't need some expensive device to get stuff done. At 9Pm (!) the little machine beeped to remind me that its battery was running low. I had been working away on it all day long .. and still it had some juice to spare.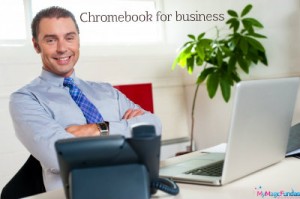 So can you take your Chromebook to work  ? 
The question if the Chromebook is right for you (and suitable for work) is not a matter of what the Chromebook can or can not do. Its a matter of how your workflows are organised. If you can get stuff done in a browser .. there is hardly anything the Chromebook cant pull off (its just a browser in a box) The device is nice, cheap and simple and buying a Chromebook is easy. But tweaking your workflows to be device independent is what makes you a Cross Platform Jedi Master.
Related Posts
Dec 21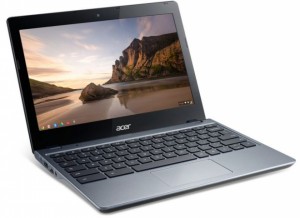 Sometimes i'm an early adopter. So much so that if we ever had any kids I would probably be trying to teach our unborn child all the names of the Star Trek DS9 characters before it was born. Sometimes I just can't wait for things to just 'get there'. However, when it comes to Chromebooks i'm late to the party. While others raved about how they could 'do everything in a browser' I was not impressed with this locked-in substitute for a terminal client. But… yesterday I budged and forked over some cash for an Acer C730 Chromebook (Also known as the Chromebook 11) and am preparing to set out on a quest to answer the ultimate question : Is a Chromebook enough ?
So join me in my quest as I discover the Pro's and the cons of a 249 Euro device that has sold his soul to the Googleplex and try to "Cross-platform-slide" the Chromebook.
Knightwise, Meet the Acer C730.
The Acer C730 is Acers 3rd iteration of their popular Chromebook line. As the successor to the immensely popular C720 model (Loved by many because of its ability to dual boot into Ubuntu) it is a low budget – low powered "Terminal to the cloud". At 249 euro's you what you pay for. A plastic 11 inch Laptop (I got the girly "White" edition by accident).
The C730 has an Intel Celeron CPU, (specifically a dual-core Haswell 2957U) and comes with 4 gigs of Ram. The on board SSD gives you 16 gigs of storage and the AC Wifi should be able to get you the speediest of wifi connections. The 11 inch screen comes with a standard resolution of 1378×768. As for auxiliaries the Chromebook comes with a webcam, 2 USB connections (1x 2.0 , 1x 3.0), an SD card slot a full HDMI port and an audio jack.
First impressions.
Unboxing the C730 reminded me a little bit of unboxing my first Asus EEEPC back in the days. For some strange reason you are extremely excited about buying a 249 euro Laptop .. so when you unbox it .. you get a 249 euro experience. The box is bland (brown), there is no Styrofoam (eco frienly) and the laptop is packaged in one of those little veils to keep it scratch proof.
The Chromebook itself is pretty sturdy. Not too light to feel flimsy, not to heavy to feel like 'a real laptop'. which is a good thing. The plastic unibody design feels .. plasticy. You have keep reminding yourself : This is not your average laptop. Its basically a mainboard, a network card and a battery having a threesome inside a plastic shell. And that is all you need.
Well, you need to interface with the device of course and for that you need a keyboard and a screen. I feared for a flimsy crappy keyboard to ruin things for me but was pleasantly surprised with a fairly decent Chiclet-keyboard with enough space between the keys for fast typing. The screen is a little more 'sobering'. We didn't expect Acer to bring us a Retina Amoled display but the viewing angles on the screen do remind us of a laptop from the 80's. As long as you sit right in front of the (fairly bright) screen its fine. But don't expect to have a pleasant experience from any other angle. The colors on the display are a little washed out and the contrast is lacking .. But we aren't going to edit the next Victoria's secret calendar on this thing anyway.
What we do love is the battery ! It just keeps on going. Even if we don't make it to the promised 8 hours of operational use .. we still have a very light cheap laptop that you can chuck in your bag without having to worry that you forgot the charger.
The OS.
Chrome OS is exactly what it should be. A very thin layer of functionality that glue your browser (and your apps) to the hardware. There are not a lot of options, there is limited storage, you can't tweak the crap out of it … and as Grumpy cat would say : GOOD ! It helps us realize that this is a web-terminal with a keyboard and a mouse.
Conclusion.
The Acer C730 is a great gateway into the Chrome and Chromebook experience. You get what you pay for … and then some. What I love about it is the great battery life, the decent keyboard and the fact that the combination of 'light and cheap' make it a great device to chuck in your bag and carry it around anywhere.
I have a 15 inch Macbook pro that is my main production machine. But every time I need to take it on the road i'm afraid it might get stolen. With the Acer I don't have that concern.
In the next couple of days I'll be writing up some more posts on how the Chromebook works for me in my Cross platform Lifestyle .. Stay tuned.
Links.
Related Posts
Dec 14
Camcorders .. you love them .. or you hate them. Its a simple as that. Once hey used to be the sidearm of choice of the annoying uncle at your birthday party, who insisted on pointing them into peoples faces to suck away all spontaneous behavior and replacing it with a bunch of awkward grins.  Now, most of them have been pushed into oblivion by high end camera's on smartphones or super rugged go-pro action camera's used by 'outdoorsy' types to impress their friends. So who (aside from a budding porn producer) still needs a camcorder ?  And why in hells bells would you want a waterproof one ?
Well, once you wrap your hands around JVC's All Weather Everio Camcorder .. you kind of start to see the point of this camera. Smartphones are cool, they are ubiquitous and they are great for the average point-shoot-and-share experience of a Youtube Video. But the absence of physical controls (and a static lens) make it hard to do some of the more advanced filming tricks like zooming and stuff. Smartphones also have the tendency to break, snap, splinter, shatter and disintegrate at the slightest hint of "adventurous use" If your pristine phablet survives a gravity powered french kiss with a concrete floor from three feet high without breaking .. you are a lucky man.  The industries answer to the "adventurous youtuber" comes in the form of the go-pro like action camera. Encased in a force field of plastic this stabilized "set and forget" camera is mounted on you bike – helmet – stroller .. and will survive any stunt the owner preforms as he/she steps in the footsteps of the JAckaSs crew (and perhaps dies while doing it). So since surviving the ordeal is more important then an oscar for best director .. the Action Camera's have few to zero options.
So enter the Everio. This Full-HD , Dust, water, shock and freeze proof camera is JVC"s savior of your upcoming winter-holiday video. With a form factor that looks like a classic camcorder, the Everio promises 4.5 hours of battery life and a 60* Zoom capability. We won't go into technical details because we aren't big shutterbugs, and break it down into our first impressions. The Everio looks pretty solid when you grab hold of it. The slightly larger casing makes it easy to hold even while wearing ski gloves or something. The placement and size of the primary controls (zoom, record etc) is also designed with the down sloping glovev wearing Spielberg in mind who is more focused on making the shot while trying to stay upright (and alive) instead of fiddling with little buttons.
But there are some cool extra things included in the camera's software like taking 10Mpixel still shots (no need for an extra DSLR) , wireless syncing to your tablet or phone (no PC required) and the option to livestream your actual footage to a smartphone or tablet over wifi.  Throw in some built in instagram filters and the Everio is a little one-stop holiday production shop for your video's. With good audio and video quality to match (and why not thrown in some software stabilization) we do see you using this camera on your next adventurous holiday.
But hey ! Its waterproof ! (or so it says on the box) .. So lets test that .. shall we ?
At 319 dollars this thing brings a lot to the table for anyone who is going on a holiday and wants to rough things up a little.
Related Posts