Jul 30
During 'Essential week' I try to look for the answer : How much gear do we really need when on the road. Each day I'll focus on a piece of gear or a solution to find the "essentials" a mobile geek really needs to Communicate, Create, Consume and be entertained.
Just the phone please
If there is one thing I constantly have around then it has to be my phone. My trusty Galaxy Note 3, allthough a little big, is my lifeline to the digital world when I leave the house. With fast 4G connection, the ability to hook up to wifi hotspots, a large screen, a fast processor and 32 gig of onboard storage .. it kinda ticks all the boxes. Lets see :
Communicate
Allthough I seldom make phonecalls on the device itself, I mostly use it in handsfree mode in the car. (I do all my 'classic' phonecalls from the car) Occasionally I will shoot off a quick call using the Galaxy Gear smartwatch that I have around my wrist. The majority of my communications however are digitam : Email, Instant messages, Social Media and even Google hangouts. The sceen and the speed on the Note3 accomodate that perfectly. A little big for a classic 'mobile phone' but more the adept at being "a digital sidearm".
Consume/Entertainment
The Note's screen is big and bright and it has some room to spare for content, so reading books, surfing and watching video's on the device is pretty sweet.
The experience is enhanced by the S-pen that makes surfing a little easier using the pen instead of your stubby pinkie. Listening to music and podcasts ? not realy a problem aside from the fact the size and wheight of the note 3 do make it a little hefty to take out for a jog.
Creativity
As for creating audio and video material the Note3 is pretty powerfull. The camera is great, the onboard microphone too.. but typing on the device can be a little hard. Using "Swiftkey" instead of the native Samsung onscreen keyboard helps a little, but typing out long emails and blogposts is not something to look forward to. The note3 is big , but also heavy, so holding it your hands and thumb-typing the next edition of "The Hobbit" .. will be painfull.
Solution
I went online and found a great little bluetooth keyboard from RAPOO, the E6300. I had originally purchased it for use with my Android Tablet .. but there were some pairing difficulties. Rapoo reported back to me that the keyboard was "designed" for iPads and IOS devices, but it worked great when pairing it with the Note 3.
Just the phone ?
well, the "extras" to get everything done with "just" the Note3 do require you to "add" a couple of ingredients. I managed to use the Note 3 as my "full" daily driver when attaching a pair of Apple earbuds (they have a great microphone) and the Rapoo bleutooth keyboard. After being able to tilt the Note 3 in the optimal viewing angle, I was able to punch out the required email shitstorm and even cobble together a decent blogpost in Evernote.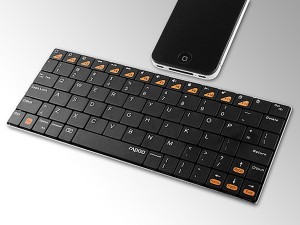 Pro
Using just the Note 3 (and the external keyboard) does have its advantages.
Small
Fast
Everything in one device
Always connected
Keyboard + stylus combo = Quite effective
Con
Heavy drain on the battery during heavy use.
Little on the heavy side.
Small screen
Rapoo keyboard is a little on the small side.
Conclusion
Yes you can survive on just the Note3, but only barely. Be prepared to focus on mobile apps (since this is a mobile OS) and have a charger handy. The Rapoo is a nice addition to what is in essence a VERY powerfull smartphone with a nice big screen. To get things done in a pinch these "essentials" will get you through the day .. although we are afraid the Note 3 (on a single charge) … won't.
Links
Related Posts
Jul 29
We dive into the holiday madness with kw808 : Holiday Anonymity and talk about ways to stay safe when you are away from your trusty home network or personal 3G connection. Who might be snooping, Who might be watching ? Should you be worried about the 16 year old script kiddy in the Hotel Lobby or is he just doing is own thing .. or is he looking at your traffic. Be aware of the risks and learn how to stay safe. We tell you how in KW808.
Shownotes;
kw808 : Holiday Anonymity [ 0:36 ]
Related Posts
---
Jul 29
We are back on the blogging wagon this week trying to bring you a short article on a daily basis around a certain theme. This week its 'essentials' week. What gear do we REALLY need when we are on the road and how much of our mobile tech kit is plain dead wheight. Its time to 'slender' down' our digital carry-all and go for the bare essentials.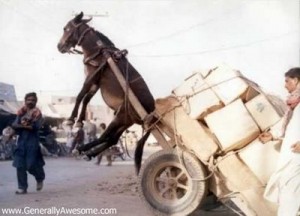 What do i carry ?
During the week I normally carry around my laptop (1 Macbook pro, my 'dual booting daily driver') a Galaxy tab Pro 8.4 tablet , A galaxy note 3 smartphone and an E-reader (since I love to read outside these days the glare from the sun renders any reflective device like a smartphone or a tablet, useless). Sprinkle in some cables and a couple of thumbdrives and my lunch .. and I have quite a hefty bag to lug around.
I carry too much ?
In all honesty, I don't need all of it. Much of what I carry around, I carry around "In Case I need it". My Smartphone (the Note3) sees a lot of action being my main source of connectivity, communication and entertainment .. but the laptop and the tablet don't see any use on some days. I've been terming my "lugging around of non-used electronics" as "digital daipering". Taking stuff along just in case …
What do I need ?
Well in essence I need Communications (I need to send out emails for my company) Creativity (I need to be able to write up a small blogpost) Connectivity (I need to have internet access since there are not nice hotspots when i'm out and about) and Entertainment (Something to read and something to listen to.
So how do I go about this ?
Every day in the coming week i'll be picking one digital solution that I pack in my bag and I see how good I can manage these four "requirements". What works, what doesn't and what I have learned. Stay tuned.
Related Posts
Jul 14
We go into depth into one of the most powerful command line programs to delve into the treasure chest of cat video's we call youtube. We explore Youtube-Dl, its capabilities and the vast combination of switches and parameters you can use to turn Youtube (and other video sites) into your personal b*tch.
Shownotes.
What is youtube-dl
How to get it
Command line overview 
Youtube Download 
youtube-dl <url of the video>
Youtube Download audio only 
youtube-dl —extract-audio —audio-format mp3 <url of the video>
Youtube Download search results (50)
youtube-dl ytsearch:"ted talks computers" 
–playlist-end 20 -R 50 
Youtube Download channel or topic (50)
Youtube-dl <urlfothechannel> —playlist-end 50 -R 50
Youtube Download 'watch later que'
youtube-dl -u username -p password :ytwatchlater

Youtube Download audio only 
youtube-dl —extract-audio —audio-format mp3 <url of the video>
Youtube Download search results (50)
youtube-dl ytsearch:"ted talks computers"
–playlist-end 20 -R 50
Youtube Download channel or topic (50)
Youtube-dl <urlfothechannel> —playlist-end 50 -R 50
Youtube Download 'watch later que'
youtube-dl -u username -p password :ytwatchlater
Subscribe : add
add "playlist-end 1 -R 50"
Make pretty : add
" -o "location/file/%(title)s.%ext)s"
Extract only the audio of a channel.
—extract-audio —format-mp3  "playlist-end 1 -R 50"
Related Posts
---
Jul 04
We go deeply technical today and discover the wonders of Virtual machines. What are they and why do we compare them to holographic characters in Star Trek ? We talk about the secret sauce to build a 'Datacenter in a Box' for your home. Instead of owning rows of old clunkers to test, or half a server rack to meet your needs, we take a tour of Virtualbox and how you can use it to shove an entire datacenter… under your desk.
You can also watch the Live recording of this show on Youtube.
Shownotes.
- Virtual machines .. What are they.
- How can you use them to work for you.
- Working out your strategy.
- What I use ?
- Virtualbox.
- Virtualbox extention pack .
- Vboxmanage commands.
kw806 : Datacenter in a box. [ 24:05 ]
Related Posts
---
Jun 25
We return to the podcasting routine with a show that is packed with Gadgets and clever life hacks. Its time to turn our geek bag upside down and tell you not only what is inside of it, but also HOW we use it. Tune in and learn the secret of how to become the optimal, creative, productive and entertained digital packrat without shlepping around a portable datacenter on your bag. Hone your vulcan hearing as we tell you "Whats in my Bag" (and how do we use it).
Shownotes.
Intro
My routine
Whats in my bag
Less is more.
BONUS : The behind the scene "hangout" of this shows recording.
kw805 Whats in my bag [ 15:51 ]
Related Posts
---
May 18
What does it take to start up a company ?  What does it take to make that company cross platform compatible ? What hardware do you choose , what software do you choose ? What services do you go for ? What are the challenges, the easy bits and where does it all make you want to pull your hair out  ? We answer those questions in this weeks podcast as we take a deep dive into the technology we selected and used to start up our own IT Consultancy company. Listen up ! You might learn something :) 
Shownotes.
Introduction.
The difference between corporate and geek.
Requirements
Services
Hardware
Current laptop : Lenovo Twist.
kw804 : The Cross Platform Startup.
Related Posts
---
May 12
Biweekly I go through Kickstarter and try to find some interesting projects that you just must back. I have backed 22 projects since February 2011. My strategy is simple: I just cruise through the pages until I find something I like. Sometimes I search for keywords. Earlier this week for example I tried "laptop" and some awesome stuff popped up.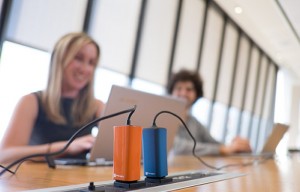 Take for example the Dart. It's a universal laptop charger, the size of a lip stick. It costs you 90 USD and you'll get a charger by 2015. It's a great idea, but this Kickstarter project resembles the main issue I have with Kickstarter: it's most of the times just an idea. The charger delivers 65W and puts out 18 to 21V. So it won't charge certain tablets or stronger laptops. The word "universal" is also something that needs some in-depth research, as you need licensing for the Macbook plugs for example (and even Macbooks have two different types of plugs right now). Buying the standard version will cost you 90 USD, but 199 USD for a European Macbook charger? I don't think my charger is that big anyway…
It's a great example of an awesome idea that's not ready yet to be sold, but it's worth investing in these type of projects. It's because of the funding they receive of their backers, that they can actually go further and finalize their projects. Kickstarter isn't always about asking financial aid to finish something, but to actually help create something.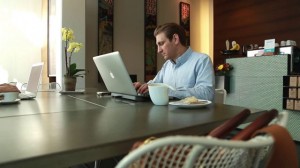 The story of the Airbar is something completely different. Those guys have tested and finished their prototypes and are ready to launch. I have to agree: when you are looking for a cooling device for your overheated notebook, they always tend to be oversized, heavy and they don't seem to cool at all. Jordan Meyers created the Airbar, which he hopes to sell through Kickstarter. For 75 USD, you'll receive a slick bar which lifts the back of your laptop by an inch for some comfortable typing, while sucking in air. Meyers choose some smaller but more expensive fans than the lower end fans that most cooling pads include. And to be honest, it even looks great too. I'm afraid it won't meet its goal, but it's worth a shot. Because really, how cool is a cooling gadget? No hipster is going to get this.
Last but not least is something more general about crowdfunding and why I like Kickstarter more than Indiegogo or other funding platforms. The campaign advisors of Kickstarter are very strict. If you don't meet their requirements, you won't get in. It's that simple. Indiegogo allows everyone to enter and get started. They call themselves the World's Funding Engine. I call them the crap sellers. Not to say that Kickstarter has the best projects, but I do want to say that Indiegogo has the worst. While searching for "laptop", I found nine projects of the first twelve called "I need a new laptop, help me buy it."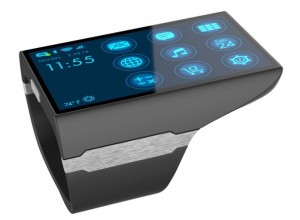 What I did find on Indiegogo that I wanted to mention, is the Rufus Cuff. It's not a laptop project, but it's a oversized smartwatch. It costs you 269, but it looks really awesome! I don't think it will become more Star Trek than this, except if in the future we will get beamed up by Scotty. The Rufus Cuff allows you to text, call, Skype and take pictures on your wrist. It will even notify you when you left your phone behind. You can surf the web, do fitness exercises with the GPS, gyrometer and other built in analysis tools. It runs on a full Android version so you can install all apps on it. You only can't call directly with it, as it needs a Bluetooth connection with your phone. It's water resistant so you can text and call while in the rain or in the shower. Be quick though, as the campaign ends in less than a week.
Matthew Deboysere is a video game journalist for several Belgian media. Is the co-founder of G.Mag, a free digital gaming magazine, but left for a new adventure. Previously wrote for GUNK and 9lives. Loves video games with a great story that reduces him to tears. And cat videos.
Related Posts
May 10
Its time to be Mr Journalist and cover Acer's launch event for their Liquid E3 smartphone in Brussels and take some interesting interviews. We talk to two different sides from the girl-geek spectrum and interview Sunny, a 'beauty blogger' who just got her first smartphone and Mee Hyang, one of the members of the 'Brussels Girl Geek Dinner' who has been around the tech block a couple of years.  Both ladies give us their vision on technology and the "Girl vs Gadget" ratio in their lives. As an added bonus we talk to Lars Christensen, the Acer Product manager about some of the cool new functionalities Acer will be supporting in their smartphone and ask him the pesky question : 'What is a PC going to look like in 3 years'.  Enjoy KW803.
Shownotes.
kw803 : Girls Gone Geek [ 40:40 ]
Related Posts
---
Apr 14
 We already told you about some of our favourite Chrome apps in the first post of this series, So this time its time to dive a little deeper into applications/extensions that will actually help you to do things for which you otherwise would need an application. We have broken them down into some easy categories for you to follow.
Entertainment.
I think the days we actually stored music on our devices and played back those files are as obsolete as shouting "Put the needle on the Record" at some teen playing a DJ gig with his laptop. Since we are talking about Chrome extensions here, I can only assume that you have a connection to the internet all the time.  With so many free audio streaming services available the only thing that is keeping you from playing the latest Shakira album over and over (and over) is your bandwidth cap.  Some of the Chrome extensions we love here are  Spotify and Soundcloud. Sure you get some commercials when you use the free service, but that's just like real actual radio. If you should be in the business of running your own PLEX server at home and would like to stream your (audio and video) content on your Chromebook ? Try the Plex app. (But do make sure that you open up the right ports on your router if you want to access your server from the outside).
Production.
But what about when listening to music is not enough ? There are a couple of great apps out there that will actually help you MAKE some music. From simple voice recording with "Voice Recorder" to rather complex audio mixing with Audiotool. Want to annoy your friends by badly mixing 2 tracks together using an online DJ mixer ? Try Until AM.
Connecting to other machines.
But what if your Chromebook isn't enough and you need to connect to other systems and devices ? When you need an SSH session to your Linux machine (or your mac) at home "Secure Shell" is without a shadow of a doubt one of our favourite applications. It reminds us of the popular Windows terminal client PUTTY only 4983 times better. It remembers sessions you have saved to your servers across multiple sessions of Chrome, so you always have your connections at your fingertips. If you need to go a step further and dive into the graphical side of things, you might want to try "Chrome RDP" to connect to your  machines running the Remote Desktop Protocol.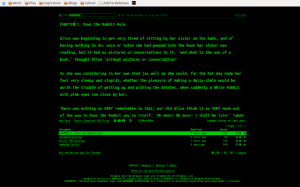 Productivity.
Ok, The only reason you bought a Chromebook (or use Chrome) is so you can spend hours on 9gag and Reddit. So its a good thing we even dug up some productivity apps. Outlook.com might be a little bit of blasphemy in this Gmail centered environment, but the Chrome app DOES get you to your mailbox environment even though its not controlled by the "Big Bad G". Another pretty simple Chrome app we found is called Workflow. Workflow lets you organise your tasks into lists and sub-lists. It's more like a text based mindmap but it does give you a pretty good overview of what you are working on and what subtasks are involved. Speaking of "simple" and "text based" we found "Writer" to be a very nice distraction free text editor for writing up text without being distracted. We love the "black and green" terminal like interface, especially if you run the Chrome app fullscreen. Writer lets you download your writings to different formats or saves them to the cloud so you can continue editing them in another chrome browser.
And finally
With all the commotion about the Heartbleed exploit .. Install the Lastpass Chrome app and sort out your passwords once and for all.
Links.
Related Posts