Dec 16
With the holidays coming up you might find yourself trapped in a family gathering that is comprised largely of people talking non-techno gibberish. While it might be perfectly normal for others to talk about "mondaine" things like 'the game thats on tonight' or whichever of the babes in America's next Top model was so skinny she blew off camera on a windy day .. there is only so much you might be able to take. So time for some technological infusions into your audio-phonic subsystems. In laymen's terms : Time for a couple of good podcasts to pull you through the holidays. Over the next week we will introduce you to 5 different podcasts you should subscribe to (aside from ours of course). We shall try to tap a variety of topics and interests but will vouch for its quality and consistency. We can however only partially vouch for your sanity or domestic peace at the christmas dinner once we are done.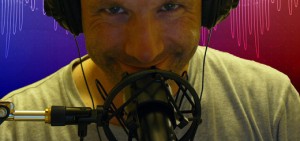 Our first selection is a freshly rebooted podcast by friend of the show Daniel "The cyberpunk librarian" Messer on being a writer using open source tools. Aside from being cross platform geek using a variety of operating system, Daniel has also written several books and has mastered the art of using open source tools to produce his literary escapades. Episode 1 of his recently rebooted podcast describes the use of open source software to pound that brilliant idea into a literary novel that is ready to publish using only open source software. Be quiet while listening to this podcast and refer from talking, shouting and walking around .. this man is a librarian .. remember ?
Download and subscribe.
You can find the website to subscribe (along with the most evil of all podcast avatar selfies) over at http://cyberpunklibrarian.com/podcast/
Related Posts
Dec 15
This week we teach you the art of downloading. Wiseguy Daniel Messer tells you all about how to use the Piratbay browser to anonymise your traffic through  the TOR network, circumventing censorship,  nosy ISP's and even our lovely friends over at the NSA.  After this insightful tutorial on using this 'portable app' its my turn to tell you about "Transmission", A simple client to download torrent files, with a twist. We show you how to set it up, use it AND control it from just about anywhere. Ever been on your smartphone an thought .. Damn, I wish I could download this torrent back home ? We teach you how to use Transmission from anywhere on any device equipped with a browser. (Even from your phone). Stay tuned till the end because we have a special holiday-cheer announcement for a very special member of the Knightwise.com community. 
Shownotes.
kw707 : Downloading Torrents from anywhere.
Related Posts
---
Dec 04
Keeping track of all your logins and passwords for the hundreds of sites and services you are registered with is something that is a terrible hassle. For convenience sake we use the same logins (and even passwords) on different services and constantly need to request 'resets' and 'reminders' when we forget the password to our "One Direction" fanpage. So instead of getting Rainman as a permanent sidekick to help us remember all our passwords and logins , why not use an app for that ?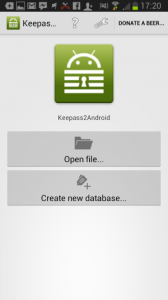 There are plenty of password management applications out there, but because you are a "slider" and go from operating system to operating system, having your password management software available "everywhere" is a MUST. Our favorite app that lives both on Windows, Linux and the Mac is KeepassX. A free application that lets you organise and keep track of all the logins and passwords you have AND can generate supercool "random" passwords that are very very hard to crack.
The password database that KeepassX uses is "locked" with a master password (for example abc123 ?) so nobody can open up your "black book" without your knowledge or permission. When you store the database on a network share (or in the cloud via Dropbox or Bittorrent Sync) you can access it from different machines on different locations… So how about from your mobile ? 
Enter Keepass2android : A keepassX client for your android mobile phone. The interface is "mobile friendly" and in combination with Dropbox or another cloud service like Skydrive or whatever. Store the database somewhere where you can reach it, open it up with the keepass2android client and you will never have to write down a password on the inside of your shoe .. ever again.
But beware : The 'master password' of your database file is your achilles heel. If you lose your phone and have an offline copy of that database on your phone … all that stands between the "evil one" and ALL your passwords is that one master password. So make it a pass-phrase. We have some examples for you : 
"0MG1soLOVEjusTinBieBerRightNow!!!" "W3@llL1v31nAY3ll0w_SubM@r1n3" "supercalligragulasslyexpealidocious1049!!!_X" … And so on …
Keepass2android is free and is available in the Google Play store.
Related Posts
Dec 03
There is not a lot that is really "New" in OSX Mavericks. Aside from braking a lot of stuff (Like for example Wiretap Studio, Mountain Lion-server, mail and more) there are a couple of interesting new tricks hidden under the hood.  The voice dictation has been around in both IOS and OSX for quite some time. Unlike on Nexus devices, this worked by sending up whatever you "said" to the computer to Apple servers to be analysed, translated into text and sent down again. It was pretty cool to do once or twice, but depending on your internet connection it could be a little laggy. It would also keep breaking my concentration (and conversation) as the words on the screen would not 'keep up' with my trail of thought.
In OSX Mavericks you can now have that "voice dictation" ability available "offline". No more sending your deepest thoughts towards a giant datacenter for analyzing .. Just a quiet one on one between your computer and you.
Do do this :
Open system preferences – Go to 'Dictation and speech' – Select "use enhanced dictation"
Select the correct language and wait for OSX to download the speech pack (about 700 meg)
Open the text editing field of your desired application (Mail, Textedit, The blank form on your 'I-still-love-hannah-montanna blog on Myspace)
Press your function key (fn) twice and .. start talking.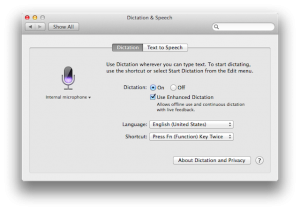 How to let it work for you ? 
Great for typing out quick emails
also nice for tweets and chats .. you are really FAST on IRC this way.
Dictation of boring text
Fantastic if your fingers are covered in peanut butter and you don't want to ruin your keyboard.
So how do YOU talk to your tech ? Tell us in the comments section.
Related Posts
Dec 02
Voice technology is pretty darn awesome.  Although still considered dorky and awkward to use in a public place, talking to your technology can save you a lot of time and hassle.. and in some cases save your life !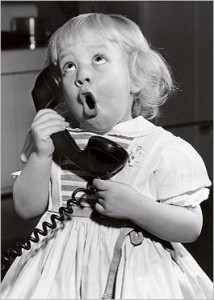 We humans seem to stick to our guns when it comes to the way we "enter" information on a machine. Keyboards and mice have been around for ages (there are also people who track their balls) and we continue to hold on to them as our favorite input devices. When tablets came along we started looking for covers with built in keyboards and complained 'where the mouse was' on our brand new iPad.  And when it comes to our mobile devices we insist on using our stubby fingers on those teeny weeny touchscreens. This has lead to many people bumping into lampposts or parking their car vertically in a ditch (or worse) . Time to let tech work for you and start talking to your devices.
Google has introduced voice-search for quite some time now, but the perks on using a Nexus device (like in my case the Nexus 7) is that this voice recognition software is available "offline" (so the phone can understand you even you have a flaky or even NO data connection). Aside for searching for the next "One Direction" t-shirt sale, you can also use the Google voice commands to do plenty of other things. 
Some of our favorites
Show me ( restaurants – hotels – etc) nearby.
Is it going to rain today.
Browse to (website)
Send and email to (person) subject (Subject) Message (Message)
There are plenty more where these came from and it is a great way to use your technology in a safe and productive manner.  And its also quite good for a giggle when Google gets it completely wrong. 
Find out ALL the voice commands supported by Google Now in this great info-graphic. (Click to expand) 

Related Posts