Oct 21
Inside every geek there is a string of DNA that jumps up and down with joy once you mention the words "Anime, Manga, Scifi and Cosplay". The proof is in the pudding as thousands of geeks travel to dragon and Comicon every year. In the little country of Belgium we have a similar movement of geeks and like minded people to the annual F.A.C.T.S. event ( The Belgian version of Comicon) and every year the Knightwise.com crew walks in the daylight to go out and cover the event. With two cameramen, a photographer and an anchorman we try to bring you a sense of what it's like to wander the show floor in Belgium's biggest Nerdfest. Last Saturday we pounded the pavement and shot over 13 interviews with cosplayers, fanclubs, game developers, comic artists and toysellers. While we are hard at work editing all that footage down into a video podcast (Its gonna take some time ,we all still have dayjobs) we CAN give you a sneak peek at what to expect. Knightwise.com's new star photog Niejana gives you a nice 'behind the scenes' view of what you can expect when we release the video footage later on this week. Stand by for Trolls, Timelords, Red Riding hoods and giant Tie-Fighters with the "FACTS 2013 Behind the scenes photo shoot".
CLICK HERE FOR THE ENTIRE SET.
The video footage will be released later on this week, in the meantime hit the SUBSCRIBE page and make sure to paste the link to our MEDIAFEED into your favorite podcatcher (itunes, etc ..) to automatically subscribe to our podcast and get the video podcast downloaded automatically .. Until then : Watch this space and GEEK ON.  
Links :
Our previous coverage of the FACTS events (Video)
Related Posts
Oct 14
If one percent of your DNA is "Geek" and you live in the Benelux area, there is only one thing you can do next Saturday : Immerse yourself in your true geekdom and join us as we do our annual coverage of the F.A.C.T.S. event in Ghent. Next weekend the Expo halls in Ghent will be the "event horizon" for everybody who is into Scifi, Cosplay, Anime, Cartoons and all things geek. As by annual tradition Knightwise.com will also be doing an extensive coverage of the event and you can join us.
We will be roaming the grounds next Saturday afternoon interviewing Cosplayers, Fans, Sellers of strange and desirable geek-toys and if we are lucky we MIGHT just catch one of the celebrities that is attending the event. Hit us up on Twitter ( @knightwise) if you are going and get a chance to shake hands with our crew in "realspace".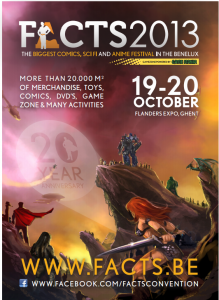 For more details you can visit the official F.A.C.T.S webpage to see what is going down, who is coming and how to get your hands on that inflatable life size doll of Lara Croft you have been craving for.  See you there ! 
Links.
Our previous coverages of the F.A.C.T.S events.
Related Posts
May 10
"Its about these guys… that are just like you ! .. and they are FUNNY !!!" my "norm"* friend giggles as he waves his arms up and down frantically and points towards the television. Yes … he IS referring to "The Big Bang Theory" a show that has him very excited for he himself is only just dipping his toes into the great "pond of geek".  Having installed his first Linux distribution and discovering the world of Irc and Google+ have been epic tasks that  have been entrusted upon him by his wise geek Overlord .. ME.   "He is ready" my inner voice says .. "to see the geek classics". I try to hold back from opening the floodgates to our rich geek culture. Where movies like "The ghost in the machine" are a classic. Where everyone can dub the first lines from the movie "Dune" by heart. Where David Hasselhoff is a cult legend and where Serenity is considered a form of religion.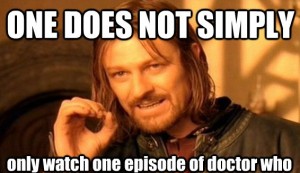 So I am faced with the difficult choice of offering him his "Next Geek Tv show" to watch. So I go over my shortlist in random order.
Battlestar Galactica. (both the original and the revamped series.)
Star Trek. ( not really a 'watch this' assignment, rather a complete lifestyle makeover.)
Serenity. (One must know what a Browncoat is.)
Babylon 5. ( For all women, like centaury, should be bald somewhere.)
A dash of classic Dr Who featuring Tom Baker. (For one must know why ones girlfriend must knit a scarf.)
… and so many more.
So before I make my decision … What do YOU think are the TOP 5 geek shows ANY budding geek should watch ? Tell us in the comments section. 
* norm : Non-geek .. lamen .. Noob.
Related Posts
Apr 26
Thank god its Friday : And on friday its time to set your phasers to DROOL as I bring you a little gem I found on Youtube. Before we dive into it, let me explain why I'm so excited about this. When I was a kid we didn't have cable in our house. That meant that aside from the 2 "Belgian" Tv stations, the only thing we could watch would be some French stations, Dutch stations and German television. And the Germans were way ahead of the game when it came to having entertaining stuff for ten year old geeks like me. I remember watching open university style episodes about robots, classic german detective series (or "Crimi's" as the germans called them) and tons of (overdubbed) cartoons. On of them was "Captain Future" A cartoon series derived from the mind of Mort Weissinger about a space-pirate captain that would gallop across the galaxy in his spaceship being a hero and stuff. I don't remember much about the storylines but what I CAN remember is that I found he had the coolest ship and .. to this day still think that this TV show had one of the most beautiful themesongs ever composed. With a faint resemblance to the "Star Trek" opening credits this tune has a female singer, a baby grand piano and .. ahw .. just listen…
The great thing about the "reboot" industry today is that original ideas are hard to come by, so we need to "dive back" into the past to remake some old stuff. Time Warner has released a trailer on Youtube of what could be the next "Captain Future" feature film, but when or IF this thing is ever going to hit the cinema's is unknown. Nevertheless, it makes for a great trailer.
So .. do YOU still remember "Captain Future" from our childhood ? Tell us about it in the "Comments" section.
Related Posts
Mar 16
The great thing about the combination of eBooks and Podcasting is the fact that we as a podcast listening community are exposed to talented writers who would otherwise go unnoticed by classic, money grabbing publishing agents. Through the art of "storytelling" great writers like Scott Sigler and JC Hutchins have gathered traction and readers before a single page was ever printed with their great works like 7th Son and Earthcore.
The trinity of great indie writers who have followed this path has been completed with the addition of author Jake Bible and his Dead Mech trilogy. Initially published as an audio podcast series, Dead mech deals with a post apocalyptic world populated by brave solders in walking super tanks called "Mechs", hords of undead zombies and religious zealots in fast moving ground vehicles. Dead Mech was a blast to listen to, Jakes ability to paint a world that can only be described as a mix between the reboot of Battlestar Galactica, Waking Dead and Mad Max , puts you right into the action. With the completion of the Dead Mech novel, Jake has brought us 2 more books in the series : The "Aphex" trilogy tells you the rise and fall of a highly technological world into post nuclear (and eugenic) apocalypse and how humankind tries to stay alive. Jakes writing is invigorating, graphic, and touches the "no holds barred" style of writing this kind of story requires.   Let us unleash upon you one of our very own zombies who we have genetically engineered to read the final book in the series. (I am still soaked with blood and soot from reading the first two) : Zombie Lord Drachenblut.
Metal and Ash is the sequel to Dead Mech and The Americans. How is it that Metal and Ash is a sequel to 2 books at one time? Very simple Dead Mech and The Americans were not sequels but as the author Jake Bible says they were sidequels. Both of these stories happened simultaneously in the timeline of the Apex Trilogy.
In this final installment of the Apex Trilogy The Americans and their isolated kin of the wasteland come face to face. This is not a time for happy family reunion 400 years overdue. The American forces of Europe having nearly been wiped out of existence are being chased across the Pacific ocean pursued by the power hungry forces of The Three in hopes of rendezvousing with their compatriots of The Wasteland. As the battle for the fate of The Americans, the Mech Pilots, and the entire wasteland, comes to its final hours twists lay at every turn. New alliances are forged, old family ties are renewed, and questions are answered but more are left unanswered as the body count grows. People we have become attached to are detached from their limbs and used as snacks for the living dead or causalities of the game of power put into motion by the forces of The Three.  
Metal and Ash is a blood fueled and flesh feed conclusion to the Apex Trilogy but it is far from the end of what we will see of The Wasteland and its inhabitants or the world that has been revealed to the Mech pilots. This book grabs you by the entrails and drags you through this post apocalyptic landscape of tech and the living dead.  
Copies signed in blood from The Americans, Dead Mech and Metal and Ash are available for purchase here.
For the illiterate ones among you : You might be interested in the audiobook version of Dead Mech. After listening to it you might feel inclined to learn how to read , just to finish the two other books in the Aphex trilogy. The great thing about these books is that you do not need to fear the zombies : The obviously are craving human brains .. and that makes you perfectly safe.
Related Posts