Aug 15
What if there was a place you could send your secrets to …
Thanx to Captain Command line who found this little gem for you to ponder upon.
Links : PostSecret.
Related Posts
Aug 15
There, The living room is finished an all the furniture is back where it belongs. Doing the finishing touches tool a little longer then we thought but we wanted it to be perfect and now it is. All we need is some pictures in the frames and the stuff is good to go. (But those last few things are Nyana's department, she is after all the Style guru of the house). When looking for original art its amazing what you can find on Flickr. Dozens of great photographers, thousands of wonderful pictures … and all original art that NONE of the "Offliners*) (*non web 2.0 aware people) have. I mean, If you go into the IKEA these days there is nice affordable art to buy and hang in your home. The only thing is : Everybody has them. The "lighthouse", the "Audrey Hepburn" and other big posters / frame that you can buy by the dozen. So I decided the art in our house should be something different.
A little browsing on Flickr, an A3 printer and some clever cutting and pasting (with real glue) made for some interesting and unique picture frames in the house.
So there you go : Integrate technology and the web 2.0 in your life and be a little creative. But be sure to ask permission from the artist. Its not ok to get rich of their work, so if you are thinking of selling of your nice originals … that would be a violation of creative commons. But for the rest .. Knock yourself out !. http://www.flickr.com
Related Posts
Aug 09
Almost a week since my last update ! Oh my am I ever ashamed. Yet to be honest I've got another great excuse up my sleeve to tell you guys (and girls) why you had to miss new stuff from the cutting edge of real and cyberspace. I (or should I say WE ) have been pretty busy tearing up the floor in our living room and putting down new one. Yep : Physical labour galore ! (For me a totally new sensation) One of the fun things I got to do was tear of all the carpet from the floor (when the former is glued to the latter one does need quite a bit of muscle) After that it was time to take the crowbar and remove the wooden plates that where nailed to the floor. So a lot of physical work, swearing, hulk-like moments (where I showed a tremendous ammount of strength) and even some sweat. The result ? A clean living room floor with new floorboards being layed in as we speak. In the meantime Nyana was repainting the walls and all that Jazz. It has been quite hard work and it left me totally worn down by the end of the day… yet there is some kind of satisfaction that somebody can draw from labours like this. Doing something tangible as opposed to working on the computer. It gives a "man" this kind of primal satisfaction. For a Cerebral-oriented individual like me .. that's quite a change.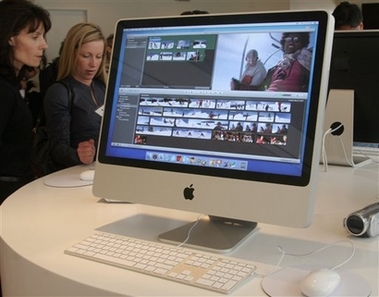 With all the hammering and tearing going down I almost forgot to check out the new Imacs. I've only bought mine two weeks ago and it looks like I already have an "old model". I could swear at the fact that the new Imacs are 20" models with faster processors, DVD writers and more HD space for roughly the same price.. but take comfort in the fact I would never again buy a 'first batch' product from apple. I'll wait until they iron the bugs out ( If you ask me I'm very curious about the keyboard they put out, cant wait to try it, cause overall the white apple keyboards i have suck balls ;( )
My whole Web 2.0 life is starting to take of again with a lot emailing going on between Me and Dave Gray from the GGP, listening to a series of podcasts and even sighing on to Twitter ! I think I am slowly healing from the information-technology overload that resulted in me being off the social networking grid for three weeks. And I must admit I've missed all of the friends I have made there. Hopefully when the living room is done I'll have some more time to just sit down behind my (OLD BUT GOOD) Imac and get in touch with the virtual world a little more. Now if you don't mind its time to get my gloves and get to work.. Stil have a floor to finish !.
Related Posts
Aug 02
FREE ONE HOUR MP3's OF DJ TIëSTO IN CONCERT ALL OVER THE WORLD. There, That will get both yours and Google's attention I hope. But rest assured : This is no Idle spam I"m boasting my friends. I'm seldom hyped about anything but what I had fished up on Itunes this week did pop my brain this morning.
I admitt, I'm a fan.. What do I say : I'm a BIG fan of Mr Tiësto.. Having found MP3's from his work on Napster ten years ago I knew who "Thijs" was far before the masses today. A few years ago me and my wife got to see him in action with the "Magic" Concert in our town of Hasselt and we where thrilled beyond belief. As I wrote in my review back then : This IS religion in motion 🙂
Ever since I have "bought" every new album he brought out. And the keyword here is BOUGHT since I refuse to download his stuff illegally cause he is so damn good and he is one of the few artists that deserves my hard earned money. So what am I jumping up and down about ? Well in a random search on the Itunes Music store I stumbled across " Tiesto's Clublife Podcast " A one hour episode featuring a full mix of DJ Tiësto in action somewhere across the globe. Audio quality is extremely good and there are only a few little "Jingles" integrated in the podcast.
So 35 minutes into this months mix (there is one episode each month) I was hopping up and down in my car and to be quite frank : My day could not have started better. So I rushed towards my computer to tell you guyz about it. Its fantastic to see an artist "cyber-minded" enough to pimp his stuff on the web and let us enjoy !!! So rush over to Itunes and enjoy.
Links : Tiesto's Clublife podcast RSS (paste link into your podcatcher) *** The Radio 358 site that hosts the podcast. (in Dutch) *** Our pictures from the Tiësto concerts : MAGIC and ELEMENTS OF LIFE *** The original Tiesto Article of the Magic Concert.
Related Posts
Aug 01
As we get ready to put down a new floor in our living room, time for blogging is limited. Yet I do not want to deprive you of your daily dose of Cyber news. So from between the stacked up boxes of stuff, our living room couch that has somehow levitated upstairs to come cramp up my office, I post this little one out to you guyz.
Remember I talked about email spoofing a few weeks ago ? How you can use Telnet to write up an email and completely scare the other party shitless by putting ' Bill@microsoft.com' as the senders adress ? This week I stumbled onto an article on the fantastic "daily cup of tech" website that describes how you can send emails using Telnet. Its all nice an dandy and gives you a nice view at just what your email client actually does and how Email works and stuff. But if you have your "Evil" switch set to ON it does not require much creativity to change the MAIL FROM: me@maildomain.com to MAIL FROM: drevil@evillayer.com before sending it away. So fire up those command line terminals and impress noobs and geeks alike by obsoleting your pop3 client and sending your emails via Telnet !
Links : The Article on DailycupofTech.
Related Posts