Oct 02
This weeks picture of the week comes from listener Jay as he shows us a cross-platform setup that would probably rip a hole inside a proprietary universe. However it does make us proud as Jay lines up his Windows phone, his Nexus tablet and his 13 inch Macbook pro running Ubuntu 12.04. Quite a setup if you also consider that Jay manages to "slide" his productivity from OS to OS without breaking a sweat. 
Do YOU have a picture you want to share with us ? Feel free to tagg it #kwpow on twitter or shoot us the link via the well known email address. 
Related Posts
Sep 20
Since we are doing some home renovation over at Casa del Knightwise for the moment, living space is at a premium. While our downstairs looks like its been raided by a group of angry drunken Constructicons, both @Niejana and I need to "flee" to my upstairs office to spend our evenings watching tv and doing stuff. The otherwise pristine (and organised) room is now packed with boxes, our tv, a couch, @Niejana's desktop , 2 doggies and a cat. Needless to say : Space is scarce. That requirement comes at a convenient time, since I've just shrunk down my "Digital survival kit" to the size of a 12 inch messenger bag. Bigger is better ? Not always, let me show you.
What do I need : In order to digitally survive this era of grime and dust I need a mobile setup that allows me to do the three crucial things : Communicate , Consume media and compose content. An added "required factor" is that the setup has to be completely mobile and fit inside a bag that can be carried around ANYWHERE leisurely without yelling "This is a laptop bag, mug me now"
Bag : Finding the right bag is an art. Call me metro-sexual or just someone with a right balance between appreciating both practicality and esthetics : Finding the right bag is crucial. The trick is to find the sweet spot between " Too small" Where you cannot get all the gear you want into the bag OR damadge your gear by cramming it in. Samsonite's 12 inch horizontally slung messenger bag is ideal for this operation. It has all the compartments you need and comes with extra padding and a safety latch to keep whatever you need tucked in safely. With the "Horizontal" orientation the weight is distributed equally so the strap doesn't wear into your shoulder. The extra "Handles" make it easy to grab and sling anywhere you need to while the whole formfactor is just big enough to encompass anything, but small enough to be casual and unobtrusive. 
Laptop : My newly purchased 11.6 inch Macbook Air is a dream here. Dual booting into both Linux and OSX the device offers me the 2 platforms that I need in my daily routines. OSX for content production, Ubuntu for advance geek stuff. The 128 gig SSD might be small but with the addition of cloud storage AND using storage on my home server over SSH connections, disk space is not THAT important. The Air is delightfully light, well built and has a great screen. It lacks the "Hussle" of consiously " getting out your laptop". With the size of an A4 piece of paper (or an iPad) it just pops on the table, gets the job done and slides back in the bag when i'm done. 
Phone :  The pinnacle of communications here is my smartphone. The 16Gig iPhone 4 might not be the top of the line model, but it does preform the tasks it needs to do. With the Hootsuite and the Google+ app most of my social media channels are covered. I'm tied in to my multiple email and calendar accounts via the mail app. Aside from the music, Downcast takes care of my podcast subscriptions and the Webbased interface of Google Reader together with the Buffer and the WordPress app let me do most daily chores for the website. Crucial here is the presence of headphones (so I can "Zone Out" anywhere) and the "Hotspot" functionality turns it into a crucial component to "connect" the entire setup while on the road.
Tablet : The Google Nexus 7 proves to be invaluable when it comes to this "Compact but Crispy" setup. It's 7 inch size and relatively long battery size help me get through the day with ease. Reading books, Doing my "communications" on a bigger screen and watching the downloaded Video Podcasts are just cut out for the Nexus. An extra "slide right in" protection sleeve and the vertical orientation of the tablet in the bag, make it great to "grab and check" your device in a tricorder style. The only downside is the smaller 'diskspace' (8 gig) and the absence of 3G. But the latter is easily overcome by using my iPhone as a hotspot.
Cables and chargers : The trick here is to have the smallest amount of cables with you, while still covering all the bases.
Macbook air Charger (with just the plug connector, not the long cable)
Apple iPhone/iPad cable : Used to charge the iPhone using the Macbooks usb port.
Usb Microsim cable : Used to charge the Nexus (from the Macbooks usb port.)
Usb charger : Small usb charging plug to wallcharge the iPhone / Nexus 
16 gig Usb stick : Small and compact but packing 5 extra "Live" linux Cd's to have any OS I want at my portable disposal.
iPhone Tripod : A little tripod to make sure I can use my iPhone as a one man camera crew in a pinch.
In the car : The trick of such a compact setup is to make sure you have some "extra's" nearby. So in the car I have a small bag with a longer powercord, a Usb to Ethernet adapter, a network cable and an iPhone / iPad charger just in case.
So where is the iPad : To be honest, my 64 gig iPad ALSO fits into this bag (it adds another layer of protection to the Macbook) but altough its filled with Tv shows and content I like to watch, my iPad is becoming more and more "domesticated" Getting its fair amount of use around the house but, due to weight and size , doesn't accompany me on the road every day. When I touchdown at home though it makes a perfect "second screen" to this setup that I often use to play movies or keep track of social feeds and stuff.
In the end : This setup is no powerhouse, but that's not what it is supposed to be. For that I have my desktop at home with its big screens. The mobility here trumps the muscle-power the gear has to offer. I can easily dock the Macbook to a second screen and slide in a keyboard and a mouse and transform it into a more "domestic" setup if I want to. And it is THAT combination : Light and flexible to use on the road, but easily transformable into a "home setup" that I absolutely love about my new tiny setup.
Related Posts
Jun 21
Its tinker time again as we swap out a spinning 4200 RPM harddrive from my 2.1 Macbook air and swap it out with a 60 gigabyte SSD Drive from Macsales.com. A good howto, some smart tips, a cameo from scotty and a speedrace. All of that and more in this weeks KWTV.
Shownotes.
Kwtv S3ep5 : Installing and SSD into a Macbook Air.
Related Posts
---
Jun 07
Time for some desktop porn here : The Ubuntu 12.04 install on my 11.4 inch Macbook Air. Specs are : Stock 12.04, Launcher tweaked with Myunity and some added Conky Dials.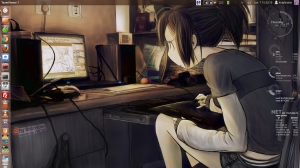 Related Posts
Aug 26
Dell Laptop Bombers no longer alone ?
Meanwhile in the real world Dell owners walk around with their laptop-bags with beads of sweat on their forehead. Packed with a heavy load of a overstuffed bag on one shoulder and a fire extinguisher on the other, their own mortality is very apparent to them As they leave for bed the laptop is stored outside, on an inflatable mattress in the middle of the swimming pool, if only to comfort its endangered owner that no indoor fireworks will go off inside the house thanx to of the Nr 1 hardware supplier DELL. It might sound funny, but just imagine having one of these baby's in the house. Ok, on a statistical scale the rate of failure / explosion of a dell laptop battery is remote at best .. but still ! Would you sleep at night ?So yesterday when I read an article about Apple recalling 1.5 million (hello !) laptop batteries in the US, I was not really worried. Nothing to affect little old me here in downtown Belgium. Although I am an owner of one 12 inch Ibook (confiscated for personal use 6 months ago by my wife) I didn't think much of it. But just to be on the safe side I surfed over to the Belgian Apple Site where indeed there was a link to the battery recall program. (you had to go under SUPPORT and hire a private detective to find the link, but none the less it was there). So i popped the battery from my wifes Ibook and law and behold the type number AND serial matched those of the ones that where franticly recalled to Silicon Valley. Imagine my surprise that 1.5 YEARS after selling me my Ibook, Apple suddenly comes to the conclusion that .. 'oh yes .. there is a little issue of a Fire Hazard' And if I would not have been an avid listener to Slashdot Review I would not have even found out about it.
FIRE in Babylon.
I mean : We are talking fire here people. We are talking Laptops that lie on the couch , are crammed in bags, lie in cars, or sleep UNDERNEATH my bed after a late night chat session. And the error here is not that the mouse cursor might go astray at any given time .. NO ! The flaming thing can BURN ! Its downright incredible that Apple only finds this out ONE POINT FIVE years after purchase AND does not yell "BEWARE ! FIRE ! " on its homepage instead of hiding the recall program in some dark corner of the white website.
Laptop self-combustion risk… Nice .. very Nice.
Sure enough I entered the serial and got a nice little email that I will receive a NEW battery in four to six weeks. I was advised to remove the battery from the Ibook and work on main power until the new bugger comes. WHAT ? NOW i need to work without the battery ? For the last year and I have I have been a "human-with-laptop-self-combustion-risk" and NOW you tell me ? Djeez ! Now I Know the thing got HOT ( I made my wife use it on this little table whenever she wanted to set it straight down on the couch) but in my minds eye I see all the nights where the Ibook slept so near to flammable goods that my fire insurance policy is now stored off site in an Iglo !So BAAAD Apple for finding this out SO late and notifying its customers in a rather poor way. I'll keep you posted on the whole story .. If my macbook does not decide to cremate itself while on my lap.
If you want more information about the Ibook and Macbook Pro issue go HERE and HERE.
Related Posts