Nov 04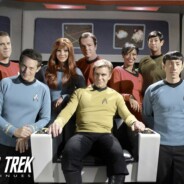 This year marks the 50th anniversary of Star Trek and that is a milestone for every geek. Perhaps you are a die hard fan from the early days watching Kirk and Spock trod around on wobbly sound stages trying to get it on with green aliens. Perhaps you jumped in during Voyager and still long for the moment that Seven of Nine tells you she wants to be your 'friend with benefits'. It doesn't matter what kind of Trekkie you are, there is never enough content to watch. The upcoming show "Star Trek: Discovery" won't air until 2017, so what do you do in the meantime? How about diving into the world of fan fiction with some shows produced by loving fans of the Star Trek universe? There are many of them out there, in various forms of quality ranging from horrible B-movie material to tantalizing TV. We hit up YouTube and picked our top three. First up is "Star Trek Continues."
Star Trek Continues
First Aired in 2013 this show is produced by a non-profit charity and takes you back to the good old days of The Original Series. Kirk, Spock, and McCoy are all there, but just played by different actors.
Number of episodes
As of today, STC has 7 episodes under its belt and features some great guest stars. From Orion slave trader Lou Ferrigno (The Hulk) to Chris Doohan filling in his father's shoes as engineer Montgomery Scott.
Stories
The pilot episode "Pilgrim of Eternity" where Apollo (seen in the TOS episode "Who Mourns for Adonais") returns to the Enterprise is spot on! The show entertains you but also makes you think about humanity, society and all the big issues Gene Roddenberry held most dear.
Acting
The cast delivers great original performances but still manage to pay homage to the original cast. Actor Vic Mignogna has a subtle way to portray all our favorite "Shatner-isms" in his portrayal of Captain Kirk. Michelle Specht plays Elise McKennah, a character that wasn't in the original series cast, portrays a ship counsellor that puts Troi to shame.
Sets
"Star Trek Continues" built their sets from the original blueprints of the TOS sets. Therefore everything looks just like it came straight out of TOS, but stuff doesn't wobble when they walk around (at least not much).
Visual Effects
The special effects in the show are pretty good and they have continued to progress as the series moves along. However the show focuses more on storyline and dialogue then on flashy special effects.
Conclusion
Star Trek Continues is surely worth the watch if you are a fan of the original series. It will take a little bit of getting used to seeing your favorite characters portrayed by different actors, but they will grown on you .. fast.
Related Posts
Oct 25
Chances are pretty high that you are an office drone. Every day you lug your beloved laptop to the office where you happily clickety-clack your keys until quitting time. Chances are even higher that said office is a landscape office that you need to share with other office drones doing the exact same thing. This would not be a problem if there was not some sadistic trend to take away all the walls in said office and sprinkle the acoustic mayhem with people who insist on constantly shouting into their phones. You need something to drown out that audio-anarchy and it needs to be geeky.
Sure, there are a lot of audio-stations you can listen to and Spotify might be the first thing that comes to mind. But for a hardcore geek like you, it might be a little too distracting. So, aside from the fact that Spotify is just a bit too mainstream-jock-hipster for to your taste, you might like something with more 'atmosphere' to help you focus.
1: SomaFM – Mission Control
For this one you need to install Clementine. A great open-source cross platform audio player that comes with all the bells and whistles you might need. It plays your entire MP3 collection (should you still have one) but also ties into all the major audio streaming services. SomaFM (a streaming radio network) is one of them. Amongst some cool channels you will find the "Mission Control" channel. Yes, that Mission Control. Take some cool chill music and sprinkle in some great radio communications from NASA. Before you know it you'll chill out while listening to some guy in the background (with the heaviest Texas accent you can imagine) telling an astronaut to "try hitting it with a hammer".
2: Youarelistening.to
This one is a little bit more along the same line, but youarelistening.to picks some great chill songs from Soundcloud and lets YOU mix that up with police chatter from all over the planet. So hear perps get arrested in South Africa or hear the tale of the "drunk and disorderly male caucasian" that has just fallen through the roof of his parents' home. If you want to go beyond weird, try the 'numbers station' option and try to break the secret code.
3: Space sounds on YouTube
Youtube is a great place to find the strangest music. Just search for "space mix" and you will be presented with some awesome ambient mixes that will keep you entertained for hours. There are some instrumental masterpieces out there that will chill you out for 2 or 3 hours at a time.
4: 24 hours of Hmmmmmmmmmmmmmmmmmm
Since we are on the topic of ambient sounds, let's take it a step further and listen to 12 hours of the Starship Enterprise's warp engines, or the engine sound of a passing snowspeeder? CrysKnife offers up some great ambient background sounds you can listen to as you code away. Weird? Yes! A great way to push out the sounds of the sales guy who is trying to peddle his grandma to an Ethiopian cow herder? Definitely.
5: Roll your own with Ambient Mixer
We close off with a great site that will cater to those who have not found anything to their liking. Ambient Mixer lets you MIX your own ambient atmosphere by playing with the dials and sliders of different sound sources to build your very own unique environment. How about a slice of Hogwarts or Hacking in the rain? Just try out one of the many atmospheric loops until you find something to your liking.
So pause that mainstream mix on Spotify and break that "panflute classic" cd into 5 razor sharp pieces. Connect to your inner geek and zone out!
Related Posts
Oct 24
Yes geeks ! It is FFFRRRRiday ! That means we let go of the otherwise pretty serious geekyness and dive  into the obscure anals of the internet. ( Wait .. that came out wrong … Oh, that too)  Never mind. What we have for you is 2 hours and 8 minutes of content for which the very internet was created in the first place. Forget science, progress, communications and global economy .. forget Porn .. THIS is why we have the internet . Remember how George Lucs  gets to tinker with the original Star Wars trilogy all the time ? Well .. Fans can do that too. Stand by for 2 hours of handcrafted entertainment with rebel soldiers made out of balloons, 8 bit fighting scenes in the rebel base, cartoons, bad acting and STAR DESTROYERS MADE OUT OF PIZZA … yes ! PIZZA … Forget anything I type after this .. let go of your feelings .. and press the friggin play button for absolute MADNESS ! !
Related Posts
Aug 31
We are back from a couple of busy weeks off in real-world land and got straight back into the Knightwise.com grind by breaking out the camera and interview gear. Reason for that was our coverage of the annual "Fanday", organised by Teekay421, the Belgian Star Wars fanclub. When we were done doing the interviews ( to be published later this week ), we took some pictures. Have a peek and get a nice preview of things to come later on this week. Enjoy.
Click here to see the full set
Links.
Related Posts
Aug 31
This is another guest blogger post on Knghtwise.com, this time from Keith Murray (@kdmurray) who brings us some thoughts on work styles.
---
We're all different. This probably doesn't come as a surprise to most of you, and for the rest… surprise!
When you spend a lot of time dealing with people who share a lot of our thoughts, beliefs hopes, dreams and who generally think like we do it can become easy to forget that as individuals we're all different. Therefore when it comes to finding ways to work and be productive we all need to figure out what works best for us.
I'm not going to lead you on some lifehackeresque productivity porn rant for the next 12 pages. I'm going to try to leave you with a couple of techniques you can try to see just what works best for you when it comes to delivering your peak performance. These are techniques I've used to get myself out of both productivity and creativity slumps, so hopefully they will be of some value to you.
"Time is what we want most, but what we use worst."
Time can be a powerful ally or a challenging nemesis. Most of us understand that having more time would generally allow us to produce more things. But what about better things? Adjusting the time of day that you do different tasks can help to put you in a different headspace.
For years I felt that I did my best creative work, including programming, late at night. Once everything was quiet and there were no interruptions I could focus on my task and get lost in a project. I was able to complete an untold number of school assignments this way as well as personal projects. As I've gotten older and other circumstances in my life have changed, this late-night time slot has become less and less effective. For a while I ignored the problem and told myself I just wasn't as creative or as productive a programmer as I used to be (or as prolific a blogger for that matter.)
I eventually realized that the problem wasn't the number of hours I had available, but how they were arranged. By moving some of that creative work to the early morning (immediately after having slept) I was fresh and awake, and the house was still quiet enough for me to be mostly undisturbed. Ultimately it wasn't the late hour that I needed, but a quiet time where I could focus on my tasks uninterrupted.
"We shall not cease from exploration, and the end of all our exploring will be to arrive where we started and know the place for the first time."
As important as the time of day you feel most productive or creative is the place you choose to expend that energy. If you find that you're low on energy trying to blog from your dark windowless office, try a new locale. If you have a laptop take it out to your kitchen or your patio where you can have more light or heaven forbid: fresh air.
If you can, try taking your work to a space outside your home or office. A park bench or a coffee shop may be the change of scenery you need to stop worrying about the 42 kilos of unshredded tax documents in the corner of your office or the pile of undone dishes in the sink. If you're not at home you can't do them anyway so you might as well get something productive done.
I have found that different locales work better for different types of tasks. If I'm processing photos, for example, I need to be sitting at my desk with my full-size monitor and no interruptions. It's something that takes a lot of concentration for me, so that environment works best. However when I'm writing I need to be pretty much anywhere but my office. A couple of local coffee shops have proven very effective writing spots, along with my kitchen table. For writing I also find that changing venues regularly (daily) helps as well.
"Music is intended and designed for sentient beings that have hopes and purposes and emotions."
— Jacques Barzun
Once you know when and where you need to be to do your best work there's one other thing that you can do to customize the ambiance to your needs: create a soundscape. This does not have to be complicated and it does not have to be fussy.
Some combination of silence, the ambient noise of your space and some added audio content like music or podcasts will undoubtedly help you to focus better. I include all of these things because you may find yourself in a busy coffee shop where the soft voices in all corners of the room coupled with the sounds of the espresso machine provides you all the ambient noise you need to get down to the task at hand. Perhaps your task requires a soundtrack of old favourites to counter the sound of your kids playing in the next room. Or you may be working on something that you feel needs complete silence. Each of us is unique and you may need to experiment a few times to figure out what works best for you.
When I'm working on tasks which don't require much brain power (filing, paperwork etc.) I generally put on a podcast to help keep my brain occupied during the drudgery. Conversely if I'm working on something that requires a great deal of focus, I will either opt for silence, or some soft music without a catchy vocal line so I'm less tempted to sing along.
"Without continual growth and progress, such words as improvement, achievement and success have no meaning."
— Benjamin Franklin
This is not an instruction manual on how to be productive. It is merely a guide toward some strategies which may help you out of a slump with your creative or other endeavours. Try these tips out and see which ones might work for you. If you have other tips or hacks you use to get stuff done let us know!
---
Keith Murray is a software architect and developer can be found on twitter as kdmurray. He also blogs about technology and science at kdmurray.net.

Related Posts
Feb 01
Well, we hope you enjoyed "game week" on the Knightwise.com blog. We had a great time in the comments section and on the different Social Streams ( Like our Facebook group , our Twitter channel and our Google+ community)  We didn't want to keep THEIR submissions from you trusty blogreaders .. So here come the suggestions … from the Wiseguys.
 So to close it all off I want to share with you, 8 minutes of standup comedy that has inspired me to do this series of posts. Askit that had me in tears with laughter and , at a certain point, nearly cost me my spotless non-incontence score. Enjoy Dara O Briain at the "Night at the Apollo", taking about gaming. Forgive me if I stole ONE of his jokes .. When you hear the rest , you will thank me for it. 
Related Posts