Oct 25
F.A.C.T.S. is Belgians biggest cosplay anime scifi and comic expo and WE were there. Join our reporters as we interview guests, cosplayers and bootholders about the great fun they have at F.A.C.T.S.  A chat with the Cheshire cat, a fling with the fawn, Orks all around and a perfect replica of Kit and CAR from Knightrider. If that isn't enough how about a talk to the mother of dragons ? Tea-Time at the Whovians and a fantastic look at how a Quidditch match is played.  Get your geek on : This is Knightwise.com at F.A.C.T.S. 2014
Shownotes.
Production.
Camera 1 : Stefaan Lesage
Camera 2 : Sarah Droogmans
Photographer 1 : Dorien Goossens
Photographer 2 : Bert Vandewynckele
Interviews : Knightwise
Drone footage : www.devia.be
Music
More
KW903 : Knightwise.com at F.A.C.T.S. 2014.
Related Posts
---
Oct 24
Yes geeks ! It is FFFRRRRiday ! That means we let go of the otherwise pretty serious geekyness and dive  into the obscure anals of the internet. ( Wait .. that came out wrong … Oh, that too)  Never mind. What we have for you is 2 hours and 8 minutes of content for which the very internet was created in the first place. Forget science, progress, communications and global economy .. forget Porn .. THIS is why we have the internet . Remember how George Lucs  gets to tinker with the original Star Wars trilogy all the time ? Well .. Fans can do that too. Stand by for 2 hours of handcrafted entertainment with rebel soldiers made out of balloons, 8 bit fighting scenes in the rebel base, cartoons, bad acting and STAR DESTROYERS MADE OUT OF PIZZA … yes ! PIZZA … Forget anything I type after this .. let go of your feelings .. and press the friggin play button for absolute MADNESS ! !
Related Posts
Oct 23
We don't have a lot of love to spare for "Metro apps". (We  decline to grace them with the "new-ui" title they prefer to be addressed with) When you browse through the Windows Phone store, most applications you find are disappointing to say the least. The selection is sparse and there is a lot of 3rd party crap out there. When we went in search of a good "Reddit" app our expectations were quite low. So imagine our surprise when "Redditing" proved to be a well written and zippy application that lets you wade through the soggy marches of the internet known as "Reddit".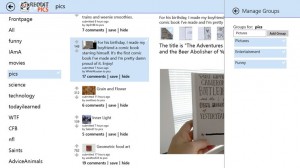 Find browse and bookmark you favorite sub-reddits, Read through articles, post comments and of course .. look at the shiny pictures. No matter if you waste hours of your life, you will finally find good use for your Windows Phone, or that Windows RT Surface tablet that you have been using as a doorstop right until now. Reddit/r/thefappening might not be online anymore but "Redditing" will help you find new stuff on Reddit to watch.
Link : "Redditing" (Windows app store) 
Related Posts
Oct 22
Wikipedia is a relentless source of information knowledge and .. entertainment. The only downside is that its a Wiki. And Wiki's are ugly. Their designs are based towards the sharing and editing of content. The result in an aesthetic sense is that a Wiki looks about as attractive to read through as a 2003 article posted on a corporate Sharepoint.  So, "Yo dog, I heard you like Wiki's .. So i Pimped a Wiki .. in your Wiki"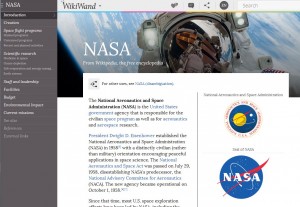 Wikiwand throws a "layer" over the Wikipedia site that makes it easy to browse and agreeable to look at in ways good old Jimmy Wales could never have imagined. Its easier to browse through, soothing on the eyes when it comes to reading long blurbs of text and .. IT HAS BIG BANNER PICTURES !  What are you waiting for ? Go forth, install Wikiwand and look up the number of queen Victoria's toenail clippings preserved for prosperity NOW .. With Wikiwand.
Link: Wikiwand. (Chrome)
Related Posts
Oct 21
This app is dumb .. and at the same time its brilliant ! Taking panoramic shots that span your entire surrounding (the so-called "360's) is not always easy. You have to keep your phone levelled at all times at your "turning in place" skills are obviously not that of a prima ballerina. What to do ?
Enter Cycloramic. An app that lets you take panoramic shots using your iPhone and its .. charger ? Well yes ! Cycloramic uses the camera of your iPhone to take the actual picture, it uses the charger as a base and .. the build in vibrator .. ( Or the built in motor that makes your phone buzz). Its ingenious and pretty spiffy if you ask me.
But don't take our word for it. Watch the cool little vid and give it a "spin".  (ps : for iphone 5 models you don't even need the charger .. the phone 'dances' around on its broader base)

Link : Cycloramic (Apple app store for iPhone 5, 5s and 6)
Related Posts
Oct 20
Smart-phones. That is what we call them .. right ? Well, in todays world we just call them "phones" because aside from aunt Jenny in Pensilvania who holds on to her Nokia 5110 for all eternity, there is no-one left using a "dumb-phone".
However … I think our Smart-phones are pretty dumb ! They distract and interrupt you at the most horrible times. A Facebook message in the middle of a meeting. A phone call right when i'm "in the zone" for writing a good article, Email when i'm watching tv … or a silly ping by Pinterest that "such and  such" is now following me .. AT 4 AM IN THE MORNING.
I hate being a slave of my communications, rushing to get calls, anxious  that i'll "miss out" on emails or messages.  "Offtime" is a great app fror your Android phone that helps you with that. You just set the time when you don't want to be disturbed and Offtime will block any incoming calls, dings, emails and messages EXCEPT from the people you put in your VIP list. Everybody else gets a nice "out of office" message that you have drafted up in advance.
Afraid your internet superstardom will make you "miss out" ? That"s ok. Offtime will give you a summary of what you missed when you get back. The app is free, available for Android, works 'cross device' (messages on your tablet smartphone etc will go 'dark' at the same time) and you can tie in offtime to your calendar.
And their video is adorable. … Offtime. That little curly haired girl that kicks you in the nuts and takes away your cellphone when you don't want to be dist…  OUCH !! HEY … GIMME BACK MY PHONE !!!!

LINK : Offtime (Free , Google Play)
Related Posts
Oct 17
In movie week we list 5 movies every geek should see. The one I saved for last is a cult flick that will go down in history as the coolest but also the corniest movie about hackers EVER made. In 1995 it was pretty hard to explain to "Joe Shmoe" what the internet was .. let alone what a Hacker was. This did not stop Ian Softley to direct "Hackers" (1995 imdb) . An entertaining movie that tried to explain what a hacker was and how he could get into all kinds of trouble. Featuring (a then rather unknown) Angela Jolie the movie is full of strange 3D animations, Noob-proof dialoge and bright pictures to explain what the frack is going on. If you remember one thing about this movie it has to be the line "Hack the Planet" !

Hackers is available on Netflix but if you know how to torrent .. you will find it too.
Related Posts
Oct 17
Its time for episode 2 in Season 9 of the Knightwise.com podcast. Today we take a long overdue look at Windows (Both Windows 8 and Windows Phone /RT) Triggered by a recent purchase of a Dell Venue 8 pro tablet we take a look at what Windows still has to offer. What are the cool apps in the store, what are the killer apps you need on your desktop and which tools give you the best "Cross platform slider – friendly" experience.
You can download the show or watch the live recording (Which is full of glorious bloopers and distractions from the Live chatroom).
Shownotes.
kw902 : What's wrong with Windows ? [ 1:00:07 ]
Related Posts
---
Oct 16
The one thing that has upset the previous generations the most in the modern digital age, is that sometimes a 12 year old kid could come along and be better at something then everybody else. No matter if you had a Harvard degree, or 20 years of experience .. Sometimes some kid came along and did stuff that made your jaw drop. This was the case with Aaron Swartz , a bright kid who founded Reddit. Aaron was an exceptionally gifted person with his own views on freedom of information. This often clashed with a surrounding world that was not quite ready for his pioneering vision. Unfortunately Aaron is no longer with us .. and the sad story why this the case can be discovered in the full documentary below. A "must-watch" !
Related Posts
Oct 15
It is sometimes frustrating to see that history tends to forget those who have played the most important rolls. This is very much the case with the British mathematician Alan Turing who, during the second world war, not only was responsible for breaking the German Enigma code, but also for laying the foundations of the modern day computers we use. Turing has never really gotten the credit he deserved back in the 1950's because of his homosexuality. He died in 1954 and has only recently been "rediscovered" by Hollywood in the upcoming movie "CODEBREAKER" featuring Benedict Cumberbatch.  But this is not the first movie to be made about Turings remarkable life and his utter brilliance. In "Breaking the code" (IMDB 1996) Derek Jacobi portrays Turing in his struggles during the second world war against the Nazi Code .. but also against a narrow minded society that cannot except his true nature.
Related Posts