There are certain things in the universe that are constant. Toast always falls with the Marmelade coated side DOWN, cats land on their feet and Will Smith's son Jayden will never be able to utter an intelligent sentence on social media.
And the same goes for interesting articles on the web. Their will be a constant relation between the moment you find an interesting article you want to read and the lack of time you have to do so. So how about fixing that problem. What if you could store those interesting articles and .. have them read TO you when YOU have the time.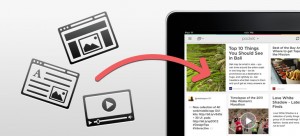 No time right now ? It's in the pocket.
Enter "pocket" : A notebook service that lets you store articles in the cloud to read them later (either on or offline). Pocket consists of a free cloud based account that lets you store articles and webpages and an application that allows you to read those articles when you have the time.
Adding articles to the "library" can be done with a Chrome or Firefox extension. You can access your collection of stored articles via Pocket's website or use the application.
The application "syncs" your pocket articles so you can read them offline on your mobile device (Smartphone or Tablet) and is available on IOS and Android.
The one excellent feature you can use in the Pocket app is that you can have it READ the article out loud via text to speech.
Its a bit like listening to a podcast of articles you have collected on the web. The voices are fairly natural to listen to and you can adjust the speed AND the language so your Dutch article doesn't get read by an English voice. (You should try it though , its hilarious).
The pocket service, the extension AND the pocket apps are free and available on all the major operating systems. Don't read the web.. have somebody read it to you !
Links :
Related Posts