This week we offer you a treat ! Some of the best guestbloggers from the Knightwise.com community (each allstar bloggers, podcasters and content producters) have joined forces to write up a series of articles about "what's in their bag". What do they carry around on their geeky roadwarrior adventures. How do they use it and why . We kick off with Tim King. A voice many of you know since he closes up every single Knightwise.com podcast. You have the floor Tim.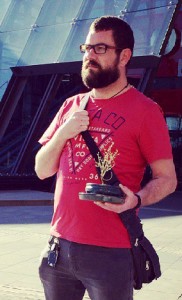 I'm Tim (Regravity), I'm a media developer for a large organisation in Australia. My work usually includes video / audio development, interactive media creation and UX/UI design.
Most mornings I start off by putting on my flat cap (1.) as I walk out the door of my house and drive to work. Pretty soon after I arrive I plug in my portable hdd (4.) strap on my headphones (6.) and crack open iTunes for some music. My Bendigo Bank (2.) security token is important if I need to pay any bills or transfer money no matter where I go so I usually have it with me.
Data transport can be a difficult issue sometimes so I carry three flash drives (10., 11., 12.) with me just in case I need to grab a file or give something to a co-worker. I also use the microSD card reader (13.) if someone hands me a card from a camera, tablet or phone.
Because I have a Samsung Galaxy S3 (8.) which is getting a little long in the tooth I often have to top up the battery with my phone charger (5.), can't wait to get an iPhone 6 shortly! I also take with me a small notebook (7.) so I can jot down the crazy ideas I have for technology solutions, short stories (I'm an avid writer) and generally how to solve the problems of the world. 
The male-to-male audio cable (3.) isn't really a critical piece of gear, but I have it just incase I need to record audio off a weird device like a digital note taker or someones phone.
As I mentioned before I'm a hobby writer, so I like to keep myself well read, hence I bring my Kindle Paperwhite (9.) to work for a quick read during my lunch break. Currently I'm reading the classic cyberpunk novel Neuromancer by William Gibson.
Finally I cram all that into my bag (14.) fairly neatly and I'm good to go!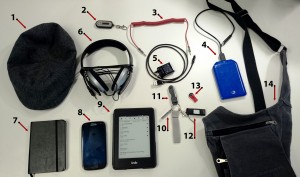 The list : 
1. Roger David – Teddy Flat Cap
http://www.rogerdavid.com.au/teddy-flat-cap-12747.html
2. Bendigo Bank Security Token
http://www.bendigobank.com.au/public/
3. Belkin MIXIT Coiled 3.5mm Male-to-Male Audio Cable
http://www.belkin.com/au/p/P-AV10126/
4. Seagate FreeAgent GoFlex 500 GB Portable HDD
http://www.cnet.com/au/products/seagate-freeagent-goflex-ultra-portable-usb-3-0-1-5tb/
5. Samsung Portable Charger
http://www.shopandroid.com/samsung-micro-usb-1a-travel-charger/5AA11813.htm
6. Sennheiser HD 408 Headphones
http://www.kosmic.com.au/sennheiser-hd408-open-headphones/
7. J.Burrows Pocket Coloured Journal – Black
http://www.officeworks.com.au/shop/officeworks/j-burrows-pocket-coloured-journal-black-jbpcj240bk?searchTerm=j.burrows%20black
8. Samsung Galaxy S3
http://www.samsung.com/global/galaxys3/
9. Amazon Kindle Paperwhite (Second Gen)
http://www.amazon.com/Kindle-Paperwhite-High-Resolution-Display-Built-/dp/B00JG8GOWU/ref=sr_1_1?ie=UTF8&qid=1413522303&sr=8-1&keywords=kindle+paperwhite
10. Dyna Store 8GB Hook USB 2.0 Flash Drive
http://www.officeworks.com.au/shop/officeworks/dyna-store-8gb-hook-usb2-0-flash-drive-dy8gbusb
11. Lexar JumpDrive 16GB TwistTurn USB Flash Drive
http://au.lexar.com/products/lexar-jumpdrive-twistturn-usb-flash-drive?category=1718
12. Sandisk Cruzer 8GB USB Flash Drive
http://kb.sandisk.com/app/answers/detail/a_id/2446/~/sandisk-cruzer-usb-flash-drive
13. SanDisk MobileMate Duo Card Reader
http://www.officeworks.com.au/shop/officeworks/sandisk-mobilemate-duo-card-reader-br190777
14. Bells Beach Crossbody Shoulder Bag
Could not find a link.
You can find Tim online over at regravity.com
Related Posts