Lets face it, Reviewing stuff is cool. From time to time we get stuff in the mail that we can tweet or blog our opinions about. This lets us play with some pretty cool stuff, and sometimes we even get to review stuff that you can't just ship. So when LG asked us to review their 55 inch 4K Oled TV, we thought we were going to need a bigger mailbox. It turns out WE got to go and review IT for a night in a fancy penthouse suite in Brussels. The life of a blogger is hard.
After we had settled into the little penthouse and managed to tear away our eyes from the wonderful view, it was time to check out the tv. The lightly curved 4K 55 inch monster is quite elegant for its size. No overdone "HERE I AM" pimped out casing, no blinking lights.. Just a 55 inch slightly curved monolith … and its "full of stars" !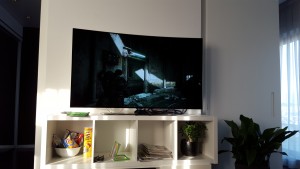 Black is Black.
Once you turn it on you see what OLED is all about. For those of you who don't know. Regular LED tv's have "lightbars" at the edges of the screen, "lighting up" the pixels as it where. This means that pixels that are set to "black" still "bleed" some of this light through resulting in dark grey tones instead of actual black. Depending on the quality of your LED tv this might vary.
With Oled every pixel generates its own lightsource. So when the pixel is told to go BLACK it just switches off … resulting in true black. This is of course a lot of technobabble, so what is the result ? The end result is that the colors are amazing and that black is really black. During our first demo, a scene from "House of Cards", where Claire is standing with her back to the edge of the frame wearing a black dress, there was no way to distinguish the black dress with the black edge of the tv. Impressive !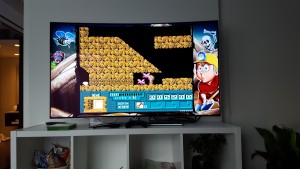 So how about this 4K stuff ?
Double the resolution of an HD Tv and you get 4K. That's a resolution of 4096 by 2160 pixels. Result ? Watch yourself some 4K Netflix and you get to see a whole new level of detail. During the pilot episode of "The Blacklist" we saw small motes of dust floating through the scene. Each individual hair that was somehow out of place on the head of the lead character was visible. 4K will be a makeup artists nightmare !  The level of detail is so uncanny that at some point we noticed a booger (yes a booger) up the left nostril of one of the characters. We seriously shit you not: Much resolution, So 4K wow !
One thing that was familiar on the LG was the Smart OS that runs it. One could not tell by the looks but the "smart" part is actually HP's WEB OS. Yeah, that's the OS that never made it to the tablet space and died in a dark corner at Wallmart. But its offspring is alive and kicking. You can control it with the remote, using the buttons OR using it as a pointer. The interface is fine and responds pretty snappy. We liked it.
The only thing we were not that impressed with was the sound. Although the Tv features Harman Kardon speakers, the sound was a little 'flat'. But I guess when you have the budget to buy one of these beauties, getting a 600 euro sound bar is peanuts.
So in the end ? 
The LG 4k TV is a little bit like driving a Tesla for a day. Its awesome, its fantastic, its the best of the best and .. its also the price of 3 kidneys. At 3999 euro's for the 55″ model and 5999 for the 65″ model, things might be a little bit outside our price range. We worry a little about the amount of 4k content that is available right now. Sure there is some on Netflix (Costs you a little extra though) but does it satisfy the purchase today ?
Our review of the LG 55EG960V Ultra HD 4K TV (as it is officially called) showed us a peek in whats to come in the near future of TV entertainment. Bight colors, solid blacks, awesome resolutions and hopefully a more affordable price range. And lets not forget new drinking games where you have to take a shot every time you see a booger up the nose of one of the lead characters !
Links : The official LG page and the Appart Hotel where we got to review it.
Related Posts