Jan 30
Today we focus on one of the more addictive cross plaform games : Minecraft. Telling us all about minecraft is guestblogger Matt ( better known as Turtles) We will stand back and let him do the explaining.
My first minecraft experience was amazing and I remember the day well. I was looking around for a new  game to play on the xbox 360 something creative, what I found was much more. Minecraft was at the time  on sale which was a bonus, however minecraft is a game I would pay full retail for and in Australia  that is close to $100. Its now 2 years into playing minecraft and the feeling has not changed. I still  enjoy being dropped into my own world where I can mine and craft to my hearts content.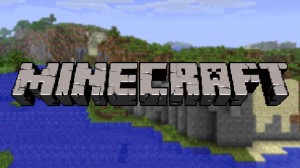 Minecraft is a game where you start with just your character, the world loads around you in chunks of  grass and trees. After a few seconds you realise just how expansive the world you just seeded has become. In creative mode you can fly into the air to see your world, or you could simply explore for yourself. On these adventures you might come across some animals which provide to you raw meats anditems which you will need to keep yourself save and well fed. I would suggest to start building a house first as when night falls you will be in for a big surprise. Night time is when the monsters of minecraft come out to play.
I started off playing creative mode minecraft this is where you have access to every block and item that is currently in the version you are playing. With all these blocks available to you, you can craft anything and the only limit is your creative self. The first thing I did in minecraft was to build a house and a bed so I was nice and safe from those pesky little monsters. Little did I know in 
creative mode there are no monster mobs spawning at night and therefore is a nice mode if you just want to create a massive tower; a nice house or even create your own mini games. 
When you get used to minecraft on creative mode and looking for a tougher challenge the next step is  Survival mode, with 4 levels of difficulty which are peaceful no spawing monsters up to difficult. Unlike creative mode here is were the real game gets you hooked. You will start with no tools, blocks or information, you are however given a map which is empty. From this point on the game will only progress with the work you perform within the world. Sit back and wait for dark and monsters will keep attacking you. Get in early and start building your house and a bed and in no time you will be safe from the onslaught you will see when the sun sets.
Singleplayer minecraft is a lot of fun as you can move along the timeline of your world as quickly or as slowly as you see fit. You are mining and crafting items for yourself which can take up precious time you need to collect other valuable resources if only someone could help you. Well in Multiplayer  the entire experience changes, not because you have a friend to mine resources you also have an enemy waiting to attack you. Be careful if you find gold or diamond your friend might want those for  themselves. With a few swings of a stone sword your hard work might just become someone's ill gotten gain.   
There are so many features in the game that just need to be experienced by the player, with the game still in development there really is a lot more content that can be added. With the over world (main seeded world) which contains villages, dungeons and very different biomes (Rain forest, Forest, Desert, Sea, Caves, Solid Ground, Mushroom) all these biomes have different creatures and blocks you would need to mine in order to build your wildest creations. The current version 1.7.2 has most of the features above along with many types of animals, all of which are interact able and can be used for food, security(Wolves), or just to admire.
So to sum up Minecraft the game is endless fun for all ages I spent roughly 2 hours a day playing Minecraft with my niece over christmas. I must say it was one of the highlights of my holidays. Fishing a close second.. I want to finish off with my top 5 favorite things to do in minecraft.
1. Wolf Pack: Using bones collected from skeletons to be-friend a pack of wolves, then running around and attacking other animals to watch the wolves attack. Same with monsters spawned.
2. Pet spawning: this is where you get two animals of the same kind and you fence them. Then you make them enter love mode. After a few seconds a smaller younger version of these animals appears.
3. Creepers: While these are monsters the creepers will just pop up on you, you will here a hissing noise followed by a big explosion. Normal reactions are "Oh Crap!", "ARRGGHHH!" , and "NOOOOOO"
4. Traps: Setting up pressure pads connected to TNT, which can be used to destroy someones creation or simple to have fun with dispensers.
5. Mini Games: I have seen many YouTube videos with free maps you can play that have multiple mini games, designed to use normal minecraft items to advance through levels.
About Matt : (A.K.A Turtlez) Age: 26

I have been a gamer for quite a few years now close to 14. I enjoy playing both online and offline games with friends. I have been mainly a PC and Xbox gamer with a tendency to play mostly First Person Shooter games, however I have branched out recently to third person hack and slash games. I also have been enjoying 2K's NBA2k range of Basketball games, as well as Formula 1 games. Growing up in my household my father enjoyed working with computers and IT equipment which meant I spent loads of time doing the same as a kid. I now have an IT Based job in Australia working with an IBM Mainframe as a performance tester. I still to this day enjoy getting a gaming session in on a weekend or even after dinner when the time suits me. I first cut my gaming teeth on the good old Counter Strike 1.6 and Team Fortress 2 (A.K.A Team Fortress Classic). I then moved onto the newer versions of these games years later and expanded to Battlefield 2. Now I have a list as long as a stack of cases with all the games I currently play. The major of my time is spent playing the following: Battlefield 4, Team Fortress 2 (Source Edition), or Counter Strike Source , NBA 2k13 or 2k14 Formula 1 2013 (Usually driving in full GP length races with my cousin online) GTA IV, Forza, Ryse when I feel the need for change. Matts online coordinates : Xbox Live: TurtlezPantz – Steam:  zyther (Screen Name Turtlez!) – Raptr: TM_Turtlez
About Minecraft.
Minecraft is a cross platform game. (to play it you just need Java on your machine) You can DOWNLOAD IT HERE.
There are also many completely FREE and open source alternatives to the "original" minecraft that might be more suitable for your system (or your budget) : choose from one of the many other alternatives out there in THIS list. 
Related Posts
Jan 28
If I say the word "Rocketjump" and you have no idea what it is  ? … Then you seriously need to read the next post. In day two of our cross-platform gaming week we point you toward the reincarnation of one of the best first person shooters ever created. We are talking about Quake 3. A fantastic, high speed, fast moving, addictive, life-eating, relationship-destroying, girlfriend-infuriating game that kept us ALL up till dawn back in the year 2000. Quake is one of those "shoot anyone that moves" games that had a massive online following. No matter what part of the world you were at, there was always a server where you could log into and fire frag and respawn to your hearts desire.
I remember fondly how I would "get rid of my girlfriend" by taking her home at ten .. coming back to my apartment and start playing Quake 3 till 4am while eating Nacho's and drinking coke.  Quake is fun, addictive and has eaten a big part of my life I can never get back.  And i had such a good time… I don't even care 🙂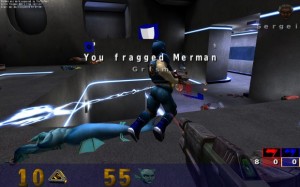 Now you (and your cross platform buddies) can have a go with "Open Arena" a free, open-source and cross platform friendly port of the old Quake game. It might not be as fancy as your newest Xbox one game, but EVERY first person shooter is in some way or form a descendant ( I feel the urge to say "Derivative") of the original Quake 3.
Feed your dog for the next three weeks and kiss your job goodbye. Download and play Open Arena .. for free HERE.
Related Posts
Jan 27
I am old. It is a shocking statement, but there are some facts that back up that statement. For one : I am absolutely terrible with console games. My fingers turn to putty whenever I need to press the right combination of buttons on my controller. I either turn 'Need for Speed' into a farming simulator (trying to plow a field with my 500 million dollar Bentley) or turn 'Call of Duty' into a charity game by giving my enemies my rations in the heat of battle. ( Army food is a lethal weapon .. right ? ).
But with age comes a certain kind of grace : the ability to completely own & pown when you can get your hands on a keyboard and a mouse. From a very  young age I was trained by master-gamers in the secrets of Doom, Quake and Counter Strike. The latter proved to be something I was very good at. I was a lethal opponent in stealth and my sniper rifle killed more men then I fired bullets. Yes .. I was a camper .. but a damn good one. Mock me and you will look over your shoulder for the rest of your life. I was 'death invisible'.
Since stealth and secrecy so becomes me, I found 'THE DARK MOD" a great game to play. Based on the Doom engine, the goal of the game is to sneak around, kill your enemies and try not to make a sound. Hiding the body prevents tripping off the alarms, Lurking in the shadows means opponents can't see you … Using knives instead of guns helps you go unnoticed. I love it.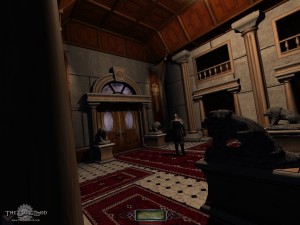 The Dark Mod is gloomy, has atmosphere and is pretty addictive to play. The great part is that this game is available on both Windows, Mac and Linux and it is for free. 
Get your copy of "The Dark Mod" here.
Related Posts
Dec 31
We close up 2013 AND season 7 of the Knightwise.com podcast with out Android Essentials list for 2013. Whether you have an Android Smartphone, Tablet or Mediasystem, this is the list you can't afford to miss. Check out our selection of cross-platform friendly Android apps and enjoy some cool photography tips from Konrad Dwojak in the feedback section. Packed to the rafters its KW708.
Shownotes.
Application list

Google Calendar
Any.do
Evernote
Pomodoro
Chrome
Pocket
Feedly
Tweetcaster
Google+
Facebook
Instagram
If this then that (Service)
Facebook Messenger
Androirc
Voxer
Google Hangouts
Skype (not mentioned in the podcast)
Runkeeper
Weather Apps
IMDB app
Wikipedia App
Shazaam
Tripadvisor
Svoice
Google Now ( List of Google Now commands )
Connectbot
ES File explorer
Dropbox
Teamviewer
Google Drive
Aldiko
Pocket
Archos video player (and Codec Pack)
Vlc
Tunesync
Stitcher
Swiftkey
Xbmc
Plex
Sonos

Photo tips from Konrad.
kw708 : Android Essentials.
Related Posts
---
Nov 21
Greetings blog readers!  It is I, Matt, the stay-at-home g33kdad in Northern California.  I am writing today to discuss a topic that has been much on my mind lately and that is "note taking".  I know, Y A W N, right?  Who cares?  You open a google doc, you jot some stuff down… or maybe I used a MS word doc for that… where did I save that again… is it in Evernote… oh, here's some paper, i'll just write it down… but, then I'll just have to type it up later… and what if I want to work on it at my mom's house…and if it's stored on some company's server somewhere, what kind of privacy is there… nevermind, I'll just play xbox.
So, in the spirit of T. S. Eliot who wrote that immature poets copy while mature poets steal, I steal this from Allison Sheridan of the Nosillacast Podcast, "What is the problem to be solved?"
The problem, as I see it, is keeping track of information digitally (whether or not the information started out digital).  Now, unless you have been living under a rock for the recent past, you probably have an opinion on "cloud" services and computing. There are many different services available.  The ubiquitous choice seems to be Evernote. Evernote is a service that allows you to store your notes on an internet accessible server.  This gives you access to them from anywhere you have an internet connection.  There are apps for all the major mobile platforms and for most desktop operating systems. This is a very full-featured service and very powerful, as well.
Another option is to use Google Docs or another hosted word processor. This is a great option because the interface is similar to MS Word or other word processing programs and most of the formatting options you would have on the desktop are available in your web browser.
While these are good options, they have some flaws. They require a third-party to host your notes.  Having someone else handle the server maintenance and software is great, but you have to deal with privacy concerns.  You also have to deal with connectivity to that service. What if you have an internet outage or you find yourself somewhere without wifi. (Do you go places without wifi?) How do you add, edit, or read notes? Also, some services may not be designed for robust note-taking.
When it comes to third-party, cloud services, my personal feelings are these: 1. Any technology can be used to make my life better. 2. Any technology I don't own or control can be used to make my life worse.  So I have to make a choice. Do I want the convenience of a service designed to meet the need? Do I want to keep all my notes in plain text on my personal computer? Is there another choice?
I have decided that a wiki is a very flexible platform for what I want to do.  In case you don't know, a wiki (see: http://www.wikipedia.org/wiki/wiki) is a web-based platform for colabrative documents. Anybody who has a user account on a wiki can edit the content, their edits are tracked, and they are available to the public or to other users of the wiki, depending on the configuration.  Wikis have a simple formatting syntax that is easy to learn and use.  Wikis are also designed to store digital information. Links and rich-text and even multimedia can be stored and accessed through a wiki.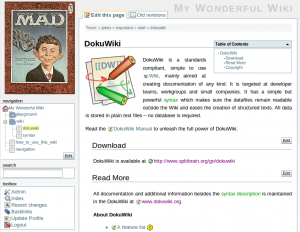 There are some caveats to this.  Wiki software is a web app that runs (in most cases) on a webserver. So you need to have access to a webserver to utilize a wiki. This can be a shared hosting account, a vps, or a small server in your home. The requirements are minimal. In some cases, wikis can be complicated to set up.
So, what do I do? I use a package called DokuWiki. DokuWiki is related to MediaWiki which is the software that powers one of the most famous wikis in the world, wikipedia.org.  It is a powerful package and works great for note-taking. There are many plugins available to change the syntax, provide for different content types and many other extensions. I have installed it on my home server and use it most every day for my needs. But there was a slight hiccup.  I still needed internet access to make notes.  Not a big deal when I'm on my home network, but even with dynamic DNS, I won't have access if I can't get to the internet.  Then, I discovered the "killer app". There is a plugin called sync (http://www.dokuwiki.org/plugin:sync). This plugin uses XMLRPC to sync content between two dokuwiki installs. It can sync individual pages, whole namespaces (like folders or sub-directories), or even entire wiki instances.  Now, I run linux on my laptop and it was a 5 minute process to start a full LAMP stack on my daily driver. (a full LAMP stack is not necessary, lighttpd with php and SQLight is sufficient) I simply installed a local instance of DokuWiki and set up the sync profile to sync with my home server instance.  Now, if I'm out somewhere with no internet access, I can still access my wiki via "localhost".  Then, when I get home or to a location with wifi, I run the sync and I have a backup of my notes! Excellent.
I have just scratched the surface of the possibilities of using DokuWiki for online note-taking. There are so many other uses for a wiki and I know that DokuWiki is so easy to deploy, I will be using it again.
Thanks for taking the time to read this article.  More to come! 
You can find more of Matt online at  @sahgeekdad on twitter or via  g33kdad.thestrangeland.net
Related Posts