Feb 17
I love Apple products. Seriously. I do. They have liberated me from a life of ONLY using windows into a world of creativity and ease of use. Over 8 years ago they made helped me switch from a life of cleaning up temporary files and cookies on Windows 2000 machines to a computer environment that allowed me to compose music, record podcasts, edit video's and do so much more. On a Mac it 'just worked'.  I still use Macs today. The high quality of their hardware is exceptional but unfortunately , so are their prices. Over the years a rift has arisen between what I demand of an operating system and what Apple has to offer. The fact that I have become a slider , who switches from OS to OS to get stuff done is not always very compatible with some Cupertino's hardware and software interoperability's. (Read : vendor lock in).  Luckily I am free to choose : I hop from Linux to Windows to OSX and use the best operating system for the task. I'm free .. free to "leave the walled garden" when I want to. 
We love our iMac.
So when my beloved wife started to notice that our 4 year old iMac was getting a little slow, I started to wonder what I could still do with it. Although I can still install the latest version of Mavericks on the machine, I do hear the silent whispers from Cupertino calling to "Buy a new Mac".  Perhaps that would not be a bad thing. Sell it off second hand and buy a new one. Problem is : its a 24 inch iMac. It fits wonderfully on my wifes desk and brings her a lot of joy. The options we have is buying a smaller 21 inch or a bigger 27 inch iMac. In both cases we would have to spend valuable cash for a small speed increase.  Was it worth it ? I decided to ask the most important question I ask ANYONE who needs a new computer : 
What do you use it for ? 
To be honest : Niejana doesn't use the Mac for that one thing that makes a Mac special : A reliable multimedia workhorse. She uses it to surf , do administrative tasks, manage her emails , her photos and stuff like that : No Final Cut Pro , Logic or any other of the great Apple production tools.  So I asked the question : Why not keep the machine but ditch the OS ?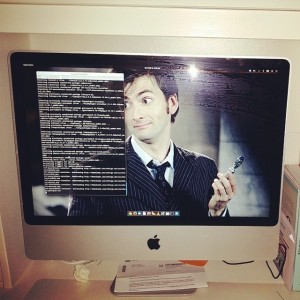 Time for a light weight alternative.
Linux is the obvious answer. It runs on almost anything and has a high degree of versatility. Its many graphical interfaces are strange, alien and mostly built for and by geeks. But that was not what we wanted : The goal of this project was to offer the SAME experience .. only faster. So what LOOKS like OSX but IS in fact Linux. The answer : Elementary OS.
Elementary OS :  'I-can't-believe-this-is-not-osx'
So I bit the bullet, downloaded the 64 bit version of Elementary OS and installed it on the system. (No dual boot, no nothing). I don't recommend going through this route if its your first time running Linux on a Mac. ( See our "Dual boot" articles to learn how) Elementary LOOKS like OSX and is a beautiful combination between the complexity (and power) of Linux (Elementary is based on Ubuntu 12.04) and a simple interface that LOOKS like OSX. 
Making it look right.
Installing the standard tools Niejana uses ( Chrome, Thunderbird, Openoffice, access to Gmail and stuff) was not hard, because we largely use "slider friendly" applications in this house. Next morning I just pointed at the machine, told her the "close" button was gonna be on the other side of the windows, and left for work.
Time to jump the walled garden.
So was I done ? No, I was just beginning. This is a cross platform household with Macs, Linux machines and Windows machines. That meant I also need to "liberate" all the data from iTunes and  iPhoto into an environment that would be accessible to both our remaining macs AND our linux machine. 
So hang in there.
This week you will get more tips and tricks about "liberating" your data from a proprietary application like iPhoto, iTunes, iCloud and others so you can access them in a "slider-friendly-world".  Installing Elementary was just the beginning. Because whoever told you can only play YOUR music in CERTAIN application on SPECIFIC hardware … was wrong.
Links :
Related Posts
Dec 03
There is not a lot that is really "New" in OSX Mavericks. Aside from braking a lot of stuff (Like for example Wiretap Studio, Mountain Lion-server, mail and more) there are a couple of interesting new tricks hidden under the hood.  The voice dictation has been around in both IOS and OSX for quite some time. Unlike on Nexus devices, this worked by sending up whatever you "said" to the computer to Apple servers to be analysed, translated into text and sent down again. It was pretty cool to do once or twice, but depending on your internet connection it could be a little laggy. It would also keep breaking my concentration (and conversation) as the words on the screen would not 'keep up' with my trail of thought.
In OSX Mavericks you can now have that "voice dictation" ability available "offline". No more sending your deepest thoughts towards a giant datacenter for analyzing .. Just a quiet one on one between your computer and you.
Do do this :
Open system preferences – Go to 'Dictation and speech' – Select "use enhanced dictation"
Select the correct language and wait for OSX to download the speech pack (about 700 meg)
Open the text editing field of your desired application (Mail, Textedit, The blank form on your 'I-still-love-hannah-montanna blog on Myspace)
Press your function key (fn) twice and .. start talking.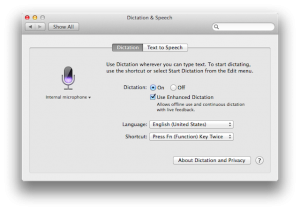 How to let it work for you ? 
Great for typing out quick emails
also nice for tweets and chats .. you are really FAST on IRC this way.
Dictation of boring text
Fantastic if your fingers are covered in peanut butter and you don't want to ruin your keyboard.
So how do YOU talk to your tech ? Tell us in the comments section.
Related Posts
Nov 17
Its time to dive back into the audio podcasting after your Double Topping of F.A.C.T.S. video coverage last week. This week we grill wiseguy Thor about his experiences with Elementary Linux, a Distro spin on good old Ubuntu 12.04 with stunning looks and a soft spot for the hardware impaired. Afterwards we give you a last echo of the F.A.C.T.S. event with an interview we did with the people of Brainfreeze about one of Belgium's most popular Manga & Anime websites and talk a little about Thor and why it is I am unable to lift Thor's hammer.  We did have a little issue with the audio quality in the intro and outro of the show, so we hope you forgive us for this little blunder, it will all be fine next time .. We promise.
Shownotes.
The "Behind the scenes" on how we recorded this show (see if you can spot the mistake we made while recording the intro)
kw704 : Elementary OS and Thor Squared.
Related Posts
---
Jul 17
We got a nice and juicy hardware review for you on one of our favourite topics : Laptop bags. We take a closer look at the 13 inch Macbook pro and iPad attache Case (what a mouthful) from Thule. We take a good and decent look at the appearance, style and finish of Thule's carry-case for the Macbook pro .. but most importantly we answer the question no-one dares to ask : Is it waterproof ? All of that and more in this weeks Knightwise.com podcast.
Shownotes.
kw607 : Reviewing the Thule Gauntlet 13 inch Macbook pro and iPad attache Case.
Related Posts
---
Jul 06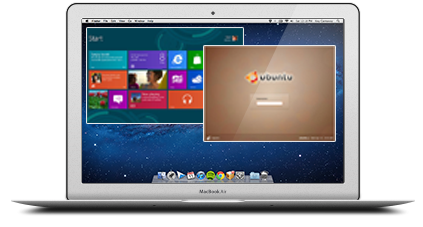 We dive behind the microphone and give all of you Apple users a slice of pie you don't want to pass up on. We talk about making your Mac "Slider" friendly and how to put up ladders and crawl out of Apple's walled garden. We have quite a slew of interesting tips and tricks on how to run "cross platform" applications, files, filesystems and connections through your favorite Mac. Learn and listen to this episode of the podcast that is filled to the rim with community feedback and contributions and great music by Youtube princess Juless.
Shownotes.
Why ?
How to get started.
Remapping your brain and your body.
Desktop enhancements.
Cross platform applications.
Web tools.
Dropbox
Tweak code (Copy and paste in your OSX command line)
#make dock appear instantatiously
defaults write com.apple.Dock autohide-delay -float 0 && killall Dock
#don't reopen every file when you reopen your app.
#in preview
defaults write com.apple.Preview NSQuitAlwaysKeepsWindows -bool false
#in quicktime
defaults write com.apple.QuickTimePlayerX NSQuitAlwaysKeepsWindows -bool false
#kill the dashboard
defaults write com.apple.dashboard mcx-disabled -boolean YES
killall Dock
#show the path in the finder
defaults write com.apple.finder _FXShowPosixPathInTitle -bool YES
#disable window animations
defaults write NSGlobalDomain NSAutomaticWindowAnimationsEnabled -bool false
#enable direct scrolling
defaults write -g NSScrollAnimationEnabled -bool NO
#no more bouncy windows when scrolling
defaults write -g NSScrollViewRubberbanding -int 0
#set time machine backup to 1800
sudo defaults write/System/Library/LaunchDaemons/com.apple.backupd-auto StartInterval -int 1800
#force expanded save-and-print  dialogs
defaults write -g NSNavPanelExpandedStateForSaveMode -boolean true
defaults write -g PMPrintingExpandedStateForPrint -boolean true
#no 3d-glassy dock
defaults write com.apple.dock no-glass -boolean yes
#show hidden files in finder
#defaults write com.apple.finder AppleShowAllFiles TRUE
#killall Finder
#3d glassy dock
defaults write com.apple.dock no-glass -boolean no
#make hidden app icons semi transparent
defaults write com.apple.Dock showhidden -boolean yes
#create a 'recent items' stack
defaults write com.apple.dock persistent-others -array-add '{ "tile-data" = { "list-type" = 1; }; "tile-type" = "recents-tile"; }'
#screen grabs in jpg
defaults write com.apple.screencapture type jpg
Feedback by Mr Gadgets and Matt McGraw
kw606 : Making your Mac slider friendly. [ 59:29 ]
Related Posts
---