Dec 24
So its day Three of the "Chromebook only" week. A week in which I promised myself ONLY to use my brand new Acer C730 to get things done. In a previous article we've talked about the first impressions of the device and what it feels like to take your Chromebook to work. That's all nice but … what about downtime ? Can the Chromebook entertain us ? We'll find out.
Before I start I want to make a confession : I'm a cable cutter ! Yes, we have ditched 'traditional tv' in favor of streaming content from the internet and from our personal library of backed up Dvd's to our television. So demands for 'conventional television' aren't very high in our households. However : With the holiday season coming up there is the need to catch the Doctor Who Christmass special on BBC2 … But I live in Belgium .. So what to do ?
Enter the HOLA extension. A little app that lives in your browser and allows you to "tunnel" through local proxies in the US, the UK and other countries to be able to watch 'their' content. 'Hola' works great for watching content like Bbc or watching the Extended Netflix catalog in the US. The Chromebook keeps you entertained for hours.
As for music : Plenty of services out their that want to stream their soundwaves your way. Some extensions even let you upload your music to your google Drive and stream it from there. If you don't feel like doing that , how about Spotify, Stitcher, Grooveshark and plenty of other services ? The audio quality on the C730 is pretty good although it IS lacking a little bit in the lower part of the sound spectrum. No doctor Dre .. but no tinny radio either.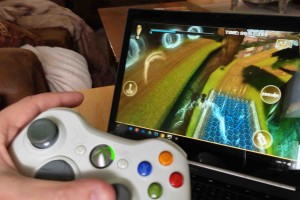 As for games : They are (of course) web based. Some of the apps in the Chrome webstore are nothing more then glorified links to websites where you can play said games. But thanx to Java, Ajax, Ruby and other forms of webmaster-black magic you can play a decent game inside a browser these days. If you don't mind the occasional apps for adult-daipers in the upper right corner .. you can find online (clones) of Command and Conquer .. or really go for it and dive into some classic arcade games that are a dime a dozen out there. And lets not forget the Internet archive with their Internet Arcade ! Play a ton of classics .. in your browser .. on your Chromebook.
Conclusion :
If the internet is a geeks daycare center where he can spend hours while his/her parental units go off to do other things in the real worls … the Chromebook is your hot babysitter ! It will keep you linked up to the world wild web (that ain't no typo) and if you know where to look you can spend hours playing games, watching movies and listening to music WITHOUT spending a dime OR breaking the law. As long as you keep the Chromebook connected .. it will keep you entertained
Links.
Related Posts
Oct 17
In movie week we list 5 movies every geek should see. The one I saved for last is a cult flick that will go down in history as the coolest but also the corniest movie about hackers EVER made. In 1995 it was pretty hard to explain to "Joe Shmoe" what the internet was .. let alone what a Hacker was. This did not stop Ian Softley to direct "Hackers" (1995 imdb) . An entertaining movie that tried to explain what a hacker was and how he could get into all kinds of trouble. Featuring (a then rather unknown) Angela Jolie the movie is full of strange 3D animations, Noob-proof dialoge and bright pictures to explain what the frack is going on. If you remember one thing about this movie it has to be the line "Hack the Planet" !

Hackers is available on Netflix but if you know how to torrent .. you will find it too.
Related Posts
Oct 16
The one thing that has upset the previous generations the most in the modern digital age, is that sometimes a 12 year old kid could come along and be better at something then everybody else. No matter if you had a Harvard degree, or 20 years of experience .. Sometimes some kid came along and did stuff that made your jaw drop. This was the case with Aaron Swartz , a bright kid who founded Reddit. Aaron was an exceptionally gifted person with his own views on freedom of information. This often clashed with a surrounding world that was not quite ready for his pioneering vision. Unfortunately Aaron is no longer with us .. and the sad story why this the case can be discovered in the full documentary below. A "must-watch" !
Related Posts
Nov 21
Greetings blog readers!  It is I, Matt, the stay-at-home g33kdad in Northern California.  I am writing today to discuss a topic that has been much on my mind lately and that is "note taking".  I know, Y A W N, right?  Who cares?  You open a google doc, you jot some stuff down… or maybe I used a MS word doc for that… where did I save that again… is it in Evernote… oh, here's some paper, i'll just write it down… but, then I'll just have to type it up later… and what if I want to work on it at my mom's house…and if it's stored on some company's server somewhere, what kind of privacy is there… nevermind, I'll just play xbox.
So, in the spirit of T. S. Eliot who wrote that immature poets copy while mature poets steal, I steal this from Allison Sheridan of the Nosillacast Podcast, "What is the problem to be solved?"
The problem, as I see it, is keeping track of information digitally (whether or not the information started out digital).  Now, unless you have been living under a rock for the recent past, you probably have an opinion on "cloud" services and computing. There are many different services available.  The ubiquitous choice seems to be Evernote. Evernote is a service that allows you to store your notes on an internet accessible server.  This gives you access to them from anywhere you have an internet connection.  There are apps for all the major mobile platforms and for most desktop operating systems. This is a very full-featured service and very powerful, as well.
Another option is to use Google Docs or another hosted word processor. This is a great option because the interface is similar to MS Word or other word processing programs and most of the formatting options you would have on the desktop are available in your web browser.
While these are good options, they have some flaws. They require a third-party to host your notes.  Having someone else handle the server maintenance and software is great, but you have to deal with privacy concerns.  You also have to deal with connectivity to that service. What if you have an internet outage or you find yourself somewhere without wifi. (Do you go places without wifi?) How do you add, edit, or read notes? Also, some services may not be designed for robust note-taking.
When it comes to third-party, cloud services, my personal feelings are these: 1. Any technology can be used to make my life better. 2. Any technology I don't own or control can be used to make my life worse.  So I have to make a choice. Do I want the convenience of a service designed to meet the need? Do I want to keep all my notes in plain text on my personal computer? Is there another choice?
I have decided that a wiki is a very flexible platform for what I want to do.  In case you don't know, a wiki (see: http://www.wikipedia.org/wiki/wiki) is a web-based platform for colabrative documents. Anybody who has a user account on a wiki can edit the content, their edits are tracked, and they are available to the public or to other users of the wiki, depending on the configuration.  Wikis have a simple formatting syntax that is easy to learn and use.  Wikis are also designed to store digital information. Links and rich-text and even multimedia can be stored and accessed through a wiki.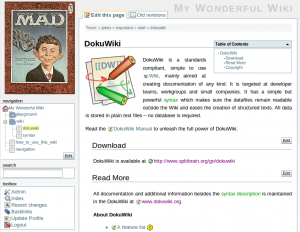 There are some caveats to this.  Wiki software is a web app that runs (in most cases) on a webserver. So you need to have access to a webserver to utilize a wiki. This can be a shared hosting account, a vps, or a small server in your home. The requirements are minimal. In some cases, wikis can be complicated to set up.
So, what do I do? I use a package called DokuWiki. DokuWiki is related to MediaWiki which is the software that powers one of the most famous wikis in the world, wikipedia.org.  It is a powerful package and works great for note-taking. There are many plugins available to change the syntax, provide for different content types and many other extensions. I have installed it on my home server and use it most every day for my needs. But there was a slight hiccup.  I still needed internet access to make notes.  Not a big deal when I'm on my home network, but even with dynamic DNS, I won't have access if I can't get to the internet.  Then, I discovered the "killer app". There is a plugin called sync (http://www.dokuwiki.org/plugin:sync). This plugin uses XMLRPC to sync content between two dokuwiki installs. It can sync individual pages, whole namespaces (like folders or sub-directories), or even entire wiki instances.  Now, I run linux on my laptop and it was a 5 minute process to start a full LAMP stack on my daily driver. (a full LAMP stack is not necessary, lighttpd with php and SQLight is sufficient) I simply installed a local instance of DokuWiki and set up the sync profile to sync with my home server instance.  Now, if I'm out somewhere with no internet access, I can still access my wiki via "localhost".  Then, when I get home or to a location with wifi, I run the sync and I have a backup of my notes! Excellent.
I have just scratched the surface of the possibilities of using DokuWiki for online note-taking. There are so many other uses for a wiki and I know that DokuWiki is so easy to deploy, I will be using it again.
Thanks for taking the time to read this article.  More to come! 
You can find more of Matt online at  @sahgeekdad on twitter or via  g33kdad.thestrangeland.net
Related Posts
Aug 02
Guest Blogger: Keith Murray
Earlier this year I switched my web hosting from my long-time account at DreamHost to a fancy new VPS at Linode. I really did enjoy my time with DreamHost, but what I wanted out of my hosting provider had changed somewhat. I was looking for full control of a machine in the cloud. Although DreamHost does offer a VPS option, the pricing options just didn't compare with what Linode was offering.
I also took the opportunity to move my domain registrations over to Hover, but more on that another time.
With my Linode account managing the DNS for my domains I was able to point a a single subdomain back at the IP of my home network, effectively giving me a nice publicly accessible domain from within my network. This worked well until my ISP changed the IP address I had. Admittedly this doesn't happen often, but it always seems to occur when I actually need to make use of this remote connection, and with no knowledge of my new public DHCP address it's pretty useless.
Enter DDNS.
With some modifications to a script I found on GitHub I was able to quckly set up job to check my public IP address and update the DNS records at Linode using the Linode API. I hacked apart the original script and put together my own DDNS update script, suitable for automating.
By scheduling the script to run using a simple crontab entry I can rest assured that every night, while I'm asleep, my server will be connecting to Linode to point the way home.
---
Keith Murray is a software architect and developer who blogs about technology and science at kdmurray.net. He can also be found on twitter as kdmurray.
Related Posts