Apr 18
We return to season 3 of the Knightwise.com podcast with a behind the scenes look on what it takes to get the show out there. What gear do we have, how do we use it and more importantly : What workflows we use and how that tech works for us. Enjoy a deeply technical behind the scenes look on how the bunny is pulled from the hat.
Shownotes.
Intro
Gear
Mobile Gear
Network and application Setup
Workflows
The Knightcast kc301 [ 55:26 ]
Related Posts
---
Apr 13
With the whole rebranding redesign of Knightwise.com going on on the background, one of the things we wanted to upgrade was the logo. originally designed by fan of the show Sharky it portrayed the "Knightwise.com Heron" in side profile. With the rebrand we decided to turn the logo around and spread the Herons wings. Friend of the show Kris Hendriks chipped in his skills as a web/graphic designer and is responsible for the new redesign. Whith the update of the RSS feeds the new Knightwise.com logo can also be found in the iTunes store and I thought it would be appropriate to put that hard work on display in the Apple store in Amsterdam I visited this weekend. So in all its glory : The new Knightwise.com logo.
Related Posts
Apr 12
While looking for content for the next intro tune for the Knightwise.com podcast, I came across this little gem : The sound of a dial-up modem slowed down 700 times. I am not really sure to be completely spooked by this sound or to sit down and have it playing as some kind of background ambient track, because its a bit of both.  If you ever complained dial-up was slow, imagine how beautiful it would have been if it was 700 times Slower.
For those of you who like this kind of stuff : See how the slowing down Justin Bieber's "Baby Baby" makes for a great ambient track or have a satanic ritual with the TROLOLOLOLO song in the background (slowed down 800 times)
Related Posts
Apr 11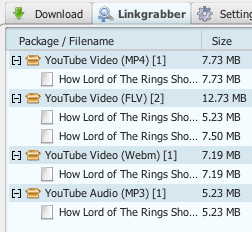 Download of the week : Until a while ago I used an app on my Mac (I have even forgotten the name) to download any Youtube video's I needed for the podcast or for some of my presentations. When upgrading to Lion, it decided (or rather Lion decided) it wouldn't work anymore. Tough 🙁 I had found some alternative online sites to do it but searching for solutions like this is one of those internet ratholes like looking for free mp3 ringtones.) When twiddling around with it I had one of my favorite cross-platform download apps open in the background : Jdownloader. I use Jdownloader for multi-url links and long running downloads. Its free, its cross platform and it has this handy "url catcher" where it notices when you copy a url to your clipboard and then offers to download it. When the activity window for Jdownloader started blinking I checked out the "link grabber" window and was amazed to find that not only it had "caught" the url of the Youtube video I copied, but it offered to do something more. Jdownloader will offer to download AND CONVERT your Youtube video into several sizes like : MP3, FLV, MP4, Webm and more (depends on the video) So this tool is something that should not be missing in your application folder on ANY of your systems.
Download Jdownloader ( mac – lin – win ) here.
Related Posts
Apr 10
With the end of the month approaching the new release of Ubuntu is coming ever closer. With 12.04 we are seeing the 3rd incarnation of this popular operating system featuring the highly contraversial Unity interface. Canonicals bold move in choosing a completely different way of letting you interact with your desktop have been the subject of much debate. We've seen die hard Ubuntu fans leave in a huff and switch to Linux Mint and even the revival of older graphical user interfaces like Kde or Gnome2 because people don't like to "switch" to Unity just yet.
Its a good thing linux is open source. You will always have a choice in what desktop you want to work with. What if you DO want to stick with Ubuntu (and not move to mint) but don't want to use Unity ? Perhaps you might want to give Lubuntu 12.04 a try. Featuring the nice LXDE interface it gives you something that "kinda looks like Gnome 2" without being outdated and does give you Ubuntu 12.04 underneath the hood. The video below features the Alpha release , by now Lubuntu has moved on to an even more recent version.
So what are your plans for the end of April ? Are you still sticking to Gnome 2 ? Have you faced the music and dance to Unity ? Or are you silently crying on Mint 12 ? Share your thoughts in the comments and Download Lubuntu here.
Related Posts