May 22
Remember those old spy movies ? Where the secret agent / spy would walk around with a small camera to quickly snap shots of some ultra secret documents in a momentarily abandoned office ? Remember the suspense as you sat on the edge of your seat yelling "Hurry up" in front of your television ?  Lets face it : Those spies were geekin out hard : In essence they were the first to master the tedious art of scanning documents.
Somewhere along the way we lost our minds because in the late 90″s we had massive flatbed scanners to do the exact same thing. For those of you who still have a scanner : You know its the most idiotic waste of office / desk space that you have ever owned. Scanners are a kind of high tech coaster for whatever crap you stack on top of them. Why ? because you seldom need them and when you do .. Well after an excavation operation to actually find the scanner under that pile of comics, you then have to make sure the document is the right side up, find a free usb port on your pc and you end up cursing and wasting time.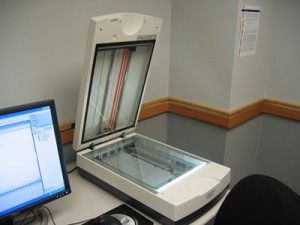 So why not be Mr Spy all over again ? With the 24 megapixel camera on your smartphone its quite easy to snap up a good picture of a document. Now all you need to do is get those secret plans into your administration system. Enter the new Google Drive app on android that comes with a bunch of new features making it easier to digitize that document. It not only saves the snapshot into your Google Drive, but also preforms OCR right in the cloud. Letting you edit copy and paste the text. Compared to scsi cables, flatbed scanners, OCR applications under Windows .. this is quite a nifty tool.
So start using your smartphone (with the new Google Drive app )as your digital wireless scanner and snap up those documents straight away. Feel the urge to print them too ? Take a look at the long forgotten Google Cloud Print and turn those documents in your Google Drive back to ground up pieces of tree.
Links : Google Drive. – Google Cloud print.
Related Posts
Feb 26
A couple of days ago I got a second hand 7 inch EEE-Pc as a gift from a friend. Its a cool little system and I was looking for an interesting way of putting it to good use. Of course our "Return of the Netbook" podcast brought many an idea to mind, but I wanted something different. Instead of using it as a workstation, I thought that a little bit of "Server Side technology" would come into good use. The thing is pretty small, consumes no power whatsoever and can do some cool things should you want it to.
Turn it into an "on demand" Nannycam. : One of the simplest alternatives is to install Skype on it and turn it into a Nannycam. 
Install Skype.
Create a separate account for the laptop
Set up the laptop to automatically send video.
Add your Skype account to the friends list.
Configure : Auto-answer to have the laptop "pick up" whenever you call it using your account.
Mute the speakers on your laptop.
This is by far the easiest and most cross-platform friendly solution for your old netbook that will help you get some use out of the old baby. Make sure to tweak your security settings on Skype so the laptop won't accept calls or chats from people outside the contact list. (and just to make sure , cover the webcam with a post-it note when you want to be sure nobody is watching.
What would you use as surveillance software ? Tell us in the comments section.
Related Posts
Feb 24
The one thing that is a bit of a bummer when it comes down to being a city stomping giant like Godzilla is that its very hard to find gloves in your size. One of the upsides is that people look very small and insignificant. How about an application that helps you to achieve both things ? Enter "Tiltshift" for IOS. A cool little application that lets you make these great shots where cars look like toys and people look like tiny tin soldiers wobbling around your on private city mockup. Its simple to use, has some pretty effects and the results are pretty good.
For a free app this surely beats posting yet another picture to Facebook with some signature "This was done in Instagram" effects. Get it now and feel what its like to be Godzilla ! 
Download : Tiltshift.
Related Posts
Jul 27
A long time in the making.
Its been a long time coming , or has it been a long time overdue : Its finally here. The first cross platform VIOP & Videochat application to span the bridge between Mac and Windows users. The switchers holy grail so to speak. The missing link between the two communities.
For those of us who parted the land of the Windows users and boldly buy a Mac, ( either because we did not have the pubes to rebel and buy a harley , or just to score with the chicks) we fairly quickly felt ourselves in isolation of the instant messaging world. Sure , OSX comes with mighty fine chat-tools like for example Ichat .. So that mighty fine Isight web-cam on yours could do some good .. but .. there is no one ON i-chat now is there.
Meanwhile in the Windows world.
Meanwhile in the Windows world people are chatting and nudging and webcamming (and sometimes even stripping) their happy days away with the one big happy family on MSN Messenger. Ok, I was happy to finally get rid of those bouncing smilies, pink backgrounds, screaming avatars and vibrating chat windows .. but this was lonely. Sure there are some good msn clones out there , but none of them support web-camming between YOU and the rest of the world. Sure , there is Mercury ( hellishly slow , weighs a ton, eats memory like Oprah and does not work if you are behind a router) . So there I was , Shiny Isight and no one to wave at. THank heavens to Skype for putting out the great app they make and for bringing us webcam support. I had played with it before : the PC to PC webcam session between two Skype users is faster then watching tv ! If I ever thought the MSN webcam protocol was the pinnacle of streaming video compression : Skype to Skype makes it look like a snail on ice. So as soon as the beta came out I just had to get my hands on it.
Download and install.
Downloaded and installed it on my Imac and rang up my friend Blue on his Windows PC (also with a built in webcam) And both audio and video worked fantastic. Ok the speed is not that good when it comes to video but the quality is awesome. Audio is crispy and when you hit the full screen button .. The future is here.
So with my Macbook on the table , isight tucked away in the lid… Talking full screen to my buddy at the other side of the globe (while doing the dishes) all I needed was a fish in a bowl, a model of the USS Stargazer and a Galaxy class starship beneath my feet.. " Captain to engineering" .. i shout and tap the invisible communicator on my chest .. No response .. no starship .. As I look at my Skype screen and wave to my distant friend who is tapping finger to his forehead … At least I can say THIS part of the future .. is here. Find your Skype for mac HERE
Related Posts
May 31
The Knightcast episode 31 : Tips for the mobile geek.
Direct link to the show : http://www.knightwise.com/podcasts/kc290506.mp3

Summary.
An episode jam packs with tips for the mobile geek. How to carry and organize your tech equiptment as easy, light, convinient and efficient as possible. What to take with you, where and how to store all your geeky goods. Furthermore we talk about the Ubuntu-Granny incident and let you hear ' The Knightcast Signal".
Shownotes.
Intro
News and events.
MUSIC The Knightcast signal as preformed by Noplasticinside .
The Knightwise.com website gets 11000 hits over the weekend.
The Ubuntu story on Digg .
Part 1 : Tips for the mobile geek.
Why this podcast.
Groundrules.
Dividing everything into zones.
Zone 2 : The "Bag"
Groundrules.- What to put in your bag.
Zone 3 : The car.- Groundrules.
What to store inside your car.
Signoff.
For more information or to send feedback , please visit our main website www.knightwise.com
Related Posts
---