Nov 04
Mindfulness , Meditation, tranquility . These are all things we should consider , which are important, which have one thing in common : Most of us have absolutely no idea how to do any of them. Whenever some free floating new age person dressed in an outfit that looks like a  a Jedi knight in a wedding gown tells me to 'put down my phone and meditate' , I can only respond with a blank stare and the suggestion I might look up how to meditate on the internet. This is not an approved method of getting these floaty people to agree with you.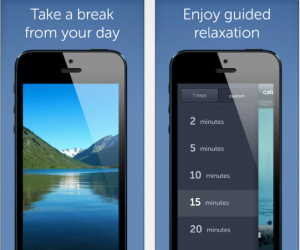 So enter CALM : A free floating fairy that lives in your phone and tells you how to be mindful and meditate. In seven steps a soothing voice explains you how to meditate by minding your posture, mindset, your body , your breath and your patience. You can also choose from several guided meditations ranging from 2 tot 30 minutes or just get a selection of white noises to "freestyle your medi-cycle"
Calm is free and available for Android and IOS.
Related Posts
Nov 03
Its "Zen" week on Knightwise.com where we are going to give you some tips on turning you hyper connected lifestyle a little more towards the "pool of tranquility" that is a state of Zen.
Lets start out with a cool little app called F.LUX.
The screens on our devices (laptops , tablets, phones) are designed to mimic the blue hue of daylight as much as possible so we can enjoy a clear an crisp image and be "productive". However, our brains and our sleep cycle are triggered by the presence or absence of daylight. As the sun sets it gets darker in the evening, our brain tells our body to get ready for bed and once we lie down we hopefully doze off. But RIGHT before you go to bed you quickly check your Facebook feed on the  super-daylight-bright display of your laptop. Your eyes notice the "Daylight color" and your brain thinks .. " F*ck ! It's noon ! " and completely resets your bio clock. Result : You have a hard time getting to sleep ! And this is BAD for you !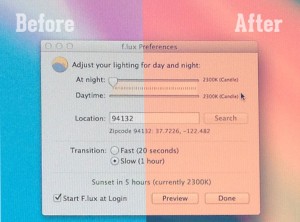 So enter F.lux.  F.lux will adjust the color temperature of your screen according to the time of day.  In the morning your screen will have a much "warmer" color to match the rising sun. As the day progresses F.lux will adjust the brightness and color tone to "daytime" only to "wind it down" back to a warm tone in the evening. This puts less strain on your eyes and makes your laptop much more sleep-cycle friendly.
You can disable flux from the menu-bar icon for an hour or until the next day to prevent it messing up your colors when you are doing video editing or photoshop.
F.lux is free and is available for : 
Related Posts
Nov 01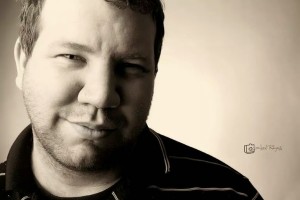 I deal with technology every day. As a software architect in my day job and an amateur developer, photographer and delinquent podcaster & blogger in my off time I deal with technology seemingly constantly.
Until very recently this would have been a typically geeky post. For years I've been the kind of person who always has a laptop or two, often a tablet, and an untold number of USB thumb drives for various purposes stashed somewhere in my bag. Recently, however, that changed.
This week I sold my laptop. I won't get into all the reasons why I parted ways with my daily companion, but suffice to say I'm making some adjustments to my computing habits and this was the first major step towards this particular technological goal.
My bag is very analogue these days. There's some technology in there, to be sure, it would be very difficult to do my software-focused job without some of it. But I have learned over the past year that I prefer a bit more minimalist approach. I use the term advisedly because I know there are people out there far more minimalist than I am, but I have cut down on the number of machines I own and the amount of gear I carry around with me quite significantly.
Enough preamble, let's get started.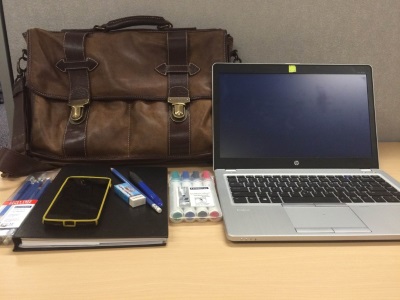 Work Laptop – Elitebook Folio 9470m
This is the machine supplied by my employer for my day-to-day work activities. Being a fairly large company we don't have the freedom to select our own machines and have to go with what we're given for the most part. In my case I have just had mine replaced with this new HP "ultrabook". It's a 13″ Core i5 laptop with 4GB of memory running Windows 7. It's enough to get me through my day, but isn't anything particularly special.
Since I spend about half my working days working from my home office I don't have a permanent space in our building which necessitates me carrying around not only the laptop, but also the power supply. When I'm at home I have a good monitor, keyboard and mouse, but in the office I end up using the laptop keyboard a tiny little 17″ LCD screen and a stock little optical mouse. Suffice to say I prefer to work in my own office most of the time.
Work Phone – LG Nexus 5
I carry two phones, one for work and one for everything else. The work phone doesn't get a ton of use, but it's my only mobile method of checking my work calendar and my work email. The main reason for carrying two phones instead of one to rule them all is the restrictions required for the work phone. My employer's device management software places some significant restrictions on the types of apps and data synchronization tools that can be installed on the phone. Lack of ability to have some pretty basic data-sharing tools like Dropbox makes using this as my primary phone a non-starter.
Personal Phone – iPhone 5s
I have just ended a year of going Android-only for my mobile phones. The Nexus 5 I just mentioned above was my personal phone and I had used a Samsung Galaxy S3 for work. When the S3 broke, I decided to split my mobile phone platform life and switch to an iPhone 5s for my personal phone. No slight against Android but I just felt like I wanted to go back to an iPhone after a year away from the Apple fold.
This is the phone that gets used for *everything* including all my social media and personal email. It's basically my lifeline to the outside world. It's also the last of the technology in my bag.
Notebook – BlueLine NotePro Hardcover
I go through these notebooks like crazy. I take them to every meeting, use them during every conference call and use them to jot notes, diagrams and whatever else may cross my mind throughout the day. Essentially the book is an outboard extension to my brain and a scratch pad/draft area for lots of things that will eventually end up as notes on my computer, emails, diagrams or any number of other things.
These books have a coiled binding that allows them to lay flat or fold the front cover in behind so that I can use it pretty well anywhere. As much as I love all my tech gear, there's something simple about being able to pick up a writing stick and make notes appear on paper.
Pencils – Staedtler Norica HB Pencils
Yes. Pencils. HB pencils. Just like you used to use back in elementary school. They don't run out of ink, they don't smudge all over my hands, they write on any angle, and they're pressure sensitive — I can get various shades of gray and black by varying pressure.
I've really liked having pencils in my bag for the past couple of years and while I do have a pen as well, I don't know that I'll go back to using a pen as my primary method of documenting ideas on paper.
Eraser – Papermate Speederase
I have this in my bag. But I don't use it. Proof? It's still in the plastic. Erasing slows down the process of documenting and notation. Paper is a transient, ephemeral platform for me, it need not be permanent. No sense wasting time with an eraser when a simple scribble will do.
Pen – Zebra Z-Grip Gel Pen
Once in a while I like to use a pen. Most often I only use it when I need to sign something (which is blessedly rare these days). Most of the time the person most likely to use the pen is my daughter. As least lately.
Whiteboard Pens – Staedtler Lumocolor Pens
I like these pens. I've had them for a few years and end up using them a couple of times a week when I get into a conference room with a whiteboard and all of the pens are either broken, dried out or just plain missing. I like these pens for a few reasons. They are fairly easy on the nose compared to other dry-erase markers I've used. So far they have always worked and never dried out on me. One other neat feature is that the box they come in converts into a stand-up shape so that you can park in on the table and have easy access to them. It's totally a gimmick, but I like it.
The Bag – Leather Messenger Bag
The bag itself is a nice brown leather messenger bag by Roots (no idea what the model is). It has three large compartments inside, as well as a few smaller pockets on the front. Everything I need to transport fits very easily in the bag, and I'm even able to fit an extra laptop or an iPad plus a keyboard if I need to take them somewhere.
The only downside is that there's no padded compartment for the laptop, so for some extra protection the laptop needs a sleeve (or sometimes just some paper in the bottom of the middle section to provide some drop protection (or protection from putting the bag down a bit too hard).
So that's pretty much it. I'm sure the contents of my bag will change next week or next month if I decide to try out something new. Maybe I'll find a new use for my iPad. Who knows? Ultimately the contents of our daily carry bags evolve as our needs and knowledge evolve. I've gotten some great ideas from the other guest bloggers this week and will definitely be adapting my workflow to incorporate some of these ideas. What will you adapt?
You can follow Keith on Twitter @kdmurray or on his blog at kdmurray.net.
Related Posts
Oct 31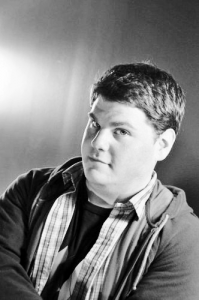 What's In My Bag? By Cody Cooper
I've always been a person to carry bag full of goodies. Looking back on my days as a boy scout isn't a positive nostalgic experience for me as I was always the little fat kid that didn't belong. The outcast among the athletes, put there by my parents in hopes that I would become more social and find new interests, which just didn't happen.
BUT, the motto from that organization always stuck with me:
"Always prepared"
When I think of childhood heroes I, of course, have two people that come to mind: MacGyver and Pee-Wee Herman.
MacGuyver because, well, MacGyver, and Pee-Wee Herman because of his bike from Pee-Wee's Big Adventure. If only MacGyver owned that bike! What he could have accomplished? I guess we will never know. Needless to say I was always drawn to creative problem solving and utility items. They seemed to go hand in hand.
The earliest time in my life I remember carrying a bag with a lot of stuff in it was in junior high. I came from a working class family and when it came to treats I was never given big candy bars or cans of soda, I had to settle for the bulk candy section at the grocery store. My mother would buy a couple pounds of this candy and keep it at the house, but one day I remember taking one with me to school, about half a pound of wrapped peppermint candy.
My fellow students would see me unwrapping the candy around school, popping one in my mouth and the look on my face as it slowly melted away over several minutes. I then starting making friends as I would comply with requests for a piece here and there. Then one day I had someone offer me one dollar for ten pieces and a little sound went off in my head:
"Cha-ching!"
After the success of this little enterprise I of course had to expand my catalog of products to include bubble gum, chocolates, pixie sticks, hot cinnamons, root beer barrels and the like. I was even taking special orders for other items such as beef jerky, Corn Nuts (Ranch and BBQ only), Funyuns, Doritos, etc.
After a while I actually needed to buy a bigger bag to accommodate the merchandise and my school books, so going to the store to buy a new bag to suit my day to day needs was always fun.
Which brings my to my first item on this list of things that I are in my bag: the bag itself.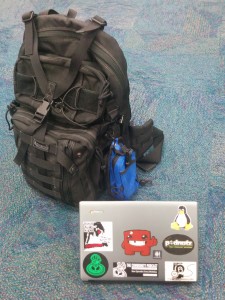 Maxpedition Kodiak Gearslinger
Maxpedition is a great company that makes bags for all sorts of outdoor, EDC and military needs. Out of all the backpacks that I have owned in my day (quite a few) this is my favorite and the first that made me feel content in my choice knowing that I will stick with this thing until it dies, and if and when it does I will stick with the brand.
Check YouTube for all the neat hacks that other people have done with this pack.
NOTE – This is a slingpack, which I traditionally don't like, but it has a "support strap" that comes from the back and under your ribs that attaches to the main strap which adds a lot of stability to the pack rather than flopping around as you move. Also, you have two different options (regular or S-Type) which will accommodate either left or right-handed people.
DEVICES
Acer Chromebook C710
This little guy has been through a lot during our time together. Several Linux installs (every which way I could get it on there, I did it), many late nights being adorned with stickers and she even survived a viscous attack from a then 11 month old (my son tore off the bottom panel which is now held on by tape). Always faithful, always fast.
LG Google Nexus 5 32gb (Black)
I love me some Nexus devices. Once you buy one off contract and don't EVER have to wait for your manufacturer or carrier to approve Android updates, you simply will never go back.
Trust me.
Asus Google Nexus 7 (2012)
Great little tablet. I play the majority of my Android games on this device and she has served me well. I also consume many videos and ebooks with the help of this little gem.
HTC One M7
But Cody, you already have a phone on this list! And a tablet! AND A CHROMEBOOK! Why the hell do you have carry a second phone?
For a pretty neat purpose, but you will have to follow me on social media (Cody Cooper on Google+ or @codycooper on Twitter) to find out the specifics). Who knows, I might even share the details in a future blog for knightwise.com.
Patriot 32gb Supersonic Rage Series USB 3.0 Flash Drive x 3
One loaded with Kali Linux, one loaded with Ubuntu 14.04 and one loaded with media. I hate USB drives with caps (I always lose them) so this retractable model was very appealing. The fact that they are blazing fast helps.
Phone/Tablet Accessories
Meenova Dash Micro for Android
We've heard it all before:
Billy
"I can't buy this phone! It only has 32gb of internal storage! Which will be about 27 or less when I boot it for the first time after taking into account the OS and bloatware from my carrier that I can't remove! THERE'S GOT TO BE A BETTER WAY!"
Smartphone Salesperson
"Who needs more than 32gb of data anyway? I only use, like, 4gb"
Billy
"Get away from me. Right. Now."
Cody Cooper
"Well Billy, there is a better way! And what if I told you that there was a tiny device that would act as as a microSD card reader and that its compatible with most modern devices?"
Billy
"That sounds great, but seriously man, where did you come from?"
Cody Cooper
"Don't worry about that Billy, just follow the link above to rememdy your mobile storage needs."
Smartphone Salesperson
"So what is it going to take for you guys to switch your service to our company?"
Cody Cooper
"Unlimited Data or cash, lots of cash."
END SCENE
MicroSD Card Holder from Sdcardholder.com
For storing all those SD/microSD/SIM cards on the go in a nice, safe and compact manner.
SanDisk 64GB Ultra Class 10 Micro SDXC x 2
Because I don't have a give you a reason! Speed! Storage!
Samsung Galaxy Bluetooh Wireless Keyboard
I acquired this from a friend who didn't like the fact that it came free with his awful tablet. His loss, my gain.
NOTE – get rechargeable batteries for this.
Cable Matters MHL 2.0 to HDMI Adapter
+
Cable Matters Smlimport/MyDP to HDMI Adapter
+
HDMI Cables x 2
For the above adapters
+
Second Screen
For those times when you want to take over a large display and use your phone on a bigger screen. The hardware and software to do so. I carry both MHL and Slimport adapters so I can also show my friends with compatible phones how easy it is. It helps you make with the awesome. Who needs to carry a Chromecast when I just jack right into the display directly!
BONUS – works great with projectors!
Anker 2nd Gen Astro 3 12000maH Portable Battery
This is a great portable charger that has PowerIQ technology, which is fancy talk for "it charges things as fast as they need to be, but no faster and no slower. With three USB ports, I have made many friends with this little device.
New Trent iCarrier 12000maH Portable Batter
Now Cody, don't you already have a portable battery on this list?
Yes, I do.
BUT, you have never have enough juice.
NEVER.
(Truth be told I lost this one for a time then bought the Anker above as a replacement, and wouldn't you know it, I found it the day the replacement arrived? Don't tell my wife!)
Anker 40W 5-Port Desktop USB Charger
We've all been there, several items to charge but only one free port in the wall socket! Don't fret, you can charge five devices at the same time with this sucker. Also has PowerIQ technology.
Media
DVD-R x 8 (Ubuntu 14.04 x 4, Blank x4)
I carry these on me to help friends with their machines and I usually leave the disc with them along with a list of instructions for Live CD operation.
The blanks? Because you never know.
Tools
Gerber Shard Keychain Tool
I have this on a keyring and attached to the little coiled cord in one section of my pack. Part crowbar, part screwdriver, part bottle opener and then some, this tool packs in the usefulness into a small form factor.
Stanley Screwdriver Pen Tool
Four screwdrivers inside a pen? Yes please! Two phillips and two flathead screwdrivers in each "bit" makes this a handy little gadget.
Consumables
Contigo Stainless Steel Water Bottle
Because hydration is important… assuming I ONLY have water in there. You'll never know… trust me.
Beef Jerky
Because delicious and because good source of mobile protein/sodium to prevent me from eating chips. I hate chips, but sometimes I crave salt. WIN!
Ibuprofen Liqui-Gels (200mg)
For life's little headaches.
NOTE – Must be liqui-gels. Not tablets, not caplets… LIQUI-GELS!
Entertainment
Sennheiser PMX 6XX Adidas Sports In-Ear Neckband Headphones
For listening to music/podcasts when other people are around.
Beats Pill Portable Speaker (3.5mm cable included)
For listening to music/podcasts when other people aren't around.
MISC
Uni-Ball Jetstream Retractable Ball Point Pen (Bold)
The only pens I will ever use. Think your pen is nice? Well isn't that cute?
5×8 Legal Pad x 2 + Mini Clipboard
For mind-dumping. I have always taken better notes on paper and this type of notepad with the perforated pages has always suited my writing style. I'm lost without these.
Assorted Zip Ties x MANY
I am the zip tie king. There will be no askew cables near any of my machines. I have found all sorts of cool uses for these over the years and I have become quite the zip tie snob.
Startech Self-Adhesive Cable Tie Mounts
To assist with the implementation of the above item.
Small Wire Cutters
Ditto
6ft Ethernet Cable x 3
Because reasons.
Gorilla Tape
When duct tape won't cut it. AND, it secures the bottom panel of an aging Chromebook VERY well ;-).
Now some of you are probably wondering, "does he really carry all this stuff with him every day?"
The answer, is yes. For some, it's overkill, for others it's not nearly enough, but for me each of these items I have decided to put into this bag to fill a need that I once had. To prevent that moment of, "I sure do wish I had ______ right now" from happening again. Every mistake is a learning opportunity if you look at it just the right way. Carry with you what will suit your NEEDS, not your wants, and you will do fine.
And, most importantly, if you take the time to arrange such a collection of items into a bad, whatever you do, don't leave it at home and then subsequently get stuck in a snow storm in your work town left with nothing but the technology of your family. What does that look like? Search my name on knightwise.com for a previous blog of mine.
Don't forget the popcorn and tissues, it's entertaining and sad.
Cody Cooper is a podcaster with the Podnutz network, co-hosting Linux for the Rest of Us with Stephen McLaughlin, the DoortoDoorGeek. Cody is a husband and father of two who enjoys all things tech. You can contact Cody at cody@podunutz.com or follow him on social media (Cody Cooper on Google+ or @codycooper on Twitter). Please drop him a line, he really does like talking to new people despite what you've heard.
Related Posts
Oct 30
When we got invited to Acer's "A touch more connected" press event yesterday we kind of knew what to expect. Basically it was going to be a re-hash of the line of products and services Acer had presented at IFA earlier this year. Like every year Acer spreads it's product line across the board. In a "Cross platform" approach they offer a variety of laptops, tablets and smartphones across the Windows and Android eco systems in a variety  quality for everybody's budget. From a 69 euro Android smartphone to a 1700 euro convertible laptop .. Acer has something for everybody. With the  addition of their Chromebook line , Acer now dips their toe in another pool with 11 and 13 inch Chromebooks ranging from 250 to 400 euro.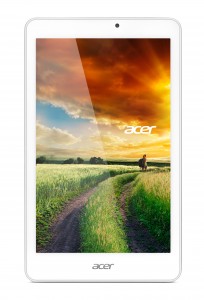 If their is one constant in the acer product line is that you get (a lot ) for what you pay for. Depending on what device you pick (in what pricerange) you get quite a bit of value for money (See their Jade smartphone series) but try not to compare a 200 euro Jade with a 900 euro Iphone. Again .. you get (a lot) for what you pay for.
That trend was broken yesterday as through some tear in the Acer Space time continuum we were presented with the iconia tab 8 W tablet. This 8 inch tablet doesn't look a lot different then the earlier iconia tablets Acer presented last year. These "Looks like an ipad Mini-Runs android-does not require you to sell your kid" tablets were interesting but not that impressive.   The iconia Tab 8 W  is light and  has a bright display (although it only has a 1280 by 800 resolution) that looks very nice thanks to Acers "zero Airgap" technology.  Its aluminum back makes it feel sturdy and with 32 gigabytes online storage it would make for a moderately interesting tablet in the lineup.  However, THIS is Acers first Windows tablet sporting a full version of Microsoft's "Windows 8.1 -with-Bing" operating system. This means it sports the much debated Metro interface with a "full version" of Windows 8.1.  at your fingertips. The device reminds us of a lighter, cleaned up and better looking version of the Dell Venue 8 Pro we talked about in the last podcast. But the iconia Tab 8 has a better screen, feels nicer to hold and has a MUCH more interesting price.
So lets play "the Price is Right" on this one. How much would an 370 gram, 8 inch Windows Tablet with 32 gigabytes of storage, and , a FULL version of Windows 8.1. -with-Bing and a YEAR access to Office 365 and Onedrive  ? … The actual price is the very reason for this article. It is the very reason that this device falls out of line with everything that is currently available on the market with specs/services like that. Its … 149 euro's.  !! For less then the price of a stupid B-Grade Yarvik Android Tablet (with Gingerbread) you get a full Windows device that lets you install 'regular' apps, pick apps Windows App store and use Office 365 for a whole year. Its rridiculous!
So what might this mean.
This means that this physical device costs less then the cost of its Windows and Office 365 licence combined. It is a part of Microsoft strategy to fight of the rise of the Chromebook with the addition that THIS device lets you actually do things offline (or open up the command prompt

). The device is ONE TENTH the price of Microsofts Surface Pro 3 ! (ok , its a lot less powerful with only a Quad core Atom processor) but still.  This puts this tablet (and its Windows 8.1.  environment) in the hands of your kid to use for school/play/porn at a price point that is comparable to a pair of a Senseo Coffeemaker It is a disruptive price that might tear the Geek space time continuum a new one.
We haven't had a chance to do a deep-dive with this device. But you know we are a sucker for 'high value for money' devices and .. at 149 euro's we WILL be trying this baby out soon. It shows that the market is changing rapidly. From 900 euro high end smartphones to small 8 inch portable 'computers' at 145 euro .. this is going to be a VERY VERY interesting holiday season. By this time next year we predict everybody AND their dog will own some kind of computer. And at 149 euro's a pop .. they probably can.

Related Posts
Oct 30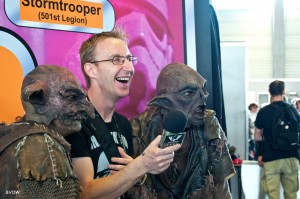 With all these amazing guest bloggers showing us what gear they use and what is "in their geekbags" I feel a little intimidated showing you what I drag around. My "Bag" is my daily companion for the days I work onsite as an IT consultant. It is focused on portability AND the ability to facilitate my creative and commercial activities while i'm out the door.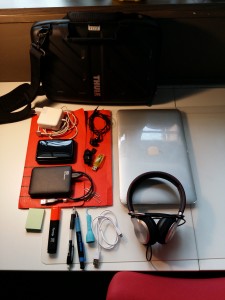 The Bag : I have a thing for bags. I don't have just one :  I have several. As my wife jokes from time to time "I'm like a woman" when it comes to computer bags. Perhaps she is right .. The thing is : I don't believe in "one bag" for every occasion. Depending on where you are going, what you need to take with you and what kind of venture you are attending … a different bag  (or even a different setup of selected gear) might be required.
So in this case i'm showing you my "Day to day – on the road" bag (and its contents). The bag I carry around is a Thule Gauntlet 13. It was orignally designed for a 13 inch Macbook pro, but as I talked about it in the INITIAL REVIEW I did for Knightwise.com, it is a bit of a "Too tight fit" for the 13 inch Macbook but perfect for the setup I use it for. The bag is more of a 'hard-case" then a messenger bag. This makes it compact AND keeps you from "over stuffing" your bag with things you don't need. Like an old 'attache' case, it offers sturdy protection but also allows just  a finite amount of stuff you can cram in it. This is both a positive and a negative thing. The bag is stylish (important) rugged (it protects my gear) organised (it has pockets and compartments) and waterproof (I tested that by aiming a garden hose toward it.) You can go for a detailed review HERE .
The laptop : I have a 15 inch Macbook Pro I use for just about everything. But I also held on to my 11 inch Macbook air that I got last year. Partly for sentimental reasons (its just a great device) but also for practical reasons : I would be terrified taking my 15 inch Macbook Pro on the road with me every day. Its too valuable for me  (and also a little bit too bulky). The Macbook Air  is also my 'experimental machine' to run Linux distro's and stuff. It is encased in a clear plastic hardcase I bought on Ebay (i'm also a little bit of a case-afficionado) and on its 128Gig ssd drive I've dual booted Osx Mavericks and Elementary OS Linux.
Headphones : My wife bought me a pair of Philips Headphones (I don't know the type, threw away the box) that sit snugly ON my ears (not one of those sets that goes AROUND your ears). I like them because they are still quite discrete and stylish to use on the road, yet offer good sound quality. I also carry around a pair of apple in-ear earbuds. (not in the picture). These are great for recording audio, listening to podcasts while walking outside .. and they are just plain indestructible. (I have had my pair since Christmas 2012 and they have been through the washing machine 5 times now…) What IS in the picture is a pair of el-cheapo Samsung earbuds I keep in my bag as a spare. Yeah .. triple redundant headphone/earbud setup.. i'm a geek.
Cables : Very few. A charger for the Macbook Air and a micro usb cable to charge my phone, the blue thing is one of those adapters that lets you transfer files from a usb stick TO your phone. I have no idea why I keep carrying it around since its a little redundant .. but I haven't taken it out yet.
"Writing utensils"  : Pens : As few as possible. A highlighter, a black and a blue pen (a blue STAR WARS pen !) and a couple of small post it notes I use religiously to keep tabs on whatever paperwork i'm dragging around.  I also carry around a manila folder (the red one) for every slip of paper I need to handle. It keeps the paperwork free from creases and prevents me from losing any document/piece of important paperwork that is smaller in size then a sheet of wallpaper. I don't carry around a notebook or one of those snobby Moleskin books. I don't believe in paper.
Harddrive : A one terabyte Western Digital Hard drive (usb powered) for those situations where I need to carry stuff around that does not fit on the drive of my laptop. It is pre-packed with some movies, some music and some tv shows to  watch, should I get stuck on an airport or a train station. I NEVER plug this drive into a foreign computer and have thought about encrypting it too.
Usb sticks : 2 Usb sticks , one 8 gigabyte 'Darth Vader' one that sports a Live usb version of TAILS (the super secure privacy oriented linux distro that Snowden used) whenever I need to work on a computer that is "not trusted". There are also some portable apps on there when I'm working on a foreign Windows machine. The other 16 gigabyte stick is just there to "sneakernet" data across.
Box of business cards : Running your own company means carrying around business cards. My super geeky wife found out that these little plastic "wallets" are perfect for doing just that.
Not in the picture.
My phone  :  I use a Samsung Galaxy Note 3 on a daily basis, combined with a 1st generation Galaxy Gear smartwatch. The Note3 takes care of many of my entertainment and communication needs. The Note3 is also the main "connectivity device" when I'm unable to smooch off some free wifi.
Related Posts
Oct 29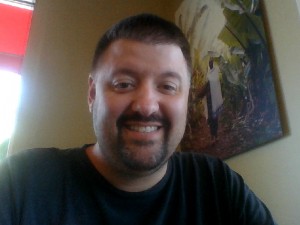 Matt McGraw is a full time, at home dad in Northern California, USA. He has 3 awesome kids and the most beautiful wife in the world. In his free time… never mind, he doesn't have free time. When his kids are sleeping he writes at g33kdad.thestrangeland.net and tries to put out 2 episodes of his podcast, The G33k Dad Show! each month. You can follow him on twitter @sahg33kdad and on Google+ at google.com/+MattMcGraw.
Greetings Wisegirls and Wiseguys!  This is Matt, the Stay at Home G33k Dad from Northern California, USA. Knightwise has committed a grave error and asked me to contribute a guest post for What's In My Bag week, so here is my contribution. There is a photo of my stuff laid out on the floor which accompanies this article, so I'll just go through it now.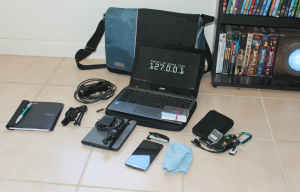 First off, the bag itself. It is a messenger-style bag with a zippered main compartment, a zippered, exterior compartment at each end, and 4 large pockets surrounding the main pocket inside the bag. As I am the Geek Dad, this bag is, in fact, a repurposed diaper bag. We got several diaper bags with our two kids and this particular one was never used, so I decided to use it for my tech bag. As an added bonus, one of the end pockets is designed to transport a bottle, so it is insulated! You will most often find either a bottle of water or a bottle of Diet Mtn. Dew in this pocket.
Moving on to gear, you will notice I am a mobile type of guy. Front and center is my mobile phone, an LG G3 on the Sprint network. We recently (last week at the time of writing this) switched from Verizon to Sprint. I left my Galaxy S3 behind and moved on to the G3. I love the phone, the only downside is battery life. To combat this, I turn the brightness way down and I have associated my calendar and contacts with my ownCloud server running on Digital Ocean. Using calDav and cardDav, I have all the functionality I need and, for some reason, the fewer Google services I use, the longer my battery lasts! Along with my phone are a pair of earbuds which I use to listen to music and podcasts while driving or on the treadmill, and a micro-fiber cleaning cloth for all my devices (and my sunglasses)
The item at center left, is my kindle. I am an avid reader and I love my ebooks. I have the kindle app on my phone, too. With the kindle are a micro usb cable along with a 110 volt wall charger and a 12 volt car charger. These will charge both my phone and my kindle.
Continuing clockwise, you will see a small tripod and a mount that holds a cell phone. I keep this so I have a place to set up my phone if I want to watch a video or if I want to use skype or google hangouts for a video call.
Next to that is a notebook with a mechanical pencil for those rare occasions when I want to jot down an "analog" note. Above this is a collection of cables including a usb extension cable, a 1/8″ stereo patch cable and a full size HDMI cable. I use these along with my…
Acer C720 Chromebook which you see in the middle of the photo, sitting on top of a Case Logic sleave-style case. You may also notice, sitting on the chromebook, is a stack of business cards. These are for my website and podcast. (http://g33kdad.thestrangeland.net) I love my chromebook. In fact, I am writing this blog post on it right now. Just about everything I do, I do on the web so I live in a browser; this includes writing, social networks, managing websites, and general organisation of my disorganised life. My friend and co-guest blogger, Daniel Messer, The Cyberpunk Librarian, says his favourite operating system is Firefox. In keeping with the slider ethos, he runs firefox on Mac, Linux, and Windows and is able to keep all his data synced and sliding. I feel the same way about Chrome. I run it on my linux laptops and of course, on my chromebook. I do run Chrome OS on my chromebook, by the way. Many people suggest that the best use for a chromebook is installing an open source bios and running linux on it; someday I may do that. However, I like keeping this machine lean and nimble. And with 2 minor exceptions, it does everything I want it to do. Those exceptions are Skype and audio recording/editing. When I record my podcast or an episode for Hacker Public Radio, I use Ubuntu and run Audacity.
Rounding out my bag is a stack of USB flash drives and a 300GB Western Digital USB hard drive. I have LOTS of USB sticks. I have one that simply runs TAILS linux, so I can boot into an anonymous OS. Another is set up with Multiboot so I can carry clonezilla, system rescue cd, super grub disk, as well as a couple of Linux distribution ISOs. I have one stick that just contains media; like music and movies. I also have a couple just for whatever. I subscribe to the theory of redundancy which states, if it doesn't exist in three places, it doesn't exist. To that end, I always have plenty of storage media with me.
So, that wraps up "what's in my bag." I carry this bag almost every day. It is very comfortable and it serves my purposes quite well. I do swap some things out… or add in my waterproof, digital point and shoot camera from time to time. But, for the most part, what you see is what I carry. You may notice I do not carry a charging rig for the chromebook. That is mainly because this machine gets days of battery life. If I am traveling extendedly out of town, it is easy to slip the charger into the mix.
Thanks for checking out my post. If you want to find more of me, visit my website at http://g33kdad.thestrangeland.net. There you will find articles on the intersection of technology and parenting and also my fledgling podcast, The G33k Dad Show! Take care all, and I'll see you in cyberspace.
Related Posts
Oct 28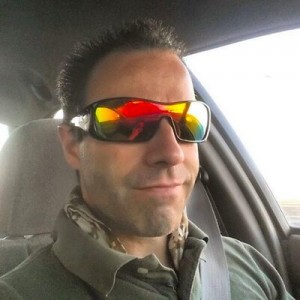 I sometimes joke that I live online, but that's not far from the truth. By profession, I'm a Web Content Manager for a public library district in Phoenix, Arizona. I create and manage online content for the library's website and assorted web based properties and presences. Beyond that, I'm a podcaster and the host of Cyberpunk Librarian; a show about libraries and technology. I blog and write for websites. I've done online video and an online documentary series dealing with popular history. Im a digital illustrator and graphic designer. I've written two non-fiction eBooks you can find on Amazon and composed music you can find on Soundcloud
Sooner or later, almost everything I do ends up on the web.
It's not just my job to create stuff and put it on the web, it's my passion. On the librarian side of things, it's crucial that the library's web content work in as many places as possible, so I carry gear devoted to the life of a professional web guy who's enthusiastic about online content.
My bag is very simple, a basic Merona messenger bag I picked up at Target maybe a year ago. It's got a big space for stuff, a smaller zipper pouch for smaller stuff, and two big pockets on the front for whatever else. It's not as feature rich as a Timbuk2 bag, but it does the job well.
Magazines – Yes, words and images printed on dead trees and I'm fortunate to have a job where Rolling Stone is considered a "professional periodical." I love magazines and frequently read them on my tablet.
Panasonic Lumix DMC-FZ8 – This is a step up from a basic point and shoot, but it's not as feature filled as a DSLR. I'm an image junky, so I take pictures occasionally and I'm trying to take more of them more often.
Albuterol inhaler – "Sucks to your ass-mar!" Ralph. Lord of the Flies (A literary reference from a librarian. Go figure!)
Yak Pak disc headphones – These things don't have sound like Sennheiser headphones or anything. However I also won't freak out if they get lost or broken. If I carried Sennheisers and they were lost or stolen, I'd cry myself to sleep that night.
Wallet – No cash, so don't bother. I don't carry cash all that often but I do need someplace to put my driver's license, debit and credit cards, and medical insurance stuff. Truth be told, I hate wallets. This is just easier than carrying the stuff loosely.
Business cards – Daniel Messer. Web Content Manager. Maricopa County Library District. Can I help you?
Samsung Galaxy Note 3 – Running Kit Kat on the Verizon network. I carried an iPhone 4s for two and a half years before moving up to this. I can't go back, I love my big phone. This is the computer I take everywhere and the thing that keeps me connected 24/7.
iPad 3 – Okay, I know this is weird, but when it comes to tablets I prefer iOS over Android. I just haven't found an Android tablet as nice as an iPad that does all of the things an iPad does for me. This is my daily driver as far as tablets go and it goes with me almost everywhere.
Old prescription bottle – Unfortunately, there's nothing stronger than ibuprofen and some antacid tablets. I have a bad back so the ibuprofen gets a fair bit of use.
MagSafe charger for my….
Mid 2013, 11 inch MacBook Air – This is my digital baby. I love this laptop and take it to work every day. Sure, I tell people that I use it to test website changes on Safari. The truth is, this is my primary computer. I produce video and audio on it. I use it for digital illustration. It's my writing platform and my podcasting production system. I call her Angelique.
Wired, USB mouse – I love the trackpad on the MacBook, but when I'm writing, I need a mouse. It's just easier for me to write prose, emails, and code with a mouse nearby. I don't use the mouse at all most of the time, but when I need to get the cursor between two letters, the mouse wins. Yes, it's a simple USB, wired mouse. While I like Bluetooth mice, I've never had a connection issue with a wired mouse.
Samsung Galaxy Tab 3, 7 inch – My eReader for eBooks. I'm a librarian, I read a lot. I guess it kind of makes sense that, as a technologically minded librarian, I read a lot on several different devices.
Grid-It organizer by Cocoon – It's like lots and lots of runner bands! It holds the various charging cables for the various devices. It has a zippered pocket on the back for…
Various plugs – Well, yeah. You have to have something to plug those cables into.
Battery charger for the Lumix DMC-FZ8 – It's an older camera and the battery is still good, but it certainly doesn't last as long as it used to.
Merkury Innovations Power Bank – Merkury is a decent supplier of inexpensive tech. They make Bluetooth keyboards which aren't bad at all and this little power pack will charge my phone from dead to 60%. I don't use it often, but when I need it, it's a life saver. It's also much cheaper than a Mophie Pack.
Refillable spray sanitizer – Just a little spritz and you'll kill most of the germs on anything. Basically, it's just rubbing alcohol in a sprayer. I'm not a germaphobe at all, but sometimes, yeah, you need to clean your hands.
Assorted pens – Oddly enough, I don't have a single thing to write on.
Apple BlueTooth Keyboard  – When you write as much as I do, this thing is a must have. Sure there are other keyboards for the iPad out there, but I've yet to find anything as good as this. My iPad is my daily computer and I use it as much as my MacBook Air. It's great for work, for my own projects, for writing, for blogging, and almost anything else. When I leave the house with my bag, you can guarantee that this keyboard and my iPad are in it.
Related Posts
Oct 27
This week we offer you a treat ! Some of the best guestbloggers from the Knightwise.com community (each allstar bloggers, podcasters and content producters) have joined forces to write up a series of articles about "what's in their bag". What do they carry around on their geeky roadwarrior adventures. How do they use it and why . We kick off with Tim King. A voice many of you know since he closes up every single Knightwise.com podcast. You have the floor Tim.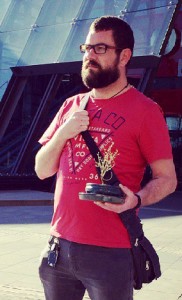 I'm Tim (Regravity), I'm a media developer for a large organisation in Australia. My work usually includes video / audio development, interactive media creation and UX/UI design.
Most mornings I start off by putting on my flat cap (1.) as I walk out the door of my house and drive to work. Pretty soon after I arrive I plug in my portable hdd (4.) strap on my headphones (6.) and crack open iTunes for some music. My Bendigo Bank (2.) security token is important if I need to pay any bills or transfer money no matter where I go so I usually have it with me.
Data transport can be a difficult issue sometimes so I carry three flash drives (10., 11., 12.) with me just in case I need to grab a file or give something to a co-worker. I also use the microSD card reader (13.) if someone hands me a card from a camera, tablet or phone.
Because I have a Samsung Galaxy S3 (8.) which is getting a little long in the tooth I often have to top up the battery with my phone charger (5.), can't wait to get an iPhone 6 shortly! I also take with me a small notebook (7.) so I can jot down the crazy ideas I have for technology solutions, short stories (I'm an avid writer) and generally how to solve the problems of the world. 
The male-to-male audio cable (3.) isn't really a critical piece of gear, but I have it just incase I need to record audio off a weird device like a digital note taker or someones phone.
As I mentioned before I'm a hobby writer, so I like to keep myself well read, hence I bring my Kindle Paperwhite (9.) to work for a quick read during my lunch break. Currently I'm reading the classic cyberpunk novel Neuromancer by William Gibson.
Finally I cram all that into my bag (14.) fairly neatly and I'm good to go!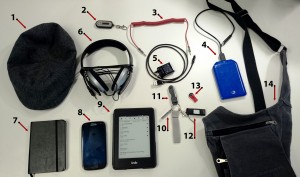 The list : 
1. Roger David – Teddy Flat Cap
http://www.rogerdavid.com.au/teddy-flat-cap-12747.html
2. Bendigo Bank Security Token
http://www.bendigobank.com.au/public/
3. Belkin MIXIT Coiled 3.5mm Male-to-Male Audio Cable
http://www.belkin.com/au/p/P-AV10126/
4. Seagate FreeAgent GoFlex 500 GB Portable HDD
http://www.cnet.com/au/products/seagate-freeagent-goflex-ultra-portable-usb-3-0-1-5tb/
5. Samsung Portable Charger
http://www.shopandroid.com/samsung-micro-usb-1a-travel-charger/5AA11813.htm
6. Sennheiser HD 408 Headphones
http://www.kosmic.com.au/sennheiser-hd408-open-headphones/
7. J.Burrows Pocket Coloured Journal – Black
http://www.officeworks.com.au/shop/officeworks/j-burrows-pocket-coloured-journal-black-jbpcj240bk?searchTerm=j.burrows%20black
8. Samsung Galaxy S3
http://www.samsung.com/global/galaxys3/
9. Amazon Kindle Paperwhite (Second Gen)
http://www.amazon.com/Kindle-Paperwhite-High-Resolution-Display-Built-/dp/B00JG8GOWU/ref=sr_1_1?ie=UTF8&qid=1413522303&sr=8-1&keywords=kindle+paperwhite
10. Dyna Store 8GB Hook USB 2.0 Flash Drive
http://www.officeworks.com.au/shop/officeworks/dyna-store-8gb-hook-usb2-0-flash-drive-dy8gbusb
11. Lexar JumpDrive 16GB TwistTurn USB Flash Drive
http://au.lexar.com/products/lexar-jumpdrive-twistturn-usb-flash-drive?category=1718
12. Sandisk Cruzer 8GB USB Flash Drive
http://kb.sandisk.com/app/answers/detail/a_id/2446/~/sandisk-cruzer-usb-flash-drive
13. SanDisk MobileMate Duo Card Reader
http://www.officeworks.com.au/shop/officeworks/sandisk-mobilemate-duo-card-reader-br190777
14. Bells Beach Crossbody Shoulder Bag
Could not find a link.
You can find Tim online over at regravity.com
Related Posts
Oct 25
F.A.C.T.S. is Belgians biggest cosplay anime scifi and comic expo and WE were there. Join our reporters as we interview guests, cosplayers and bootholders about the great fun they have at F.A.C.T.S.  A chat with the Cheshire cat, a fling with the fawn, Orks all around and a perfect replica of Kit and CAR from Knightrider. If that isn't enough how about a talk to the mother of dragons ? Tea-Time at the Whovians and a fantastic look at how a Quidditch match is played.  Get your geek on : This is Knightwise.com at F.A.C.T.S. 2014
Shownotes.
Production.
Camera 1 : Stefaan Lesage
Camera 2 : Sarah Droogmans
Photographer 1 : Dorien Goossens
Photographer 2 : Bert Vandewynckele
Interviews : Knightwise
Drone footage : www.devia.be
Music
More
KW903 : Knightwise.com at F.A.C.T.S. 2014.
Related Posts
---