Feb 15
If you ever watched the movie Wargames (I am showing my age here) or remember the scene inside the control room of the Nebuchadnezzar and you found your geek heart-rate quickening at the sight of all those screens … then you know what I mean when I say : "One display is never enough".
Somehow, having a workstation with multiple computers blasting lines of random code onto several monitors surrounding a hyper-connected fast typing individual has something strangely appealing to it. More computers, more screens, more keyboards, more input, more data .. it somehow enhances our sense of power.
I remember the near fistfight scenario's at the office where users would demand a dual-screen setup. They would vaguely think up scenario's about the need to simultaneously run applications or compare data across the screen. The troglodyte rat-race that had prefaced this situation featured the urge to get "the biggest screen" in the office. Now there was a new kind of 'hip' in town .. the need to have TWO screens. Never mind if they needed it .. their neighbour had two .. so one screen was just not enough.
The domestic geek in the confounds of his own private dungeon is very much the same. ONE computer cannot be enough… you need SEVERAL machines. And since we are well on a roll on tilting the number of devices per user quota , lets add some tablets and smartphones to the mix .. shall we ?
So what you end up with is a complete over-connected bat cave with plenty of systems that you need to maintain. More screens then you can encompass, each displaying a separate part of your information streams (or each redundantly displaying the SAME information streams). Giant "waves" of notifications across all the different systems whenever you get a new reply on Twitter. Plenty of of keyboard-swapping and a dizzying amount of chair-swivelling. Yes : You have built a veritable mission control centre with enough machines to keep 5 people occupied, but you have a staff of one.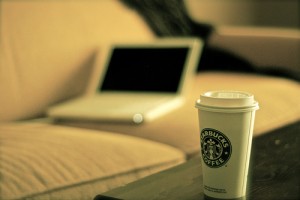 So what if we go back to simplicity ? Last week, I had to confine myself to our kitchen table downstairs so I could keep my wife (who had the flu) company as she was sleeping on the couch. My "Mission Control Centre" sat unmanned upstairs. The only thing I had was my laptop, a notebook riser, an external keyboard and mouse .. and a pair of earphones. My geek universe shrunk to ONE 13 INCH screen. Can you imagine the horror ? 
So was it horrible ? Did I suffer information deprivation ? Did my fingers grasp the empty air where otherwise secondary (or tertiary) keyboards used to be ? Initially the answer was : YES. It took me quite  to squeeze all of my workflows onto one machine/display but after a couple of hours I started to enjoy it. I  have to admit , my personal digital architecture ( the way I have organised my Cyber Lifestyle) highly favours "sliding" from OS to OS , from machine to machine so I seldom have data or workflows locked down to one specific machine. I could cope with using just 'one machine' for a short time, but would it last ? 
To my own surprise I actually started enjoying it ! The "one machine" approach meant that I could  focus on what I was doing. The distractions were kept down to a minimum (Windows that I did not need simply remained closed) and notifications just came in ONCE on ONE system. When I closed down my email client, I did not get any mail notifications. I didn't have to fight the urge to "check Twitter at a glance". With fewer monitors and fewer systems I gained more focus then ever before.
On top of that, I got back some "intimacy" with my system. When there was a problem, or I needed to figure out how to do stuff , it was just on that ONE machine. It had been a long time since I experienced the feeling of having "one" computer that was "MY" computer and not just  "A" computer. This kind of "human-device" intimacy resulted in me taking extra good care of that machine. I tweaked it to my liking. It took me 25 minutes to find the right wallpaper and really 'settle in' on my machine,  instead of just 'passing by' and quickly rap on the keyboard before moving on. That one little computer became my 'home'.
So I have learned something : More is not always better. I admit it is quite hard to do full screen video editing on a single 13 inch laptop but it does help you focus on the content. More machines means more maintenance, more distractions and more 'distance' from the machine. We loose not only the intimacy with "OUR computer", we also lose the intimacy with the applications we have because we "bounce around" so much. We hop from phone to web interface, from mail client to tablet and loose any 'deep knowledge' of an OS or an application. We don't seem to the time anymore, or better said : We don't TAKE the time.
It felt refreshing to be back upstairs after a couple of days. Basking in the glow of all three 24inch displays, overlooking my digital horizon while leaning back with my hot cup of tea .. but somehow I missed my little excursion. Going back to the basics of one simple machine reminded me .. that sometimes less .. is so much more.
Related Posts
Feb 13
Its guestblogger week on Knightwise.com and today Cody Cooper , Co-host of the "Linux for the rest of us" podcast and all around nice guy, tells us how he ditched his desktop and survived on Android Only.
How I survived on Android.
Would you consider using ONLY your mobile device for a whole day? For all of your computing needs? How about a week? Or a month? With the right amount of preparation and gear most of us COULD do, but would we want to? Wouldn't that be HARD?
 Imagine this: a snow storm hits and you're forced to stay in the town you work because all of the roads leading home are closed. For four days. That was the situation I found myself in. I realise that this is far from the worst situation that one could find themselves in, but here is how I "survived" with my trusty HTC One. The Android in my pocket.
 I was lucky enough to have a sister that lived nearby that agreed to let me stay with her family during the storm. This gave me relief in the fact that when I wasn't running a downtown business during the day I would have a place to go to at night. More importantly a place with internet access, a computer and beer.
Nowadays I'm a little more cautious about using open WiFi and just any computer for my day to day needs, my attempt to be a more responsible and careful technology user. The only machine at her house that I was available to me was her Toshiba laptop… running Windows Vista. I would post a photo of her desktop for fun, but I want you to finish this article and not pass out.
As Knightwise reads this, he says to himself, "But Cody, you're a Linux user! Just use a Live CD or bootable USB stick to make that technology work for you!"
No optical media in the house and the only USB stick was an old Memorex 128mb… which only read as a 34mb drive! It was used for "backing up over the years". The nearest store was stripped bare of these devices as well, because we all know that in case of a storm the very first thing you should do is run to the local store and buy up all of the storage media you can. To this day I don't think I've screamed the F-word in a public place as I did that day.
So, here is a list of Android applications that helped me keep my sanity during this "rough" situation.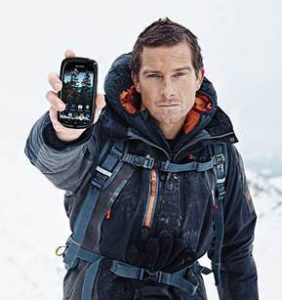 1) Writer 
https://play.google.com/store/apps/details?id=com.jamesmc.writer
This is a very nice minimalist word processor that I hadn't used before. It was a pleasure to use this app as a means of taking notes throughout the day, keeping up on my writing and creating this blogpost.
NOTE – The one extra piece of "tech" that I had in my car aside from my phone charger was an OTG cable, which allowed me hook up a full-sized keyboard to my phone.
2) Pocket
https://play.google.com/store/apps/details?id=com.ideashower.readitlater.pro
For those of you who seem to want to bookmark everything yet find it hard to read anything you have to try Pocket. With an extension available for just about every browser (desktop and mobile) you don't have worry about bookmarking that article, just put in your Pocket and "read it later" anywhere you want. Having all of these articles that I had saved over the past months helped pass the time and I'm very happy I had these available.
 3) Firefox Mobile + HTTPS Everywhere
 https://play.google.com/store/apps/details?id=org.mozilla.firefox
 https://www.eff.org/deeplinks/2014/01/making-the-mobile-web-safer-with-https-everywhere
 The safe browser plug-in HTTPS Everywhere was made available for my favorite mobile browser on the day I got stuck in the snow. Coincidence of the EFF coming to my rescue and providing me a safer browsing experience? You decide?
 4) Pomodroido
 https://play.google.com/store/apps/details?id=net.artifix.pomodroido.free 
This Pomodoro timer is essential for me to get anything done. A great way to keep you on track with tasks and make sure you take your breaks.
 5) Camscanner Pro + Docusign Ink
https://play.google.com/store/apps/details?id=com.intsig.camscanner
https://play.google.com/store/apps/details?id=com.docusign.ink
I always like get my taxes done ASAP. It was during this time that I had collected all of my financial documents to take to my tax preparer and then I got stuck in the snow. Using these two apps (and PGP encryted e-mail) I was able to digitally scan my documents and send them to my tax preparer, then sign the digital documents and send them back. Who needs a fax machine? This is the 21st century!
6) Doggcatcher
https://play.google.com/store/apps/details?id=com.snoggdoggler.android.applications.doggcatcher.v1_0
My mobile entertainment source for years. Many podcatchers come and go, but this one holds a special place in my heart with it's simple and clean interface. I've tried all the rest, but I still go back to "DC" when I need to get caught up on my podcasts.
7) Voxer
https://play.google.com/store/apps/details?id=com.rebelvox.voxer
This is the one app that I can honestly say I use everyday. Think of it as a digital walkie-talkie that you can use to have a conversation througout the day with someone, or a large group of people. This app has single handedly kept me in touch with my friends around the world whether it be collaboration on projects or just to keep in touch. You can also send text and photos during Voxer chat.
8) Flappy Bird
Just kidding!
9) Aldiko
https://play.google.com/store/apps/details?id=com.aldiko.android
My ebook of choice. This very versatile app will read a variety of formats and provide you with a nice interface with which to navigate your digital library.
 10) Archos Video
https://play.google.com/store/apps/details?id=com.archos.mediacenter.videofree
This app gave me a great interface to watch video that I had saved in the cloud. Very clean interface that gets better with every release. I knew stockpiling those Hak5 episodes in my Dropbox account would pay off someday!
One would assume I would have had a camera app, or a weather app but I tend to treat the outdoors like my ex-girlfriends: Avoid contact at all cost!
 In a future post I would like to share with you my new EDC Bag filled with all my tech goodies that will help me "survive" a bit longer next time as well as some other Android tools that you can use away from home.
About Cody.
Cody Cooper is a tech enthusiast, advocate for The Accessible Computing Foundation (www.theacf.co) and podcaster who co-hosts "Linux for the Rest of Us" on the Podnutz Network (www.podnutz.com) He enjoys food, beer and preparing for his childrens future with technology. Please contact him on Google+ or by sending an e-mail to cody@podnutz.com
Related Posts
Feb 12
On day 3 of guestblogger week we are very happy to welcome Belgian Blogger Matthew to the scene. As an editor of Belgiums biggest online gaming magazine and a gaming aficionado,  he gives you seven golden rules for 'Gaming on a tight budget'
7 rules for gamers on a budget ( By Matthew )
As somebody who plays video games on a professional level, it's easy for me to get all the latest games without any cost. But I have to admit: gaming is a expensive hobby. When you want to buy a title early after launch, you'll be charged at least sixty euros. And then we aren't even talking about the machines we're playing on. But there are some tricks to game for not even half the price. And it's completely legal!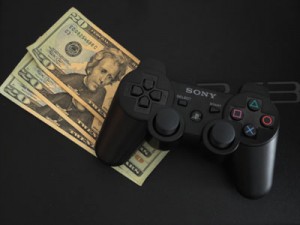 Tip 1: Don't buy games immediately
This is one of the basic rules. While I understand that you want to get your hands on that new title as soon as possible, it might not be a bad idea to wait a while. High prices are set for the early adopters and while some companies give you an advantage if you buy them early, like double experience weekends, free extras or a limited edition, it's not always worth it. Actually, a lot of games drop at least twenty euros just a month post-release. That's a 33 percent discount for just waiting. The latest Call of Duty instalment is for example available at 44 euros, while it launched at 64 in November, just three months later. And less than two months after Gran Turismo 6 went for sale for 69 euros, it's now yours for less than 40 bucks. Waiting is good for you. And the longer you wait, the cheaper it gets. It's something that you really need to think about. Is it worth to play that awesome title immediately? I sometimes buy my games over a year later at a 80 percent discount. Those games aren't rubbish just because they're a year old. Great games stay great. No matter what. So just wait a bit.
Tip 2: Choose the right store for boxed copies
Most people like boxed copies. This way they are able to show off their collection. If you really need your game in a neat case, plastic wrapped and with a instruction booklet included, then you need to find the proper store. First of all you have to know that the game publishers will set a advised price, so that the stores know what is a good deal. But Sony for example sets those prices way too high for their exclusive titles, so a lot of stores will charge you 74 euros for new games. Specialised stores also tend to pick higher prices, because they will charge you there professionally and knowledge. Less known stores who sell about everything else, won't lower their prices immediately because they have no clue what a game is worth and they just want to make profit. So look around. Don't buy your games in a single store but compare prices and locate the best deals for your bucks.
Tip 3: Buy online
You might know this already, but buying stuff online is usually cheaper. There are many online stores who sell video games and there's a lot of competition between each other. So when you check the local online stores, you will definitely find games a lot cheaper. That's usually because they don't care about the advised prices set by the publishers and their marketing managers. They lower their prices to raise awareness and sell more stuff. Unlike retail stores, they do not buy their games through official distributors, so their stock prices are usually lower too. They do not need to pay rent for their shops or employees to sell. So they do not need those higher prices.
Tip 4: Why not choose to import?
So if buying online is cheaper, why not choose to use international exchange rates to your advantage? Games in England usually cost 40 pounds when they are just released. But that's just a mere 48 euros, while here we will pay 60 or more for that same title. To be honest, you will be charged more for shipping, but some international online stores might have some great deals too. The British shop Game.co.uk for example sends everything internationally for just 2,95 GBP. Buy more than one game and you're good to go. And they even have a points system. You will quickly collect enough points to lower the price sensibly. Importing doesn't harm your consoles or games. Just make sure your system will run imported games. The PlayStation 3 and 4 both will play games from over the world and are not region locked. The Xbox 360 will play about half of the imported games, but there are a lot of compatibility charts available online. Also make sure your targeted game is available in your language! French and German stores usually sell games only in their languages so please take notice!
Tip 5: Digital is cheaper
When you buy a boxed copy, you will not only be charged for the game, but also for everything that happened until you took the game off the shelves or the mailing service delivered it at your door. So you'll pay for the employees, the distribution and the boxing. Buying a game digitally – without the packaging – is a lot cheaper. Every available console comes with a complimentary online store with great prices. You might save five to ten bucks on games, you can buy them at home and they will be downloaded to your system immediately. You will need a proper internet connection and some patience though until those games have been downloaded. Some games might take up to 40 GB, so don't download games unless your internet provider doesn't shut you down for downloading this much. On PC there are much more possibilities. Steam is a online store powered by the great people at Valve. They sell their games at a much lower prices then you would online, and they drop their prices reasonably quickly too.
Tip 6: Wait for digital sales
Steam also has another advantage: they sometimes tend to throw everything at your face, just because they want to. About every three months they will organise the Steam Sales weeks. Nearly every recent title will have at least a 20 percent discount, with additional daily and hourly sales. It's sometimes a gamble to choose the right time for buying a game during the Steam Sales, because the amount of discount can really change every few hours. Valve also has weekly and daily sales all over the year and sometimes has discounts on whole franchises, up to 70 percent. There are also other ways to buy games for less. Online stores like G2Play.net buys Steam keys in bulk and sells them with huge discounts, up to 60 percent off! Gamers with a console also have occasional discounts. There are weekly sales for both Xbox and PlayStation, so just check the online stores for the best deals, usually up to 70 percent. Even better are the Humble Bundles and Indie Royale Bundles, where you can buy four to eight games in one collection… and you can choose the price! If you want to, you can buy them for just one cent, but all the proceedings go to charity, so I tend to pay about 15 bucks. Then my conscience isn't messing with me afterwards. And if you beat the average donation, you will receive more games. Ka-ching!
Tip 7: Streaming and subscriptions
Last but not least, there's also another option if you do not care about owning games but just having fun. Like Netflix and Spotify, it's possible to stream video games. Some supercomputer in a datacenter will have the game set up for you, while you will only watch a video stream of it. You actually do not need a powerful PC to play those games. Even better: you can game in your tablet or smartphone. It's just watching a movie really. OnLive is a great example where you can stream video games. They "rent" some games for just a few bucks a week, but you can also subscribe to the PlayPack for 9,99 a month and you can play over hundreds of games. While PlayStation is busy with their streaming service called PlayStation Now, they also have something called Instant Game Collection as a selling point for their PlayStation Plus subscription. If you pay 6,99 a month (or 49,99 a year), you will get access to about fifteen games each month, selected by the company. And if you think those games will suck, then think again. Most games have been nominated for Game of the Year before, so I can guarantee that this is a must-have subscription if you own a PlayStation 3, 4 or Vita. And even better: you will have a ten percent discount on the PlayStation Store too. The Xbox 360 has the Xbox Live Gold subscription which grants you two free games each month. While they are great too, they are usually older titles. And you can keep them, while you can't on PlayStation. If you want to quit PlayStation Plus, you will lose your ability to play those downloaded games.
Matthew Deboysere is a video game journalist for several Belgian media. Is the co-founder of G.Mag, a free digital gaming magazine, but left for a new adventure. Previously wrote for GUNK and 9lives. Loves video games with a great story that reduces him to tears. And cat videos.
Related Posts
Feb 11
It's Guestblogger week on Knightwise.com where we have our community members give you their best hacks tips and tweaks for cross platform geeks. Today we are very happy to announce guestblogger Kevin who does a magnificent writeup on the state of Apple AND how to "slide" down from your iCloud into the land of Android WITHOUT losing any functionality. If you want to have one foot in the walled garden of Apple, but still want to bite into the Android 'apple' … Read on ! 
Kevin from Connecticut has been providing computer consulting services to residential and small business users for 15+ years.   He blogs about tech at TheAcronym.com.
 As Apple Slips From Perfection,  Don't Fear Trying Android : Connecting your Android to the Icloud. by Kevin from Connecticut
 I'm sick of tech purists.  Too often people adhere to brands or categories like they are members of an irrational cult.  In a recent article Walt Mossberg referred to the Mac cult, the Windows cult, and the open source cult among others.  Why don't we just say — use the best tech you can, within your budget, that truly meets your needs or helps you reach the goal you are seeking.  I belong to a  MUG (Mac User Group) and have been a member for 10 years.  There is a lot less Mac extremism these days than when I first started.  However, in the pre-iPhone days many members loved to use a Palm Treo  because Palm's Desktop program synced so well with OS X.   Once the iPhone and iPad rolled out, Mac fanatics thought they had hit the trifecta with the perfect computer, phone, and tablet.
 Four years later, I think many Mac owners are freeing themselves from the bondage of feeling like they must use all Apple devices.  Having primarily been a Mac users for the past 10 years (and just recently changing to Windows), using an iPhone 5c as my phone and having owned an iPad I would say that the closest Apple comes to perfection is with their tablets.  When I bought my first Mac in 2004, a PowerBook 15,  Mactinosh was an enthusiast brand.  The Mac user base was a lot smaller.  Being part of a community  meant something.  Macs sported some of the best tech, a blossoming OS, and were serviceable.  Given recent executive hires from Yves Saint Laurent and Burberry, Apple is really shifting from being an enthusiast brand to becoming a boutique brand.  RAM is not serviceable on any of the 2013 model MacBooks.  The SSDs can be swapped out but do not use the industry standard, 2.5" form factor.  The iMac isn't serviceable at all and the MacPro is expensive and playing hard to get.  Truth be told, the soon-to-be-gone 13 inch non-Retina MacBook Pro along with the Mac Mini are the only two models that I can passionately recommend.  They represent the spirit of the Mac brand as I knew it 10 years ago.  I never bought into the "Apple Tax Theory".   You can easily drop $1400 on a great Windows laptop these days.  However, with Apple making its computers less serviceable, and driving out independent Mac sellers / repair shops, you may have to wait several days (even up to a week) to get your Mac repaired by them.   Therefore, you really need two Macs.  Enjoy your tax!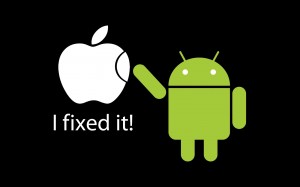 There is no shame in being a Mac user and toting an Android phone. The iPhone 5 and 5c are still only 4 inches.   Clearly the sweet spot among all other phones out there is 4.7 to 5 inches.   Think Moto X, HTC One, Nexus 5, Galaxy S4.   People want more room to type, more width, and more height when their phone is in landscape mode.  The iPhone needed a growth spurt last fall and there was no change.  On an episode of the Your Mac Life Show podcast prior to the release of the iPhone 4s, Mac pundit Jim Dalrymple infamously said — "Apple could keep the iPhone the same, drop it in shit and sell it as 'the new iPhone' and people would still flock to it by the millions."   First of all,  I think that's really insulting to think that iPhone customers are that naive and will always be blindly loyal to Apple.  Furthermore, Jim's statement was a self-fulfilling prophecy for Apple.   The iPhone 5s is essentially a retread, dipped in crap, and sold with a new name.   The faecal coating on this phone is iOS  up until 7.0.4, the current (non-China) version of as of the publication of this post.
 Enthusiast Mac owners are clamouring for something more with their phones.  They want to access the file system and a folder structure – something available with any decent Android phone.   Without a doubt, the Android OS is better for people who want as many communication options at their finger tips as possible.   In IOS you might be able to share from one app to 3 or 4 different apps at most.   With Android, you can take a photo or a news reader article and share this to all 10 of your messaging apps, all three of your e-mail clients, and many other apps.  Android does not try to restrict what you can share between apps.  Just make sure that these are safe apps!    However, the Mac user has an attachment to iCloud and its e-mail, contacts, and calendar offering.
 You needn't feel like you have to convert all three of these services over to Google, though you will probably want to create a Google account when you get your Android device for the purpose of downloading apps from the Play Store   You don't have to use the associated Gmail account as your primary e-mail address.
You can set this up in the Mail or E-Mail app on your Android device.  This is NOT the Gmail app.   If you don't like the stock E-Mail app on your device, please download K9 (free) in the Play Store.   https://play.google.com/store/apps/details?id=com.fsck.k9
Instructions for configuring your iCloud mail in any 3rd party client can be found here https://support.apple.com/kb/ht4864
 iCloud Contacts and Calendar
You will want to install the following apps from the Play Store
Smooth Sync for iCloud Calendar https://play.google.com/store/apps/details?id=org.dmfs.caldav.icloud
Smooth Sync for iCloud Contacts https://play.google.com/store/apps/details?id=org.dmfs.carddav.icloud
The developer Marten Gajda has created two virtually flawless apps and he is very responsive to users' concerns.
Should be running an Android 4.1 Jelly Bean device, you may need to install the (free) workaround apps that he created for you.
There have been instances of apps logged into non-Google accounts losing their saved logins upon a device reboot.
https://play.google.com/store/apps/details?id=org.dmfs.jb.workaround.icloudcalendar
https://play.google.com/store/apps/details?id=org.dmfs.jb.workaround.icloudcontacts
 I have used Marten's apps a Motorola Droid HD (2012),  Samsung Galaxy S3 Mini, and Nexus 7 — without issues.
 The Smooth Sync apps, offer incredible value at a combined cost of under $8 US, and allow Mac users to to experience the joys of Android without giving up their trusted iCloud services.
Links : You can find more of Kevin's great work over at The Acronym Online.
–
Related Posts
Feb 10
This week it's guestblogger week on Knightwise.com where our community members step up and share their hacks tips and tweaks for cross platform geeks. We kick of the week with digital maven Gerard Moonen (Communication specialist, webdesigner and all round nice guy) telling us how he deals with Geek-OCD : Our tendency to waste away hours and hours to solve a technical problem. His answer is simple short .. and brilliant.
"The geek OCD silver bullet"
Use a timebox! That's what I thought when I read Knightwise's blogpost on Geek OCD. In the past I always did the same as knightwise. When I encountered a problem I just kept on pounding it until it got solved. Afters hours of trial and error or days of cranking gears in my head… nothing felt more satisfying when I finally found the needle in the haystack.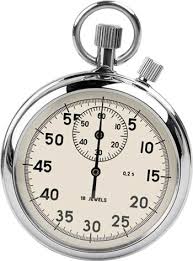 But is it effective? Nope…Not at all. I found out that when I timebox a problem it gets solved more quickly and thus more effective. I trained myself to recognize the OCD moment when I encounter a problem. I hit a timer on my smartphone and give myself a timebox of 15 minutes. If I can't solve it within the given time I will put the problem aside. Don't get me wrong here… Putting it aside is very hard to do. At least for me it is.
But what I learned the hard way is that when I put the problem aside my brain still keeps working on a solution. I'll continue on other tasks and jobs and totally "forget" about my "problem"… Until I go to the gym or go for a nice long walk with my dogs… and out of the blue my brain presents me with a possible solution. This always works for me. I hope it works for you!
Links : Gerard can be found online at MoonenMoonen.nl
Related Posts
Feb 08
 We close up privacy week with this little awareness video. We talked about how the bad guys can sniff and snoop, and how you can protect your traffic by using our tips and tricks. There is however ONE factor we cannot do anything about .. and that is about YOUR behaviour. Privacy is not only about what you keep a secret .. its also about what you choose to share. Below is a little Belgian social media awareness video (I'm pretty proud about the Belgian Part) that will make you see how "trivial" information can be "correlated" into something quite .. Scary …. Beware of what you share ! 
Related Posts
Feb 07
"Privacy is dead" It's one of those boilerplate expressions you hear whenever there is a discussion about the NSA sniffing bits along some transatlantic cable, or a scandal about a flash light application that shares all your contacts with a Chinese scammer. Perhaps people are right. Keeping your data to yourself is becoming harder and harder to do. Marketeers, Governments, applications, devices, .. they all seem to be out to track and trace our every move and share whatever we do with the world.
 Google knows all about my emails, Facebook knows everything about my life. My Cellphone is playing little snitch to some Canadian marketing agency in their plan to help push targeted advertising my way. Why should I bother with privacy ?
 "Why should we bother" Well : you can ask yourself that question. The only way to remain untraced these days is to crawl into a cave  in the centre of the woods and never come out.  
 But when I look at most people around me … they seem to be doing the opposite. Not only don't they have a problem with their privacy being invaded .. they seem to rationalize the very invasion of their privacy into something trivial.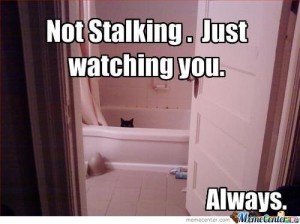 " They can watch me , I have nothing to hide" .
If that were to be true .. why bother wearing clothes to work in the morning. Let's rip off the curtains in the bedroom so everybody can see your "lateral aerobics" on Sunday afternoon.
Lets take away all the doors of the restrooms so we can poop and talk face to face at the same time .. You said you don't have anything to hide .. right ?
 You see, that is where the "nothing to hide' statement" breaks down. Our personal privacy makes us who we are. Whether you are pooping out the longest turd in history OR shooting heroine up your arm .. you will close the door of the toilet stall nevertheless.
 You don't have intimate conversations with your wife from opposite sides of the football-pitch… You don't scratch your lady parts in front of your boss  when they are itchy ?
How about shouting out what you make a year  to your co-workers ? No ? See .. you DO have things to hide. Personal things. And that personal privacy defines you as a person, as an individual .. and not a member of a mindless herd.
 'I'm not doing anything wrong' is another slippery slope. Because "Right" or "Wrong" are relative to whatever situation you are in. Take the family that googled "Fertiliser" and "pressure cooker" on a Sunday afternoon.  They had a swat team break down their door and arrest them on suspicion of trying to blow stuff up. Did they do anything wrong ?
Try doing a paper on Fundamentalism, cancel your life insurance and book a one way plane ticket to the US. You will end up with a lot of questions to answer at best OR a cavity search before you leave the airport. Why ? You're not doing anything wrong.  But the lubed up glove of the border patrol officer sure makes you wonder if something might be 'up'.
 "What can they do with that info anyway"  You would be amazed how you can puzzle the most trivial of data together into one giant revealing blob of information about your interests, your habits, your life.  And if you are lucky , the picture they paint will be correct. What they DO with that picture is completely out of your hands .. But suppose they get it WRONG ? What if taking that information out of perspective, or crunching the data wrong will depict you as somebody chronically addicted to gambling. What if your future boss thinks you are an unreliable alcoholic because he saw those 5 public pictures of you at this embarrassing party. If the information they collect gets misrepresented, distorted or manipulated it can mean a whole lot of trouble. And the more information that's out there , the higher the odds of that happening.
 "I don't care if they are watching". Maybe you don't. But that depends on WHO is watching ? You might not have a problem having your internet traffic logged by the government who want to "keep you safe". But what about that dingy kid in the corner of the internet café who is sniffing the local wifi network for dirty pics and juicy urls ? What about that stalky sys-administrator at work who is going through your logs to find out what flowers you like. ( It's Valentines day soon , creeps need to get laid too) Are you sure you want to be this "open" with them ? Are you sure you don't want to keep some stuff away from nosy snoopers ?
 So take care of your privacy. Don't fall into the trap of thinking that it is JUST the government that is trying to watch you. For every NSA agent looking at your personal data … there are 10 marketeers trying to analyse your habits and e 20 more script kiddies, hackers, key loggers and mallware bots trying to get their hands on your information. You might want to disclose everything to the authorities .. But that doesn't mean you have to do it to everybody else.
 So lets make privacy a statement. I protect my information, my communications and my data NOT because I'm doing anything wrong .. but because I'm NOT doing anything wrong. I'm exercising my basic right of being my own private free individual. I'm not a felon, not a convict. My bedroom does not get searched every two weeks by guards . I'm not in jail. I am free , free to choose NOT to disclose my personal information to ANYONE who queries it.  
So protect your right to your privacy as a basic right of being a free individual. Wear your encryption skills like a medal of your techno-skills.  Be smart and challenge every request for your personal data. Go tell Runkeeper to sod off when it wants to see all your friend info on Facebook. Ditch applications/websites that needlessly want to log or track you. Share what YOU want to share. Your personal privacy is not only a basic part of your personal freedom .. its a statement : The statement that YOU are FREE.
Related Posts
Feb 06
Today's tip in our "Privacy week" is geared a little bit towards the more advanced geek .. (Who am I kidding, you are ALL advanced Geeks here). In our every lasting quest to ensure our privacy when surfing on "foreign networks" like the one at work, the one at your dorm or the free wifi hotspot at Starbucks , we try to find more ways to make sure all your web traffic is encrypted and your privacy is kept safe.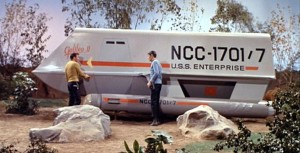 Enter SSHuttle ( NOOO , not the STAR TREK Shuttle) , A brilliant little transparent proxy application that directs ALL or PART of the network traffic from your trusty Linux or Mac machine (the laptop you use on the road) through an SSH tunnel to an SSH server of your choice (perhaps your own server at home). That way your traffic is completely (or partially) obscured from whoever is trying to sniff your traffic on an untrusted network. An added bonus is however that it is a transparent proxy ! This means your computer will actually think it is directly connected to the network where the SSH server is running. It is like running a very very very long cable through the internet straight from your machine to the network where your SSH server is located. 
So let's start cooking.
Ingredients.
How to install SSHuttle on your client machine.
Install SSHuttle on your Linux machine using the command :  sudo apt-get install sshuttle
Install SSHuttle on your Mac by first installing HOMEBREW APP. (Installation instructions) and then typing brew install sshuttle
Shuttle is simple but VERY powerful.  It will create an encrypted tunnel between your laptop and the SSH server you setup at home. Depending on what kind of traffic you want to shove through that tunnel you can do different things like :
Just tunnel your browser traffic through the tunnel,
Shove all of your web traffic through the tunnel (including dns requests),
Shove ALL of your traffic through the tunnel.
Set up a "site 2 site" VPN  between the network you are working on and your network at home.
… and more crazy stuff.
So how does it work ? 
Once installed using SSHuttle is pretty simple. SSHuttle works from the command line and depending on the "switches" it will do different things for you. So on your client laptop , fire up your terminal and start typing.
sshuttle --dns -r username@yourremoteserver.com:2222 0/0
Enter the command above to push ALL of your traffic through the SSH tunnel towards your server at home. This is the example of running a virtual network cable THROUGH the internet towards your switch at home. All of your traffic is sent through this encrypted tunnel. USERNAME = A user you have created on your SSH server at home. YOURREMOTESERVER.COM = The external ip address (or Dynamic DNS name) of your home router. 2222 = The port on which you have your SSH server running. In this example I took a non-default port.
sshuttle  -r username@yourremoteserver.com:2222 192.168.0.0/24
With this command you can create a site to site VPN. Instead of typing 0/0 is going to send ALL the traffic through the tunnel. Typing the network range of your home network (in this case 192.168.0.0) tells SShuttle to send all the traffic that needs to go to the 192.168.0.0 domain through the tunnel, while sending out the rest of your traffic through  whatever network gateway you are connected to.  The /24 is your subnet mask ( you know , the 255.255.255.0 subnet number of your network).
There are a lot of other switches that you can use , but if you use the two commands we mentioned above you will have a LOT of power at your fingertips. I love using the second command. It allows me to connect to the exchange server at work for my work stuff, but also lets me quickly open up the web interface of my home router (on the LAN SIDE) to do some tinkering. SSHuttle is a very very nice tool that keeps you connected .. and keeps your privacy .. private.
Find out more about SSHUTTLE in this HAK5 episode.
Related Posts
Feb 05
Who do you trust ! That is of course the main question in most of the topics of this weeks "Privacy Week" on our blog. When you connect to the internet on your tablet or mobile phone, you have a choice between different networks and carriers.  You can go directly via your mobile phone's dataplan (if you have one) or connect via Wifi. In both cases "somebody" is going to connect you to your internet. For your cell connection that will be your Telco, for your Wifi connection that will be your ISP or the kind person/company who set up the wifi hotspot you are using. The question is : Do you trust them ?  As we told you in our first post : Sniffing unencrypted traffic is very very easy on a network. So when it comes to those open networks in a coffee shop, you never know who is watching. So why not "tunnel" your mobile traffic too. 
Hotspot Shield VPN is my FREE application of choice. It allows you to tunnel all your traffic through their VPN tunnel and lets it emerge somewhere in the US. So anyone who wants to sniff you (either your telco, your local ISP or the dingy kid in the corner with his laptop running Wireshark) won't be able to make out what you are doing. But because you "exit" to the internet on AnchorFree's network (they make the app) , THEY will.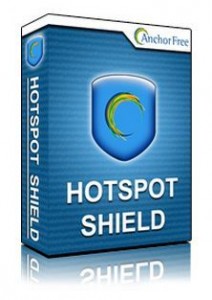 Hotspot shield VPN is free and easy to use. Its not always fast and it comes with adds. Opinions about this service might be mixed, but I regularly use it when I take my IOS or Android mobile device onto an open wifi network that I do not trust. Hotspot Shield also comes with a paid plan with "Monthly and Annual subscriptions available for faster connection, better cost savings and enhanced security. All subscriptions provide unlimited VPN bandwidth and NO ADS" So you can even pay if you want to. Keep stuff safe in a simple way, but remember that every connection (no matter if its through your ISP, the hotspot or these guys) requires 'trust' in whoever is carrying your data.
Get Hotspotshield VPN for : ANDROID and IOS. 
Related Posts