Oct 22
Wikipedia is a relentless source of information knowledge and .. entertainment. The only downside is that its a Wiki. And Wiki's are ugly. Their designs are based towards the sharing and editing of content. The result in an aesthetic sense is that a Wiki looks about as attractive to read through as a 2003 article posted on a corporate Sharepoint.  So, "Yo dog, I heard you like Wiki's .. So i Pimped a Wiki .. in your Wiki"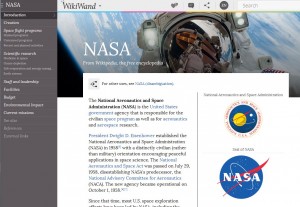 Wikiwand throws a "layer" over the Wikipedia site that makes it easy to browse and agreeable to look at in ways good old Jimmy Wales could never have imagined. Its easier to browse through, soothing on the eyes when it comes to reading long blurbs of text and .. IT HAS BIG BANNER PICTURES !  What are you waiting for ? Go forth, install Wikiwand and look up the number of queen Victoria's toenail clippings preserved for prosperity NOW .. With Wikiwand.
Link: Wikiwand. (Chrome)
Related Posts
Oct 21
This app is dumb .. and at the same time its brilliant ! Taking panoramic shots that span your entire surrounding (the so-called "360's) is not always easy. You have to keep your phone levelled at all times at your "turning in place" skills are obviously not that of a prima ballerina. What to do ?
Enter Cycloramic. An app that lets you take panoramic shots using your iPhone and its .. charger ? Well yes ! Cycloramic uses the camera of your iPhone to take the actual picture, it uses the charger as a base and .. the build in vibrator .. ( Or the built in motor that makes your phone buzz). Its ingenious and pretty spiffy if you ask me.
But don't take our word for it. Watch the cool little vid and give it a "spin".  (ps : for iphone 5 models you don't even need the charger .. the phone 'dances' around on its broader base)

Link : Cycloramic (Apple app store for iPhone 5, 5s and 6)
Related Posts
Oct 20
Smart-phones. That is what we call them .. right ? Well, in todays world we just call them "phones" because aside from aunt Jenny in Pensilvania who holds on to her Nokia 5110 for all eternity, there is no-one left using a "dumb-phone".
However … I think our Smart-phones are pretty dumb ! They distract and interrupt you at the most horrible times. A Facebook message in the middle of a meeting. A phone call right when i'm "in the zone" for writing a good article, Email when i'm watching tv … or a silly ping by Pinterest that "such and  such" is now following me .. AT 4 AM IN THE MORNING.
I hate being a slave of my communications, rushing to get calls, anxious  that i'll "miss out" on emails or messages.  "Offtime" is a great app fror your Android phone that helps you with that. You just set the time when you don't want to be disturbed and Offtime will block any incoming calls, dings, emails and messages EXCEPT from the people you put in your VIP list. Everybody else gets a nice "out of office" message that you have drafted up in advance.
Afraid your internet superstardom will make you "miss out" ? That"s ok. Offtime will give you a summary of what you missed when you get back. The app is free, available for Android, works 'cross device' (messages on your tablet smartphone etc will go 'dark' at the same time) and you can tie in offtime to your calendar.
And their video is adorable. … Offtime. That little curly haired girl that kicks you in the nuts and takes away your cellphone when you don't want to be dist…  OUCH !! HEY … GIMME BACK MY PHONE !!!!

LINK : Offtime (Free , Google Play)
Related Posts
Oct 17
In movie week we list 5 movies every geek should see. The one I saved for last is a cult flick that will go down in history as the coolest but also the corniest movie about hackers EVER made. In 1995 it was pretty hard to explain to "Joe Shmoe" what the internet was .. let alone what a Hacker was. This did not stop Ian Softley to direct "Hackers" (1995 imdb) . An entertaining movie that tried to explain what a hacker was and how he could get into all kinds of trouble. Featuring (a then rather unknown) Angela Jolie the movie is full of strange 3D animations, Noob-proof dialoge and bright pictures to explain what the frack is going on. If you remember one thing about this movie it has to be the line "Hack the Planet" !

Hackers is available on Netflix but if you know how to torrent .. you will find it too.
Related Posts
Oct 17
Its time for episode 2 in Season 9 of the Knightwise.com podcast. Today we take a long overdue look at Windows (Both Windows 8 and Windows Phone /RT) Triggered by a recent purchase of a Dell Venue 8 pro tablet we take a look at what Windows still has to offer. What are the cool apps in the store, what are the killer apps you need on your desktop and which tools give you the best "Cross platform slider – friendly" experience.
You can download the show or watch the live recording (Which is full of glorious bloopers and distractions from the Live chatroom).
Shownotes.
kw902 : What's wrong with Windows ? [ 1:00:07 ]
Related Posts
---
Oct 16
The one thing that has upset the previous generations the most in the modern digital age, is that sometimes a 12 year old kid could come along and be better at something then everybody else. No matter if you had a Harvard degree, or 20 years of experience .. Sometimes some kid came along and did stuff that made your jaw drop. This was the case with Aaron Swartz , a bright kid who founded Reddit. Aaron was an exceptionally gifted person with his own views on freedom of information. This often clashed with a surrounding world that was not quite ready for his pioneering vision. Unfortunately Aaron is no longer with us .. and the sad story why this the case can be discovered in the full documentary below. A "must-watch" !
Related Posts
Oct 15
It is sometimes frustrating to see that history tends to forget those who have played the most important rolls. This is very much the case with the British mathematician Alan Turing who, during the second world war, not only was responsible for breaking the German Enigma code, but also for laying the foundations of the modern day computers we use. Turing has never really gotten the credit he deserved back in the 1950's because of his homosexuality. He died in 1954 and has only recently been "rediscovered" by Hollywood in the upcoming movie "CODEBREAKER" featuring Benedict Cumberbatch.  But this is not the first movie to be made about Turings remarkable life and his utter brilliance. In "Breaking the code" (IMDB 1996) Derek Jacobi portrays Turing in his struggles during the second world war against the Nazi Code .. but also against a narrow minded society that cannot except his true nature.
Related Posts
Oct 14
Its movie week on Knightwise.com where we suggest 5 movies every geek should see because they teach us something about the history of the technology we use everyday. "Revolution OS" is one of those documentaries that give you an insight on "Where things come from". Things, in this movie/documentary being "Linux". How did the open source movement get started, where did it come from and what is the relation between Richard Stallman and Linux Torvalds. We found the full version of this documentary on Youtube .. enjoy and don't forget to look for Stallman's great quote about "Han Solo" .. enjoy.
Related Posts
Oct 13
Technology and geekery are becoming a bigger and bigger part of our lives. Where the internet used to be something only used by university students with beards and open-toe sandals, it is now an integral part of everybody's life. So it is no surprise that some of the persona's who have made that technological evolution happen , have found themselves portrayed on the big screen. Once the silver screen was the exclusive domain of fictional characters portrayed by superstars like Jean Claude van Damme and Silvester Stalone .. These days a movie about how a 17 year old college kid invented a social media network .. is a blockbuster. "Jobs" "The Social Network" … its hard to believe that silicon valley has become so rooted in popular culture that Hollywood has embraced its shady heroes.  But those are the movies that get the limelight , the big productions. This week in "Movie Week" we focus on some of those movies that never "made it big" but that Every geek should see.  3 2 1 … action.
Pirates of Silicon Valley. (IMDB 1999)
Who, in the history of technology was responsible for bringing the PC into our homes. What events transpired to bring a super expensive technology, reserved for boring enterprise calculation work to the bedroom of every teenager in the late 80's. Who was involved, how did it happen and what is so important about a garden shed. "Pirates of Silicon Valley" shows a young Bill Gates, Steve Jobs and Steve Balmer in their struggle to change the world as we know it. An entertaining movie featuring a young Noah Wyle (ER, Falling Skies) in a more unbiased roll as Steve Jobs and Anthony Michael Hall as Bill Gates.
We found this rather blocky trailer on Youtube, but you can watch the entire movie on Netflix HERE. Or you can try the torrentz

.. but we didn't tell you that :p
Related Posts
Sep 30
When Samsung offered us the chance to review the UD970 we didn't have to think about it for long. Getting ones hands on a 4k monitor to gawk at was something we wanted to try out since the very moment Samsung presented the model at IFA in Berlin this year.
"Spec-porn"
The UD970 comes in a box .. a BIG box .. a box that is usually reserved for big things like snow plows, space shuttles and big tv's. Granted , it would have been a bad idea to ship the 31.5 inch display in a paper bag .. So the big box was a good idea. The difference between the UD970 and a Snow plow is the fact that the former has a much higher resolution.  Where classic TV screens of this size have to find their limit at a resolution of 1920 by 1080 (Full HD) the UD970 goes almost up to infinity .. But not beyond. A 4k resolution of 3840 by 2016 means that 'theoretically' the screen real estate of a 31 inch 4K display is about the same as a 62 inch TV screen .. on a theoretical full HD resolution.  And it still fits on your desk (but it might not fit in your budget)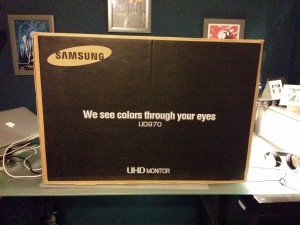 We thought that we would be confronted with a behemoth of a box where you need to puzzle apart 24 pieces of styrofoam , but the UD970 is nicely packaged and taking it out we noticed the very simple and elegant design .  A stable base, slim neck and thin bezel mark the fact that this monitor not only shines in resolution, but also in design. When inspecting the ports we noticed that this monitor can also ROTATE !  Spontaneous hallucinations of 'Triple screen portrait monitor setups' flooded our mind .. But there would be limitations in our budget .. and the number of pixels both a graphics card and the human mind can handle … Without melting down in a puddle of high resolution 4k blubber.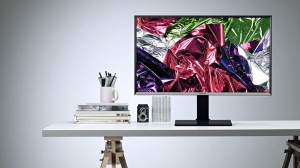 "Hooking it up"
Speaking of puddles .. getting this baby to work was a little bit of a challenge. We hooked it up to the latest and greatest 15 inch Macbook pro (with its high end graphics card) to see just how OK , 4K was … We had some trouble. Hooking it up to the Tunderbold display port with an HDMI adapter ( the UD970 has HDMI, Display port and classic DVI ports) we were disappointed that the maximum resolution we got was a mere 1600 by 900 (according to our Mac). This made the screen look bad. Fuzzy images and obese fonts .. not something we liked. Things got better after we hooked the display straight to our HMDI port .. The result was like staring into oblivion .. 'Double-HD' on this 31 inch display is massive .. So massive its hard to comprehend .. there is SO MUCH ROOM on your screen. Opening up ANY document to full-screen will be a thing of the past. The amount of screen real estate will have you working with tiled windows all the time since you can place so many of them. You will need to "crane your neck" from time to time since you need to cover the full 31 inches of screen right in front of your nose.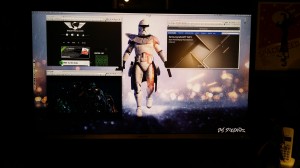 "Not your average holiday catalogue"
The colours and crispness of the screen is very very good for a Samsung display. Where the Oled displays of their smartphones and tablets have over saturated colours and brightness (That make an obituary look like a summer holiday magazine) Samsung has "toned down" the "WHOOOW" factor to resemble something that is more toned towards reality. The matt display, high resolution, thin bezel and slick design give this screen the potential to match or even outclass Apple's expensive cinema display line.
"Dinero mucho baby ? "
We haven't received and official price yet but at the rumored 2000 dollars pricerange this screen is going to be outside the budget range of the average user. The high resolution does require a hefty graphics card (Even our Mac had some trouble) but what you get in return is pretty slick. We shipped the display back to Samsung with mixed feelings .. After getting used to it , i'm pretty sure I would miss the display if I had to miss it .. But I would also miss the car I had to sell in order to get the money to BUY the UD970 in the first place. This display is something for the high end users (or the ones without girlfriends who live in their parents basement). That way they can watch their own My Little Pony marathon on a massive display .. with crisp colors, sharp text, lots of ports and a slim base.
Now excuse us as we drudge back to our 14 inch CRT display with a maximum resolution of 640×480 and watch the world in 8-bit.
Link : The UD970
Related Posts