Jan 04
Some gadgets are just hard to throw out. Perhaps you keep hanging on to them because you have this plan of "using them someday" for "some project". Perhaps you keep hanging on to them because of nostalgia. Whatever reason you might choose, those geeky gadgets that keep occupying that box in your office aren't getting any younger. Why not put them to good use ?
Lets take 2 items in MY junk-box as an example. An aging Asus EEE 701 Netbook PC that I have been hanging onto because of sentimental reasons. (I smuggled it in from the US way before these babies were available in Belgium) Its keyboard is broken and its low specs when it comes to storage, memory and cpu power aren't helping it in finding something useful to do these days. The second item is my first 1tb external hard drive. I haven't thrown this one out because its on my 'for-some-project-some-day' list. Its been on the list for 2 years now … So lets smash them together and turn them into a Remote backup solution using open source software and Bittorrent technology.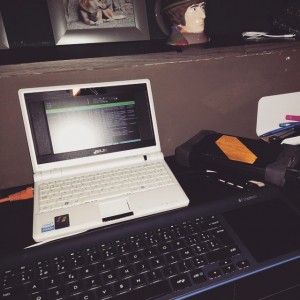 Step 1 : Turn the EEEpc into a headless server.
I downloaded the Image for Ubuntu's 'minimal installer' off the net and have had it kicking around on an old USB stick for a while now. Because of its small footprint its ideal to do 'light' installations of Ubuntu because you can choose which components you want to install. I chose the 'minimal Ubuntu server' and the SSH server component. When the installation was complete I rebooted the laptop and hooked up the external USB drive (that I had formatted in one big FAT32 partition)
Step 2 : Install Webmin and mount the drive.
Because I was going to use my external hard drive to store my remote backups on (the EEEpc doesn't have enough storage) I needed to be sure it was always mounted correctly if my little laptop should have to reboot. So instead of messing around with stuff like FStab config files I installed Webmin. (a Web-based interface to your Linux server). Using the 'Disk and network file system' menu I mounted the external drive into a folder called 'backup drive' that I had created in my home directory. This way I was sure that the external drive was always mounted correctly in the same folder.
Links : Howto install Webmin.
Step 3 : Install Bittorrent Sync.
Next up I installed a copy of Bittorrent Sync both on my local server and on the old eeePc. Following THIS tutorial lets you install Bittorrent Sync and configure the Web interface to be accessible from all over your network. (So make sure you choose a very secure administrator password). When installing Bittorrent sync this way, you are also sure the service always starts up when your computer reboots.
Links : Howto install Bittorrent sync. 
After the installation was complete I surfed to the Bittorrent web interface of my home server (source system) in one tab, and to that of my EEEpc (remote destination system) on another one.
Step 4 : Share a folder on your Source system.
Now it was pretty smooth sailing. On the Bittorrent web interface of my SOURCE machine I made a bittorrent share of each folder I wanted to backup remotely. I right clicked "properties" once the folder was created and copied the 'READ ONLY' secret.
Step 5 : Enter the key for the shared folder on your remote destination system.
Next up I went to the tab of my 'remote destination system' and entered the READ ONLY key. I selected a folder on my external drive where the files needed to be synced towards. (in my /home/backupdrive/ directory)
Step 6 : Do the initial copy
After repeating the process above for all the folders I wanted to 'sync remotely' I just had to wait for the initial copy to complete. After that it was time to pickup the EEEpc and the External drive and bring them to their new (remote) home. I hooked the EEEpc up to the network, started up the machine and … that was that … headless remote backup solution done.
Epilogue.
Because Bittorrent sync doesn't care about open ports or anything I didn't have to mess with the router on the remote end of my backup solution. There were no ports to forward and even a static IP was not required for the remote machine. Just connect it , fire it up and .. boom. Using the 'read only' secret is an insurance that changes to my files are only synced one way : From the source to the remote system (and never the other way around).
You can expand this setup (and increase the security at the remote end) by syncing over encrypted ZIP files. That way people can't access the data should your system be compromised.
In the end its a great simple way to use an old system (you can even use an old laptop with a broken screen for this) and give it a new lease on life. The setup is simple, the interfaces are web based and the whole setup is perfect for a remote backup destination at your parents or in laws.
So secure your data and put those old clunkers back in action !
Related Posts
Jan 01
We deep dive into the world of Chromebooks and find an answer to the question : Can you survive on a Chromebook. We walk you through the possibilities and limitations of the Chromebook. We enlighten you  on how to use it for work, connect back to your home network and how to use your Chromebook to entertain you. If thats not enough we go beyond the design specifications and sideload Linux on your Chromebook turning into a low budget sliders dream machine. All of that and more .. in Kw905 : Life on a Chromebook. Catch the live recording of this podcast in the Youtube video below and see if you can catch Sulu the dog as our Podcast assistant.
Shownotes.
The Acer C730
First impressions
Hardware – Software
Taking the Chromebook to work (Article)
Using the Chromebook to entertain you (Article)
Connecting back to your home network via a Socks5 proxy over SSH (Article)
Dual Booting your Chromebook with Linux (Distroshare.com)
Sideloading your Chromebook with Crouton (Youtube instruction video)
Epilogue
kw905 : Life on a Chromebook.
Related Posts
---
Dec 28
This week i'm testing out my new Acer A730 to see just what it can do and how far we can take it. One of the frustrations I bumped in earlier this week was that there were limited options when it came to "Phoning home". Setting up encrypted tunnels to your home network over the internet using VPN or Proxy connections is something we should consider when using public Wifi hotspots.
With the Chromebook relying completely on some wifi connection on a (perhaps foreign) network I was disappointed to find that the only protocols that were supported were L2TP and OpenVpn. Not a bad set to choose from but not something that I had setup on my home network.
Previously I used an SSH server and the SSHuttle app to tunnel my internet, dns and even network traffic over a Socks5 proxy to my home network. I wondered if this would be possible with the Chromebook. Turns out it is ! Let's start cooking.
To get this little piece of magic working you need 3 things. A : One SSH server (A linux machine) on your home network that has at least one port open to the internet. B : The Secure Shell app from the Chrome store. C : The Switchy-Sharp extension.
Setting it up is quite easy. Lets say we opened up port 8800 of our SSH server to the internet. Setup Secure Shell to connect to the your home SSH server with the additional option to create a port forwarding tunnel on lets say port 8800 with the option -D 8800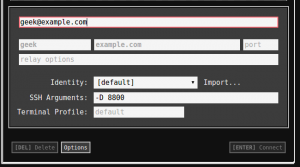 Next we setup Switchy Sharp as to use the SSH connection (and port 8800) as a socks 5 proxy.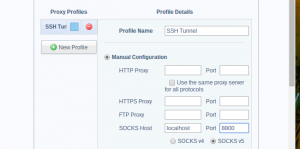 All you need to do next is Connect to your home SSH server and use the Switchy Sharp extention in your browser to use the connection. The Chromebook will tunnel all http and https requests AND the DNS queries through the tunnel. That way 95% of your Chromebooks traffic (we aren"t a 100 percent sure about what protocols any other apps you have might use) are piped through a secure tunnel. You don't only get to connect to your home network (to open up any web-interface to any device or server you have) but also you get to do it all 'in private'
Links.
Related Posts
Dec 24
So its day Three of the "Chromebook only" week. A week in which I promised myself ONLY to use my brand new Acer C730 to get things done. In a previous article we've talked about the first impressions of the device and what it feels like to take your Chromebook to work. That's all nice but … what about downtime ? Can the Chromebook entertain us ? We'll find out.
Before I start I want to make a confession : I'm a cable cutter ! Yes, we have ditched 'traditional tv' in favor of streaming content from the internet and from our personal library of backed up Dvd's to our television. So demands for 'conventional television' aren't very high in our households. However : With the holiday season coming up there is the need to catch the Doctor Who Christmass special on BBC2 … But I live in Belgium .. So what to do ?
Enter the HOLA extension. A little app that lives in your browser and allows you to "tunnel" through local proxies in the US, the UK and other countries to be able to watch 'their' content. 'Hola' works great for watching content like Bbc or watching the Extended Netflix catalog in the US. The Chromebook keeps you entertained for hours.
As for music : Plenty of services out their that want to stream their soundwaves your way. Some extensions even let you upload your music to your google Drive and stream it from there. If you don't feel like doing that , how about Spotify, Stitcher, Grooveshark and plenty of other services ? The audio quality on the C730 is pretty good although it IS lacking a little bit in the lower part of the sound spectrum. No doctor Dre .. but no tinny radio either.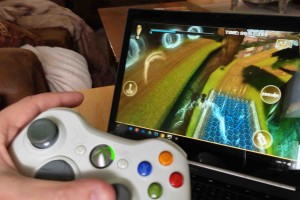 As for games : They are (of course) web based. Some of the apps in the Chrome webstore are nothing more then glorified links to websites where you can play said games. But thanx to Java, Ajax, Ruby and other forms of webmaster-black magic you can play a decent game inside a browser these days. If you don't mind the occasional apps for adult-daipers in the upper right corner .. you can find online (clones) of Command and Conquer .. or really go for it and dive into some classic arcade games that are a dime a dozen out there. And lets not forget the Internet archive with their Internet Arcade ! Play a ton of classics .. in your browser .. on your Chromebook.
Conclusion :
If the internet is a geeks daycare center where he can spend hours while his/her parental units go off to do other things in the real worls … the Chromebook is your hot babysitter ! It will keep you linked up to the world wild web (that ain't no typo) and if you know where to look you can spend hours playing games, watching movies and listening to music WITHOUT spending a dime OR breaking the law. As long as you keep the Chromebook connected .. it will keep you entertained
Links.
Related Posts
Dec 23
Last weekend I bought a Chromebook. A somewhat controversial device that sits between a laptop and a thin client. A laptop that hardly cost me 249 euro's and is basically an network card with a screen. A device that is almost useless without an internet connection. And I challenged myself : Could I survive on the Chromebook alone… for a week ? Here is my Day to day rapport.
The second day : Out to the races.
Monday morning marked the end of the honeymoon weekend with my Chromebook. Sitting at home on the couch, playing around and getting to know the machine… it was fun ! But now its time for the serious work. Since I was going to survive on the Chromebook alone for a week, this meant that the Chromebook was going to be a major part of my workflow. Aside from being a cross-platform internet blogger-podcaster-superstar I'm also a freelance IT Consultant. So taking along the Chromebook meant that it was going to have to earn its keep.
That and we had several things on the To-Do list that needed to be done : A blogpost for Knightwise.com, Checking emails, Updating some online job-profile sites, a conference call and a visit to a client. Just some of the things we needed to do.
Writing the Blogpost.
The days of Dreamweaver are far behind me. Both blogs I write for are WordPress blogs so I didn't think the Chromebook was going to give me any trouble connecting to the web interfaces. Before I just "surfed over" I did check out a couple of Chrome Apps/Extentions in the store that were WordPress related but .. to no avail. Most of the apps/extentions (very confusing) were mostly just shortcuts to the WordPress backend page. No offline love there. No matter, I never write my blogposts in WordPress directly anyway. "Writebox for chrome" is a great app that lets you punch out simple text files in a clutter free environment. Available offline I lets me write up a Blogpost that gets synced over to my Google Drive. You can play with the colors (I went for green letters on a black background) and felt like Doogie Houser writing his dairy. To add some comfort I propped up the Chromebook on a notebook riser and plugged in my external Logitech keyboard. Thing works like a charm. Write blogpost, copy over to wordpress, publish. Ding ! Chromebook wins.
Before I left for my client I needed to take a long a couple of multimedia files to show them. How was I going to connect to my NAS ? One of the great things about owning a Synology Nas is that it comes with a pretty powerful web interface. This allowed me to select and download the files I wanted to the Chromebooks (tiny) harddrive. Chromebook Wins.
Arriving at the client I was unsure that I could connect to their wireless guest network which gave me some trouble the last time when hooking up my Macbook Pro. The Chromebook connected ok and it was great to have this simple 'instant on' experience while waiting for the meeting to start. Just like whipping out your phone and checking Facebook, you whip out your Chromebook, open it up and start surfing. No boot times .. no restore. However : During the meeting I suddenly noticed that I had forgotten ONE FILE at home on my server. How was I going to get to it ? VPN ? The Chromebook DOES have the option to use VPN but not all protocols are supported. Luckily I was able to pull a copy off the file from Dropbox and all was good. The HDMI connector on the back allowed me to connect to the big TV in the meeting room and the "Subtitle Videoplayer app" was up for the job. The sound was a little tiny .. but my client was impressed with the tricks my little 249 euro machine could do.
When I got back home it was time do do some more work. One of the tasks that needed to be done was to print out our Christmas cards. Printing with the Chromebook is pretty easy for me since I have our home printer setup as a network connected "Cloud printer' allowing me to print documents from any Chrome browser.
Printing 2 copies of our Christmas card on ONE page proved to be beyond what Google Print (and the Chromebook) can do. Its a functionality that is not supported : Fail for the Chromebook. I had to do this from my Mac.
The rest of the day went off without a hitch.
Doing Emails, Visiting websites, downloading and forwarding attachments and even hosting a Google Hangout was easy. I was getting impressed by the little machine AND the fact that most of my workflows don't need some expensive device to get stuff done. At 9Pm (!) the little machine beeped to remind me that its battery was running low. I had been working away on it all day long .. and still it had some juice to spare.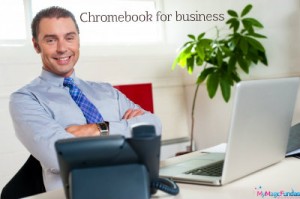 So can you take your Chromebook to work  ? 
The question if the Chromebook is right for you (and suitable for work) is not a matter of what the Chromebook can or can not do. Its a matter of how your workflows are organised. If you can get stuff done in a browser .. there is hardly anything the Chromebook cant pull off (its just a browser in a box) The device is nice, cheap and simple and buying a Chromebook is easy. But tweaking your workflows to be device independent is what makes you a Cross Platform Jedi Master.
Related Posts
Dec 21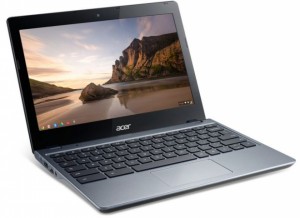 Sometimes i'm an early adopter. So much so that if we ever had any kids I would probably be trying to teach our unborn child all the names of the Star Trek DS9 characters before it was born. Sometimes I just can't wait for things to just 'get there'. However, when it comes to Chromebooks i'm late to the party. While others raved about how they could 'do everything in a browser' I was not impressed with this locked-in substitute for a terminal client. But… yesterday I budged and forked over some cash for an Acer C730 Chromebook (Also known as the Chromebook 11) and am preparing to set out on a quest to answer the ultimate question : Is a Chromebook enough ?
So join me in my quest as I discover the Pro's and the cons of a 249 Euro device that has sold his soul to the Googleplex and try to "Cross-platform-slide" the Chromebook.
Knightwise, Meet the Acer C730.
The Acer C730 is Acers 3rd iteration of their popular Chromebook line. As the successor to the immensely popular C720 model (Loved by many because of its ability to dual boot into Ubuntu) it is a low budget – low powered "Terminal to the cloud". At 249 euro's you what you pay for. A plastic 11 inch Laptop (I got the girly "White" edition by accident).
The C730 has an Intel Celeron CPU, (specifically a dual-core Haswell 2957U) and comes with 4 gigs of Ram. The on board SSD gives you 16 gigs of storage and the AC Wifi should be able to get you the speediest of wifi connections. The 11 inch screen comes with a standard resolution of 1378×768. As for auxiliaries the Chromebook comes with a webcam, 2 USB connections (1x 2.0 , 1x 3.0), an SD card slot a full HDMI port and an audio jack.
First impressions.
Unboxing the C730 reminded me a little bit of unboxing my first Asus EEEPC back in the days. For some strange reason you are extremely excited about buying a 249 euro Laptop .. so when you unbox it .. you get a 249 euro experience. The box is bland (brown), there is no Styrofoam (eco frienly) and the laptop is packaged in one of those little veils to keep it scratch proof.
The Chromebook itself is pretty sturdy. Not too light to feel flimsy, not to heavy to feel like 'a real laptop'. which is a good thing. The plastic unibody design feels .. plasticy. You have keep reminding yourself : This is not your average laptop. Its basically a mainboard, a network card and a battery having a threesome inside a plastic shell. And that is all you need.
Well, you need to interface with the device of course and for that you need a keyboard and a screen. I feared for a flimsy crappy keyboard to ruin things for me but was pleasantly surprised with a fairly decent Chiclet-keyboard with enough space between the keys for fast typing. The screen is a little more 'sobering'. We didn't expect Acer to bring us a Retina Amoled display but the viewing angles on the screen do remind us of a laptop from the 80's. As long as you sit right in front of the (fairly bright) screen its fine. But don't expect to have a pleasant experience from any other angle. The colors on the display are a little washed out and the contrast is lacking .. But we aren't going to edit the next Victoria's secret calendar on this thing anyway.
What we do love is the battery ! It just keeps on going. Even if we don't make it to the promised 8 hours of operational use .. we still have a very light cheap laptop that you can chuck in your bag without having to worry that you forgot the charger.
The OS.
Chrome OS is exactly what it should be. A very thin layer of functionality that glue your browser (and your apps) to the hardware. There are not a lot of options, there is limited storage, you can't tweak the crap out of it … and as Grumpy cat would say : GOOD ! It helps us realize that this is a web-terminal with a keyboard and a mouse.
Conclusion.
The Acer C730 is a great gateway into the Chrome and Chromebook experience. You get what you pay for … and then some. What I love about it is the great battery life, the decent keyboard and the fact that the combination of 'light and cheap' make it a great device to chuck in your bag and carry it around anywhere.
I have a 15 inch Macbook pro that is my main production machine. But every time I need to take it on the road i'm afraid it might get stolen. With the Acer I don't have that concern.
In the next couple of days I'll be writing up some more posts on how the Chromebook works for me in my Cross platform Lifestyle .. Stay tuned.
Links.
Related Posts
Dec 14
Camcorders .. you love them .. or you hate them. Its a simple as that. Once hey used to be the sidearm of choice of the annoying uncle at your birthday party, who insisted on pointing them into peoples faces to suck away all spontaneous behavior and replacing it with a bunch of awkward grins.  Now, most of them have been pushed into oblivion by high end camera's on smartphones or super rugged go-pro action camera's used by 'outdoorsy' types to impress their friends. So who (aside from a budding porn producer) still needs a camcorder ?  And why in hells bells would you want a waterproof one ?
Well, once you wrap your hands around JVC's All Weather Everio Camcorder .. you kind of start to see the point of this camera. Smartphones are cool, they are ubiquitous and they are great for the average point-shoot-and-share experience of a Youtube Video. But the absence of physical controls (and a static lens) make it hard to do some of the more advanced filming tricks like zooming and stuff. Smartphones also have the tendency to break, snap, splinter, shatter and disintegrate at the slightest hint of "adventurous use" If your pristine phablet survives a gravity powered french kiss with a concrete floor from three feet high without breaking .. you are a lucky man.  The industries answer to the "adventurous youtuber" comes in the form of the go-pro like action camera. Encased in a force field of plastic this stabilized "set and forget" camera is mounted on you bike – helmet – stroller .. and will survive any stunt the owner preforms as he/she steps in the footsteps of the JAckaSs crew (and perhaps dies while doing it). So since surviving the ordeal is more important then an oscar for best director .. the Action Camera's have few to zero options.
So enter the Everio. This Full-HD , Dust, water, shock and freeze proof camera is JVC"s savior of your upcoming winter-holiday video. With a form factor that looks like a classic camcorder, the Everio promises 4.5 hours of battery life and a 60* Zoom capability. We won't go into technical details because we aren't big shutterbugs, and break it down into our first impressions. The Everio looks pretty solid when you grab hold of it. The slightly larger casing makes it easy to hold even while wearing ski gloves or something. The placement and size of the primary controls (zoom, record etc) is also designed with the down sloping glovev wearing Spielberg in mind who is more focused on making the shot while trying to stay upright (and alive) instead of fiddling with little buttons.
But there are some cool extra things included in the camera's software like taking 10Mpixel still shots (no need for an extra DSLR) , wireless syncing to your tablet or phone (no PC required) and the option to livestream your actual footage to a smartphone or tablet over wifi.  Throw in some built in instagram filters and the Everio is a little one-stop holiday production shop for your video's. With good audio and video quality to match (and why not thrown in some software stabilization) we do see you using this camera on your next adventurous holiday.
But hey ! Its waterproof ! (or so it says on the box) .. So lets test that .. shall we ?
At 319 dollars this thing brings a lot to the table for anyone who is going on a holiday and wants to rough things up a little.
Related Posts
Dec 03
We get our greedy hands on one of the most desired smartphones of the day : The Oneplus One. Is it worth the begging for invites, the groveling, the craze ? We take a good hard look at the Oneplus One and give you our first impressions of the phone when it comes to hardware, software and its place in the Smartphone market of today.
KW904 : Reviewing the Oneplus One
Related Posts
---
Nov 28
"Whow .. Thats a big phone !" "There is no way you can make phone calls with that !" "How do you fit that in your pocket". If I got a penny for every time I have heard that remark in the past, it would have been enough to buy me my next phablet and still have spare change for parking. Yes … my name is Knightwise and I'm a Phablet Fan.  Discontent with small screens and cramped mobile interfaces I switched to the "larger kind" of smartphone a couple of years ago with the Galaxy Note 2… and afterwards the Note 3. The thing is I don't see my "Phablet" as my phone. I see it as my personal communicator, that also allows me to do voice calls. It is the one single digital device I probably spend  most of my time on during the day.. So when Huawei asked me to review their "Ascend mate 7″ (what's in a name) it was not going to be easily impressed.
The thing is : Phablets are rapidly becoming the "high end" niche market of the smartphone industry. Where the 'average Joe' pays about 300 dollar for the "average Joe" smartphone with "Average Joe" specs .. the phablet market is usually reserved for the geek with higher system requirements (and a larger amount of cash to spend on his mobile device). Result ? Phones like the Galaxy note 4, the new Nexus 6 and the iPhone 6 plus  boast high resolutions , big screens, good specs and … high prices.  So what is there do to when you want a ping-pong table sized  smartphone, but you are on a midget-phone budget ?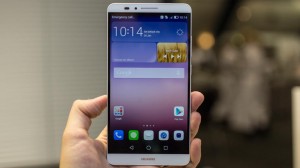 Enter the Huawei Ascent Mate 7 : A bigger phone for a smaller budget. With its 6 inch Hd Display (1920*1080) it has a smaller resolution that the Note 4 Samsung Phablet Flagship (or Aircraft carrier) and its Quad Core Cortex A15 1.8 ghz processor with 3Gb or ram are also not as heavy as the competition … but neither is its price. For 300 euro's LESS then the 749 price point of the Note 4 .. you get a LOT of phone for what you pay for.
For one : Huawei's spin on KitKat is a LOT cleaner then Samsung's over cluttered 'Touchwiz' interface. Not having to lift an extra layer of graphic bloatware, makes the ascend preform remarkably well , despite its lighter processor. The phone is quite responsive when pinching swiping and zooming but lags a little bit when opening large apps like Linkedin. Huawei's version of Android takes some getting used to (there is no app drawer) but comes with some nice little tweaks and handy features like Fingerprint unlocking and "Single handed operation". Samsung might have these features too, but in touchwizz they are buried beneath a thick layer of clutter.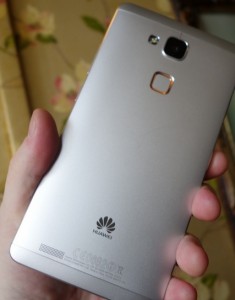 What we really liked about the Mate 7 was its fingerprint sensor. Located on the BACK of the phone, its in a very natural position for when you want to use it to unlock the phone. As you hold the phone in your hand your index finger is automatically placed on the sensor and the phone unlocks. Additionally the sensor can be used to trigger the camera. The fact that its not a button but a touch sensitive surface makes that you don't "nudge" the phone (and blur your pictures) as you are taking a snapshot. We liked this feature .. a lot !  Speaking of the camera , the 13 megapixel front facing camera is quite good (but is a little lacking in low light conditions).
The screen on the Mate 7 is not the brightest of the bunch. Its colors are bright and vivid but do not match the "over saturated blown up colors" of the competitors amoled screens. Personally I like this because the latter do make a picture from a funeral look like a page from a holiday catalog. The (replaceable) battery life is good, we managed to get about 1.5 days out of the battery with fairly heavy use which pleasantly surprised us.  The overall signal reception on the phone is good (Wifi and 4G) although it did drop a call on us twice as we got into the car.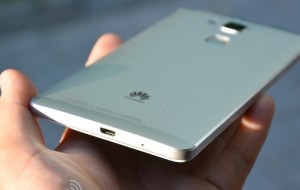 The look and feel of the Mate is good. Its a full metal jacket (We don't know which metal, but it sure ain't plastic) and the phone is well balanced. The bezel on the side of the screen is almost non existent giving the phone a premium look and feel.
So is it worth it ?  Yes ! If you want a maxi-sized phone with more then average specs on a medium sized budget, the Huawei Ascend Mate 7 is surely something you should take a serious look at. The only competitor we see on the horizon is the immensely popular (but also immensely scarce) Oneplus One. With the price of the Nexus 6 going into the same premium price range as Samsungs Galaxy Notes and the iPhone Six , the Huawei ascend mate 7 will get the geek-on-a-budget (or the geek who shops sensibly) a great bang for their buck.
Related Posts
Nov 14
Introduction : Writing is hard.
Writing a book is hard, but actually making and publishing an eBook doesn't have to be. Here's an easy way to take your finished text and turn it into eBooks for popular devices and Kindles using nothing but free and open source software! I can vouch that it works, because I've done this twice. I'll do it a third time when this current book is finished.
Things You Need & Things You Need To Do
Let's Download Things!
You're going to need two free and open source applications and a free and open source plugin. The great thing is that all of them are platform independent, so no matter if you're running Windows, OS X, or Linux; you'll be able to make your eBook a reality.
First, you'll need LibreOffice, a free and open source office suite similar to Microsoft Office. OpenOffice will do the job too, but I prefer LibreOffice. Pick the one that you like. Second, you're going to need Calibre, which is also a free and open source application. Calibre is an eBook manager, database, content server, and more importantly, eBook format converter. The plug-in you'll need is for LibreOffice and it's called Writer2ePub and that's an apt description of what it does.
Download and install LibreOffice and Calibre or snag them from your repositories. Once LibreOffice is installed, you should be able to double click and install Writer2ePub as your OS will recognize that as a LibreOffice plugin. Installation is quick and easy and soon you'll be up and running with some prime software to make an eBook.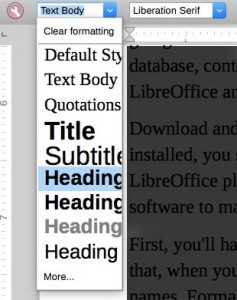 First, you'll have to write that eBook, and I can't give you help on that here. I do suggest that, when you're formatting your book in LibreOffice, make use of the Heading 1 style for your chapter names. Formatting and design is a thing for another post but using the Heading 1 style for your chapter names will be important because Writer2ePub automatically builds a table of contents for you, based off those Heading 1 style calls. If you don't have chapters then that's fine. You don't have to worry about the style selection at all, unless you want to!
Once you're done organizing and setting your chapter styles, you're ready to go! Obviously, make whatever edits you think you need for your finished book, but when you're ready to pull the trigger click the Writer2ePub icon on your LibreOffice toolbar. You'll actually see three of them. The first builds your eBook; the second handles your metadata which includes title, author, cover, and description; and the third is preferences. You can set preferences as you like, but for now, let's set our metadata. So click the Writer2ePub icon with a little blue i on it and set up your metadata as appropriate.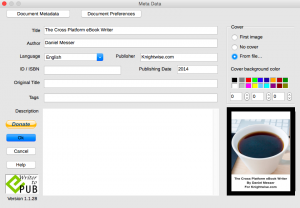 You should add a cover because, as a professional librarian, I can tell you that people judge books by their covers, cliches notwithstanding. eBook design is a thing all its own, but your cover should be a high quality image, at least 500 x 800 and 72 pixels per inch. I use an image that's 625 x 1,000 and 100 pixels per inch. The preferred maximum size for the longest side is usually 2,000. So edit your image accordingly. That stuff set, you can continue editing and tweaking as needed. If you save the file, your metadata saves with it.
Are you ready to make an eBook? Excellent! Time to click the Writer2ePub icon on the LibreOffice toolbar! You'll have one more opportunity to edit your metadata and then click Ok. LibreOffice and Writer2ePub will work for a few moments and, at first, it looks like nothing happened. Ah! But check the folder where you've saved your original LibreOffice file and you will find an ePub there by the same name!
Congratulations! You just created an eBook!
Lets make a Kindle book too ! 
The eBook you just created using Writer2ePub and LibreOffice is in ePub format. That format will work on almost everything out there from tablets to eReaders. It will not, however, work on a Kindle eInk. If we're talking about a Kindle Fire, then users of the Fire can get apps to open ePub files. That's fine, but Kindle eInk users can't get apps for their device, so let's make sure they can read our eBook too, and that's where Calibre comes in!
Open up Calibre and import your newly created ePub. Don't worry, because Calibre copies all imported eBooks to the library folder you select. So your original remains untouched.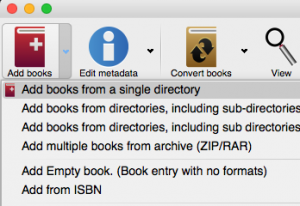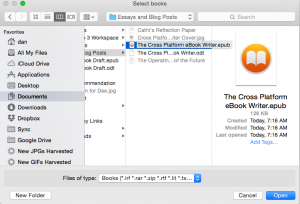 Once it's imported into Calibre, right click the item and select Convert Books – Convert Individually. You'll get a screen with a bunch of options. Set those as you like but your interest probably lies near the top left of the screen where it says Output format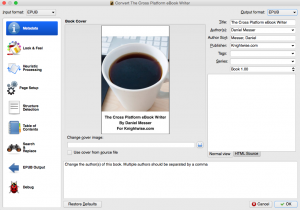 Select MOBI from that list and click Ok. Calibre will run the conversion and let you know when it's finished.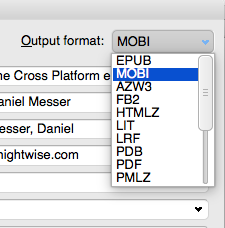 If you click your book again and look over the right sidebar, you'll see your cover, author, formats, and path. Next to path is a link that says Click to open. Do that, and you'll get the directory with your imported ePub and newly created mobi file! That mobi file is perfectly compatible with Kindle eInk devices.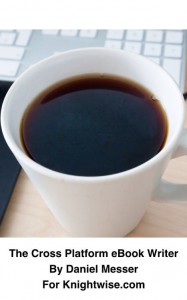 And that's it! You'll have your eBook in the two most popular formats for devices and eReaders. If you're looking to upload your book to a site like Amazon or Barnes & Noble, check to see which format they prefer, though Amazon will most certainly need the mobi format.
Happy writing! Make your eBook happen!
Post by Daniel Messer.
Related Posts