Oct 31
Its time to give you the first slice of the biggest geek-pie we bake for your every year. As by annual tradition we cover F.A.C.T.S. Belgians biggest Cosplay, Manga, Anime, Scifi and Fantasy expo. In the first half of this two part episode we talk to a couple of very interesting people on the show floor. From Belgian game companies looking for a real life red riding hood, to full scale T-Wing fighters. From handmade geek bags to Belgium biggest online comic book store .. Perk up your fake Vulcan ears for part one of our coverage of F.A.C.T.S.
Shownotes.
- Archonia : Belgiums biggest online store.
- The Prospectors guild and their giant T-wing replica.
- Feathers of an Angel : Geek craft galore.
- 'Woolfe' : Grin looks for a red riding hood in their upcoming game.
- Tessa from Ubisoft talks assassins creed.
Credits.
- Camera 1 : Stefaan Lesage.
- Camera 2 : Kris Hendriks
- Photography/production : @Niejana
- Interviews : @knightwise.
Stay tuned for PART 2 of our coverage of F.A.C.T.S coming up real soon as we give you the exclusive interviews with the people who make the magic happen. Yes .. its Cosplay time !
kw702 : F.A.C.T.S. : Belgiums Comicon covered by Knightwise.com part 1
Related Posts
---
Oct 21
Inside every geek there is a string of DNA that jumps up and down with joy once you mention the words "Anime, Manga, Scifi and Cosplay". The proof is in the pudding as thousands of geeks travel to dragon and Comicon every year. In the little country of Belgium we have a similar movement of geeks and like minded people to the annual F.A.C.T.S. event ( The Belgian version of Comicon) and every year the Knightwise.com crew walks in the daylight to go out and cover the event. With two cameramen, a photographer and an anchorman we try to bring you a sense of what it's like to wander the show floor in Belgium's biggest Nerdfest. Last Saturday we pounded the pavement and shot over 13 interviews with cosplayers, fanclubs, game developers, comic artists and toysellers. While we are hard at work editing all that footage down into a video podcast (Its gonna take some time ,we all still have dayjobs) we CAN give you a sneak peek at what to expect. Knightwise.com's new star photog Niejana gives you a nice 'behind the scenes' view of what you can expect when we release the video footage later on this week. Stand by for Trolls, Timelords, Red Riding hoods and giant Tie-Fighters with the "FACTS 2013 Behind the scenes photo shoot".
CLICK HERE FOR THE ENTIRE SET.
The video footage will be released later on this week, in the meantime hit the SUBSCRIBE page and make sure to paste the link to our MEDIAFEED into your favorite podcatcher (itunes, etc ..) to automatically subscribe to our podcast and get the video podcast downloaded automatically .. Until then : Watch this space and GEEK ON.  
Links :
Our previous coverage of the FACTS events (Video)
Related Posts
Oct 14
We kick off season 7 of the Knightwise.com podcast with an extra long episode of the Knightwise.com podcast. Since we are proud to announce we joined the ranks of the Podnutz podcast network and are now reaching out to many more podcast listeners across the world .. it was time for a treat. This week you get a slightly obese episode of the Knightwise.com podcast (Over 90 Minutes) as we showcase an episode of "Podnutz Daily" where Cody Cooper interviewed me about cross platform tech support. So perk up your ears and get ready for the next season of Knightwise.com.
Shownotes.
kw701 : Cross platform tech support.
Related Posts
---
Oct 14
If one percent of your DNA is "Geek" and you live in the Benelux area, there is only one thing you can do next Saturday : Immerse yourself in your true geekdom and join us as we do our annual coverage of the F.A.C.T.S. event in Ghent. Next weekend the Expo halls in Ghent will be the "event horizon" for everybody who is into Scifi, Cosplay, Anime, Cartoons and all things geek. As by annual tradition Knightwise.com will also be doing an extensive coverage of the event and you can join us.
We will be roaming the grounds next Saturday afternoon interviewing Cosplayers, Fans, Sellers of strange and desirable geek-toys and if we are lucky we MIGHT just catch one of the celebrities that is attending the event. Hit us up on Twitter ( @knightwise) if you are going and get a chance to shake hands with our crew in "realspace".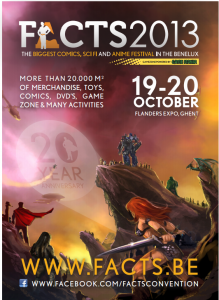 For more details you can visit the official F.A.C.T.S webpage to see what is going down, who is coming and how to get your hands on that inflatable life size doll of Lara Croft you have been craving for.  See you there ! 
Links.
Our previous coverages of the F.A.C.T.S events.
Related Posts
Oct 12
I remember a scene in the movie "Zoolander" where the main character played by Ben Stiller, a vain spoiled male model, gets a call on his cellphone. He answers the call and starts talking into this insanely little phone that he holds to his ear, a nearly invisible device pinched between his thumb and index finger. The scene is funny because it deals with the popular trend in the phone industry of the late 90′s to make devices smaller and smaller.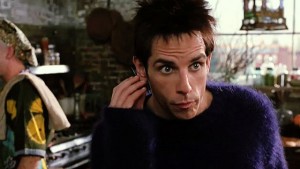 The device I'm reviewing today is clearly not an offspring of that trend. The Huawei Ascend Mate is probably one of the largest cellphones on the market today. At a whopping 6.1 inch, it is even larger than the already bulky Galaxy Note 2 that is currently my 'communication device' of choice. Before we dive into the distinctions between a "phone" and a "communicator" … lets just take a closer look at the Ascend Mate.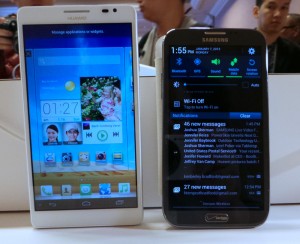 The Specs
The screen of the Ascend Mate covers almost the entire surface of the 6.1 inch phone device. With a resolution of 1280 by 720 (at 241 pixels per inch) it is amazingly bright and has a realistic colour spectrum. What I found appealing is its visibility in bright sunlight. Unlike the note 2 (Whose screen is also quite bright but is terrible to use in bright sunlight) the Mate manages to give you a "good look" at whatever is on your screen, no matter if the twin suns of Tantooine are setting right behind your back. But the one thing that does stand out is the fact that the colours are very "natural" and that is surely a bonus.
The Mate comes with a front and rear facing camera with a respective resolution of 8 and 1 Megapixel. Both camera's deliver good pictures (we tested them both outside and inside) and the flash LED's are bright enough signal the Rusky's on the international space station.
Battery life on the Mate is quite good considered the sheer size of the screen. The downside is that the battery is not replaceable (You can't even remove the back cover of the Mate, Sim and memory slots are on the side). We managed a day of extensive use and still had a couple of jolts left at sunset.
The Ascend Mate comes with an adapted version of Android 4.1 (not 4.2) where Huawei decided to pre-populate your phone with most of the apps you need. All the apps are nicely organised in folders (For example : There is a GOOGLE folder with most of not ALL google apps in the Market place) and this is surely a bonus. Every phone manufacturer needs to give their software experience an added value. Some build skins, but Huawei decided to be your personal shopper in the Marketplace and pre-load your phone with all the "standard" apps that you might need. I like this, because then you are no longer dependant on the manufacturer to upload their 'in-house' apps, you just depend on the core developers. The interface of the Mate is sliiiiightly different to "stock" Android, but this is hardly noticeable. This lean and mean approach gives the Mate the speedy swifty feel it needs and surely adds to the pleasure of its user. The culprit to blame here would be its 1.5 Gigaherz processor and its 2 gigs of ram.
This is no phone for Tinkerbell
Like the previous Huawei phone we tested, the Mate feels like a well finished product.. One downside we have are the plastic 'latches' that cover the phone's sim and SD card slots : They might break off in the long run. When we first took the phone in our hands we expected it to be bulky and hard to handle. Guess what : Its NOT . The Mate's size is well proportioned and its internal weight distribution is well balanced. Using the phone in both portrait and landscape mode is a breeze. We compared it to using the Galaxy Note 2 and the latter does not win that Phablet prizefight. Although larger, the Mate is surprisingly more easy to hold and handle then the slightly smaller Note2. However, single handed operation is not an option and two hands are required to type and hold the phone at the same time. So this brings us to the question : Is this a phone at all ?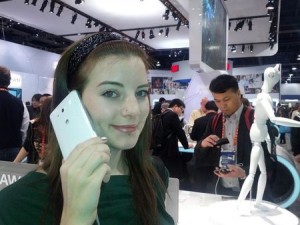 The Huawei Mate is the Nokia Communicator of the modern Phablets.
We hate the word "Phablets". It hints toward a mutational subset of mutant devices that are too small to be a tablet and to large to be a phone. At 6.1 inch across the Note2 is surely a "Phablet". Slightly to large for a phone, slightly to small for a tablet. With the addition of just a measly 0.6 inch (compared to the Note 2) the Huawei Mate slides into the Sub-Tablet category and does it brilliantly. Well balanced in weight distribution, having a crisp screen, a nice interface and decent battery life the Huawei Mate is the perfect companion for those who want both a phone and a tablet but do not have the cash to buy both. Yes : It looks dorky when you get a phone call …  but so what ? How many phone calls to the younger generation still make every day ? Its all Texting, Twitter, Facebook and the likes these days. A real time 'audio only' conversation is something that is becoming scarce for Teens anyway.
So Geeks : Should you get one ?
Well : If you want to live on the socially-acceptable cutting edge and carry around a 'communicator' instead of a phone : Get one ! At around 300 euros the price is way below the 'premium priced' products of both Apple and Samsung and it still gets you a very cool device. The one thing you need to 'click' in your brain is the concept of ' a phone '. Just like the Nokia Communicator, the Mate is a "communications device" that enables you to connect to to your digital lifestyle and not to an Party Chat conference call from the 80′s. Forget concepts like "sliding it into your back pocket" or "making a quick phone call"  The Mate is the lovechild between your Smartphone and your iPad making both pretty much obsolete once you have the Mate. Its not light, It does not fit in your back pocket, it does not have a 6 day battery life .. but neither does your tablet. This is not a phone, its an advanced digital communication device that provides you with connectivity, content, computational power and entertainment… and you can also use it to call your nan.
Links : Find out more about the Mate at Huawei's official page. 
Related Posts
Sep 17
So have you ever wondered what the humidity level is like in your living room ? Or how far the temperature drops outside during the night. Would you like to know the decibel level in your house during the night or the overall air quality ?  It might not seem essential information you CANNOT live without but its just a small selection of the information offered by the Netatmo weather station.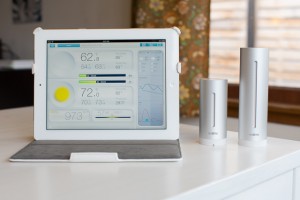 Now some say that weather stations are for old uncles with bushy nose hair who like to smoke a pipe, drive a volvo and quote Carl Sagan during birthday parties. Who tell you (while using dramatic gestures) that the amount of hectopascal pressure is .."Too damn high" for the time of year.  
And lets face it .. as an information junkie having access to this kind of information is just too cool to pass up. But you're not a creepy uncle (yet) and surely lack the bushy nose hair .. and you are a geek .. So what do you do.
169 euro's later you might find yourself the proud owner of the Netatmo weather station. Forget old school weather station contraptions that are bolted to the outside of mouldy cabins in the woods. These 2 battery powered cylindrical devices (one for the inside and on for outside) have sensors for temperature, humidity, CO2 levels, Decibel levels, Air quality and more. Nice if you are "in the room" but with the wifi hookup you can access this info anywhere you go.
A very easy setup process lets you setup an account with Netatmo and install their mobile application on your favorite Android or IOS Tablet or smartphone to access your weather station from anywhere.
I must be honest : At first we thought .. What are we gonna DO with this ? But the fact that you can access the "real time" indoor and outdoor weather stats on your portable device ANYWHERE is pretty darn cool. But the real fun starts when you start looking at the "logs" of all the sensory information collected by the Netatmo.  Instead of just "sayin" the weather was good the last week, you can just whip up your phone and show off a very detailed graph of the moisture level in your garden over the last 23 days.
The power of the Netatmo lies in its well designed apps for the IOS and Android platform. Though the sensory range of the Netatmo is "limited' ( We find that a Geiger counter would be a nice geeky addition) the total package is pretty cool. The sound meter is great but may give you the accidental ability to find out what weeknights your parents have sex. Whether you will be using your Netatmo on a daily basis once the gadget-factor wears of is something that we don't know but it sure is cool to play with.
At a 169 Euro's for the basic set (additional outside modules available) the Netatmo is not cheap but if weather stations are your thing , this is one of the best geek-friendly ones you can get.  With its high build quality, pretty design and perfect app execution the Netatmo never 'rains on your parade' .
Buy the Netatmo on their website HERE.
Related Posts
Sep 16
As I stack away the last empty suitcase its official : Our annual summer holiday is officially over. A two week road trip through the south of France with just me and my family has left me relaxed and revitalised for the coming months amidst the busy mayhem of my modern day over connected life. The great thing about going abroad are the insane roaming charges for data communications. at 1.5 euro for every 10 measly megabytes you do the right thing and turn the data reception on your smartphone OFF.  The result ? A notification free zen zone that lets you rediscover what it's like NOT to be bossed around by technology.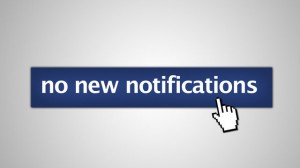 "Notifications, alerts, pop ups, dings and dooh-dah's : The over connected mother-in-law that will never leave you in peace".
There used to be a time when people were "unreachable" They would be away from their home phone and nowhere near a pay phone. There was just no way in hell you could get in touch with them, even if it was urgent. All you could do is wait. Back then we did not wonder if said person might have been abducted by aliens or stepped into a transdimensional rift, there was no cause for alarm or general panic .. they were just "unreachable"   
The very notion of this "unreachable" concept is of course absurd today. Now we do not only have to be "available and connected" every second of the day, we also need those connections to be so instantaneously, so direct, that the notifications of their arrival have become a priority to whatever activity our human lives behold at that very moment. Vibrations, pop-ups, Notification balloons, unread counters, flashing LED's … Short of setting our pants on fire whenever a new email arrives, our computers and smartphones seem to think that the digital flow of communications should take precedence on whatever activity we are performing at that specific time.
Now .. if we go back to the days of Meg Ryan and Tom Hanks in "You've got mail" and you only GET an email once or twice a day .. its quite nice to have your computer blab out that AOL jingle whenever a new piece of electronic correspondence arrives in your mailbox… but these days that's just not the case anymore. We get boatloads of emails, notifications, instant messages, tweets, tags and more .. but it seems like every single event still gets the same popup or sound that sent Meg Ryan on her way to a fake orgasm in an overcrowded diner (Sorry , wrong movie).
The paradox lies in the fact that as the quantity of these "informational events" rises, their quality diminishes. The messages are higher in frequency but shorter in content. What used to be a 150 line email (with one "You've got mail" jingle) now consists of 150 instant messages (each with their own separate ding).  And if we draw that analogy up a level : Imagine your mailman ringing your doorbell EVERY SINGLE TIME  he drops a flyer or a piece of spam into your mailbox. I think by day three you would be ready to shoot the poor man … and yet we "accept" this level of interruptions from our technological devices every single day.
The result : 'Fragmented reality'.
With your 'Virtual world" constantly interrupting your "Realspace" your attention span gets shattered and you experience the world around you in a distracted and shallow way. I've called this symptom "diminished presence" because even when you are in a "real" conversation with somebody you are not really "There"… The actual moment (and connection) you have with this other person gets interrupted by dozens of other fragmented interactions from cyberspace who in turn fragment your interaction (and attention span) in real space .. The result :  Reality confetti : The way you experience your day / your life .. cut up in small incoherent pieces leaving you with a feeling of confusion : What did I actually talk about over dinner last night.
Retake your life, Remaster your tech.
So what to do  ? Throw away your digital devices, Buy a Chuck Wagon and hide up somewhere in the mountains ? .. No, don't worry I'm not going to go that far .. You can still be the hyperconnected supernerd who is the closest thing to Tony Stark your friends will ever know .. but your interactions with technology need to be on YOUR terms. How ? Here are some pointers.
This is a notification to turn of your notifications.
The first thing you need to start doing is turning off your notifications. Whether those are email, facebook, tweets, rss feeds, Voxer messages, dirty pics via Snapchat or what have you : Make sure they no longer have any AUDIO or HAPTIC (vibrational) notifications on your mobile device. In other words : If you are not actually LOOKING at the device you won't know they are there.  Yeah .. it will be hard at first .. you will suffer from withdrawal and constantly check your phone to see if there is something there .. but that will pass … At least this way you won't be interrupted by a random spam mail from Runkeeper at the very second you want to kiss the girl/boy/anime-drawing of your dreams. The point is that the interactions with your information streams are going to be ON YOUR TERMS. Just turning of the sounds/vibrations on my phone have given me more focus on my moments in reality when I need/want them. I still check my phone when I'm bored .. but I'm not Pavlovs dog that starts to slobber for new info whenever the bell rings.
Disengage the creational from the communicational.
For you creative types out there. Try writing/composing/drawing/singing/creating something while you need to keep track of 5 Facebook chats. The chance is the end product of this labour of constant interruption and attention diversification will look like some piece of homework your dog ate, pooped out, ate again and then threw up.  And still you THOUGHT it was going to look great but the constant interruptions completely fragged (and fracked) it up for you.  The answer here is to split the devices you use for CREATING (and consuming) content and those that you use to "communicate". I read and watch movies on my iPad .. Facebook, Email, Twitter and all ther rest of my social media tools are on my "Communicator" (an iPod touch thats lying around the house) There is no shame in having multiple devices if they each serve a specific purpose.
Let technology work for you.
So try to be your own little Sarah Connor and pick up the "Fight against the machine" Imagine your Cellphone is that evil Terminator that wants to hunt down any coherent perception of reality and blow your attention span to smithereens with its arsenal of pushy notifications. Take back what's yours : Mastery of technology. The fact that YOU operate your devices. YOU drive your car when and where YOU want to . You do not eat when the microwave tells you to (if your microwave tells you things you should clean it more often) and YOU use your phone to communicate when YOU want to.  Forget the modern urge to "constantly" be on top of things. If you were a 90's stockbroker who managed to make the deal of a lifetime because he INSTANTLY got info on his blackberry .. thats just awesome .. But if you read that DM on twitter 20 minutes later than intended  … i'm sure the world is not gonna grind to a halt.
So step back from the churning river of push notifications and retake your position as master of your own technology ..  This is your final notification to turn off your notifications .. Because its good for you.
Related Posts
Aug 25
Books : Some like the smell of paper, the sounds of gentle footfalls in the hushed silence of libraries, some like flipping though pages and the rustling sound of paper turning in  the night … I'm not one of those persons. To be honest : I've been reading digital books since the beginning of this century.  From devices as primitive as the Palm to my much beloved Sony PRS-505 I am proud to say that I only read about 2 paper books in the last 12 years. My latest device of choice on which I have devoured many a book was my iPad mini. ( I had 'loaned' my Sony eBook reader to my 86 year old gran .. and she'll never ever give it back).  But where the iPad mini shines in the dark (its active screen is great for reading in the bedroom) it gleams in sunlight (its reflective glass is terrible for outside reading).  So with my holiday coming up and plenty of reading to do .. I thought I would try out something new.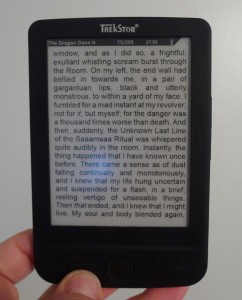 It was in fact Niejana who pointed out the Trekstor Pyrus Mini on our last visit to our favourite geek-friendly store in Aachen. Three  things immediately made me fall in love with the device : The size (It reminds me of my trusty Palm devices) The color and texture (It has this rubbery enclosure thats a dark blue) and its price : 49 euro's !  I mean : What could go wrong for 49 euro's ?  
The Pyrus has a 4.3 inch 800 by 600 Pixel E-Ink display. It has 2 gigabytes of onboard storage that you can extend by shoving in a micro SD card. There is no Wifi, Bluetooth or 3G connection. Just some buttons to navigate pages and adjust things like character size and the language of the interface.   In the end this device is horribly horribly simple .. and that is just brilliant !  The Micro Usb connector is used for charging and adding titles to the onboard memory and since the screen is pretty small .. the battery time will last you quite a while. It can read all popular formats (it does have a hard time with large PDF's) but can not read .mobi (Epub is fine though).
But aside from the price, the one thing I love  more about this gadget is that its so small, thin and light that you can just slide it into your coat pocket and whip it out anywhere without having to bother with lids and casings and having enough room on the bus to read your book. At the size of a smartphone it might appear to small to read on, but the variable character sizing does make up for that. The screen has a very good contrast ratio and not a micron of 'glare'.  
Sure its not as robust as some of the ebook readers out there, sure it does not have all of the functionality of a Kindle or a Fire .. But for 49 euro's this is the "paperback novel cousin" to the "hardcover collection" ebook reader that you can find on the market today I'm NOT afraid to use it, loose it, break it or get mugged for it. It just lets me read my favourite collection of Justin Bierbers Fanfic .. anywhere.
Related Posts
Aug 07
We walk the hackers walk this week and show you how to accumulate your own database of Wireless access points in your area using nothing more but your smartphone. And if that is not enough we take it a step further and teach you how to find an open wifi hotspot anywhere on the planet. Listener Thor swings by and tells you to connect to the Knightwise.com Mumble server using your Android device.
Shownotes.
kw609 : The wonders of wardriving with Wigle.
Related Posts
---
Aug 05
The one thing more obscure than the Huawei brand name is probably the knowledge on how to pronounce it. From a western tongue twisting Hoo-Ya-Wey to a mandarin tinted 'Waah-Weej' it becomes clear that this Chinese technological behemoth still has some marketing to do in the western world. (If only to end the bickering on how to pronounce it). However : Huawei speaks not to us in fancy commercials on tv (or a pronunciation lesson on Youtube) Huawei speaks to us with their range of products. Where the company used to be but a shady side-brand that would manufacture for other brands and suppliers, they now step into the limelight and present themselves as one of the major runners up to give Apple, Sony, Nokia and Samsung something to worry about at night. Its not because Huawei is not on every billboard that they don't make decent products : The Huawei W1 we had in our hands is the puddings proof.
Specs.
The Ascend W1 is a "Windows Phone". A four inch IPS display with a resolution of 480 by 800 and a Qualcomm dual core snapdragon 1.2 gigahertz processor. It comes with 4 gigabyte of onboard storage, the ability to pimp said storage with an SD card and it has 512 megabytes of ram. It has a 5 megapixel front facing camera and a rear facing camera with VGA resolution. There is of course wifi, Bluetooth, 3g (no lte) and you can even call other people on the phone with it. To give you a frame of reference : we compare the device against Nokias Lumia 620 which is a little more "abundant" in these regions.
1. Look and feel. The W1 is a rectangular black slate, just like every phone on the market today. But with that being said, what you do notice right of the bat, is that its fairly thin, light but well balanced, and offers an 'edge' over the Nokia Lumia when it comes to screen protection. With that I mean that the screen has a little "border" around it that keeps it from scratching when you place the phone upside down. (Where the Nokia comes with the "glass on top" design). The back of the W1 is slightly rubberized giving an awkward but nice sensation of having something 'tough' in your hand while being elegant at the same time. The "thinner" body of the W1 feels nicer to hold that the slightly more bulky 620 with its sharper edges. Design-wise the W1 is not going be in the Louvre anytime soon, but both in your pocket and your hand it feels nice
2. Speed.
We put both the Nokia 620 and the W1 side by side and launched the browser, the phone application, the store and played with the tiles. The 620 is slightly smoother when it comes to scrolling through your tiles, but on opening applications .. the W1 wins. In all honesty its a top-gear style photo finish to see the difference but applications do pop up a fraction of a second faster on the W1 then on its Scandinavian counterpart.
3. Screen.
Although the W1 comes with a nice 480 by 800 Ips display, the brightness and color resilience is not that awesome. With both devices on auto-brightness, the W1's colors were slightly duller then the Nokias. These are things you notice ( and perhaps only notice) during comparisons but they are there nonetheless. Screen brightness and color depth help you use your phone outdoor and read emails comfortably instead of peering at your smartphone like a pensioner.
4.Camera.
Well, we will let the results speak for themselves here. The W1 takes some more time to focus and shoot, so snapping that picture of "The Flash" changing his underwear might be problematic.
5.Battery
Because of the "longer" shape of the phone, Huawei managed to cram in a larger battery into the phone, resulting in a fairly good +1 day battery life.
6.Apps
If there is such a thing as "Stock Windows Phone" .. The W1 has it. No extra "Nokia Apps" , no added " Samsung Store" Just plain Windows phone and the Windows phone store. This might be the one place where Huawei chooses a different strategy than its competitors, opting out of using "branded software" as a selling point. This is a tricky bargain as the Windows App ecosphere still needs to grow and gain maturity. But for those of you who know where to look for your apps, or can live without Nokia's City lens and Gps software (which is in all honesty, excellent) the W1 is the perfect platform to start.
7.Price
The Nokia Lumia 620 is sold at about 215 euro's in stores, where the W1 eats only 179 one-euro coins out of your account. When we look at what you get for this price : its not bad, not bad at all. As an "entry phone" for the Windows Phone market this is a surprisingly good "bang for your buck" phone. Ok, its no iPhone 5, its no Nokia 920 .. but in the end it comes down to what you need. If the form factor is OK for you and you prefer a practical little smartphone to an over-pimped sub-tablet .. The W1 is perfect for you.  The question that you want to ask yourself is : Do I want to spend the extra 35 euro's on a Nokia ? Is the fact that Nokia offers up some stock apps like navigation and the "city lens" worth that extra money ? Or am I a geek who knows the ways of the force and kind find my own apps in the store ?  
Conclusion.
We like the W1. Its a decent entry model phone with a fairly good screen, a fairly fast processor, a fairly good camera and a very good price. This phone is either for the geek on a budget who knows where to find the right apps, or for my mum in law, who just needs to do some basic stock functions like email, Facebook, texting and calling. The W1 is not a cheap disappointing up-sell tool: It holds its value in the market being Huawei's step up to bigger things .. both for the consumer as for the company.
Related Posts