May 08
If there is one blog you should check out on a regular basis : Try "Hackaday" (thanx listener @sharky for the heads up). Its a great site with .. hacks. Whenever you like to turn your microwave into a sonic screwdriver, your doorbell into a dna-scanner or your inlaws into low orbiting space debree .. Hackaday will probably not be of any use to you … or will they ? At least they will manage to entertain you. Recently they asked their community what the ten best hacking movies/videos were .. of all time. Forget Angela Jolie in Hackers, forget computers that go bleeepediebloop whenever you touch them .. Forget Hollywood. Here is the real deal.
You can find a list of all the movies mentioned on their site.  Unfortunately there are no links to where you can watch some of these online. So Geek points for ANY Knightwise.com wiseguy/wisegirl that can come up with links to youtube, vimeo or internet archive copies of these 10 films .. in the comments section.
Related Posts
May 07
These days listening to podcasts must be one of the most important things you do all day. Ok, at least listening to OUR podcast must be the most important thing you do all day ? Yes ? Yes ! And to "Get" ones fix of podcasts one must use a "Podcatcher". A device that automaticaly goes out towards the internets and plucks the fresh fruits of podcasters near and far in order to deliver it to your personal listening device. (Whatever that may be). When I say "Podcatcher" many of you may think "iTunes". But if there ever was an application that failed so horribly at achieving the very act of podcatching .. iTunes must be it. This overbloated underfunctionalised trainwreck of code is NOT to be considered a member of our list of suggested podcatching applications.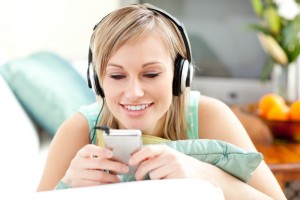 Here are the ones that ARE. 
Windows.
Linux.
Mac.
Ios
Android
Windows 8 (mobile) 
Some app missing from this list ? Do you have another favorite to share ? Tell us in the comments section.
Related Posts
May 06
The downside to having an Android device is that the home screen is completely tweakable. What starts out as a pristine and low-key desktop, soon turns into a mayhem of icons, shortcuts and widgets. The downside to such unrestricted personal freedom on your device is that you sometimes risk ending up with a home screen that looks a lot like your Uncles Windows 95 machine after 2 years of use.
Ios users have no such troubles. Cupertinian law has stated that there ARE no widgets and that each row of icons must be completely filled before you add another row of icons below. Such totalitarian control makes for a tidy room .. but also a dull one.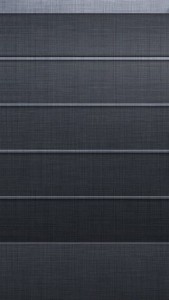 So what to do ? You want to give yourself at least some notion of "personification" of your portable device ?  You can do so by putting up some shelves… Wallpaper shelves that is. Howtogeek.com has an interesting collection of "wallpaper shelves" for that very purpose. I agree, its not a very exiting hack, since in IOS every screen has the same wallpaper .. but its way better then having the picture of your beloved covered in icons that cover up his/her/its sweet facade.
You can get the wallpapers HERE.
Related Posts
May 05
Traveling around with a bunch of tech stuff in the car is always a little tricky. You might need that laptop with you on your roadtrip, but you are surely not going to drag that 17 inch Macbook Pro all the way up the 298 stairs to visit that random monument of William Shatner along the way ? So you need to leave stuff in the car. Here are a couple of tips on how to do that … safely.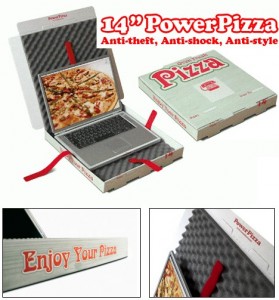 Store them out of sight. : Leaving your Tomtom gps stuck to your windshield as you walk away from your vehicle is just plain dumb. Don't even leave your gadgets in plain view. 
Don't store them in the "Obvious" locations : Leaving your Cellphone on your passenger seat or in your glovebox is also something thats a little tricky. If anyone pops into your car to grab your gear, these are the first places they are going to check. The trunk is tricky but a little better because its completely out of sight.
Park in sight. : Did you see a parking spot in an alley somewhere ? One of those places where nobody walks by and your car is completely out of sight of passers by ? Don't ! Make sure you park in a place where somebody smashing your windshield might get "noticed" by other people.
Take your gadgets "undercover". : A friend of mine had a greasy pizzabox parked on his passenger seat. When I asked him if he just had dinner, he flipped open the lid and revealed his laptop and smartphone nicely stored inside He had even made nice compartments and had used some Velcro to keep everything in place. With the lid down it was a pizza fest in progress, with the lid UP it was a little datacenter. A cool hack ! 
Cloak your gadgets. No matter how hard you hide them .. some of your gadgets might still be detectable… How ? They are actually screaming "I'm RIGHT HERE". Leaving bluetooth enabled (and having your devices detectable via bluetooth) gives any passer by (with evil intention) a pretty good idea if there is any tech stored nearby. If you leave the "default identification" on , your smartphone might actually be telling them what kind of loot they expect. Its hard to determine where exactly stuff is stored .. But if your car is the only one around … they might have a pretty good chance of scoring if they smash your window.  So : Airplane mode !
These are just a couple of tips to keep your tech safe in the car. Do you have some more ? Or perhaps you want to share YOUR secret hack with us ? Do so in the Comments Section below.
Related Posts
May 03
Thank god its friday my friends and fellow geeks. Friday : That day in the week where we can shed our dull dry articles about command lines and the possible future of Windows 8 on daiperboxes and deal with whats really important : The ridiculously stupid. Let us all hold digital hands as we celebrate the release of a music album that can, without a doubt, be seen as one of the epic musical milestones of the 21st century. An album that will be owned by many of you, loved by all and probably will find its place in Picards personal musical library on the Enterprise D … in about 300 years.  Who might this be who can create such a timeless piece of musical history ? Of course the answer is simple : Only the rider of the Knights (Wait .. that sounds all wrong from my point of view.) the "Watcher of the Bays" can do this. I am talking about the "VERY BEST" album of none other then "The Hoff".
Compiled on a silver platter we can find some of his most popular tracks where he brings us the ultimate musical coitus with his personal awesomeness. An album that will stand the test of time, the call of ages .. Music that might even break dimensional rifts and rock Daleks right out of their armored casings. Bring forth the Hoff and let us revel in the wonderful reviews on Amazon.com where musical enthusiasts and geeks like ourselves .. chant praise to the Hoff.  From the great book of Amazon I bring you this faithful Hoffstodians confession : 
Economic nationalists throughout the country shuddered when the Commerce Department announced a Q3 trade imbalance comfortably exceeding $100 billion, the highest on record. We buy our electronics from Japan, our confections from France, and our oil from the Persian Gulf. So why must we import the cream of our own culture from abroad? We don't store the Constitution in Germany. We don't launch the Space Shuttle from China. So why must we buy our Hasselhoff from distant foreign lands? Demand for this benchmark piece of Americana will surely send the trade economy reeling even closer to the abyss.Its pending stupefying popularity notwithstanding, this is not an album without flaws, as flaws are inevitable when one takes on the impossible task of distilling Hasselhoff to a single disk. This is, after all, akin to reducing Aristotle to a lone pamphlet – nay, a matchbook cover. Because while this CD does include every Hasselhoff song that topped the charts in ninety countries or more, it was really the deep album work that made Hasselhoff synonymous with underground edge, incendiary lyrics, and youthful angst the world over. The poets who found their calling in the deeply nuanced lyrics of 1984′s "Night Rocker" will be crestfallen to see that album underrepresented beyond its touchstone hits. Jungle-based rebels from Columbia to Burma who viewed 1989′s "Looking for Freedom" as a clarion call to arms will be outraged that the entire second side of that inflammatory album is absent (with the inevitable exception of "Flying on the Wings of Tenderness"). And lovers who exchanged their lifetime vows to the ballads of "Crazy For You" will be devastated to see that only two of them are included here (even "I Wanna Move to the Beat of Your Heart" is inexplicably omitted!). However, the wounds gouged into our souls by these countless omissions are salved by the sweet succor of the eighteen songs that are included. All told, despite the travesties that come from reducing Hasselfhoff to a single disc, this is clearly one of the finest works in the entire oeuvre of human expression. By Charles
So let us dance into the weekend with this wonderful video clip. Some call it the worst song ever made .. I call it an artistic exploration of how far you can take bad green-screen technology before it makes your eyes bleed. Aside from "Looking for Freedom" this must be his all time best ! 
So go forth and BUY THE CD.
Related Posts
May 02
By now most (if not all of you) have dabbled a little bit with Linux. Although it might look geeky and complicated at first glance, once you dip your toes into the great lake of open source it becomes a very refreshing computing experience. How do I mean ? Well : I challenge you to the following : Take a Windows Machine OR a Mac and, within 2 minutes FIND and INSTALL a free application that allows you to download a Youtube video and extract the audio to MP3. If you started off your search in Google (or in the Mac App store for that matter) you are starting to realize it is not that easy. There is a ton of 'supposed' freeware out there that, after installing it gives you either an app that does not completely work (unless you pay for it) or is just too complicated.  Do you (as a true slider) have a Linux machine handy ? (perhaps a virtual machine or a server ) Then lets fire up the command line and give you a one line command to make that technology work for you.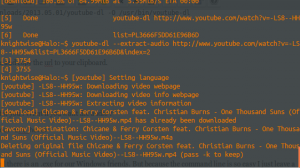 Introducing "Youtube-dl"
Youtube-dl is a command line application that lets you download Youtube video's and if you want to, extracts the audio from said video's. The command is simple. On Ubuntu you can install it by hitting : 
sudo apt-get install youtube-dl
After the installation is complete you need to update the app to the latest version. Also .. a couple of  one liners.
sudo youtube-dl -U
You will get an error that you need to update via the GIT repositories once more. Easy peasy (copy and paste people)
sudo wget http://youtube-dl.org/downloads/2013.05.01/youtube-dl -O /usr/bin/youtube-dl
sudo chmod a+x /usr/bin/youtube-dl
Lets start Downloading.
Now surf to the Youtube video of your choice and copy the url to your clipboard.
Go back to the terminal and type : 
youtube-dl <paste your url here>
Presto ! You will have the youtube video all for you ! What if you want the audio ? 
youtube-dl --extract-audio <paste your url here>
Cross platform compatibility
Youtube-dl is also compatible with Macs and there is an .exe for our Windows friends. But because the command line is so easy I just leave a terminal open to my linux machine (on ANY machine i'm working on) and just copy and paste whatever cat video I would like to keep for prosperity.  And youtube-dl does also support tons of other video sites like Vimeo and more ! 
Links : the Youtube-DL page.  and their howto for Windows and OSX users.
Related Posts
May 01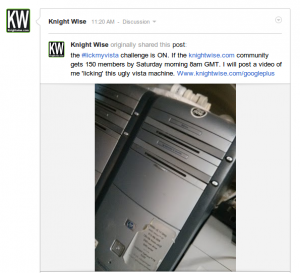 If you are not yet a member of our Knightwise.com community, you are surely missing out on a lot of tech intensive geek banter. 
To 'up' the number of members in the community we have redirected our knightwise.com/googleplus Url to the geekiest community in Sliderspace. (Thank you @kdmurray for helping us there). A sense of togetherness is very important for Knightwise.com because nothing is more rewarding then bringing people together with the same interests. Google+ is a very nice platform to to this so we decided to give it "A Boost".
While having my morning coffee I noticed that the number of members (stuck at 89 on Thursday morning) was a little on the small side so I decided to "up the ante".  I must have been drunk because I suggested that SHOULD the community reach a 100 members by the end of the week I would post a picture of me "Licking" an old Vista clunker that is parked in our basement. (Its not mine, its a friends pc) The thing does not boot, its dusty, dirty and smells of dead tribbles .. and its a VISTA machine. 
And before I knew it : Things got out of hand. a 100 members proved to be easy .. So i had to up the ante : IF … by Saturday morning 8AM GMT … we have a 150 members .. I will post a VIDEO of me .. licking the Vista machine.  
It appears personal humiliation is something that reaps popularity because the numbers are going up fast. If you think I should experience what dead Tribble tastes like ? Join us .. www.knightwise.Com/googleplus.
Related Posts
Apr 30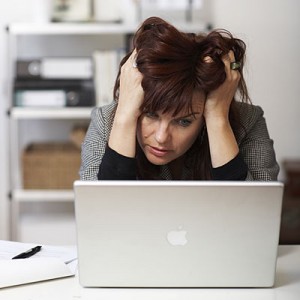 After our home renovations I found myself forced to move my office to the attic of our house. It was time to tear down the carefully constructed nexus my digital lifestyle up one level. But it was also time to think things over on how I wanted stuff to be set up. Where my old desk was arranged in a C-shape, surrounding me with multiple monitors and computers, all available with a smooth swivel of my chair .. my new office was a "one line setup", stretching out the entire length of the workspace in a single row. This meant it would be impossible to use the setup with just "one chair", in essence creating more then one workspace. What now ?
"Comfort zone".
I decided to do things differently this time. My multi-monitor-multi-media workstation with its 2 massive 24 inch displays, its mixers, its speakers and all the other gadgets would be sprawled onto one "desk" and .. I would leave the other desk completely empty. Instead of packing it with screens and keyboards, a little lamp, a wireless mouse and a collection of power and network cables was al that was visible on the workspace. This "second desk" is the one I want to use when the countless windows and digital clutter are getting out of hand. I just pop down here with whatever laptop I'm using (My Mac, My Linux machine, My work laptop) to get things done. I just sit down, hook up and focus on what I'm doing. Distractions are few because .. its just a cosy little corner .. opposed to a Nasa style multi-display supercluster.
"Zen Zone"
But just a "different spot" is not enough. One might still be bombarded by digital distractions like eMail, Social media and so forth. So I created a different user profile on my laptop (s) that I call the "Zen Zone" A profile that does not have IM or eMail clients configured. Just the bare minimum will suffice. Access to a browser, word processing apps, whatever I need to get stuff done .. but ONLY that. If I really wanted to I could remove the admin rights to this profile, change the proxy settings and make sure that my "Zen Zone" would be unable to access the internet unless I reboot. It might be tricky to do so when you work in the cloud a lot, but when you need to "get down and dirty" with something you need to get done .. this might help you with your self discipline. You need to "log out" and "log back in" to a different user if you want to go online. This will surely help in controlling your impulses to "quickly browse the web"."
"Zen-ware"
Especially when it comes down to writing or being creative, having as few distractions as possible does help a lot. There are a number of applications that help you do this. Taking away all the bings bongs and chimes from the busy desktop interface and just giving you a plain interface.  Ommwriter ( Windows, Mac, Ios) or Focuswriter (Linux and Windows) are great ways to find a tranquil slate of screen to do your thing. Finding an online pomodoro timer might also help you keep your Cyber-ADD in check by giving you a focus-countdown timer with rewards when you completed a task.
In the end it comes down to a little self discipline and letting technology work for you instead of getting in your way .. to get stuff done. So : What are YOUR tips and tricks to stay focused and not goof off all the time ? Tell us in the comments section.
Related Posts
Apr 29
"Annual neighborhood garage sale" the sign read on the side of the road. As we whizzed by at 50 miles per hour it was a little hard to read out the final lines of where exactly this event would take place, but I was quick enough to take down the date : Today.  My trusty Nexus smartphone provided me with the correct information and walking directions how to reach this event and I was pleased to know that, not only was it within walking distance, it would also be an ideal way to spend a couple of hours on a lazy Sunday afternoon. So my slumbering crave to become the next Indiana Jones collector of forgotten cult memorabilia (Read : Old Transformers, GI-Joes or the holy grail : Vintage Star Wars toys) once again proved hard to resist. A couple of hours later, armed with some music, geeky headphones and a camera, I was ready to go shopping.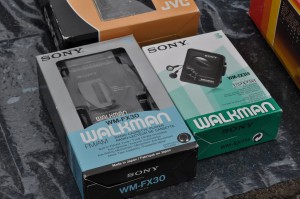 Being able to hold an event like this on a sunny Sunday afternoon is a blessing for any neighborhood committee and it was nice to see that they got a nice turnout. The wonderful thing about garage sales is that you not only can rummage around old junk, you can also see the people who have owned it. As I spot two sweet young ladies sitting side by side on a comfy lawn chair, my camera snaps up a shot of two discarded Walkmans in their original packaging. In my mind I go back a couple of years and see the adolescent version of these charming lads sporting braces and pressing 'rewind' and 'play' over and over again, just to hear their favorite Take That song over and over again.
As my efforts to find a Chewbacca action figure in mint conditioning turn out to be a quest for another day, I mentally rummage around my own collection of stuff that sits discarded in my drawers. Old gadgets and forgotten pieces of tech that might just be something I could sell off. As I head home I make the promise to "clean out my closets" and see what I could sprawl out on a blanket along the side of the road.
A couple of hours later, a small line of 'technological legacy' sits on my desk. Old usb sticks, discarded 250 gigabyte ATA harddrives, a bunch of cables, an old Beige box, a ton of SD ram and more .. Most of these items have been sitting here for quite some time, the pace of progress to fast for them to keep up as they slide into disuse.  On the side of this little pile sit two more items that somehow stand out. An old Nokia 6310 phone and my very first 30 gigabyte iPod video.  
I roll them around in my hands and together with a sense of familiarity, memories come flooding back. Back to the times when I got this Nokia I had discarded, yet always kept close as a "backup phone" .. To times when I worked as a field engineer in a large industrial plant, and how I used to have this iPod on me for over 10 hours a day playing podcasts. I close my eyes and let my fingers slide over the tactile ring, still being able to operate both devices completely by touch. A privilege lost with modern day smartphones and iPhones.
Before I chuck them on the pile a strange thought crosses my mind :  "Why ? "  Why would I throw out these two gadgets, who, despite their age, have not lost a single shred of their functionality.  Would I still be able to use these devices today.  As for the Nokia 6310 it would be possible. I would be in the possession of a phone that would only be able to have a data communication through the primitive functionality of a infrared dial up modem at a speed that is considered slow even in third world countries. I would have to use the numeric keyboard and T9 text predictions to compose sms messages. I would be unable to access twitter, Facebook, email and the other countless social networks that comprise the main share of my interaction with the outside world. It would be a device where people could reach me when they REALLY URGENTLY needed me : By actually "calling" me. It would be a device that would give me digital solitude while still keeping open that one essential line of communication used in the most dire circumstances : A phone call.   I wonder if I would look "out of date" answering the standard Nokia (monotone) ringtone with a simple "hello"  and actually starting a conversation. Would, planting my phone on the table alongside sweet black squares of magic be considered "outdated' or "tech-hipster-retro" .. it gives me food for thought and perhaps even the grounds for a little social experiment.
The second device, a white 30 gigabyte iPod video pours fuel on the fire and actually lets me come up with a nice re-implementation of the device. My beloved has just acquired her new set of wheels, A fiat 500, the NCC 1701a of the legendary Fiat 500 line. The car is a tribute to a beautiful design of another time : its 'Retro Chique"  And somehow the old iPod would fit perfectly. Not only can it be directly accessed through the car's entertainment system and far outclass my wife's 8 gig iPhone 4 in storage, It also is safer than the average 'touchscreen only" device should the need arise to manually operate it.
Instead of trying to angle out glare while trying to push minute icons on the touchscreen while driving, this iPod 'video' gives her the ability to be handled by touch only. Play, pause, forward and back.. her eyes can be on the road as the old but trusty jog dial helps her find the right tune.
I punch up an eBay auction and spend 5 dollars on a battery replacement kit for the iPod ( Its battery is utterly and completely dead ) and look forward to installing the 'renovated' iPod in her classy car. Here the question of "outdated' vs "retro" is a non issue. It would fit perfectly and perform all the tasks that would be required in its second lease on life.
And thus I wonder. with the great waves of innovation crashing on the shores of struggling times, how many of our "old gadgets" are actually still functional. How many of them have we discarded because "something new" was on the horizon. How many of them could be considered "retro chique". With the average norm reaching for "the latest and hottest thing" on the shelves (without having an inkling WHY), would we geeks be considered "hip" if we sported retro gear ?
My mind goes back to the two young ladies at the garage sale. How would they look today If the two walkmans would be strapped to their sides, their headphones (with orange earmuffs) contrasting with their dark hair. The tinny sound of a Rick Ashley bleeding out of the speakers as the volume is set to maximum. Would they be out of style .. or Retro Chique ?
Related Posts
Apr 28
We kick off season 6 of the Knightwise.com podcast with a classic episode of "Storytime" where we take you down a good old fashioned rant about the "Average Hick" of the cyberspace community : "The Norms" If they are not buying the latest gear for no reason, they might be out trolling your Facebook feed. These 2 short stories will probably sound very familiar for any advanced geek. Add some cool music to the mix and welcome to season six of the Knightwise.com podcast.
Shownotes.
Intro
Music : Nordlight  
Pictures of the bookstore in Maastricht 
Story : Not the latest thing.
Music : Carbon based Lifeforms
Story : Welcome to wherever you are.
Outtro.
kw601 : Storytime 'Norms' [ 9:37 ]
Related Posts
---