May 18
What does it take to start up a company ?  What does it take to make that company cross platform compatible ? What hardware do you choose , what software do you choose ? What services do you go for ? What are the challenges, the easy bits and where does it all make you want to pull your hair out  ? We answer those questions in this weeks podcast as we take a deep dive into the technology we selected and used to start up our own IT Consultancy company. Listen up ! You might learn something

Shownotes.
Introduction.
The difference between corporate and geek.
Requirements
Services
Hardware
Current laptop : Lenovo Twist.
kw804 : The Cross Platform Startup.
Related Posts
---
May 12
Biweekly I go through Kickstarter and try to find some interesting projects that you just must back. I have backed 22 projects since February 2011. My strategy is simple: I just cruise through the pages until I find something I like. Sometimes I search for keywords. Earlier this week for example I tried "laptop" and some awesome stuff popped up.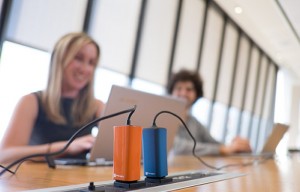 Take for example the Dart. It's a universal laptop charger, the size of a lip stick. It costs you 90 USD and you'll get a charger by 2015. It's a great idea, but this Kickstarter project resembles the main issue I have with Kickstarter: it's most of the times just an idea. The charger delivers 65W and puts out 18 to 21V. So it won't charge certain tablets or stronger laptops. The word "universal" is also something that needs some in-depth research, as you need licensing for the Macbook plugs for example (and even Macbooks have two different types of plugs right now). Buying the standard version will cost you 90 USD, but 199 USD for a European Macbook charger? I don't think my charger is that big anyway…
It's a great example of an awesome idea that's not ready yet to be sold, but it's worth investing in these type of projects. It's because of the funding they receive of their backers, that they can actually go further and finalize their projects. Kickstarter isn't always about asking financial aid to finish something, but to actually help create something.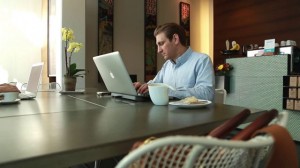 The story of the Airbar is something completely different. Those guys have tested and finished their prototypes and are ready to launch. I have to agree: when you are looking for a cooling device for your overheated notebook, they always tend to be oversized, heavy and they don't seem to cool at all. Jordan Meyers created the Airbar, which he hopes to sell through Kickstarter. For 75 USD, you'll receive a slick bar which lifts the back of your laptop by an inch for some comfortable typing, while sucking in air. Meyers choose some smaller but more expensive fans than the lower end fans that most cooling pads include. And to be honest, it even looks great too. I'm afraid it won't meet its goal, but it's worth a shot. Because really, how cool is a cooling gadget? No hipster is going to get this.
Last but not least is something more general about crowdfunding and why I like Kickstarter more than Indiegogo or other funding platforms. The campaign advisors of Kickstarter are very strict. If you don't meet their requirements, you won't get in. It's that simple. Indiegogo allows everyone to enter and get started. They call themselves the World's Funding Engine. I call them the crap sellers. Not to say that Kickstarter has the best projects, but I do want to say that Indiegogo has the worst. While searching for "laptop", I found nine projects of the first twelve called "I need a new laptop, help me buy it."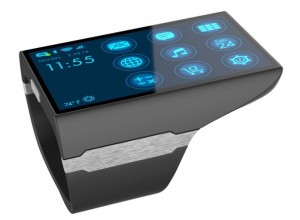 What I did find on Indiegogo that I wanted to mention, is the Rufus Cuff. It's not a laptop project, but it's a oversized smartwatch. It costs you 269, but it looks really awesome! I don't think it will become more Star Trek than this, except if in the future we will get beamed up by Scotty. The Rufus Cuff allows you to text, call, Skype and take pictures on your wrist. It will even notify you when you left your phone behind. You can surf the web, do fitness exercises with the GPS, gyrometer and other built in analysis tools. It runs on a full Android version so you can install all apps on it. You only can't call directly with it, as it needs a Bluetooth connection with your phone. It's water resistant so you can text and call while in the rain or in the shower. Be quick though, as the campaign ends in less than a week.
Matthew Deboysere is a video game journalist for several Belgian media. Is the co-founder of G.Mag, a free digital gaming magazine, but left for a new adventure. Previously wrote for GUNK and 9lives. Loves video games with a great story that reduces him to tears. And cat videos.
Related Posts
May 10
Its time to be Mr Journalist and cover Acer's launch event for their Liquid E3 smartphone in Brussels and take some interesting interviews. We talk to two different sides from the girl-geek spectrum and interview Sunny, a 'beauty blogger' who just got her first smartphone and Mee Hyang, one of the members of the 'Brussels Girl Geek Dinner' who has been around the tech block a couple of years.  Both ladies give us their vision on technology and the "Girl vs Gadget" ratio in their lives. As an added bonus we talk to Lars Christensen, the Acer Product manager about some of the cool new functionalities Acer will be supporting in their smartphone and ask him the pesky question : 'What is a PC going to look like in 3 years'.  Enjoy KW803.
Shownotes.
kw803 : Girls Gone Geek [ 40:40 ]
Related Posts
---
Apr 14
 We already told you about some of our favourite Chrome apps in the first post of this series, So this time its time to dive a little deeper into applications/extensions that will actually help you to do things for which you otherwise would need an application. We have broken them down into some easy categories for you to follow.
Entertainment.
I think the days we actually stored music on our devices and played back those files are as obsolete as shouting "Put the needle on the Record" at some teen playing a DJ gig with his laptop. Since we are talking about Chrome extensions here, I can only assume that you have a connection to the internet all the time.  With so many free audio streaming services available the only thing that is keeping you from playing the latest Shakira album over and over (and over) is your bandwidth cap.  Some of the Chrome extensions we love here are  Spotify and Soundcloud. Sure you get some commercials when you use the free service, but that's just like real actual radio. If you should be in the business of running your own PLEX server at home and would like to stream your (audio and video) content on your Chromebook ? Try the Plex app. (But do make sure that you open up the right ports on your router if you want to access your server from the outside).
Production.
But what about when listening to music is not enough ? There are a couple of great apps out there that will actually help you MAKE some music. From simple voice recording with "Voice Recorder" to rather complex audio mixing with Audiotool. Want to annoy your friends by badly mixing 2 tracks together using an online DJ mixer ? Try Until AM.
Connecting to other machines.
But what if your Chromebook isn't enough and you need to connect to other systems and devices ? When you need an SSH session to your Linux machine (or your mac) at home "Secure Shell" is without a shadow of a doubt one of our favourite applications. It reminds us of the popular Windows terminal client PUTTY only 4983 times better. It remembers sessions you have saved to your servers across multiple sessions of Chrome, so you always have your connections at your fingertips. If you need to go a step further and dive into the graphical side of things, you might want to try "Chrome RDP" to connect to your  machines running the Remote Desktop Protocol.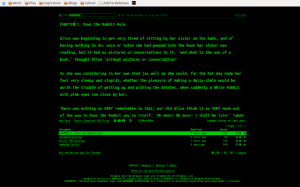 Productivity.
Ok, The only reason you bought a Chromebook (or use Chrome) is so you can spend hours on 9gag and Reddit. So its a good thing we even dug up some productivity apps. Outlook.com might be a little bit of blasphemy in this Gmail centered environment, but the Chrome app DOES get you to your mailbox environment even though its not controlled by the "Big Bad G". Another pretty simple Chrome app we found is called Workflow. Workflow lets you organise your tasks into lists and sub-lists. It's more like a text based mindmap but it does give you a pretty good overview of what you are working on and what subtasks are involved. Speaking of "simple" and "text based" we found "Writer" to be a very nice distraction free text editor for writing up text without being distracted. We love the "black and green" terminal like interface, especially if you run the Chrome app fullscreen. Writer lets you download your writings to different formats or saves them to the cloud so you can continue editing them in another chrome browser.
And finally
With all the commotion about the Heartbleed exploit .. Install the Lastpass Chrome app and sort out your passwords once and for all.
Links.
Related Posts
Apr 13
When you think of it "having applications inside of a browser" might seem like a bizarre idea. However this IS the case when you take a look at Chrome and the Chrome OS. All chrome applications that are available in the store (and that turn your Chromebook from a porn-browsing paperweight into an actual "computer") are also perfectly usable inside the chrome browser.
The great thing about these chrome extensions (or chrome apps) is that they are highly cross platform. Whether you are running chrome on your Chromebook, your windows or Linux machine or even on your mac : Chrome apps will look the same everywhere. The also have vastly the same possibilities (and limitations) everywhere. Most of them might not be usable if you are offline, but most of them do simulate a full fledged application (where it not that you KNOW they are running inside a browser). As we hop from OS to OS we write sweet love poems to the following list of chrome-apps for giving us a consistent and pleasurable experience .
Feedly
Some chrome apps are just links to web services, and with the Feedly chrome-app there is not getting around it. Its basically a link to the web based interface of Feedly. The good thing is : Feedly looks good, its fast and it works. The Chrome app takes care of logging in for you and BOOM you are reading through your 2908383098 unread articles. Good luck with that.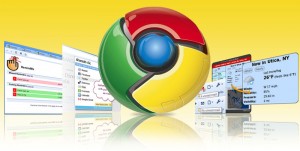 Pocket
"Oh – Ah" .. I want to read that later ! That's something we scream about 4 times a day when we tread upon an interesting article that is just to long to read at that very moment. I hit the "save to pocket" icon in my top tool bar and the article gets saved (with pictures and everything) to Pocket. Whenever I feel that i'm browsing around aimlessly ( Facebook – newspaper- Reddit – 9gag – newspaper …) I punch up the Pocket extension and browse through the articles I saved earlier. Pocket also has a great mobile app that lets you read the articles offline on your mobile device AND have the articles read out to you with a text-to-speech function that sounds like Stephen Hawkings hot sister.
Evernote
Here we can only say one thing : This is without a shadow of a doubt one of the very best Evernote clients for Linux. By the time that our popular note taking application to release a native Linux application, pigs will have colonised other planets. There have been some attempts by open source beard bearing goblins to make a client that interfaces with Evernotes API on Linux .. but the chrome app takes the cake. Sure it won't work offline, but it IS the cleanest way to connect to your web based version of Evernote on ANY OS.
Google Drive
Why would one need Google drive when one has Dropbox or even the locally installed Google Drive client ? The answer is simple. This extension does not drop the Google files into your desktop ecosystem .. this IS the Google desktop ecosystem. Not only do you get easy access top all the files you have stored on Google Drive , you can also instantly access them in the very same window, regardless of your OS. Whether you would like to write a love poem to Miley Cirus, do a spreadsheet on how you will managed your finances one you marry her .. or draft up a slideshow on why a care-bear should be featured as your upcoming company logo .. its all right there in ONE window.
Google Calendar
Without my calendar I am lost. Browsing over to my calendar in the cloud and logging in to enter an appointment ? I'm too lazy. The Google calendar extension gives you your calendar in a window at the click of a mouse. I love having the short cut to this Google app (Because that is what it is) on my desktop is just too darn handy.
Google Mail
In know I might be boring you to death with Chrome apps for "standard" Google services .. but they ARE the ones that do what they do just right. The cool thing is that these (native) Chrome apps do give you the luxury of a standard desktop applications like notifications and the ability to become the "default' application for handling any email shortcuts.
Gliffy
Visio. Microsofts 'Miauw Du Chat' when it comes to drawing up complicated flowcharts or organisational charts that feature your name waaaay down the bottom. There aren't a lot of replacements from this app in the cross platform world. Good thing that there is Gliffy, Gliffy is free and has all kinds of nice flowcharts and funky network diagrams for you to play with. Gliffy even lets you store them on line (all though the number of Flowcharts you can save is limited in the free version).
Mindmeister
We all have brilliant idea's. We just don't have the brilliant idea to stuff something (like a piece of paper or a pencil) in our pocket to write them down. That's not such a bad thing because pen and paper is a pretty shitty way to manage an entire brain fart. You want to be able to draw branches and sub-branches. You want to organise your thoughts into categories and subcategories . You want to do this anywhere and preferably .. for free. Enter Mindmeister. A great online mindmapping tool that works on any device that comes with a browser (except the Nintendo Wii). Aside from having native clients on IOS and Android that sync with the cloud, Mindmeister now also has its own chrome app. You can only store one or two acts of brilliancy online in the free version .. but nobody ever said that you should have just ONE brain dump per document.
any.do
The one thing you have to DO with TO-DO lists is keep track of your to-do's. If your to-do's are stored on different devices, one of the things you need to do is keep them in sync. Any.do does sport a native IOS and Android client that syncs your Todo list with the cloud. The great thing about its chrome app is that it creates a nice pop-up window that you can set to the side and keep track of your to-do list that way. Any-do is as polished as a native app and looks identical on every os. Love it !
Links.
There are of course more Chrome apps out there that might carry your favour. Tell us about them in our comments section.
Related Posts
Apr 09
Guestpost by Stayathome G33kDad.
Hello Wisegirls and Wiseguys!  It is Matt, the Stay­at­home G33kDad from Northern California.  I am jumping in here on Chrome Week to share my Chromebook with you. I received an Acer C720 for my birthday and I am loving it. I use it everyday to keep my journal, surf the web, send and receive email and manage multiple websites.  It is lightweight, starts up in under 7 seconds, and the keyboard is so easy to type on.
I was initially considering a tablet with a bluetooth keyboard to fill this need. I have a great lenovo laptop, and it is fairly light. I run whatever my current favourite linux distro is on it.  However, to have the Chromebook to just pick up and go; it's awesome.
I find the Chrome OS (based on Gentoo linux, btw) to be snappy and powerful I am in the process of doing a couple of proof of concept pieces to prove just how versatile this computing platform can be.  I will be releasing both a video and audio podcast recorded, produced, and published using solely my C720.  I'll keep you all posted on the progress of those projects.
All in all, I love my Chromebook and I would recommend it to anyone who is looking for a lightweight, fast, task-oriented device. And, it's fun, too.  Just last night I used the HDMI port to stream episodes of The Walking Dead on my flat screen tv! Really cool.  
Here's my unboxing video.
Related Posts
Apr 07
Biweekly I go through Kickstarter and try to find some interesting projects that you just must back. I have backed 21 projects since February 2011. My strategy is simple: I just cruise through the pages until I find something I like. Sometimes I search for keywords. Earlier this week for example I tried "bike". I am someone who never takes a bus and doesn't have his driver's license, so whenever I need to be somewhere, I go by bike. And I like to pimp my modern stallion with all these exclusive gadgets I find on Kickstarter.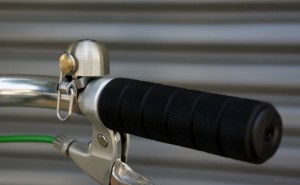 After the "Better Bicycle Bell, made in the USA", which I received two months ago and is really loud – although nobody cares, stupid tourists – I ordered the Zondo Firefly Bag. I ride my bike during nights a lot and sometimes I just don't feel safe. During the weekend there are a lot of drunk people behind their steering wheel and I tend to ride near the beach because cars aren't allowed there. But with the Zondo, I have a compact and really cool looking backpack which you can use for casual riding or for professional use. It has a pocket which can hold your bladder bag in case you need to take a pee on your bike – no thanks – and it has a switch that lights up a strip on the front side of the bag.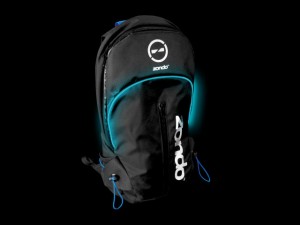 The Zondo will be made in the United Kingdom and only costs you 40 GBP if you want it in any colour you like. If you want the basic blue one, then they ask you to pledge 30 GBP, which is actually a great bargain. The problem is that they just reached the 50 percent mark, and they only have 18 days to go. It's not a product that a lot of people need, because mostly bicycle lights should suffice, but if you want to feel more safe – and need a new cool rucksack, then this is something to go for. 
Another interesting bicycle project on Kickstarter is the Fietsklik line of transportation accessories. The Dutch people of Fietsklik have invented The Click that goes over your bicycle rack. It needs some basic mounting, but once you've found the right spot you can click some awesome accessories on it. As a miniature wargaming enthusiast, I have a large backpack with all my figurines ready to go, but I also have a big crate with other stuff that I usually need. So I am particularly looking forward to the Crate. You slide it on the Click, push it locked and turn the key to secure it. It can hold all your groceries and even a big crate of beer! They have tested it for several years and it looks really legit – although we will never forget we are paying to support an idea, not to buy a product. Sometimes they fail. But I feel confident about this one.
The people at Fietsklik also want to launch three types of bags that you can attach to the Click easily. The Click allows you to attach three accessories at the same time – two bags and the Crate – but also is looking into a child seat. They have finished the prototype and are looking into getting it checked and certified. You can pledge to get one, but you will receive the seat only at least in April 2015. All the other accessories will launch in July 2014.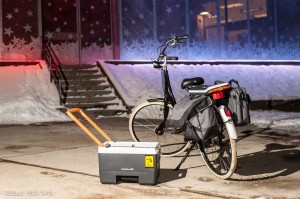 If you pledge 99 USD, you will receive the Click and the Crate, which is an awesome deal. The crate also can be folded up to be more compact and has an extendable handle and wheels. Ideally you will shop with your Crate and mount it quickly on the back of your bike. Cool! Need more space? It will cost you 149 USD but you will receive the Click and two accessories of your choice. That can be two crates, or two bags, or one of each. And for 199 USD you will receive the Click and the Crate, and can choose two bags. If you're quick, there are still some early birds available. Fietsklik has already surpassed their target. They are at 150 percent right now. It's a solid investment if you need easy transporting on your bicycle and hate tying several bags on your steering wheel.
Links.
 Matthew Deboysere is a video game journalist for several Belgian media. Is the co-founder of G.Mag, a free digital gaming magazine, but left for a new adventure. Previously wrote for GUNK and 9lives. Loves video games with a great story that reduces him to tears. And cat videos.
Related Posts
Apr 04
IT is changing, dramatically so. With the advent of total ubiquity on smartphones and tablets among the general population, the rise of the connected fridge and the smart scale that loves to tweet how fat you are .. the "classic computer paradigm" is slowly changing. Our devices are becoming dumber and dumber and both our data and our services are slowly but surely evaporating into the cloud.
 And still I insist on running some of those servers and services myself. "Why ? " you ask with raised eyebrows as you randomly upload a selfie to an unknown service from an unknown company. As the file travels towards its mistic location where it will be stored forever, it sheds unwanted complication like "your intellectual property" and any notion of privacy. It's a cloud service … so it should always work for free, always .. So why run your own server ?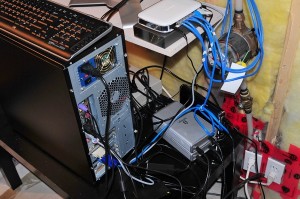 Because its FUN.
For one : Tinkering with computers and running your own servers and services is FUN. It stems from the day that computers were built to tinker with and where a combination of a piece of software, a network connection, a spare computer and 3 pots of dark coffee would get you your very first self-hosted webserver. Tinkering around with software and systems and making that very first "connection" to your very own server .. is just plain FUN.
 The chance to learn and understand WHY things work.
The beauty about setting up and running your own servers is that you get a very enlightening insight into how and why things work. It is something you probably never think about when you "check in' as mayor of the porta-potty around the corder where you work. What data is envolved, how does it get there, who keeps track of it, how does it show up on my mobile device .. what magic oomph loom pa's need to hold hands and sing koomba-yah in order for all of it to work. You can rest assured that the wonders of trail and error when setting up your own service will teach you a great many deal about why things work. (By showing you over and over how things DON"T work.)
The notion of control.
Every single time Facebook changes its UI, the internet moans under the weight of millions voicing their complaints on how they want "The old Facebook" back. What many people continue to forget is that, when it comes to "free cloud services" .. you aren't their client , you are their product. They make money by bouncing adds of your screen or selling your personal information and interactions to some very very clever marketeers. If the "free cloud service" is no longer profitable they can either start to charge you money or go out of business altogether. When they decide its time to bring in a feature that would make Bonzi Buddy* appear as your best friend (* check your internet cultural history you noobies) , you have ZERO control.
The right to privacy.
Privacy is a buzzword these days so lets not pretend that the files you store on dropbox contain the secret plans for an orbital death ray satellite. I'm not worried about government snoops sniffing my files, as long as they have due cause to do so. I'm more worried about these so-called 'free services" selling my data (and my content) to whoever they want to. It might be in their "EULA's", but nobody reads those anyway.
 So I love to run my self hosted version of Dropbox using the Bittorrent protocol. Its fun to set up, there are no data limits, nobody is snooping my files (that I know of) and I am in total and complete control of what is going on.
 Ok , I have to admit, if the tech goes POOP .. it goes POOP and I am the one to fix it. There is not tech support , there is no hotline to call ( Well , there is , but since you will be calling yourself you will get a busy tone) It does mean that you might have to spend many an hour repairing an unforeseen issue. But think of it this way .. every sigh of frustration is a pebble on the road of knowledge (mostly knowledge on how NOT to do things).
Thus I embrace the possibility of running my own servers; not because i HAVE to.. but because I still can.
Related Posts
Apr 03
Dropbox changed its terms of service so they can give you data to the Feds if they just ask for it, Ubuntu shuts down the online fileservice "Ubuntu One" : Who can you  trust these days ? The great thing with cloud solutions is that they are on a server far far away, most of them are free and you never have to maintain them. The downside is that they are on a server far far away, they are free and you cannot maintain them. We give up a certain level of control for the convenience of the cloud. It would be of course far nicer if you had a service that offered you all the luxury of the products mentioned above .. but gave you full control, absolute privacy and a completely controlled solution. (and free ! It has to be free).

Do not fear : Owncloud is here.
Owncloud is a self hosted cloud solution that gives you the luxury of the cloud in the privacy of your own home (or on your own hosted environment). Its a cross platform webservice that gives you the ability to store files in the "cloud" and access them from anywhere, Sync those files with your desktop (like Dropbox) You can share your files with friends and access them using mobile clients on Android and IOS devices or a simple browser window.
Don't trust the cloud with your Calendar and contacts ? Owncloud takes care of that too. Manage your contacts and calendars straight from Owncloud or sync them up with your mobile devices using open standards like .vcard and caldav. 
Tired of the tracks on Groovebox or spotify ? Would you like to stream your music (and movies) from your own hard drive at home ? Owncloud even has an answer for that. The built in media player lets you access your library from anywhere as long as you sport at least a browser (AND some underwear .. Owncloud is classy like that).
Want to tie all of your different cloud services together ? Owncloud supports connecting external storage to the service (like network and usb drives) but can also connect to Dropbox and Google Docs, offering ALL those files up in one simple interface.
So what does it take ? 
Installing Owncloud is pretty simple. All you need is a linux server and you can choose to install Owncloud either from the repositories (if you are using Ubuntu or Debian) or you can go and download version 6 straight from their website. 
Owncloud is based on a web based server so you can access everything from port 80 and add some security by choosing to go for https to do your authentication (highly recommended).  You can run it on your server at home OR on a webspace you rented somewhere (or if you are really lucking on your own hosted server in some datacenter). You don't need a lot of power, but Owncloud does need some ram and some cpu power if it is going to manage and index thousands of files for you.
So how do I do it.
Find out more.
In all , Owncloud is a very powerful solution when it comes to hosting stuff yourself. It has come a long way since version 6 and I have been a big fan of the convenience, the cross platform compatible-ness (is that a word ?) and the sheer power of integrating multiple storage locations (usb drives, network drives, cloud storage) to ONE single web interface. Try it .. you'll be on cloud 9.
Related Posts
Apr 02
*By guestblogger Todd Oldhoff *
As someone who teaches about using OS X Server I get a lot of questions from home users about why they would even need a server in the first place. Most people perceive that servers are for big business operations. They are huge machines that sit in a dedicated room and are monitored by IT professionals who make sure everything is running smoothly and fix things when they break down. The whole process seems overwhelming and most feel they lack the expertise and spare room to even consider running a server. So why would a home user need to run it in the first place?
I want to start by saying this is a great question to ask and one that we should ask not only as it relates to servers but all of the software we use. If you don't have a real need for an application you should just avoid it as it will only clutter up your hard drive and cost you money to purchase. Also, if at the end of this post you still don't see the need for running a server than don't do it. This article is designed to help you see what a server could do for you so you can truly determine whether the features fit any of your needs. So let's get started with why you might want to run a server by looking at the hardware requirements.
One of the myths most people have about servers is they are huge machines that need dedicated rooms to run. The beauty of our current place in history is that servers can be run on very small hardware that won't take up more than the size of a shoe box on your shelf depending on your needs. You can run OS X Server on a Mac Mini and have plenty of power for your home environment. In fact I would recommend using a Mini for home use because of the power benefits and it's small size. I would however recommend getting at least 8GB of RAM and, if you can swing it, 16GB. With that you should be in great shape to run OS X Server. But server can also run on any Mac you have in the house so don't feel like you have to purchase a new Mac to run server (unless of course your Mac is too old to run Mavericks). As long as you plan on leaving your server on and not move it around, you could even use a laptop.
Now that we have the hardware issue out of the way, let's look at some of the benefits of running a server in a home environment. Each of these things should give you a good idea if Server is for you: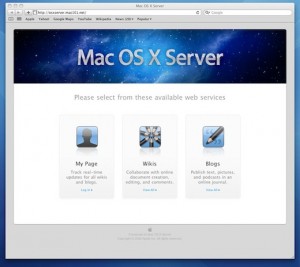 Wireless Time Machine Back Ups
If you don't happen to have a Time Capsule or would rather have your storage space outside your router, you are out of luck when it comes to wireless Time Machine backups. Yes you could do some things to try to get it to work with an Airport Extreme Base Station with an attached drive but things could get corrupted and its not supported by Apple. With OS X Server you can designate any drive connected to your Mac Server to serve as a back up disk for Time Machine and the best part is that it is supported by Apple.
 Your Own VPN Service
With most of us spending a lot of time on unsecured public networks, fear of data being stolen over the air is a real concern. VPN creates an encrypted connection to the internet and protects what is sent and received over the air. OS X Server has a built in VPN service that you can use on all of your devices to make your remote web access secure.
Network Accounts
With most of us having multiple computers at home with multiple users wanting to access their stuff on those computers having the ability for any user to log into any computer on your network to access their files and desktop is a much needed service. With OS X Server you can create your own network accounts and host your user's home folders on the server so they can access their own desktop and files on any Mac in the house. This really saves arguments over who gets what computer in the house. If you have kids you know what I mean!
 File Server
One of the first things most people think about when it comes to a server is gaining access to files when they are away from their main Mac and outside their network. With a server, you can designate any folders or drives as accessible outside your network and set who can access what files and folders.
 Manage Multiple Devices
Most homes have become mini corporate environments with multiple Macs and iOS devices. Managing all of those devices can be tedious and difficult to set up and maintain. With OS X Server you can manage all of your Macs and iOS Devices from a simple web interface and push changes over the air to your devices as groups or individual device profiles making managing devices a lot easier.
 Personal iCloud Service
For some people the idea of having all of their personal information online in the cloud somewhere makes them uneasy. What happens if a security breach happens with the service you are using? Instead of having those things on a hosted service, they may want to manage their own calendar, contact, iMessage and Mail Server. For those with kids this is a great way to help them get their feet wet in some of these services while you control what they can can't see or do. Built into OS X Server are services to that allow you to manage these things and then sync your settings to all of your Apple devices.
 Personal Web Server
Built into OS X Server is a web server complete with a built in Wiki website that you can customize. You can also host your own websites with OS X Server though there are some challenges for home users depending on your ISP service and how they feel about home users hosting websites. But even with that limitation you could host an in-house only website that your family uses on your home network only to share things. Another great way to get the kids used to using a website and publishing to it in a safe environment.
 As you can see there are a lot of different uses for OS X Server for home users. If you saw anything in there that you could take advantage of, then OS X Server is for you. You don't have to use every service to run server but can pick and choose what works best for you. For those of you that like step by step instructions on how to set all of this up, I have a Youtube Channel where I do just that. You can check out more information on my website or on my Youtube Channel. If you choose to get started and get stuck along the way feel free to send me an email or leave a comment.
 About Todd.
Todd Olthoff is a Mac enthusiast who loves to pass on what he has learned to others. He regularly produces screencast tutorials on his website and on his Youtube Channel. He is also a regular contributing screencaster for ScreenCastsOnline and for MacStadium a Mac colocation company.
 Links.
Related Posts