May 12
We continue our Cross platform productivity week posts this week and focus on that one little application we use the most on our computers these days … The browser. (or the World of Warcraft Executable, depending on your taste). Chrome is a little bit of a cross platform blessing since it not only straddles most of the Operating systems we talk about, it also has access to a wide range of extensions. We listed a couple that help you to be more productive.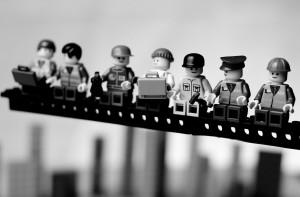 Writebox for Chrome.
When I write blogposts I hate to be distracted. No matter how advanced my laptop is, or how multitask-friendly my operating system tries to be … when it comes down to doing some writing I want something plain and simple. Writebox is just that : A text editor in a window that gives you text on a plain background. You can tune the colors to your liking (amber letters on a black background for me) and start typing. Writebox syncs with Dropbox and your Google drive so you can 'pick up' where you left on on another computer or on another OS altogether.
Dictate with Dictation.io
All the cool bosses of the 70's had secretaries. These girls would sit behind giant typewriters while their bosses dictated all kinds of important letters to their management (or mistresses) So why don't WE do that ? Forget the typewriter and the mistress part, how about you start talking to your computer right now. Dictation.io is a great website/extention that lets you dictate whatever you want to write and spits it out in plain text. Copy – Paste – Done. No matter what OS you are on.. as long as you are running chrome. https://dictation.io/
Mindmup
Whenever I need to prepare a podcast or do a presentation I use a mindmap to organize my thoughts. Some people type stuff out, but I have found out that my brain just doesn't work that way. After a little looking around for a great (free) chrome friendly Mindmap tool, I stumbled across Mindmup. It lets you create as many mindmaps as you like and store them on your Google Drive or in Dropbox. Unlike Mindmeister we mentioned a while ago, Mindmup does not have a restriction on the number of mindmaps you can create using the free service.
File system for chrome os.
This is actually a collection of several applications/extensions for those of you using a Chromebook. With this extension you can connect your Chrome file structure with either Dropbox, Onedrive or a webdav service; tying the different locations where you store your data together. Gone are the days of having to upload files and open websites/services to get to your teletubby wallpaper collection.. Enjoy !
Links.
Related Posts
May 11
When you are a cross platform slider, hopping from operating system to operating system, you know that life is HARD sometimes.
One of those hard things in a sliders life is finding a good app to build slideshows and presentations that works on EVERY OS. I used to swear by using keynote for this. Its probably one of the simplest and most elegant way to put together a slideshow and become the "dealer of death-by-powerpoint". You can just see your audience die from the sheer boredom of your presentation, but they die with a smile on their face. Hey, those 200 slides about the annual hamsterwheel stockprices were boring as hell, but boy were they pretty !. The downside is that Keynote is only available for Steve-jobs-loving Apple jokeys and that doesn't help you when you just have your Linux laptop with you.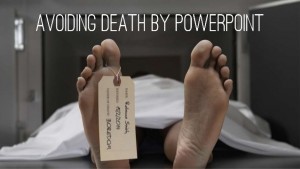 "Release Openoffice" I can here you scream. Yeah. It is pretty much a cross platform alternative for Keynote and it will let you work on presentations using your Mac, your Linux machine AND your Windows box. The downside is that IT (being Openoffice) looks like it was built in the 80's and your presentations are about as sexy as an open box of Twinkies in the poring rain. And whenever you want to go grab your tablet or a smartphone … Openoffice just doesn't help you there.
What remains is Google Slides and Powerpoint online. If you have a browser and an internet connection you get get all of your slide-slicing stuff done from no matter where you are. But the default templates in Powerpoint online are a bit stale and the ones in Google Slides feel like they are from the late 70's ! The more platforms you can use .. the more boring your slides become .. or not ?
So enter 2 good alternatives to make those "online" slidedecks a little bit more interesting are Slides Carnival (For Google Slides)  and some of the free templates on Office online t Both are a great resource to help you make those "standard" presentations a "little" special. So there

Cross platform presentation making doesn't have to be so boring after all

Links :
Related Posts
Mar 03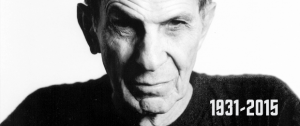 We pay tribute to  the late Leonard Nimoy in a special episode of Storytime.
Shownotes. (Music)
kw909 Storytime Goodbye Spock
Related Posts
---
Feb 19
Is your mailbox overflowing ? Is your to-do list getting out of control ? Have you forgotten to pick up your significant other from the airport 3 times in a row ? Sounds to me you need a system to organise the myriad of things you have to do. Good thing there is KW908 : Getting things done the Cross platform way. We talk about the system I use to organise my tasks and my life .. the cross platform way.
Shownotes
Music provided by Daniel Mesner
kw908 : Getting Things Done, the cross platform way
Related Posts
---
Feb 06
"I run operating system X, I prefer distribution Y, I like desktop interface Y better" I've heard the discussions over and over again. Sometimes people stick to their guns and defend their choice, other times people hop around from OS to OS or from Linux distro to Linux distro just because they want thingie X that isn't available in Distro Y.
The question is : Why do we still need to choose ? If we can train our digital workflows to be operating system independent, why can"t we take it one step further and instead of 'choosing' our operating system .. why not design it ourselves ?
The question came up when I got back from a visit to Fossdem this week (Belgians largest open source conference with attendees and speakers from all over the world). Seeing all these pretty Linux distributions and the powerful stuff you can do with them made me all eager to take the plunge once again and go "Full Linux" for a while. I slide from OS to OS (My main workhorse is a Mac, my traveling companion is a Chromebook that has Ubuntu on the side, my desktop runs Linux Mint and I have a Surface Pro running Windows 10). Lately I have been having hours of fun playing around with the Chromebook. Its simple operating system charms me into using it quite often. Its clutter free, not a lot of distractions and I like its simple elegance. However it is limited. Some things just don't work on Chrome, but luckily for the Chromebook I can just 'sidestep' into the Ubuntu version I've installed via Crouton.
Hopping from OS to OS at the press of a button is a joy, however, since Ubuntu uses the same Root kernel Chrome OS does .. Some features are missing. (No iPTables means no way to use Sshuttle, my favorite vpn client) The other downsides from working on the Chromebook are its limited storage (16 gigs divided between Ubuntu and Chrome OS) and the low quality screen. I love working with the little machine when i'm on the road .. but it has its limits.
Meanwhile my super powerful Macbook Pro sits by the wayside, waiting patiently until I have a new task for it to do. (I do most of my audio and video production on my Mac and it IS the main machine for my business so tinkering with it is just not done). A bit of a shame really.
Side by side.
As I was once again working on both machines side-by-side this week, I wistfully thought : How cool would it be to have the power and screen size of the mac, the simplicity of the Chrome OS and the power of Linux rolled into one machine while still having the option to "slide" back and forth between the operating systems at a whim…
Sure, I could dual boot my Macbook pro with some flavor of Linux but that would violate one of my basic principles : My Mac is my work machine, my livelihood .. so excessive tinkering that might harm the OS or the data on the machine is NOT done. Furthermore, since the latest upgrade to OSX Yosemite, dual booting has become a lot more complicated. So the alternative was easy : Using a virtual machine. With plenty of Ram and an SSD drive I would have not trouble throwing some Gig's and a few cores at my Linux distro of choice and run one on top of the other.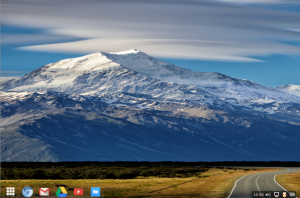 So what to choose ? Choosing your distro is always hard. And in my case I wanted something very specific. I wanted the distro to have a light graphical user interface (I don't like clutter + I wanted it to be sharp and snappy so I didn't get the feeling I was running a VM. On the other side I also wanted it to look like Chrome OS. So what to choose ?
Chromixium : A great distro that I found out there that does just that is Chromixium. Basically its a re-build of Chrome OS but using the open source version of the Chrome browser : Chromium. The Chrome-OS look and feel is done by heavily modifying an E17 interface and adding a plank dock. The operating system is light, elegant and well done. The great thing is : Where Chrome OS Stops, Chromixium go on. Instead of running on a shared Linux Kernel (like the Ubuntu installs in Chrome OS via Crouton) Chromixium is pure Ubuntu under the hood. That means : A terminal and access to the software center. Install whatever you please !
Looks like Chrome, Feels like Linux, Runs on a Mac.
So after I installed my favorite Linux applications (both Command line versions and actual apps) I have "morphed" my Chromixium into something that looks like Chrome OS but has the full power (and applications) of Ubuntu available at my fingertips. So now to get it to play nice with my Mac. In order for the Chromixium VM to be able to use the full resolution of my Retina display I made sure to assign it at least 32 meg of video memory in the Virtualbox control panel. I also assigned 2 cores and 4 gigs of ram. Next up it was time to install the Virtualbox Add ons into the guest operating system (Chromixium) to let it use the full resolution.
Retina Schmetina
The actual resolution of a 15 inc Retina Macbook Pro is 2650 by 1600 and I was puzzled why, no matter how I tried, I could not get my Chromixium VM up to that exact resolution when I put it in full screen mode. Turns out that this is actually impossible. The retina resolution is no longer tied to the actual resolution of your display. So you can "scale" the actual resolution of your desktop to 'appear' a certain resolution that is actually being 'mapped' on the actual resolution of your display. To make a long story short : I went into my Macs system preferences and set the host resolution of my system to a setting that "looked" like 1920 by 1200 and when I set my VM to fullscreen I saw that THAT was the actual 'physical' resolution the VM recognized.
So in the end I'm running an OS that is a mutated version of Chrome OS and that I have pimped out with a lot of "standard" Ubuntu applications ON TOP of my Yosemite install on my Macbook pro. It gives me the best of both worlds. The look and feel of Chrome OS , the power of the cloud (Both Chrome and Chromium can sync with my Google account and all settings, plugins and extensions are carried over between my Chromixium os, my Mac and my Chromebook) To power it all I have my Retina-display I7 Macbook pro and due to the fact this is a VM , I can easily make snapshots I can roll back to should something go wrong. I've already cloned the Virtual machine to my home server so I can access it remotely (via RDP) should I need to.
Tie in a couple of SSH connections and applications running on some of my other (remote) virtual machines and pretty soon I am having a hard time keeping track of what OS I'm actually using. And that is the whole point. The operating system needs to become abstract. A software layer that provides a you with the means to get things done. It is not there to be adored, it is not there to be fought over, its not there to make you choose.. its there to help you get stuff done .. regardless of what OS you choose…
Links : Chromixium
Related Posts
Feb 05
We visit Fossdem 2015 in Brussels and interview several open source initiatives communities and projects. We talk to the OpenSuse guys AND the Debian foundation on what they have been up to and ask the people from Jitsy why their cross platform secure chatclient is the cats Meow. The CentOS project tells us why they are the favorite distro for system admins and we learn that Diaspora is the open source privacy aware alternative to Facebook. Furthermore we learn how TOR works (and how it can help you get more content on Netflix) and what tool to use if you need to deploy 50 High capacity streaming videoservers (For My little Pony video's or your own Porn empire) with Puppet. So get  your propeller hat on and strap in for the Fossdem2015 interviews.
Links
Related Posts
---
Jan 31
One of the things I fondly remember from my childhood are those cool sci-fi shows where the characters got to communicate with each other via their wristband-communicators. Whether it was David Hassellhoff calling his talking car in Knightrider or the crew of the Liberator communicating with their ship in Blakes 7 .. I thought it was the most awesome thing ! How cool would it be if you could make a call .. with your watch ?
Slide into 'Second Gear'
A couple of weeks ago I got that chance. Samsung sent us a copy of their new "Gear S" smartwatch. Having owned it successor, the "Gear 1″ I was familiar with Samsung's approach to smartwatch technology. The "Gear 1″ was pretty cool to use for notifications or even updating your calendar by using your voice .. but the "Gear S" had one more trick up its sleeve. It didn't require to be paired with a phone at all. This was a stand-alone-all-on-its-own-wrist phone. Of course we had to try it out.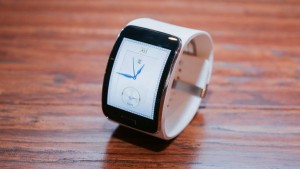 "A prop from Minority report."
Compared to the 'First gear' , the 'Second Gear' in Samsungs smartwatch race (#pun intented) looks like it is a prop from 'Minority Report'.  The watch/phone  has  very futuristic design with a curved 2 inch Amoled display in a white plastic casing. The wrist strap IS adjustable for the more delicate wrists, but the general curvature of the actual smartwatch is of course static.  The Gear S comes with all the bells and whistles a regular smartwatch has (Bluetooth, Onboard camera, speaker, microphone) but adds a heartrate monitor, a barometer (yes !) a UV-light sensor (ok ?) and a compass to the mix. But in order to stand on its own (without a phone) it also comes with Wifi and 3G. The dual core 1 ghz processor,4 gigs of internal storage and 512 megs of ram make this Samsungs first actual "phone" running the Tizen operating system.
"Please use a companion device to install this stand alone device"
First impressions. We were quite impressed taking the Gear S out of the box. The bright white model we got immediately transfixed the female population of the Knightwise.com headquarters but it was the screen that both sexes agreed on as being the real eye-catcher. So it was time to boot up this 'stand alone' smartwatch and after 5 seconds we bumped into one major disappointment. "Please connect to Gear manager to setup" was the first thing we read on this future proof wristwatch. In order to setup a device that touts you can use as a 'phone' without needing a phone .. you need to connect it to .. a phone (a SAMSUNG phone). So for those of you that don't HAVE a smartphone or don't have a SAMSUNG smartphone , setting up the Gear S is not possible. MAJOR disappointment ! We managed to get trough this initial hurdle but it was not the last time the Gear S screamed for a brand-like companion. To install additional apps we also needed the Gear manager. Bummer

Aside from this initial discrepancy (A stand alone device needing a phone to become fully operational), working with the Gear S was quite pleasant. The display is pretty, the interface does not lag (perhaps its because its running Tizen and not Touchwizz) and reading your notifications is way cooler on the Gear S then on the other Gear smartwatches due to the higher  screen resolution. But lets be honest : A 2 inch screen is not something you use to surf the web or type out long emails (although with the Gear S you could theoretically do just that) Samsung's voice recognition software is there to help you out with that but it comes up a little short compared to the Google voice recognition service. Still it was able to assist us in 'making the call'.
"Hello ?  Mom ?"
Calling our mom from our smartwatch was not as futuristic as we thought it would be. Aside from the stares we got from people around us (I was doing this in a coffee shop where the average age is 98) you don't have a very 'discrete' phone-call (The other party is on speakerphone). So when mom asked me 'Why I don't visit her more often" I got a lot of judgmental stares from the grannies around me . I wished I could have summoned my talking car … but we aren't quite there yet.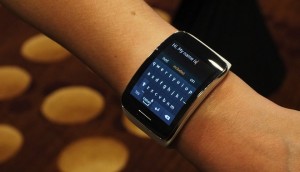 Conclusion : The Gear S is a great first failed attempt at a stand-alone smartwatch. First of all : The stand alone part : If you need another Samsung device to setup your stand-alone Samsung watch somebody didn't think things through. Second : Although bright, crisp and lag-less : The screen is just too small to type up emails and surf the web. If voice-control fails you (for example you want to send a text message in Dutch) and you have to use the keyboard .. your GRANNY will get out more words per minute on her Nokia 3310.  And finally: WE aren't quite ready yet. Lets face it, we only just got used to not staring at people who call handsfree while walking down the street. (They sometimes hold their phones in front of them, just to show people they aren't nuts) This makes calling people from your wristwatch just a little weird (if you are not David Hasselhoff), at least for now.
However : When you are looking for a top of the line smartwatch to accompany your Samsung smartPHONE , don't go for the Gear 2, the Gear fit or the Gear Neo : Go for this one. Paired with an actual phone it will make a great 'companion' device with a decent screen, a fast processor and awesome looks. At 399 euro's it IS a bit hefty in price but if this kind of swag is your thing : Go for it.
Links : The Samsung Gear S.
Related Posts
Jan 29
This week we look for ways to make technology work for you instead of the other way around. No really ! Have you noticed how you are constantly interrupted by notifications from your smartphone ? How you spend hours on Social media without doing anything productive ? How adds and Tv sometimes make you feel agitated ? We go on a quest for some practical tips to cyber-zen your lifestyle. So lets tame your content stream and your devices so they will work for you .. instead of the other way around.
Shownotes.
Introduction
Getting rid of cable tv
Taming my devices
The power of "Ding"
The "Ding" hierarchy
The results
Signoff.
Related Posts
---
Jan 27
If I have to choose my favourite Thule product I would have to say its the black ski-boxes people strap to the top of their car. Not because I like to ski, but because those things look like a Photon Torpedo from Star Trek. And lets face it : Who doesn't want to drive around armed with a photon torpedo. But that is not what we are going to talk about today. Instead we take a look at the Thule Vectros 'Bumper' case for the 13 inch Retina Macbook Pro.
"Like a G-string for your laptop"
We love ourselves some Thule ! The Thule Messenger bag we reviewed kept our laptops high and dry during the most ravenous of Thunderstorms. So when we got this "bumper case" like contraption to test we asked ourselves : Why does this look like a thong ?
In fairness, it doesn't. The Vectros is made up out of 2 rubberised "squares" that snap to the top and the bottom of your laptop to protect it from harm should it encounter solid objects at a relative speed. Optionally you can also use the transparent plastic slate to fill up the space in the middle of the bumper case so even the center top and bottom half our your macbook are protected from scratches.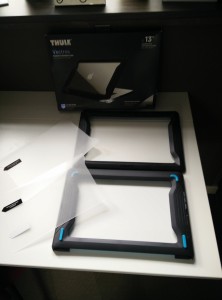 How does it work ?
Basically you take the lower 'square' of the velcro and put it down on the table. You can place the transparent piece of plastic in the middle if you want to 'fill up' the gap. Then you 'snap in' your Macbook. You take the top half , repeat the process and snap the Vectros around your screen. Done.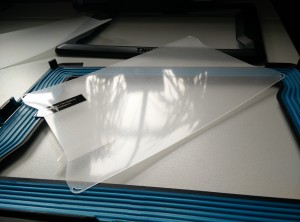 How does it feel
Once mounted the whole thing feels surprisingly solid. It adds some thickness to your Macbook but not in a bad way. You mac looks "ruggedised" and ,thanks to the rubber pads, is mounted much more firmly on the table. Ports are still easily accessible and (unlike the plastic hardcovers) the device has more chance to 'breathe'. (Your Macbook cools down in part via its unibody casing, where the hard plastic covers trap the heat inside, the thin plastic slate covering the center of your Mac keeps it a lot cooler).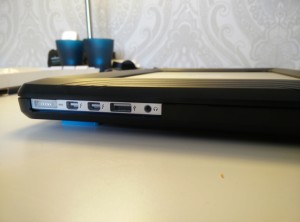 What do we think
We didn't do the drop test but are pretty sure the 'bumper' can save you when you drop your Mac (Just don't drop it out of a plane). While the bumper snaps on nicely, the locking latch on the lid might be prone to some wear and tear. Placing the plastic cover in the center takes a little patience but once its in place .. it stays there. The Vectros is a pretty good solution to keep your gear safe and making your Mac look like it's owned by Chuck Norris .. in a good way. At a fairly hefty 79 euro's (69,99 Pounds in the UK)  its not cheap but .. fixing a dented laptop ain't cheap either.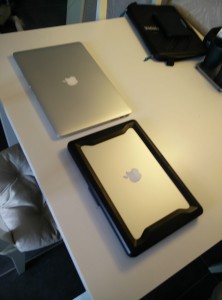 Links.
We would like to thank Thule for sending us this review item on which we stated this review.
Related Posts
Jan 08
The black, featureless background is only broken by the repetitious blinking of the amber colored cursor
. Its Rhythmic pulsing reminds that I need to press a multitude of keys on the keyboard to make these words appear. Aside from a small line of text below informing me of how many lines, words and characters I have produced, there are no other options to select, no notifications, suggestions or other distractions.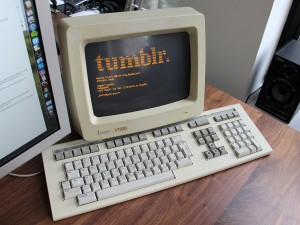 By modern day standards this application lacks a massive amount of features. No markup menu, word suggestions, contextual menu's or share buttons. Just amber words on a black background. Yet this is one of the most productive pieces of software on my computer : It lets me write these very articles.
The computer I am running this application on is equally "under powered" by today's norm. (and under priced) My Raspberry Pi computer with its hilariously low amount of memory, cpu power and storage is possibly less powerful then the smartphone in my pocket, yet I've chosen to make it my machine of choice ? Why ?
Sometimes its just "too much".
Well, I have a love-hate relationship with modern day computers. Their powerful Cpu's and elaborate operating systems are the very pinnacle of our digital existence. The come packed with a plethora of options and possibilities they can accommodate our every need. That however is also their undoing. In tandem with over-connected applications and services who want to do nothing else then to have you either tweak or tweet whatever you are doing .. to the point where your productivity is reduced to zero. Sometimes its just "too much".
That is why I took the plunge and went back to "basics" for a couple of days. Using the Raspberry pi and in its very moderate capacity helped me re-think and re-evaluate what I really needed to be productive.
The Raspbian operating system isn't packed with a lot of features. Just the basics to help you do what you need to get done. There are some applications installed , but when choosing extra software you have to keep the limited "power of the pie" in mind. Hence I started thinking about what applications I needed to be productive and what the minimal requirements of those applications were.
What do we really need ? 
So, I need a browser, but does it need to have 5000 extensions ? Turns out it doesn't. I need a word processing application but does it need to have 39 buttons ? No it doesn't. My initial thoughts of having my creativity seriously curtailed by the limited powers of my "simple" environment were wrong. The simplified environment and "simple" applications helped me focus more on what I needed to get done.. instead of getting distracted by the tools themselves.
"Slow computing" has another advantage. It takes my browser a couple of seconds to start up (an eternity compared to my other systems) but this is a great help in the "urge to quickly check Facebook" and get distracted. I can't have 50 browser tabs open because I don't have the ram, but that allows me to pay more attention on the one thing i'm researching.
In short : "Slow computing" helps me focus. It gives me the time to think about things before I press another hyperlink. It is free from those over-connected distractions and it keeps me from going down a 45 minute rabbit hole just to find the 'right wallpaper' for my dual screen desktop. Sure I'll bounce up against the limitations of the system… and if I do I still have my other powerful laptop waiting in the wings. But the amount of stuff I "Got Done" before I have to make that move .. is pretty amazing. Slow computing .. helps you focus ! Try it

Links : Raspbian.
Same
Related Posts