Oct 27
This week we offer you a treat ! Some of the best guestbloggers from the Knightwise.com community (each allstar bloggers, podcasters and content producters) have joined forces to write up a series of articles about "what's in their bag". What do they carry around on their geeky roadwarrior adventures. How do they use it and why . We kick off with Tim King. A voice many of you know since he closes up every single Knightwise.com podcast. You have the floor Tim.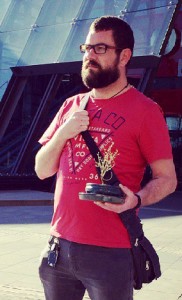 I'm Tim (Regravity), I'm a media developer for a large organisation in Australia. My work usually includes video / audio development, interactive media creation and UX/UI design.
Most mornings I start off by putting on my flat cap (1.) as I walk out the door of my house and drive to work. Pretty soon after I arrive I plug in my portable hdd (4.) strap on my headphones (6.) and crack open iTunes for some music. My Bendigo Bank (2.) security token is important if I need to pay any bills or transfer money no matter where I go so I usually have it with me.
Data transport can be a difficult issue sometimes so I carry three flash drives (10., 11., 12.) with me just in case I need to grab a file or give something to a co-worker. I also use the microSD card reader (13.) if someone hands me a card from a camera, tablet or phone.
Because I have a Samsung Galaxy S3 (8.) which is getting a little long in the tooth I often have to top up the battery with my phone charger (5.), can't wait to get an iPhone 6 shortly! I also take with me a small notebook (7.) so I can jot down the crazy ideas I have for technology solutions, short stories (I'm an avid writer) and generally how to solve the problems of the world. 
The male-to-male audio cable (3.) isn't really a critical piece of gear, but I have it just incase I need to record audio off a weird device like a digital note taker or someones phone.
As I mentioned before I'm a hobby writer, so I like to keep myself well read, hence I bring my Kindle Paperwhite (9.) to work for a quick read during my lunch break. Currently I'm reading the classic cyberpunk novel Neuromancer by William Gibson.
Finally I cram all that into my bag (14.) fairly neatly and I'm good to go!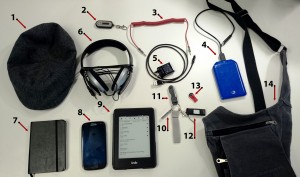 The list : 
1. Roger David – Teddy Flat Cap
http://www.rogerdavid.com.au/teddy-flat-cap-12747.html
2. Bendigo Bank Security Token
http://www.bendigobank.com.au/public/
3. Belkin MIXIT Coiled 3.5mm Male-to-Male Audio Cable
http://www.belkin.com/au/p/P-AV10126/
4. Seagate FreeAgent GoFlex 500 GB Portable HDD
http://www.cnet.com/au/products/seagate-freeagent-goflex-ultra-portable-usb-3-0-1-5tb/
5. Samsung Portable Charger
http://www.shopandroid.com/samsung-micro-usb-1a-travel-charger/5AA11813.htm
6. Sennheiser HD 408 Headphones
http://www.kosmic.com.au/sennheiser-hd408-open-headphones/
7. J.Burrows Pocket Coloured Journal – Black
http://www.officeworks.com.au/shop/officeworks/j-burrows-pocket-coloured-journal-black-jbpcj240bk?searchTerm=j.burrows%20black
8. Samsung Galaxy S3
http://www.samsung.com/global/galaxys3/
9. Amazon Kindle Paperwhite (Second Gen)
http://www.amazon.com/Kindle-Paperwhite-High-Resolution-Display-Built-/dp/B00JG8GOWU/ref=sr_1_1?ie=UTF8&qid=1413522303&sr=8-1&keywords=kindle+paperwhite
10. Dyna Store 8GB Hook USB 2.0 Flash Drive
http://www.officeworks.com.au/shop/officeworks/dyna-store-8gb-hook-usb2-0-flash-drive-dy8gbusb
11. Lexar JumpDrive 16GB TwistTurn USB Flash Drive
http://au.lexar.com/products/lexar-jumpdrive-twistturn-usb-flash-drive?category=1718
12. Sandisk Cruzer 8GB USB Flash Drive
http://kb.sandisk.com/app/answers/detail/a_id/2446/~/sandisk-cruzer-usb-flash-drive
13. SanDisk MobileMate Duo Card Reader
http://www.officeworks.com.au/shop/officeworks/sandisk-mobilemate-duo-card-reader-br190777
14. Bells Beach Crossbody Shoulder Bag
Could not find a link.
You can find Tim online over at regravity.com
Related Posts
Oct 25
F.A.C.T.S. is Belgians biggest cosplay anime scifi and comic expo and WE were there. Join our reporters as we interview guests, cosplayers and bootholders about the great fun they have at F.A.C.T.S.  A chat with the Cheshire cat, a fling with the fawn, Orks all around and a perfect replica of Kit and CAR from Knightrider. If that isn't enough how about a talk to the mother of dragons ? Tea-Time at the Whovians and a fantastic look at how a Quidditch match is played.  Get your geek on : This is Knightwise.com at F.A.C.T.S. 2014
Shownotes.
Production.
Camera 1 : Stefaan Lesage
Camera 2 : Sarah Droogmans
Photographer 1 : Dorien Goossens
Photographer 2 : Bert Vandewynckele
Interviews : Knightwise
Drone footage : www.devia.be
Music
More
KW903 : Knightwise.com at F.A.C.T.S. 2014.
Related Posts
---
Oct 24
Yes geeks ! It is FFFRRRRiday ! That means we let go of the otherwise pretty serious geekyness and dive  into the obscure anals of the internet. ( Wait .. that came out wrong … Oh, that too)  Never mind. What we have for you is 2 hours and 8 minutes of content for which the very internet was created in the first place. Forget science, progress, communications and global economy .. forget Porn .. THIS is why we have the internet . Remember how George Lucs  gets to tinker with the original Star Wars trilogy all the time ? Well .. Fans can do that too. Stand by for 2 hours of handcrafted entertainment with rebel soldiers made out of balloons, 8 bit fighting scenes in the rebel base, cartoons, bad acting and STAR DESTROYERS MADE OUT OF PIZZA … yes ! PIZZA … Forget anything I type after this .. let go of your feelings .. and press the friggin play button for absolute MADNESS ! !
Related Posts
Oct 23
We don't have a lot of love to spare for "Metro apps". (We  decline to grace them with the "new-ui" title they prefer to be addressed with) When you browse through the Windows Phone store, most applications you find are disappointing to say the least. The selection is sparse and there is a lot of 3rd party crap out there. When we went in search of a good "Reddit" app our expectations were quite low. So imagine our surprise when "Redditing" proved to be a well written and zippy application that lets you wade through the soggy marches of the internet known as "Reddit".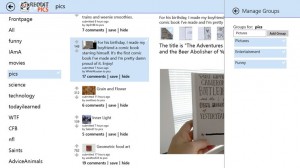 Find browse and bookmark you favorite sub-reddits, Read through articles, post comments and of course .. look at the shiny pictures. No matter if you waste hours of your life, you will finally find good use for your Windows Phone, or that Windows RT Surface tablet that you have been using as a doorstop right until now. Reddit/r/thefappening might not be online anymore but "Redditing" will help you find new stuff on Reddit to watch.
Link : "Redditing" (Windows app store) 
Related Posts
Oct 22
Wikipedia is a relentless source of information knowledge and .. entertainment. The only downside is that its a Wiki. And Wiki's are ugly. Their designs are based towards the sharing and editing of content. The result in an aesthetic sense is that a Wiki looks about as attractive to read through as a 2003 article posted on a corporate Sharepoint.  So, "Yo dog, I heard you like Wiki's .. So i Pimped a Wiki .. in your Wiki"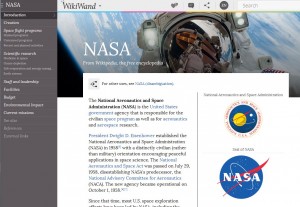 Wikiwand throws a "layer" over the Wikipedia site that makes it easy to browse and agreeable to look at in ways good old Jimmy Wales could never have imagined. Its easier to browse through, soothing on the eyes when it comes to reading long blurbs of text and .. IT HAS BIG BANNER PICTURES !  What are you waiting for ? Go forth, install Wikiwand and look up the number of queen Victoria's toenail clippings preserved for prosperity NOW .. With Wikiwand.
Link: Wikiwand. (Chrome)
Related Posts