Jan 25
Time for some command line tomfoolery today. Ever wanted to know who was behind a certain IP address ? Getting spammy comments on your blog, or want to find out the name of the co-worker that is scanning your ports. You can of course hunt them down using whois.net but … maybe you just want to know the hostname of the machine ?  That will tell you a lot… so lets try DIG.

Using dig +short -x enter.the.ip.here
and you will see the DNS name of the system
in question.
Happy digging !
Related Posts
Jan 25
In KW503 we give you the secret sauce to turn your 5 year old netbook into a machine thats powerful enough for day to day use. With a combination of OS Tweaks, light applications, remote desktops, cloud applications and een a terminal server hack, you can bring your netbook back to life. You can also watch the "making of" this podcast episode as it was recorded as a Google Hangout .. here 
Shownotes.
Streamlining

Speed up Linux with sudo apt-get preload

Choosing your applications.
Remote access.
Command line applications.
Feedback
Kw503 : Return of the netbook. [ 1:06:26 ]
Related Posts
---
Jan 24
Torrents .. Oh sweet rivers of digital data that bring us tons of HD Porn Open Source ISO's at speeds approaching those of the speed of light .. Or if you are running fiber .. THE speed of light. A fantastic little protocol that requires and equally fantastic application : A torrent client. 
Sure, there are plenty of torrent clients out there like Transmission or Vuze, but wouldn't it be great to be able to find torrent files and download them using the same simple application you use every single day ? What if we could do it in Chrome  ? …. the answer is equal to Obama's slogan : Yes you can ! 
Bring on "Bittorrent Surf" and gain the ravishing ability to download your favorite torrents straight from and straight IN your browser. Download and install the extension in google chrome and a little blue ball will appear on the upper left corner of your address bar. I could do a boring writeup how it works .. or you can just watch the video instead. 
p> 
The extention works on Chrome in both Windows Mac and Linux. You can download 'SURF' HERE.
How do YOU get your torrents ? Tell us in the comments section.
Related Posts
Jan 23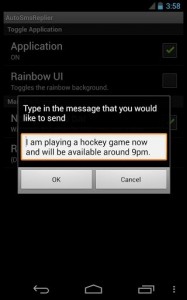 I must admit , if I were to keep a record of the number of phone calls I receive on my phone every month .. it would be a very SHORT list. It took me a couple of years (and it was about as hard as circus-training wild cats) but I have gotten to the point where the people in my social circles no longer use the telephone to get in touch with me. They have learned (through ruthless conditioning) that "Calling" Knightwise does not mean you get to 'talk' to Knightwise, but using ANY other form of communication (email – im – voxer etc) CAN get them connected to me.
But still , there are those times where somebody calls you and you are either not around to pick up the phone, you are in the shower or you look at the name of the caller ID and think you would rather eat rusty nails then answer the call. So you let it go to voicemail, you have to call back to your voicemail, you might have to call them back etc etc. The perfect solution (for me at least) would be telling the person to "quit calling me and shoot me and email". But that would be rude. So I let my phone handle that for me.
Enter AutoSMSreplier. A horribly simple app that does one thing well. Whenever a call is "missed" , Auto-Sms-Replier will automatically send a precomposed text message back to the caller !  You can choose the message that needs to be sent (in my case "Hello Noob, no time to chitchat, shoot me an email and my thumbs will take to you" .. or something like that) The app will show you the calls you missed , and who the 'auto text messages' have been sent to.
AutoSmSreplier is an android app, its available in the play store .. and its free.
So : how do YOU handle missed calls ? Tell us in the comments section.
Related Posts
Jan 17
The Apple TV. If you haven't had a chance to get your hands on the totally jailbreakable 'Version 2' of Steve Job's unfinished "hobby" project.. the chances are you have an Apple Tv 3. And to be quite honest : If you live in a land that does not offer TV⁻Show rentals through the iTunes store .. the Apple TV is about as useless as swimming trunks in the desert. This totally battened down version of Apple's entertainment hockey puck does not have a lot to offer aside from being able to stream the Knightwise.com podcast STRAIGHT to your living room. This alone would validate the purchase of said device .. but we would like something more.
 Enter 'airplay mirroring' : The ability to playback the contents of your iPad screen on your TV. Of course Apple would not be apple if they didn't 'narrow down' the list of devices that would be able to do this. Not because it wasn't technically feasible . just because they want you to buy a new i-Device. If you have a more recent Mac you might be able to do it to, IF you are running Mountain Lion.. So what if you don't ? Lets go for a few alternatives.
You don't have a 'recent' version of Mountain Lion : "Beamer".
Lets say you are NOT sporting the latest version of Mountain lion on your mac ? What if you STILL want to stream your movies ? Enter " Beamer" A 12 dollar application that lets you do just that .. from any mac. Find them at beamer-app.com and chuck those "My little pony" video's to the big screen. Unfortunately there is no PC version of this app.. so you will still need a mac.
You have Ios devices .. but no Apple TV : "XBMC."
So what if you have a mac .. but no Apple TV ? Well as long as you have 'a' device hooked up to your tv that is capable of running XBMC, you are in luck : XBMC acts as an 'airplay endpoint' , enabling you to stream 'Carebears' from your iPad to your living room pc.
Links :
 So what do YOU use to get content to your Television set ?  Tell us in the comments section.
Related Posts