Jun 28
Noobs will probably get only half of the punchlines, but for geeks, this is better then Garfield.
Related Posts
Jun 28
Ow darn ! Its been quite the hiatus hasn't it. I kneuw ! I kneuw. But I have taken the time of to sort some things out, start some projects up and get some things straightened out.

One of those has been : Switching my lovely Imac (G4) that I wrote about a few posts ago with a Ubuntu machine ! Yep ! Just to get some good quality time with one of my favorite operating systems I thought it was time to "beam the bean" into the living room. I must say : The machine ain't as pretty as the lovely Imac, but being able to get down with a combination of Ubuntu and a pretty fast machine does make for a powerful workstation. Installing feisty with desktop effects, finding a cool wallpaper, setting the right theme (not brown) to match and running the Automatix script proved to be the easy part of the install. Wanting to mount the shared drive I have on my mac was harder then I thought. Sure, using the GUI one can just go "places / connect to server " choose Windows filesharing, whackin in the right IP and credentials and whoosh. But when you want to do it right one should use the .fstab file to automatically mount the share into your linux file-system. Step number one in all my Linux quests is of course www.ubuntuguide.org. Most howto's are straight to the point and anyone who can press ctrl-c ctrl-v can do just about anything. But it turned out it was not all that simple. For some strange reason Ubuntu would not recognize the smbfs file-system. "What the Fuck" I uttered to myself. While Ubuntu mounted the filesystem just fine using the graphical way (places.. connect to server blahblah) it would not do it when I tried the .fstab file.

Now what !
Erm. Where do geeks turn to when the are stuck ? Other geeks ! But my queries with the linux master ( Capt Command line ) turned up nothing. So I hit the ubuntu forums. Many people underestimate the power of ubuntuforums.org, but i'm sure as hell not one of them. So i chose a good topic ( not "Help i have a problem ") described my problems, included lines from my fstab and terminal output and waited. Not more then two hours later somebody was kind enough to reply .. but their suggestion still led me to the same result. Once again : Now what ?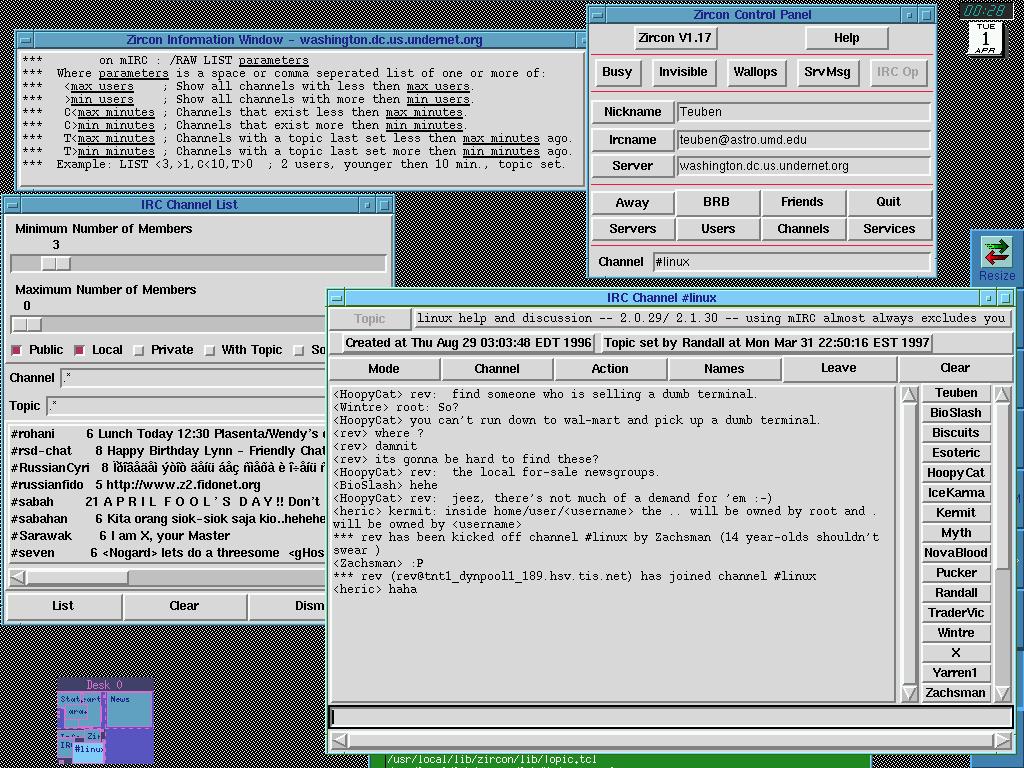 Back to the channel !
IRC ! I'm sure I haven't been on good old IRC for years ! Back in 2000 I was a darn regular in #mp3.be on Effnet, but I hadn't "/Join"-ed an Irc channel since then. Darn I thought everybody was dead back there. To my humble surprise.. They are all very much alive. The #ubuntu channel on irc.freenode.net is a busy bustling stream of problems and solutions served up at a speed that do not allow you to blink ! Seriously smart Ubuntu-freaks are queried by noobs like me and provide answers (and more questions) at a rate that had me rattling my keyboard like the good old days. I looked more like the guy from Swordfish copy-pasting output from my shell to the chatbox and trying their suggestions. (No Hale Berry on my lap though :() but still. And guess what ! We came up with the answer. Apparently the solution to my problem was painfully simple, so simple in fact that I had totally overlooked it. If you tell Ubuntu to mount a filesystem, be sure to install the package so it can READ the filesystem ! In order to "know" smbfs (samba) shares , you need to install the smbfs package. The only illogical bump in the road is that .. As GNOME recognised smbfs , the 'rest of ubuntu' needed the package to be installed ? So after doing my victory dance I posted the reply BACK to the forums where I posed my initial crime for help.

Conclusion.
It felt very nice to be back to the roots of the net once again. Away from over-gui'd (is that a word) chat-clients like Messenger. Embraced by the fast pace of Forum-surfing experts and copy pasting config files like it something I do everyday. If not for your knowledge of Linux, hanging around in these circles does make one feel a little bit better about being a noob.

Sites mentioned
Ubuntuforums
http://ubuntuforums.or g
My little post
http://ubuntuforums.org/showthread.php?t=483708
For #ubuntu
open your IRC chatclient type /server irc.freenet.org and type /join #ubuntu.
Related Posts
Jun 11
There comes a time where we all go over that one hump in life that is the big 3-0. Although i'm puzzled as to why people make such a big deal out of this, cause quite frankly, its just another birthday. People sometimes say "oh Darn, I'm 30 now" but look at it this way. If you are 29 and you look damn good .. you're 29 and you look damn good. But if you are 30 and you look damn good : They say "WHOW you look awesome even if you are 30" So speaking of people who look damn good on their 30th birthday : My lovely wife Nyana turned 30 today and its time to unravel on of the pesky secrets I have been harbouring for over a fortnight now. Together with the fantastic LEN from Jawboneradio.com we've come up with another great idea for a birthday cartoon.
So here she is, Nyana as her favourite character from the new Battlestar Galactica series : Number SIX !
Happy birthday sweetheart ! I hope you have a great birthday. ( And perhaps conquer a planet or two, make a genius mad with your fantastic flirting skills, Boss some Cylons around and all that) Coming to think of it .. Isn't driving a genius like me mad with your sensual beauty something you do EVERY day ?
You can send your best wishes to SASKIA30@GMAIL.COM if you want to 🙂
Related Posts
Jun 07
Sometimes you buy something because you need it. Sometimes you buy something because its the sensible thing to do. Sometimes you buy something that you have carefully thought about, sometimes you buy things on a whim. And SOMETIMES you buy things because you just WANT them. It does not matter if they are hopelessly out of date, useless, slow, ill-advised, passé .. or one of 50 other negative reasons. You just buy it because you want it. We all know the feeling. Misplaced childhood traumas of not getting that "toy transformer" for your seventh birthday later raise their ugly heads. As you place a bid for a 1985 model of "Warpath" in mint condition for a nearly ridiculous sum you KNOW you are not making a good deal .. but you just WANT it !
Same happened to me this week. It has been one of my pet peeves ever since i've owned my first mac, probably even before that. From the very first time I saw one I was instantly craving to ONE DAY own one of my very own. Yep : Its a G4 Imac. A totally revolutionary design lovingly dubbed 'the desk-lamp' With its half spherical base, adjustable monitor arm and sparkling white color it just screams "computer" In every movie you look where they have to drag up a prop that really screams " I AM A COMPUTER NOT A TOASTER !!!" prop assistants are bound to dig up one of these babies or go for its colorful G3 counterpart : The first generation Imac. Now I have owned one of those and don't think they are all that. Lets face it : They might look good on paper but a 15 inch CRT screen for a computer used for graphic design. Come on ! Okay, the G4 Imac might not have a bigger screen (the did however come in 17" and 20" versions) but the latter where utterly NOT-affordable. But every time I saw one on TV I thought to myself : I want one of those !
So I had this old P4 1.7 gigahertz PC lying around doing nothing (you can't turn everything into a Linux Server) and I thought : What if I find somebody who wants to trade his G4 Imac for my old little P4 clunker. I know what you are thinking : "WHAT ???" but patience is a virtue and after sending once copy-paste email after the other to every Imac-G4 seller in the country my own little crusade was rewarded. I managed to find somebody who would gladly trade his Imac for my PC. Most mac users would rather piss in their own left boot then trade their Mac for a computer but there is a slight minority out their for whom that little Mac is more a curse then a blessing.
"It belonged to our daughter" the man said on the phone when I called to inquire about the Imac "She wanted to take a course in graphic design so we bought her the mac .. She needed it she said . It cost allmost 2000 euros back then, and after three months she was sick of it" " I'm very sorry to hear that" I said as I silently thanked the scoundrel who had conviced the daughter of the house to take up morning sex instead of morning classes and blowing her school career all together. One mans grief is another mans glory. Sniffing that I was dealing with a newbie user I thought it was time to explain the positive points of my PC system and greatly accentuate the fact that I would configure the PC exactly to their needs. According to the man it was a done deal and I was expected in Mechelen on saturday morning.
I arrived, unpacked the pc and set it all up. As the man once again explained his grief to me that the Imac had gone to waste over the years, he showed me the original price of the device : This G4 700 megahertz 15" imac had indeed cost a bundle. I might like my macs but i'm no fanboy : These things are FAR TO EXPENSIVE ! They where so back then and they still are so today. But hey .. we where both coming out of this a winner. As the wife dusted off the white Imac for the last time she stressed the point that this was without any doubt the prettiest computer Apple ever made. And knowing that I was buying a computer that was a tad on the very slow side and that could barely keep up with the fast pace processing power of its peers, I wholeheartedly agreed. My little G4 Imac might not be fast, it might not be powerful but its DAMN PRETTY when its sitting in our living room. So everytime when I have to wait four more seconds for Firefox to boot up on this not so very fast mac .. I just look at it .. admire and appreciate it .. cause sometimes its all about looking good.
Related Posts
Jun 07
If I where to draw a graph of the amount of digital content that I have consumed and contributed to the net these days, one could easily say that i'm kind off on a "low streak" at the moment. Very true. Updates of the site are a bit on the late side and my voice has not been heard in a podcast over the last few weeks. Don't panic however. I'm just adjusting to new changes in my life and need to get used to new paces and new routines. I'll give all of you a quick update on whats been going down these days.
Leaving the GGP. Yep, For those who had not noticed it : The Global Geek Podcast now sails without its Window-Washing Vista-hating Balmer-bloating host. It was a decision not taken lightly but over the last few weeks I was just getting swamped in stuff that "had to be done" The GGP takes a lot of time to produce and both Dave and Tim put hours and hours of work into it. Due to a tight schedule, I had a hard time making the recording windows ( not to mention that I didn't have any time to chip in on the blog, the pre and post production) and so on. So before the podcast started becoming "yet another thing I HAD to do" I thought it was best to call it quits. I loved working with these guys and loved doing the show.. but in the end It should be something we all enjoy, not something that "needs to be done before x PM tonight. I have plenty of things that "need to be done" as it is.
There has also been a downfall of the number of podcasts I consume. Because I don't have to be on the pinnacle of whats happening in Cyberspace every day anymore, I decided to cut into my list of subscribed podcasts. Due to a change in position at work I don't have time to listen to the podcasts AT work, So now I only have the morning and evening commute to tune into my Pod and listen what has been said. So a lot of stuff went out. Most amazingly some of it was what could be concidered "prime content" : TWIT for example. Over the last few months I had become increasingly irritated with the ego-maniacism and total lack of content of the Twit show. To me it was all sounding a little bit too much like Radio. Clear, cookie cut content with crisp sound , zero quality and more importantly : Zero credibility. Its an Illness a lot of podcasts seem to suffer these days : Everybody wants to sound professional, All crisply compressed, no ambient noise, no kids running around downstairs and most importantly : NO PERSONALITY. And when a podcast turns into yet-another-washed-out-radio-show i'm done with it. The reason podcasting attracted me is because of the level of "reality" that they carry. Real people living real lives, real geeks talking about real stuff they care about. But hey .. thats how it goes they say. So i've leveled my subscriptions down to a number that I can barely manange into my "listening time" and "au contraire" to the months before : I don"t feel guilty when I skip an episode. The one thing I have noticed is that I am starting to listen to music now and then. Giving my brain a rest and my emotions a little playtime. Its amazing to suddenly be remembered of the inspirational power of music and I greatly enjoy it.
Before I sign off I want to thank the guyz at PodcastJunky for their Great Article : "Comings and Goings" where little old me gets mentioned with the great John C Dvorak .. all in one article. Thanx guyz !
First of all, I'm sure many of you who listen to the Global Geeks podcast will miss Knightwise as a regular contributor to the show. Still, Tim has settled in well with Dave and we've been promised that Knightwise will make the odd contribution every so often. Knightwise… we'll miss you. As one door closes, another door opens…… letting in John C. Dvorak to Adam Curry's podshow network.
Related Posts